We include products we think are useful for our readers. If you buy through links on this page, we may earn a small commission. Here's our process.
Psych Central only shows you brands and products that we stand behind.
Our team thoroughly researches and evaluates the recommendations we make on our site. To establish that the product manufacturers addressed safety and efficacy standards, we:
Evaluate ingredients and composition: Do they have the potential to cause harm?
Fact-check all health claims: Do they align with the current body of scientific evidence?
Assess the brand: Does it operate with integrity and adhere to industry best practices?
We do the research so you can find trusted products for your health and wellness.
We polled experts on their favorite books for managing anxiety, from the classics to more unorthodox approaches. Here's what they said.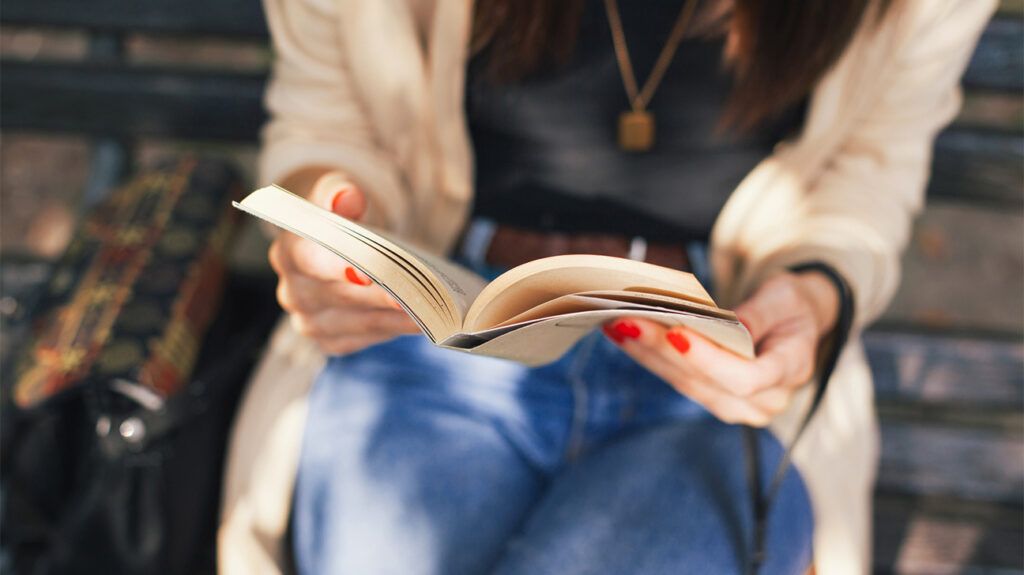 When it comes to anxiety, the more tools in your toolkit, the better. There can be enormous comfort in knowing that a single book contains decades of research and wisdom, delivered in a practical, easy-to-access format.
Whether you flip to a random page or go chapter by chapter, books can be an excellent way to learn more about anxiety, develop life-changing coping skills, and help you navigate those tough moments — no matter where you are.
Anxiety is the most common mental health concern in America. It affects at least 18% of U.S. adults, according to the Anxiety & Depression Association of America (ADAA).
There's a difference between feeling anxious and having an anxiety disorder, although some symptoms can overlap. Some common anxiety disorders include:
Plus, some conditions used to be categorized as anxiety disorders but are now considered separate conditions, including:
When to see a doctor about your anxiety
Anxiety exists on a spectrum. While the books in this list are excellent, some people may find that they need additional support to manage symptoms.
If anxiety is significantly affecting your quality of life, consider reaching out to a professional you trust to co-create the best treatment plan for you.
The book options on anxiety appear to be endless. With so many titles floating around the self-help space, we tailored our list based on a few key factors:
price
user reviews
author qualifications
science-backed strategies
therapist recommendations
Plus, all products have been vetted to ensure that they meet Psych Central's medical, editorial, and business standards.
General price ranges with dollar signs ($ to $$) are indicated below. One dollar sign means the product is lower-priced, whereas two dollar signs indicate a higher price range.
Prices for the physical format, most commonly paperback, were used for the price comparison. Most of the books also have Kindle and audio editions, which may slightly increase or decrease the price.
Pricing guide:
$ = under or at $20
$$ = over $20
Best overall
Price: $
Format: hardcover, Kindle, audiobook
If it's written by a neuroscientist, you know it ought to be good.
With mindfulness at the core of the message, this book breaks down 20 years of research into a practical format, so you can truly understand why your brain does what it does.
From there, empirically based practices can help you "unwind" your anxiety and unlearn any unhelpful habits you may have picked up to cope with stress (hey, it happens to the best of us).
Why we chose it
The author, Judson Brewer, MD, PhD not only impresses with his credentials and academic background, he also knows what it's like to live with anxiety. This book offers a relatable mix of personal anecdotes, step-by-step guidance, and success stories from his lab.
What we like
What to look out for
some research involves animal studies, which may distress some people
Best workbook
Price: $$
Format: paperback, Kindle
Managing anxiety takes skills and tools, and this 30-year classic is all about both.
"This is an excellent read for the individual who wishes to learn not only about symptom relief and skills to implement in daily life, but the origins of anxiety disorders and how a holistic approach can lead to remarkable change and recovery," says Karolina Pekala, PsyD, a clinical psychologist in New York. "It's an ideal book for a motivated person."
Why we chose it
This book offers a comprehensive, holistic approach to help you approach anxiety from multiple directions — from specific exercises to more general lifestyle adjustments. It provides the "why" as well as the "how-to" for those who are ready to take action.
What we like
therapist-recommended
breathing and relaxation strategies
tips for nutrition, exercise, and mindfulness
What to look out for
some users feel that it reads like a textbook
Best for social anxiety
Price: $
Format: paperback, Kindle
If you were not socially anxious before, 2020 may have changed all that.
Even the bravest among us may find it difficult to give a presentation, ask a stranger for help, or speak up on a first date — especially now. For any of those everyday scenarios, and more, this book is a good option to help you work through your fears.
Think science-backed strategies, real-life examples, and tools to help you push through your limits and build confidence. We're here for it.
Why we chose it
Many titles on anxiety are centered around CBT, an important starting point. But as a bonus, this book incorporates elements from acceptance and commitment therapy (ACT), to help bridge the gap between your knowledge and the application of that knowledge (i.e., taking real, concrete action).
What we like
short, yet comprehensive
written by a licensed marriage and family therapist (LMFT)
sections are easily identified, as they're organized by color
What to look out for
some exposure therapy exercises may be intimidating for some
Best-selling
Price: $
Format: paperback, Kindle, audiobook, audio CD
This is not your typical self-help book, though you could probably already tell that from the title.
This book explores the root causes of anxiety, particularly how it's tied to PTSD. If regular mental health content makes it difficult to hold your attention, this book's science-and-swearing combo may be the magic formula to help keep you engaged.
Why we chose it
When anxiety takes over your life, it can feel serious and overwhelming. The last thing you may want is to read dry, clinical content that's difficult to absorb. This book, at least, can help generate some much-needed laughs and comic relief as part of the healing process.
What we like
easy read
relatable examples
written by a licensed professional counselor
What to look out for
some readers may find casual language style over the top
Best for meditation
Price: $
Format: paperback, Kindle, audiobook
Research shows that meditation is effective for reducing symptoms of anxiety.
But if the idea of simply setting a timer and listening to your thoughts sounds intimidating, you're not alone. We could all use a little guidance sometimes — and that's where this book comes in.
The exercises in this book range from 5 to 15 minutes, the perfect amount of time to hold your attention if you're newer to meditation or need a quick dose of calm in your busy schedule.
Why we chose it
Apart from the sheer variety of meditations available, we chose this book because it has more than 6,000 reviews. Readers describe this content as practical, well-formatted, and a handy resource you can use again and again.
What we like
great for those on the go
accessible for beginners to meditation
can be used as a reference-style book (open up to a random page)
What to look out for
some users find it distracting to have to read the meditation instructions while trying to meditate
Best therapist-recommended
Price: $$
Format: paperback, hardcover, e-textbook
A favorite in the therapy community, this book has been printed 1.2 million times so far.
"I have guided patients through these activities many times," says Lori Ryland, PhD, a licensed clinical psychologist in Kalamazoo, Michigan.
"They are easy to use and provide a framework for activities to help reduce anxiety," she says. "There is an introductory session to each section which makes it very easy for someone to use the information in a self-help process."
Why we chose it
Numerous worksheets throughout the book mean that you can get to work on the skills you learn about right away. Then, you can review your work at the end and see just how far you've come in a short period of time.
What we like
exercises like gratitude journaling and emotion-rating scales
incorporates mindfulness-based cognitive behavioral therapy
addresses anxiety along with depression, anger, and low self-esteem
What to look out for
may not dig deep enough for certain mental health conditions
Best for hard times
Price: $
Format: paperback, hardcover, Kindle, audiobook
If anxiety is keeping you locked out of the present moment, this book may be your key back home to the now.
Each chapter is only six pages, so you can digest each concept a little at a time. Read it once, then read it again to glean a new pearl of wisdom in a sentence you've already visited. Somehow the words feel appropriate for so many, no matter the circumstance.
Why we chose it
At times, it can be helpful to look at ailments from a different worldview. In this case, the Buddhist lens universalizes anxiety, so you feel less alone. It may also offer a greater sense of meaning as you move through life's many challenges.
What we like
down-to-earth, realistic view
suitable for all belief systems
approachable Buddhist wisdom
What to look out for
some users say the printed font is too small
audible version may be too slow-paced for some
Best for children
Price: $
Format: paperback, library binding, Kindle
When kids don't have the language to talk about anxiety, relatable metaphors can help.
This book talks about anxiety in an approachable way to help children accept its presence and establish parameters around it, like putting anxious thoughts into a "worry box."
Consider introducing at least one chapter a week and using this book to open up the conversation about worry and fear. Though, to be fair, with all the engaging drawings and puzzles in this book, your child may just want to go through it at a much quicker pace.
Why we chose it
Anxiety can be a tricky concept to break down for anyone, especially young children. This book won a gold National Parenting Publications Award for the author's ability to translate complex scientific information into digestible, kid-friendly content.
What we like
easy, engaging layout
interactive self-help book
suitable for ages 6 to 12 years
What to look out for
"worry monster" metaphor may be distressing for some children
Best for teens
Price: $
Format: paperback, spiral-bound, Kindle
Being a teenager is hard enough as it is, without all the extra stresses of life.
But in America, 25% of children between the ages of 13 and 18 years have an anxiety disorder, according to the ADAA.
This workbook may help. It tackles worry with a three-pronged approach:
education about what anxiety does to the mind
education about how anxiety affects your body
workbook exercises like goal lists, quizzes, and reflections to help channel nervous energy in a positive and useful way
Why we chose it
Since teenagers often feel alone, it can be helpful to hear from someone who "gets it." The author uses relatable examples and language geared toward young adults to encourage them to do the exercises.
What we like
written by a clinical psychologist
suitable for teens and adults alike
content features comments from teenagers
What to look out for
some families may need to do this workbook together, if a teen is having a hard time focusing on content
Best for creatives
Price: $
Format: paperback, hardcover, Kindle, audiobook
If anxiety is preventing you from taking a leap of faith in your creative life, this book may just be the smooth literary tonic to assuage your fears.
"Gilbert does an amazing job of helping readers understand that we will always encounter our deepest fears on the path toward our biggest dreams," says Hailey Shafir, a licensed clinical mental health counselor in Raleigh, North Carolina.
"When we know to expect this encounter, we are more prepared for it," she says. "Gilbert does a great job of talking about how creativity and passion can help people overcome fears they may encounter in both their personal and professional lives."
Why we chose it
Unlike other books that offer the "how," this book explores your "why." It's witty, fun, motivating, and suitable to read chapter to chapter, or by flipping to a random page for a quick burst of inspiration.
What we like
short, concise chapters
personal and historical anecdotes
may be life changing for perfectionists
What to look out for
non-instructional (it's more motivational in tone)
Best for parents of young kids
Price: $
Format: paperback, Kindle, audiobook
It's never easy for a parent to see a child live with anxiety.
If you're unsure about how to comfort them, this book may be a good place to start. Not only will you learn how to manage your own anxiety, but you'll receive effective guidance on how to talk to them in a way that feels lighthearted yet informative (an excellent combination).
Geared toward children ages 3 to 15, this book is meant to help your children develop confidence and lay the groundwork for positive coping skills as they age.
Why we chose it
The exercises are practical but have an undercurrent of fun and play. According to the reviews, it can also help you to see anxiety through your child's eyes, so you can better support them.
What we like
easy to read
fun, playful exercises
can address multiple childhood fears
What to look out for
may not be sufficient if your child has severe anxiety
Best for parents of teens
Price: $
Format: paperback, Kindle, audiobook
Being a parent to a teenager can be challenging enough, without throwing anxiety into the mix.
If you're wondering how to tread that fine line between enabling them and supporting them, you're not alone. This book can instruct you on how to teach your kids that while you can't exactly do the work for them, you can help them help themselves by building confidence and distress tolerance.
The content is straightforward and easy to read, all based on CBT techniques.
Why we chose it
The book is organized into different chapters related to common issues that teens may experience. That way, you can flip to the section and exercises that feel the most relevant to your child — from addressing panic to perfectionism.
What we like
includes "what not to do" guidance
suitable for helping teens ages 13 to 19
sample communication scripts to help you talk to your child
What to look out for
some readers find the content to be a bit repetitive
If we could, we'd include hundreds of book titles in this article. In case you didn't find one that resonated with you, here's how to expand your search for the right book.
Helpful techniques
Understanding anxiety on a cognitive level is helpful, but doing "the work" may help you reach your goals faster. We suggest exploring books that have an action component, like hands-on exercises, strategies, tools, and techniques to cope.
Scientific evidence
It's best to look for content rooted in well-proven therapy techniques for anxiety, like:
acceptance and commitment therapy (ACT)
cognitive behavioral therapy (CBT)
Writer credentials
You may find it helpful to look for authors with a background in psychology. Some buzzwords include:
clinical psychologist (PsyD and PhD)
licensed clinical social worker (LCSW)
licensed marriage and family therapist (LMFT)
marriage, family, and child counselor (MFCC)
psychiatrist (MD or DO)
What are natural ways to deal with anxiety?
Anxiety treatment looks different for everyone. You may find it useful to try a combination of approaches to see which ones work best for you.
Some natural ways to promote relaxation include:
You can also make lifestyle adjustments that promote emotional regulation, like:
getting 8 hours of sleep
eating a balanced diet
connecting with your support network
maintaining an appropriate work-life balance
If you'd like to learn more about natural treatments for anxiety, consider reading our in-depth article.
Still, keep in mind that if your anxiety is significantly affecting your quality of life, natural and alternative methods may not be enough. In this case, it may be a good idea to reach out to a mental health professional.
What are the signs of anxiety?
Some of the most common symptoms of anxiety include:
feelings of fear or dread
difficulty focusing
digestive distress
increased heart rate
quickened breathing
racing thoughts
shortness of breath
If you'd like to learn more about anxiety, Psych Central's anxiety resource hub may help.
Do self-help books for anxiety actually work?
Self-help books can be an excellent complement to your overall treatment plan.
They can offer:
actionable tips
practical exercises
psychoeducation
resources for further treatment
With that said, self-help books alone may not be enough to help you manage your symptoms, depending on your level of anxiety and how much it's interfering with your overall quality of life.
We recommend that you still work with a professional to examine the underlying causes of your anxiety, receive an accurate diagnosis, and experience regular support to help you cope.
If you're feeling anxious right now, you may feel isolated in your experience, but know that you're not alone.
There are countless books on anxiety that can assist you on your journey (including our favorites on this list), providing important tools, tips, and resources that you can carry with you everywhere you go.
With that said, books are not and cannot be a substitute for a proper diagnosis and treatment plan. You may find it helpful to reach out to a professional who can help you take that next step.