We include products we think are useful for our readers. If you buy through links on this page, we may earn a small commission. Here's our process.
Psych Central only shows you brands and products that we stand behind.
Our team thoroughly researches and evaluates the recommendations we make on our site. To establish that the product manufacturers addressed safety and efficacy standards, we:
Evaluate ingredients and composition: Do they have the potential to cause harm?
Fact-check all health claims: Do they align with the current body of scientific evidence?
Assess the brand: Does it operate with integrity and adhere to industry best practices?
We do the research so you can find trusted products for your health and wellness.
Are you ready to begin your journey to mental health recovery? These seven self-help books may help you get started.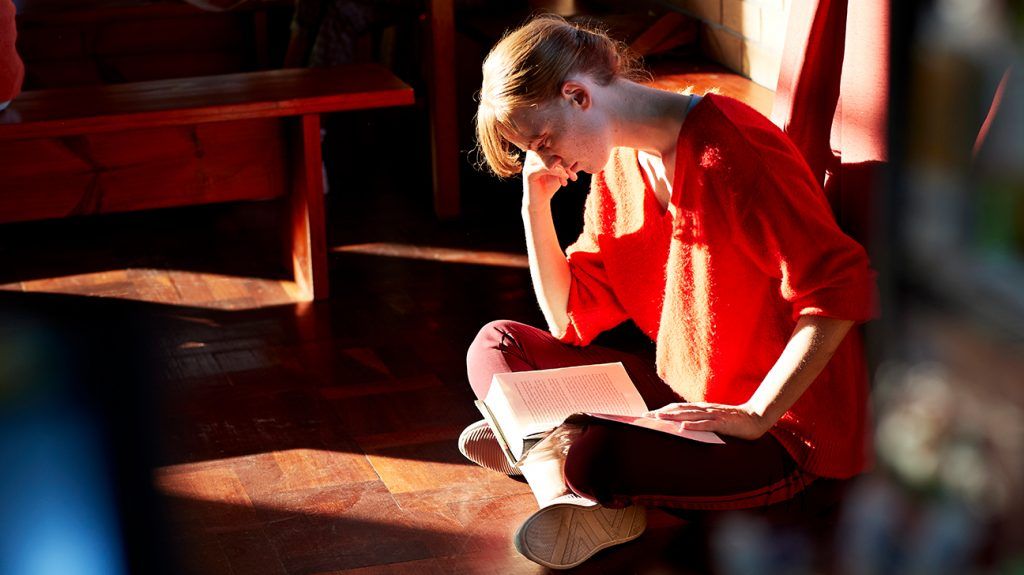 Self-help books can make a real, positive impact on your mental health, especially if you can't immediately connect with a therapist.
In a 2014 study, researchers found that self-help books can successfully improve mindfulness and acceptance skills and outcomes in your life, even without the face-to-face care of a mental health professional.
There are many reasons why you may not be able to access psychotherapy or pharmaceutical treatment for your mental health. These reasons include limited funds, limited transportation, and stigma against various treatments, whether talk therapy or medication.
A self-help book is one written with the intention of guiding you, the reader, through solving your personal problems.
Are they effective? Yes, they can be.
Specifically, older research indicates that self-help books targeted at specific mental health concerns, such as depression or obsessive-compulsive disorder, tend to be of higher quality. Researchers suggest they're more effective because they explore specific issues in more depth and with greater accuracy over several chapters, instead of being confined to just one chapter.
The researchers also noted that books written from a cognitive-behavioral perspective tend to be rated more highly by expert psychologists, which is consistent with the fact that CBT programs are considered one of the more established, and more effective, treatments.
We selected self-help books for this roundup based on the following criteria:
positive user reviews, especially by other mental health providers
high ratings

author with a background in practicing mental health

care
reasonably priced
General price ranges with dollar signs ($ to $$) are indicated below. One dollar sign means the product is rather affordable, whereas two dollar signs indicates a higher price range.
Prices for the physical format, most commonly paperback, were used for the price comparison. Most of the books also have Kindle and audio editions, which may increase or decrease the price slightly.
Pricing guide:
$ = under or at $15
$$ = over $15
Best for anxiety
Price: $
Formats: paperback, Kindle, audiobook
Written by psychotherapist Jennifer Shannon, "Don't Feed the Monkey Mind" is geared toward people looking to stop anxious thoughts. Shannon uses exercises throughout that teach cognitive-behavioral therapy (CBT), acceptance and commitment therapy (ACT), and mindfulness techniques.
The book is focused on identifying your own anxious thoughts, questioning them, and looking at the core of your fears.
What we like
The book uses many analogies and original illustrations throughout, making it easy to follow.
Shannon offers clear strategies to practice managing symptoms of anxiety.
The author focuses on your current anxious responses and how to deal with what's happening in your mind today, as opposed to focusing on the root of the anxiety.
What to look out for
The "monkey mind" analogy will be repeated for the entirety of the book, so if it doesn't appeal to you, this book may not be right for you.
Best for depression
Price: $
Formats: paperback, spiral-bound, Kindle
This book is a resource aimed at helping those going through intense and painful emotions. After each chapter, it uses dialectical behavior therapy (DBT), including exercises and activities, to teach the necessary skills for enduring strong negative emotions without resorting to harmful behavioral patterns.
The book focuses on helping you build skills in:
distress tolerance
mindfulness
emotion regulation
interpersonal effectiveness
What we like
The book starts with introductory exercises and moves to advanced-skill chapters as you make progress.
It offers a clear and practical guide to DBT.
What to look out for
It's very much a workbook that comes with a lot of stopping, writing, and reflecting.
This book is not intended to be read through in one or two sittings.
Best for trauma
Price: $
Formats: hardcover, Kindle, audiobook, audio CD
This book is geared toward those who are working through past trauma. The author encourages readers to shift how they think about their trauma and emotional difficulties. The book does this by pushing back against the common, critical self-reflection, "What's wrong with you?" Instead, it emphasizes a different question from another perspective: "What happened to you?"
Oprah Winfrey and renowned brain and trauma expert Dr. Bruce Perry write in a personal voice to their readers, and urge us to consider how our earliest experiences shape our lives down the road.
What we like
The book details the scientific research that explains how memory and trauma affect the brain.
The authors introduce new research about how you can retrain your brain through new treatment methods.
It uses anecdotes from the author's personal experiences.
What to look out for
The book is slightly more expensive than some of the other options on this list.
Best for setting boundaries
Price: $$
Formats: paperback, hardcover, Kindle, audiobook
"Set Boundaries, Find Peace" is a comprehensive guide to understanding and establishing interpersonal boundaries. It uses CBT techniques to help you identify and express your needs clearly and without apology.
The author, Nedra Glover Tawwab, identifies six types of boundaries:
physical
sexual
intellectual
emotional
material
time
Plus, she provides advice on respecting your personal limits.
What we like
The author is a licensed counselor and Instagram influencer accustomed to breaking down topics in an easily digestible manner.
This book is a down-to-earth and practical guide.
Each chapter ends with questions to help you work through your personal boundaries.
What to look out for
The book doesn't address power imbalances present in scenarios where boundary-setting could be dangerous.
Best for students or people with ADHD
Price: $
Formats: paperback, hardcover, Kindle, audiobook
"The Smart but Scattered Guide to Success" helps readers develop their executive functioning skills, aka the skills that help you meet deadlines, stay cool under pressure, and remain focused. The book begins with identifying your specific executive skill profile in nine essential capacities, including:
organizational skills
time management
emotional control
task initiation
The book is divided into those nine sections and encourages you to start with the sections specific to your unique profile score so that you can better manage life's complex tasks and demands.
What we like
The book offers science-based strategies and concrete examples.
It helps you clarify your strengths and goals, and stay motivated.
What to look out for
For those who have trouble reading large chunks of text, there are large paragraphs throughout.
This is a workbook that asks you to pause frequently to write and reflect.
Best for worrying
Price: $$
Formats: paperback, Kindle, audiobook
"Worry Trick" is written for people who find themselves constantly worrying about the improbable. This book is based on acceptance and commitment therapy (ACT) as well as cognitive behavioral therapy (CBT).
Instead of asking you to resist your anxiety or avoid it, the author, David Carbonell, reveals that avoidance may make anxiety worse. He puts emphasis on techniques to address your worry as a process.
Carbonell has a doctorate in clinical psychology and has had a practice devoted exclusively to the treatment of anxiety disorders in Chicago for more than 30 years.
What we like
"Worry Trick" offers great content for a great price.
This is a very readable book, written in a clear and witty manner with images and analogies.
The book provides specific interventions that the reader can apply immediately.
What to look out for
The author focuses on helping a reader with their hypothetical worries, specifically improbable and unforeseeable events like a plane crash or being diagnosed with a terminal illness.
Best for vulnerability and leadership
Price: $
Formats: paperback, hardcover, Kindle, audiobook
In "Daring Greatly," the author Brene Brown explores the answers to questions about courage, including:
What drives our fear of being vulnerable?
How are we protecting ourselves from vulnerability?
What price are we paying when we shut down and disengage?
Brown rejects the notion that vulnerability is a weakness and argues instead that it's the birthplace of innovation and creativity. She writes, "When we shut ourselves off from vulnerability, we distance ourselves from the experiences that bring purpose and meaning to our lives."
What we like
The author draws upon extensive research and personal experiences.
It's a fast-paced read, with kitchen table storytelling techniques.
What to look out for
The author uses her own personal experiences as a starting point for explanations, in lieu of using dense empirical data.
Whether you're dealing with depression or difficulties with executive functioning skills or chronic worry, you can start increasing your mindfulness in each of these areas from the comfort of your home — with or without a mental health professional.
While some mental health conditions require treatment that may include medication or therapy, self-help books can be useful tools to get you started or move you along in your journey to feeling better.
If working through a self-help book isn't bringing you the relief you were hoping for, consider reaching out to a trusted healthcare or mental health professional. Together, you can devise a treatment plan that may include self-care strategies in addition to recommended medications or therapies.