Does anxiety make your home, social, or work life difficult? Listening to a podcast may give you the support you need.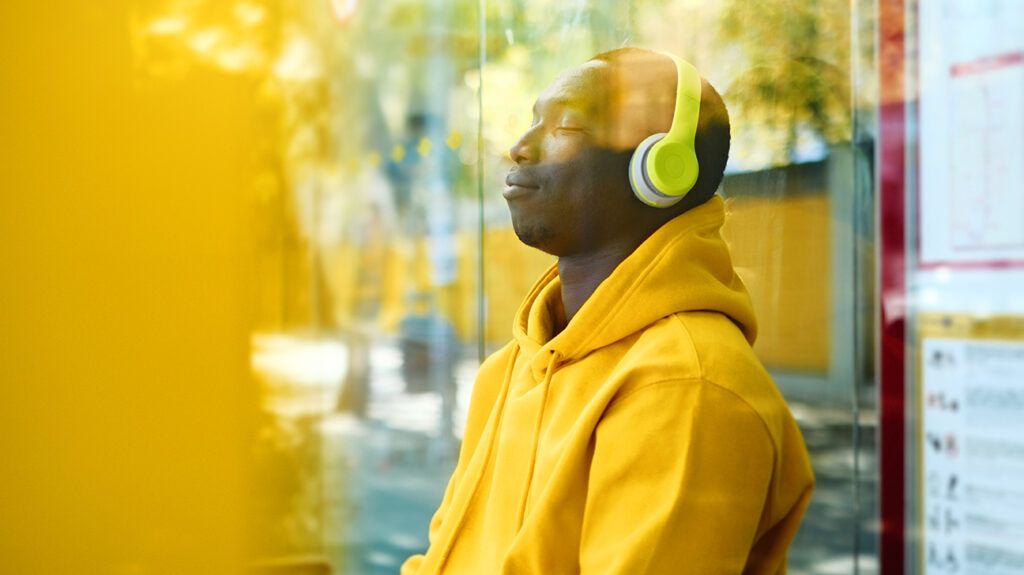 If you want to jump directly to the sections for each podcast, you can click the links below.
Dialing up a podcast can sometimes help you dial down the volume of your anxiety. Some podcasts may help you understand your feelings, others may give suggestions for dealing with work or social interactions, while others may lift your mood by meditating or even laughing.
No matter what method you find most helpful for dealing with your anxiety, you can be sure there is a podcast about it.
As of mid-2021, there were 2 million podcasts, and health/fitness was the 5th most popular genre. Many of these health podcasts are about mental health, especially anxiety.
While no podcast, not even one hosted by a doctor, can substitute for professional treatment, they may help you cope when you need a helping hand.
Anxiety is a natural protective bodily response to tell you something is not OK and needs your attention. You may feel nervous, fearful, or even panicked in those situations. But when anxiety becomes regular or overwhelming, or if it begins to make daily activities difficult, you may have an anxiety disorder.
Anxiety disorders are the most common mental illness in the United States. About 40 million U.S. adults, or 18% of the population, are affected.
So, if you're feeling anxious, you're not alone. And by listening to a podcast about anxiety, this fact will be brought home. You'll get to hear someone else, maybe someone a lot like you, talk about what does and doesn't work for them.
We picked the top anxiety podcasts for their potential to help you manage your anxiety both in the moment and over time. Here's what we looked for specifically:
The podcast has a good rating and positive reviews.
It has regular current episodes.
Its tone is upbeat and encouraging.
Its hosts are engaging and experienced with anxiety.
All services have been vetted to ensure they meet Psych Central's medical and business standards.
These podcasts are for informational purposes only. They're not a substitute for professional medical advice. It's important to discuss your anxiety and mental health concerns in general with a psychiatrist, licensed therapist, or other healthcare professional.
Best for humor
Comedian Paul Gilmartin has hosted this weekly podcast for 6 years. It's not exclusively about anxiety, but it does discuss anxiety quite often. Episodes cover:
Gilmartin hosts artists, comedians, and professional medical providers as guests. The content is serious, but Gilmartin and his guests often infuse a humorous tone. As Gilmartin says in one of his podcast intros: "I'm not a therapist; I'm a clown."
What we like
Episodes have a light tone but serious content.
The podcast has a long history.
It features respected experts in the psychology field as well as artists and comedians who tell of their anxiety experiences.
What to look out for
Listeners must be ready to appreciate humor regarding mental illness.
Best for work anxiety
This podcast, presented by Harvard Business Review, features candid stories from business, technology, and entertainment leaders about their experiences with anxiety. The great thing about this podcast is that it focuses equally on transforming the workplace and yourself.
It is now in its fifth season and is hosted by Morra Aarons-Mele. She is the founder of the marketing agency Women Online and author of the book "Hiding in the Bathroom." Each episode focuses on an aspect of anxiety in the workplace that doesn't get talked about often.
For example, one episode discusses the question: How can we navigate a world that feels like a pressure cooker without letting our anxieties harm others? Another episode asks: Why is it, even in a world where people are encouraged to be more open, mental health remains one of the last things people disclose at work?
What we like
The podcast features honest conversations about seldom-discussed challenges of handling anxiety at work.
Both the host and her guests have experience in varied business environments.
The podcast has a 4.7 rating on Apple.

What to look out for
All work situations are different, so you'll want to evaluate how you can best apply this podcast's suggestions to your specific situation.
Best for social anxiety
Host Sadie Hall was diagnosed with social anxiety disorder and perfectionism in 2018. Since then, she has been exploring tools and solutions and sharing them on her podcast. "I'm on the road to recovery, and I want to take you with me," she says in her introduction.
Sadie talks in the tone of a best friend who cares about you and wants to help you get out and enjoy yourself, even while you're living with social anxiety.
What we like
Sadie includes interviews with experts and people with long experience with social anxiety.
Her tone is compassionate and upbeat.
It has a 5.0 rating on Apple.
What to look out for
The podcast schedule tends to be irregular.
Best for LGBTQIA+
Though not specifically about anxiety, this podcast features weekly interviews with what it calls "the most interesting LGBTQ+ people in the world." But the topics often touch on mental health issues, such as the interview titled "A Love Letter to Anyone Who Has Ever Felt Despair."
We believe that this podcast could give your confidence and mental health a boost. Each episode is a deep dive into the joys and challenges of being LGBTQIA+. Recent guests include Melissa Etheridge, Pete Buttigieg, and Roxane Gay.
The podcast is hosted by Jeffrey Masters and produced by The Advocate magazine and the Gay & Lesbian Alliance Against Defamation (GLAAD).
What we like
The interviews offer inspiration and support.
You get a chance to hear well-known, successful people talk about being LGBTQIA+.
What to look out for
Content and language are often adult-oriented.
Best for People of Color
Diane Guerrero, who hosts this podcast, says she started it because she wants to change the dynamic for young People of Color who are disproportionately affected by mental health issues but are not getting the resources they need. She invites listeners to "bring your complicated feelings and spend time with people who are rooting for you."
She says that while growing up, almost everyone in her family or community was affected by mental health issues, but no one talked about it. She was taught to say that she was OK even when she really wasn't.
The Yeah No, I'm Not Ok podcast wants to change all that. Guerrero wants to start a mental health revolution by having people openly talk about how they feel. She features conversations with friends, colleagues, activists, and healthcare professionals who have had mental health experiences that have changed their lives.
The podcast is presented in collaboration with LAist Studios.
What we like
The podcast offers frank, supportive conversations about difficult personal and cultural issues.
The conversations extend a hand especially to People of Color.
The podcast has a 4.8 Apple rating.
What to look out for
The style is emotionally raw and contains adult language.
Best for guided meditation
This podcast offers short guided meditations to calm anxiety, overcome negative thinking, and boost your confidence levels. If you want to meditate but don't have enough time or focus to do it, this podcast may be a good option for you.
Most meditations here are 10 minutes or less. Some "extended minis" last 20 minutes.
Meditation Minis' provide guided support for specific issues as well as general calming. The meditations are led by Chel Hamilton and come from various sources, not reflecting any particular religion or ideology. Chel presents them in a neutral, non-religious way.
What we like
Content is neutral and not attached to any program or religion.
The meditation leader's voicer is calm and soothing.
The podcast has a 4.8 rating on Apple.
What to look out for
It's important not to listen to these soothing meditations when you need to be alert, such as when you're driving.
Best doctor-led
The Anxious in Austin podcast is hosted by two Austin psychologists, Dr. Marianne Stout and Dr. Thomas Smithyman. They discuss treatment options for anxiety to help you better understand anxiety. In their professional practices, they specialize in anxiety disorders and OCD.
What we like
The podcast is hosted by two experienced psychologists.
They discuss current issues, such as coping with the COVID-19 pandemic and dealing with burnout.
It has a 4.9 rating on Apple.
What to look out for
The episode schedule is irregular, with breaks of one to several months between podcasts.
Best for a scientific approach
Your Anxiety Toolkit podcast offers usable, science-based tools for people who live with mental health conditions, especially anxiety, panic, and OCD. The host is Kimberley Quinlan, a licensed marriage and family therapist (LMFT). The tone here is compassion and helpfulness.
She says her podcast has three goals:
to provide you with extra tools to manage your anxiety
to inspire you
to provide you with one big, fat virtual hug (because experiencing anxiety ain't easy)
What we like
This podcast has regular weekly podcasts.
Guests offer fresh looks at anxiety, sometimes not what you're expecting.
Kimberley is enthusiastic and compassionate. You'll feel one of your BFFs is talking to you.
What to look out for
This is a huggy atmosphere — but don't worry, it's virtual!
Best for sleep
This podcast offers sleep stories and meditations to help you fall asleep. Reviewers point out that the stories often help distract them from worries and anxiety long enough to drop off to sleep. Here are some examples:
"A Moonlit Autumn Hike"
"Sea Glass at Sunset"
"Stargazing in Joshua Tree"
If the idea of a "sleep story" makes you roll your eyes, try giving one a chance. It's different from a regular story or audiobook in that the plot does not have tension and increasing drama. Instead, it starts with relaxation and moves toward even more relaxation. Most reviewers say they fall asleep during the first half of the story.
What we like
The podcast has interesting and beautiful stories.
In our experience, the stories really do help you fall asleep.
The podcast has a 4.6 rating on Apple.
What to look out for
Unless you buy the premium version, there are several minutes of advertising at the beginning of each story. If you're just about ready to drop off to sleep, this might disrupt it.
Some narrators are better than others. Thomas gets the best reviews.
Anxiety is hard enough to manage without feeling all alone with it. Podcasts can let you listen in to others' anxiety experiences and hear how they manage them.
No podcast is a substitute for medical treatment, but podcasts can give you the sense of being in a community of people trying to help.
Podcasts can be helpful, entertaining, and a good companion in the moments when you need to hear an encouraging voice. If you open up your favorite podcast app, you'll find you have lots of choices. After a few listens, you'll probably find one that speaks to you.
Did you know that Psych Central hosts two mental-health-related podcasts? If you're interested, you can find their landing pages here: