We include products we think are useful for our readers. If you buy through links on this page, we may earn a small commission. Here's our process.
Psych Central only shows you brands and products that we stand behind.
Our team thoroughly researches and evaluates the recommendations we make on our site. To establish that the product manufacturers addressed safety and efficacy standards, we:
Evaluate ingredients and composition: Do they have the potential to cause harm?
Fact-check all health claims: Do they align with the current body of scientific evidence?
Assess the brand: Does it operate with integrity and adhere to industry best practices?
We do the research so you can find trusted products for your health and wellness.
Mental health challenges affect all communities, and there are resources available no matter where you live, your race, or ethnicity.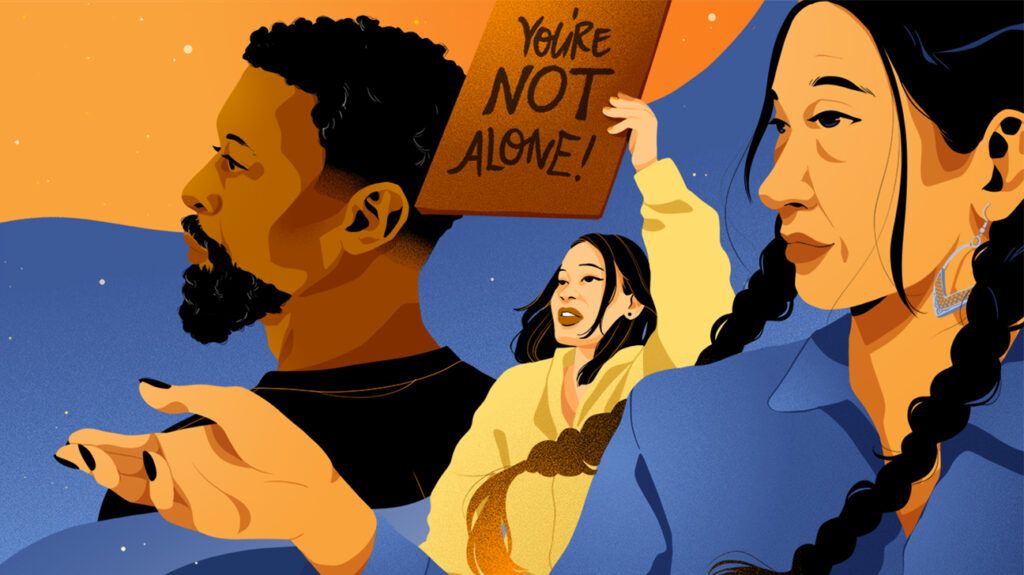 Mental health problems can affect anyone, regardless of race or ethnicity.
The COVID-19 pandemic and other recent events brought national attention to the many forms of racism that People of Color and Indigenous people face at work, at home, and in their communities.
On top of managing their day-to-day responsibilities, individuals from historically marginalized groups have a unique set of stressors centered on racial identity that disproportionately makes them more likely to develop a mental health condition.
Yet, they are the least likely to be diagnosed with a mental health condition or even able to find mental health support in their communities.
But there is help available.
A number of resources are specifically tailored to provide mental health help and support to People of Color, Indigenous people, and their communities.
Racism – in any form – can take a toll on not only the body but also on the mind.
Psychological effects of racism
Research suggests that racism is twice as likely to affect a person's general health as well as their mental health.
According to the New York State Office of Mental Health, racial trauma may produce chronic stress, feelings of hopelessness and sadness, and – in some situations – thoughts of suicide.
The psychological effects of racial trauma can last for a long time.
A 2017 study found that Black males who were aware of racial discrimination when they were 20 to 23 years old were more likely to have symptoms of anxiety and depression during their 20s and early 30s.
Physical effects of racism
Racism not only has an impact on a person's mental health but their physical health as well.
Research found that racial discrimination produces constant inflammation in the body, elevating the risk for chronic illness. According to the Centers for Disease Control and Prevention (CDC), racial and ethnic groups are more likely to be diagnosed with heart disease, asthma, and obesity.
Adolescents aren't immune to the effects of racism on the body, either.
According to a 2019 statement from the American Academy of Pediatrics, adolescents frequently exposed to racial discrimination and stereotypes are likely to be chronically stressed.
Having constant stress on the body can harm the body and increase the risk for disease.
Stigma behind mental health
If you're reluctant to seek help, you're not alone. Let's take a look at some numbers:
About 16% of individuals, over 7 million people, who identify as Black or African American report having had a mental health condition in the past year.

About

16%

of individuals, over 10 million people, who identify as Latino or Hispanic report having had a mental health condition in the past year.

For Asian Americans and Pacific Islanders, 15% of people, or 2.9 million individuals, report having had a mental health condition in the past year.
Research finds a high degree of stigma surrounding mental health in communities of color. For example, a 2021 study examining mental health-related stigma across racial and ethnic groups found Latino and Asian participants had higher levels of mental health-related stigma than white people.
Some common stigmas reported in these surveys include:
people with mental health issues are dangerous
mental health problems are caused by lack of faith or demons
mental health conditions are just an excuse for sinful behavior
mental health is a private issue and should not be talked about
A 2016 paper showed that discrimination at work and housing, education, and healthcare could be linked to these stigmas and more surrounding mental health.
Additional factors
Treatment disparities have prevented People of Color and Indigenous people from accessing high-quality healthcare.
Health insurance may not cover therapy or have strict requirements on eligibility to receive mental health services. People with limited means of transportation may also feel disinclined to seek treatment if it requires extensive travel.
Having a language barrier may also limit access to mental health services. It can also cause communication difficulties between you and a therapist who does not understand your culture or speak your language.
By prioritizing your mental health, you're taking care of yourself and destigmatizing therapy for others in your community.
Whether you're new to therapy or looking to get back to it, there are several points you may want to consider when choosing your therapist.
Here are some other details you may want to consider when choosing a therapist:
Consider your reasons. Think about the type of issues you want to discuss in therapy. If you're experiencing certain behaviors — think about the differences in treatment between PTSD and insomnia — a therapist specializing in a specific field may be better suited for you.
Ask for a referral. Ask your family doctor, if you have one, or friends or family you trust if they have recommendations for a mental health professional.
Schedule a pre-consultation. Make a list of potential therapists and schedule a phone consultation to understand their communication styles and whether they would be a good fit for your needs. You can use the time to ask questions regarding their experience with racially sensitive issues and their training.
Check with your health insurance company. Call your insurance provider to find out if coverage is available for mental health services and, if so, how much. Some insurance companies may have a list of in-network therapists they're willing to cover.
People of Color and Indigenous people experience health disparities because of the lack of accessibility to good mental health services.
Here we provide a breakdown of resources for various racial and ethnic groups including:
Black people and African American resources
Native American and Alaska Native resources
Latinx, Latina, Latino, and Hispanic resources
Asian American and Pacific Islander resources
LGBTQIA+ People of Color
Apps
Racism and discrimination are public health issues that affect individuals, their families, and their communities.
Navigating their effects isn't easy. But by recognizing the need for therapy, you've already taken the first step toward improving your mental health.
If you're considering mental health services, help is available.
Whether you're looking for online or in-person support, there are ways you can connect with an experienced therapist or counselor who understands the concerns that impact you and your community.
Now that you have a list of resources, the next step is finding one that's right for you and who best fits your needs.