We include products we think are useful for our readers. If you buy through links on this page, we may earn a small commission. Here's our process.
Psych Central only shows you brands and products that we stand behind.
Our team thoroughly researches and evaluates the recommendations we make on our site. To establish that the product manufacturers addressed safety and efficacy standards, we:
Evaluate ingredients and composition: Do they have the potential to cause harm?
Fact-check all health claims: Do they align with the current body of scientific evidence?
Assess the brand: Does it operate with integrity and adhere to industry best practices?
We do the research so you can find trusted products for your health and wellness.
Our picks for the best online psychiatry services, which include Talkspace and Cerebral, can make your search easier.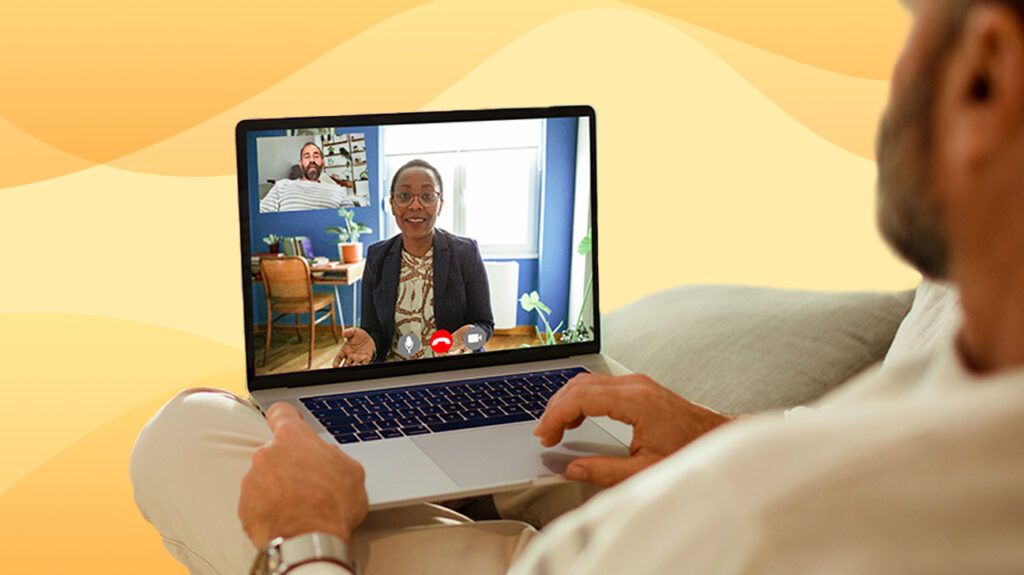 Though it's primarily used for medication management, telepsychiatry — aka online psychiatric care and a subset of telemedicine — also provides you with an opportunity to connect with a psychiatrist online for evaluation, diagnosis, and treatment of mental health conditions.
Finding the right psychiatrist isn't always easy. In addition to finding someone who provides quality care and offers the right treatment, your psychiatrist will need to be licensed in your area and at a cost that fits your budget. This kind of search can certainly take time and probably feels daunting enough when you aren't also dealing with mental health symptoms.
That's why we put together this list of recommendations so that you have the info you need to decide which service is best for you. Here are our picks for the seven best online psychiatry services to help you move past the search and on to treatment.
If you're considering self-harm or suicide, you're not alone
If you're having thoughts of suicide or self-harm, you can access free support right away with these resources:
To create our list of the top online psychiatry services, we considered the following:
Qualifications. All these services connect you with licensed psychiatrists.
Privacy and confidentiality. These services comply with the HIPAA Privacy Rule and use other tools to protect your confidentiality, data, and secure information.
User reviews. We considered user feedback to find out whether others generally found these online psychiatry services useful.
Accessibility. Most of our picks are available throughout the United States.
Ease of use. You can access these services from your computer or via a smartphone app.
Vetting. All services have been vetted to ensure that they meet Psych Central's medical, editorial, and business standards.
Best for an all-in-one approach
Cost: Monthly medication plan: $99 per month; Therapy plan: $295 per month; Medication + therapy plan: $365 per month; medication is billed separately
Accepts insurance? Some insurances accepted
Therapy format: video or phone for psychiatric services; video, phone, and text (as needed) for therapy
Choice of psychiatrist: Yes
Cerebral provides teletherapy and medication services. The company specializes in anxiety, depression, and insomnia treatment, but in some states also covers other mental health conditions like:
Depending on your subscription plan, Cerebral offers diagnosis, therapy, and care counseling. Plus, if you're prescribed medication, they're shipped directly to you or delivered to your preferred pharmacy. The app is rated with 4.6 on Apple and 4.2 on Google Play.
Why we chose it
With Cerebral, you can cover all your mental health needs in one place since they offer psychiatry, counseling, therapy, and medication management.
What we like
Prescribed medications can be mailed straight to your door and typically clients spend around $20 monthly on meds.
Cerebral is available in the United States and the United Kingdom.
What to look out for
Cerebral doesn't provide services for severe mental health issues like schizophrenia or suicidal ideation.
Before you can make an appointment, you have to authorize payment, which is set to auto-renewal.
Therapist availability will vary depending on the state.
Cerebral prescribers, including psychiatrists, are independent health professionals. You work directly with and receive care from them, not Cerebral.
If you'd like to learn more about Cerebral, consider reading our in-depth review.
Best for a free assessment
Cost: $299 for initial consultation, $129 for 15-minute follow-ups
Accepts insurance? Yes
Therapy format: Video
Choice of psychiatrist: Yes
Uncertain what your symptoms could mean? Try Doctor on Demand's free mental health assessment to get more insight before choosing from their many experienced psychiatrists.
You can make an appointment for any day of the week. Although wait times vary, appointments are often available within a few days. Reviews for the app average 4.9 out of 5 stars, suggesting many users feel very satisfied with their care.
Why we chose it
Doctor on Demand accepts a variety of insurance plans and offers many experienced psychiatrists from which to choose. Plus, their free assessment allows you to gain more insight before connecting with a psychiatrist.
What we like
Insurance is accepted.
Electronic prescriptions can be sent to your pharmacy.
If your clinician agrees that taking time off work or school should be part of your treatment plan, they will assist you by providing an excuse note.
What to look out for
Doctors cannot prescribe particular controlled substances, such as medications that have a DEA Schedule I–V or that require an in-person visit.
If you choose to go over the allotted 15 minutes, you'll be billed for extra time.
No subscription plans are available currently.
Best for anxiety and depression
Cost: Varies, starts at $95 per month for psychiatry + your pharmacy copay if you have insurance Rx benefits
Accepts insurance? Yes; also accepts HSA/FSA
Therapy format: Video, messaging
Choice of psychiatrist: No, but switching is possible
Brightside psychiatrists focus on providing support for anxiety and depression, so this service may offer an affordable care option if you have symptoms of these common mental health conditions.
After a short assessment, you'll connect with a psychiatrist to talk about your symptoms and develop a treatment plan. Brightside subscribers also have access to a free self-care program with videos on mindfulness, practicing gratitude, and other topics intended to help you build skills and decrease symptoms. Plus, you can add therapy services for an additional fee.
Customer testimonials praise Brightside's convenient, accessible support. The service is now available in all 50 states.
Why we chose it
Brightside is a convenient, quick, and accessible platform for people living with anxiety or depression.
What we like
Appointments are available within 48 hours.
Medication is delivered to your door.
You have unlimited access through messaging, video, and check-ins.
What to look out for
Therapy subscriptions are billed monthly and are nonrefundable. However, you can cancel your subscription at any point.
In order to receive medication, you'll need to complete a video visit.
Best for treating a range of mental health concerns
Cost: $199 for initial consultation, $95 for 15-minute follow-ups
Accepts insurance? Yes
Therapy format: Video
Choice of psychiatrist: Yes
Amwell provides psychiatric care for several mental health conditions, including:
bipolar disorder
anxiety
PTSD
depression
This service can usually connect you with a psychiatrist in less than 2 weeks. If typical business hours don't work for your schedule, you can easily schedule a weekend or evening appointment.
While user reviews aren't limited to psychiatry services, the app does have an average 4.9-star rating on IOS, and many people praise the quality of care.
Why we chose it
Amwell offers convenient mental health care for a wide variety of psychiatric conditions, as well as flexible appointments that work with your schedule.
What we like
Weekend and evening appointments are available at no extra cost.
Electronic prescriptions can be sent to your pharmacy.
Amwell offers collaborative care. For instance, if you see both a psychiatrist and a primary care doctor, they can work together on your personal healthcare plan.
The service accepts insurance.
What to look out for
Psychiatrists cannot directly prescribe controlled substances, but they can send a recommendation to your primary care doctor.
You must be 18 years or older for psychiatric care.
If you'd like to learn more about Amwell, consider reading our in-depth review.
Best for flexible scheduling
Cost: Varies, starts at $99 a visit
Accepts insurance? Yes
Therapy format: Phone, video
Choice of psychiatrist: Yes
Teladoc psychiatrists offer support for a range of mental health conditions, including:
The service's pricing could be clearer, but insurance may help offset the cost or fully cover your appointment.
Need an appointment outside typical office hours? You can connect with a Teladoc psychiatrist between 7 a.m. and 9 p.m. on any day of the week. Your psychiatrist will work with you to find an appointment slot that fits your availability and preferred times.
While Teladoc earns mixed reviews, website testimonials suggest many people find their psychiatric services both convenient and helpful.
Why we chose it
Psychiatry appointments with Teladoc are available 7 days a week from 7 a.m. to 9 p.m. by phone or video.
What we like
It's available in the United States and Canada.
The hours of operation are convenient and include the weekend.
Teladoc accepts insurance.
What to look out for
Psychiatrists cannot prescribe controlled substances or medications for bipolar disorder or schizophrenia.
It may take up to 7 days to get an appointment.
Best for children and teens
Cost: $284 for initial consultation, $108 for follow-up visits
Accepts insurance? Yes
Therapy format: Phone, video
Choice of psychiatrist: Yes
Many online psychiatry services only offer care to adults 18 years of age or older. MDLIVE also provides psychiatric care to children over age 10.
Psychiatrists offer treatment for several mental health conditions, including:
anxiety
depression
PTSD
bipolar disorder
Once you choose a psychiatrist, you can generally schedule an appointment for yourself or your child within just a few days.
Trustpilot users give MDLive an average of 3.6 stars, with nearly 12,000 reviews.
Why we chose it
MDLIVE is unique in that it's one of the few online healthcare platforms offering psychiatric care for children 10 years and up.
What we like
It offers psychiatric care to children ages 10–17 (in case we haven't mentioned it yet).
MDLIVE accepts insurance.
You may choose your child's psychiatrist from a list.
What to look out for
The parent or legal guardian must be present at the beginning of the session to give treatment consent.
Since each child needs their own profile, and appointments are booked through that profile, it's not possible to see more than one child during a single visit, though you may be able to book back-to-back appointments.
Psychiatrists cannot prescribe stimulant medications for ADHD.
Best for a fast appointment
Cost: $299 for initial consultation, $175 for follow-up visits
Accepts insurance? Yes
Therapy format: Video
Choice of psychiatrist: No, but you can switch
If you've ever looked into online therapy, you've likely heard of Talkspace. This telemental health service also offers psychiatric care online and via smartphone app. You can even combine psychiatry services with therapy.
Talkspace aims to help you get support quickly. The service matches you with a psychiatrist as soon as you sign up, so you can make an appointment immediately for anywhere from 48 hours to 3 weeks away.
Many people find Talkspace helpful, convenient, and easy to use. In fact, it's earned some of the highest ratings among telemental health services.
Why we chose it
If you need quick support, you can schedule a psychiatric appointment with Talkspace within 2 days of signing up.
What we like
If you have out-of-network benefits, you can submit claims and get 50%–90% of the cost back.
You can book sessions directly with your psychiatrist.
The first visit is more affordable compared with similar services.
What to look out for
You must be 18 years or older to see a psychiatrist.
Talkspace currently only works with certain insurance providers for psychiatric services, so it's important to research ahead of time whether your insurance is accepted.
If you'd like to learn more about Talkspace, consider reading our in-depth review.
Price
Therapy format
Cerebralnw
$99–$365 a month depending on plan
• Medication care: video, phone
• Therapy: video, phone, text
Doctor on Demandi/nw
$299 first visit; $129 for 15-minute follow-ups
• Video
Brightsidei/nw
$95+ a month
• Video
• Messaging
Amwelli/nw
$199 first visit; $95 for 15-minute follow-ups
• Video
Teladoci/nw
$99+ a visit
• Video
• Phone
MDLIVEi/nw
$284 first visit; $108 for follow-ups.
• Video
• Phone
Talkspacei/nw
$299 first visit; $175 for follow-ups.
• Video
i= accepts insurance, nw= available nationwide
Online psychiatry works similarly to a face-to-face appointment — except, of course, you won't need to leave your home.
Like therapy, psychiatry is a form of treatment for mental health conditions. Therapists, psychologists, and psychiatrists provide support for improving your mental health and emotional well-being. These mental health professionals have different experience and training, though, so they provide different types of support:
Therapists provide various types of talk therapy and can't prescribe medication.
Psychiatrists have a medical degree as well as training in mental health. They can prescribe medication, and some also provide therapy.
Generally speaking, professional support is recommended when your symptoms begin to affect daily life and relationships and keep you from functioning as you usually would.
Psychiatric care can be helpful in addition to psychotherapy. Your current therapist or primary care doctor may recommend a psychiatrist if you'd like to try managing mental health symptoms with medication.
Other reasons to consider talking with a psychiatrist:
You haven't seen much relief from therapy alone.
You're hoping to get a mental health diagnosis.
You're experiencing serious mental health symptoms, such as severe depression or anxiety, psychosis (a sense of disconnection from reality), or any other symptoms that are difficult to manage.
Your current medication isn't working, and you'd like to try something different.
There's no denying online healthcare increased access to treatment while COVID-19 safety precautions and distancing guidelines were in place. But — pandemic aside — online psychiatry can be beneficial when you:
can't find a mental health professional locally
have limited mobility
lack reliable transportation and child care
have symptoms that make it difficult to leave home
can't afford an in-person appointment — telemental healthcare tends to cost a little less than an office visit
When looking for an online psychiatrist, the primary goal is to find someone you can connect to and with whom you can openly share how you're feeling and the symptoms that you are experiencing. But before you can get to the first appointment, there are a few considerations that you should explore first:
Are they affordable and does the cost fit into my budget?
Do they accept my insurance? If I don't have insurance, do they offer a sliding scale or reduced rate to accommodate me?
Can they treat people in my area?
Do they specialize in treating my condition?
If I want a psychiatrist familiar with treating people that are my (age, race, sexual orientation, gender identity, etc.), is that mentioned in their online bio?
What do reviewers say? Do they have a trusting and harmonious relationship with their psychiatrist?
Our recommendations for the seven best online psychiatry services aim to answer these questions so you can find the support you need.
What is the difference between teletherapy and telepsychiatry?
Telepsychiatrists, similar to in-person psychiatrists, are able to prescribe medications for mental health disorders. Most follow-up appointments with telepsychiatrists are relatively short, usually about 15 minutes.
Teletherapists, such as psychologists or counselors, cannot prescribe medication but will help you work through your challenges with talk therapy. These appointments last longer, typically around 45 minutes.
What happens at my first online appointment?
When it's time for your first appointment, you'll want to get comfortable in a quiet, private room. Once you've logged in to a secure video chat, phone call, or the psychiatry service's platform, your psychiatrist will join you.
This first appointment serves as a consultation or evaluation, so they'll likely ask about:
current symptoms
medications you're taking
your medical history
past mental health diagnoses
treatments that have and haven't worked for you
You may have some symptoms that don't seem connected to your primary concern. Still, it's best to share them with your psychiatrist anyway — they could offer important clues for your treatment and the right diagnosis.
Keep in mind that online psychiatry cannot help in urgent or emergency situations.
Does online psychiatry work?
If you tend to imagine psychiatric care as something that takes place within a doctor's office, you may wonder whether online psychiatry services can actually help.
Plenty of evidence suggests telepsychiatry can be an effective approach to treatment — even without taking a pandemic into account.
According to the Columbia University Irving Medical Center, online psychiatric care and in-person care are equal in terms of:
accuracy of diagnosis
client satisfaction
effectiveness of treatment
care quality
The American Psychiatric Association (APA) describes telepsychiatry as "a validated and effective practice of medicine that increases access to care" and notes that people of all ages can benefit.
Several studies also highlight ways online psychiatry, or online mental healthcare in general, can make a difference for treatment outcomes:
Research from 2017 reviewed 25 articles on different types of telemental healthcare, including telepsychiatry. The study authors describe online mental healthcare as comparable to in-person treatment and as a cost-effective, adaptable, and efficient approach for people living with mental health conditions.
A 2018 literature review looked at 24 articles on different telemental health interventions for anxiety, depression, post-traumatic stress, or adjustment disorder. The authors found evidence to support the effectiveness of online or telephone-based mental healthcare.
Research from 2019 suggests telepsychiatry may increase satisfaction with care for veterans living with PTSD. Online psychiatric care both removes the need to travel to appointments and lessens the cost of mental health treatment.
Research from 2020 looked at 14 studies involving adults receiving online telepsychiatry for depression. The results suggest participants were at least as satisfied with their care as those receiving in-person treatment and saw similar levels of relief from symptoms of depression.
Can online psychiatrists prescribe controlled substances?
In general, online psychiatrists cannot prescribe controlled substances such as benzodiazepines or stimulants. These types of medications require in-person psychiatric visits and regular monitoring.
There are a few exceptions to this rule.
For instance, the U.S. Drug Enforcement Administration (DEA) made a temporary exception to this rule due to the COVID-19 public health emergency. Still, most of the online psychiatry platforms in this list state that they do not prescribe controlled substances.
The situation is different if you've already had in-office visits with a local psychiatrist and then move to online care.
The DEA website notes that if the prescribing practitioner has met the client in person first, then they may issue a prescription for a controlled substance via telemedicine. However, this generally isn't the case with online platforms.
Can Talkspace prescribe Xanax?
No, Talkspace does not offer prescription services for controlled substances like Xanax.
Can Talkiatry prescribe Adderall?
Talkiatry didn't make our list but it is an online mental health platform that connects users with psychiatrists and psychiatric nurse practitioners who can evaluate and prescribe medications, including those like Adderall, when deemed appropriate based on their professional assessment of your specific needs and symptoms.
What conditions can online psychiatrists help with?
Though services may vary, online psychiatrists can generally treat a variety of mental health conditions, including:
anxiety disorders, such as panic disorder
depression
PTSD
substance use disorder
bipolar disorder
eating disorders
Can a psychiatrist prescribe weight-loss medication?
Yes, psychiatrists can prescribe weight-loss medications, but they typically do so for individuals who have a medical need related to a mental health condition.
If you're seeking weight-loss medication for reasons unrelated to a mental health condition, it's generally best to consult with a primary care physician or a healthcare provider who specializes in weight management or internal medicine.
Accessing mental health support from home can make it easier to focus your energy on coping, and many people find online psychiatry an affordable, convenient treatment approach.
Telepsychiatry may not be available in all cases, though. If you have symptoms of psychosis, thoughts of suicide or self-harm, or severe mood episodes, an online psychiatrist may direct you to seek in-person support.
Psychiatrists practicing in your area may also offer online appointments or combine in-person visits with online care. So, even if exclusively online psychiatry services won't work for your needs, you could still have options for more accessible, convenient care.