We include products we think are useful for our readers. If you buy through links on this page, we may earn a small commission. Here's our process.
Psych Central only shows you brands and products that we stand behind.
Our team thoroughly researches and evaluates the recommendations we make on our site. To establish that the product manufacturers addressed safety and efficacy standards, we:
Evaluate ingredients and composition: Do they have the potential to cause harm?
Fact-check all health claims: Do they align with the current body of scientific evidence?
Assess the brand: Does it operate with integrity and adhere to industry best practices?
We do the research so you can find trusted products for your health and wellness.
Amwell is a telehealth service that provides quick, low cost, and easily accessible on-demand medical help 24/7.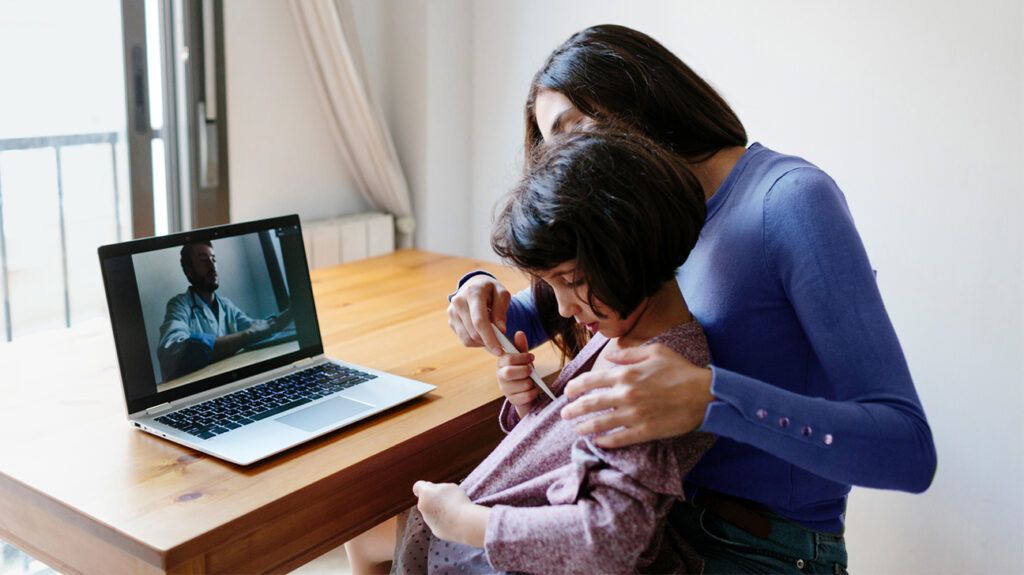 Medical issues can arise at any time — and that time is typically not Monday through Friday during normal business hours.
Fevers, rashes, and itchy bug bites have a habit of popping up in the early morning hours, late at night, on weekends, and — of course — when you're on vacation.
Oh! And during snowstorms and torrential downpours, too.
When road conditions, distance, a lack of transportation, a pandemic, or other reasons are keeping you from seeing a healthcare professional or clinician in person, a telehealth visit may be just what you need.
Before we recommend a telehealth service, it goes through a vetting process where we consider the following factors:
Clinician qualifications. How qualified and experienced are the clinicians? What are their credentials? Does the service follow evidence-based clinical guidelines?
Cost. Are the services relatively affordable? Do they accept insurance?
Ease of use. Is the site easy to navigate? Are the services accessible by phone?
Accessibility. How quickly can you get an appointment? Does the service offer night and weekend hours?
User reviews. How satisfied are previous customers? Would they return?
Amwell is a telehealth provider that connects people to board certified healthcare professionals 24 hours a day using your phone, tablet, or computer. There's also an app you can download.
The secure system allows you to see a doctor, therapist, or psychiatrist face-to-face without having to leave your home.
Healthcare professionals can look at you, listen to you, and help figure out the right course of treatment.
There are benefits and drawbacks to using just about every business and service — Amwell is no different.
Here are a few of the pros and cons of Amwell.
What's great about Amwell?
Amwell offers a variety of conveniences, including:
24/7 on-demand availability
treatments in a variety of medical areas, including breastfeeding support, pediatrics, menopause care, and psychiatric services
easy access via phone or web
cooperation with many insurance companies
What are the downsides of Amwell?
The Amwell platform does have a few drawbacks.
Healthcare professionals can't:
order lab tests
deal with serious or life threatening conditions or situations, such as

head injury
possible broken bones
choking
gagging
dizziness
loss of consciousness
signs of stroke
schizophrenia
thoughts of hurting yourself or others

write prescriptions for erectile dysfunction treatments or controlled substances that could contribute to substance use disorder
If you're considering self-harm or suicide, help is available
If you're having thoughts of suicide or self-harm, access free support right away with these resources:
Amwell's secure system can be accessed 24 hours a day from your phone, tablet, or computer.
The service has on-demand options, which means you don't have to schedule an appointment and you can see someone right away or after a short wait in a virtual waiting room.
Urgent care appointments typically last about 10 minutes but can be longer if you need more time. Therapist appointments are typically 45 minutes, whereas psychiatry appointments last about 45–60 minutes for the initial consultation and 15 minutes for follow-ups.
Types of treatment with Amwell
Healthcare professionals can conduct appointments with users via phone or the web. You can also get assistance from a variety of clinicians offering services in the following areas:
breastfeeding
nutrition counseling
pediatrics
menopause care
pregnancy and postpartum care
psychiatry
therapy
urgent care
Sign-up process
Signing up for Amwell is said to be pretty simple. Once you've taken a few minutes to create an account, your information is then safely stored.
To select the healthcare professional who works best for you, you'll be shown a list of available clinicians along with their experience and ratings before starting your visit. Getting connected usually only takes a few minutes.
Therapist qualifications
Amwell clinicians go through a rigorous selection process to become part of the Amwell Medical Group. They are licensed, board certified, and credentialed to work in your state 24/7 every day of the year.
Scheduling visits
No appointment is necessary. Amwell is designed for on-demand care, as if you were walking into a brick-and-mortar urgent care clinic.
Once you register and log into the site, clinicians who are currently available will appear on your screen. You can browse their profiles and make your choice by clicking the "connect" button.
If none are available, you'll go to a virtual "waiting room" and get notified when one becomes available.
Prescriptions
Amwell clinicians do prescribe medications, however there are several exceptions. They can't prescribe controlled substances, including:
Regarding refills, the Amwell clinician will discuss your health history and determine whether a refill is safe at this time or if you'll need to visit your primary care physician in person.
The cost of an urgent care visit at Amwell starts at $79, and may be even less since some employers and insurance companies cover telehealth visits.
The cost of a 45-hour appointment with a therapist ranges from $99 (master's level) to $110 (doctoral level). To see a psychiatrist, the initial appointment is $279 (45–60 minutes) and follow-ups are $109 (approximately 15 minutes).
The price is the same whether you need to schedule an appointment during the day, night, on the weekend, or on holidays.
Amwell works with a variety of health insurance companies, including:
Academic HealthPlans (AHP)
Aetna
Beacon Health
iCare
MHBP
Rural Carrier Benefit Plan
Amwell is constantly partnering with new health plans, and your insurance company may fully cover urgent care visits.
In fact, you can find out right away if your urgent care visit is covered. As you're creating your Amwell account, you'll have the option to enter your insurance information and subscriber ID. Once you reach the payment screen, the price you pay will either be your insurance copay or the cost of the visit.
Many of the insurance companies that Amwell works with are now covering visits with therapists and psychiatrists. If you're interested in these services, check with your insurance company to see if you're covered.
Amwell is also host to a growing network of specialists, including:
neurologists
dermatologists
physical therapists
Currently, these specialists visits are paid for up-front, but they may be eligible for reimbursement.
Online visits with Amwell are private and secure, as they use secure streaming video. Amwell is Health Insurance Portability and Accountability Act (HIPAA)-compliant, which allows you to consult with a clinician online safely and confidentially.
The service is generally well reviewed. Online reviews reveal that users are generally satisfied with the care they received.
Still, reviewers have encountered technical difficulties, and some note that picking a therapist for mental health services can be a little confusing. They also indicate that Amwell offers fewer communication options compared with most online therapy sites.
According to data from the Office of Disease Prevention and Health Promotion, almost 25% of people in the United States don't have a primary care physician.
Plus, the Association of American Medical Colleges projects a great shortage of primary care physicians by 2033.
Telehealth services like Amwell may help bridge the gap in care that can result from clinician shortages. Plus, these services can offer help outside of regular clinic hours.
What's more, 2016 research has suggested that users are overwhelmingly very satisfied with service received through telehealth, and telehealth visits are often considered to be equal to in-person visits.
Amwell is a good choice for anyone who needs standard, nonemergency medical treatment for themselves or their children.
Keep in mind that you can't use Amwell if you're experiencing a medical emergency, such as bleeding, chest pain, head injury, or possible broken bones.
MDLive is another popular telehealth service that's similar to Amwell. Both telemedicine platforms offer physical and mental health care from the privacy of your home. They differ slightly in price and scheduling.
Here's a brief comparison of Amwell and MDLive:
Service
Urgent care cost
Therapy cost
Psychiatry cost
Insurance accepted
Availability
Children
Amwell
$79
$99+
• $279 initial
• $109 follow-up
yes
24/7/365
on-demand
• Medical: all ages
• Therapy: ages 10+
• Psychiatry: no
MDLive
$85
$108
• $284 initial
• $108 follow-up
yes
24/7/365
calendar system
• Medical: all ages
• Therapy: ages 10+
• Psychiatry: ages 10+
Amwell is touted as an easy-to-access, low cost way to see a clinician for nonemergency medical services.
Clinicians offer assistance in a variety of healthcare fields, including breastfeeding support, nutrition counseling, pediatrics, therapy, psychiatric services, and menopause care.
The service is available 24/7 without the need to book an appointment ahead of time, and the cost of a visit may be lower than the standard rate for different types of services if you have medical insurance.