We include products we think are useful for our readers. If you buy through links on this page, we may earn a small commission. Here's our process.
Psych Central only shows you brands and products that we stand behind.
Our team thoroughly researches and evaluates the recommendations we make on our site. To establish that the product manufacturers addressed safety and efficacy standards, we:
Evaluate ingredients and composition: Do they have the potential to cause harm?
Fact-check all health claims: Do they align with the current body of scientific evidence?
Assess the brand: Does it operate with integrity and adhere to industry best practices?
We do the research so you can find trusted products for your health and wellness.
Headspace and Calm are both popular, top-rated meditation apps. But which one is really best?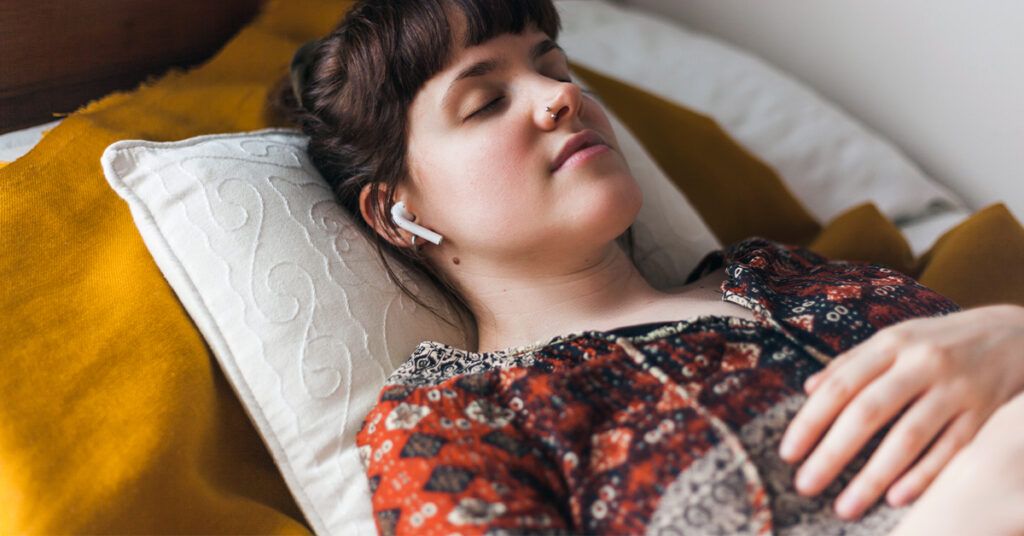 If you'd like to boost your mental, emotional, and physical health — and, really, who doesn't? — one thing worth trying may be meditation.
A 2014 review of 47 studies found that meditation programs improved anxiety and depression. A 2017 review found that mindfulness meditation may improve pain and overall quality of life.
Whether you're a meditation rookie or pro, meditation apps can be a great option to jump-start or deepen your practice. They're especially powerful if you're already glued to your phone — better to lose yourself in a guided meditation than the latest bleak headline.
Countless apps exist, but Headspace and Calm are particularly popular for their:
accessibility
pleasant aesthetics
calming meditations
How we researched Headspace and Calm
Before we recommend a meditation app, we carefully research several factors, including:
User reviews. This one is pretty important. How happy are current users? What do they like/dislike about the app?
Overall rating. How do the apps rate on both Google Play and the App Store? The closer to 5 stars, the better. How many total reviews factor into this final score?
Features. We look for quality, variety, and whether there are options for both the beginning and experienced meditator.
Price. We search for apps that suit different budgets, from those with yearly subscriptions to free options. Importantly, does the price match the quality of content?
Operating system. Are the apps compatible with both Android and iOS? Occasionally, we'll recommend an app that's only usable in one operating system if it has an appealing feature (e.g., it's free or useful in some way).
If you'd like to learn more about our vetting process, you can find more information here.
Started in 2010, Headspace simplifies meditation and mindfulness, making it less serious and even fun. Co-founder Andy Puddicombe, a former Buddhist monk, narrates most of the meditations. With millions of users worldwide, Headspace aims to improve your health and happiness.
And so far, studies conducted by Headspace and independent researchers suggest that it can do just that. For example, using the app for 10 sessions increased participants' positivity and well-being, and reduced stress and irritability.
Research involving nurses found that Headspace reduced stress and boosted job satisfaction.
Pros and cons
Pros
The app is easy to navigate and has clean, colorful graphics and content.
It offers plenty of content for beginning meditators.
It has a variety of guided, partly guided, and unguided meditations.
Some guided meditations let you choose your teacher/guide.
You can create meditation goals and track how far you've come.
It offers short meditations you can squeeze into a busy day.
For some meditations, you can set the length of time.
It has lots of family-friendly features with meditations designed for kids ages 5 to 12 years old.
The app has a wide variety of movement/workout videos coupled with mindfulness techniques.
You can download and listen to meditations offline.
If you get the yearly subscription with the 14-day free trial, it's about half the price ($5.83 per month), compared with the monthly subscription with a 7-day free trial ($12.99 per month).
A family subscription plan (up to 6 members) is available for $99.99 per year.
Cons
Some reviewers say the meditations feel too similar and lack variety.
The app may not be as useful for more experienced meditators.
Free content is limited.
Free trial is only available after signing up for a payment plan.
Some users find it difficult to cancel subscriptions or reach customer service.
To get a reminder that your yearly subscription fee is about to process, you must sign up on their website (e.g., not the App Store or Google Play).
Currently, there's no offer for an unlimited lifetime, one-time purchase.
Launched in 2012, Calm aims to "train your mind to sleep more, stress less, and live better." Its design is completely different from Headspace, with soothing sounds and natural landscapes. Think birds chirping, rain falling, oceans, forests, and mountains.
But like Headspace, it also has millions of users, and research has demonstrated some key benefits. For example, a 2019 study involving 88 college students who felt stressed out found that using Calm reduced stress and improved mindfulness and self-compassion.
In a 2021 study, adults with sleep issues who used Calm for at least 10 minutes a day for 8 weeks reported feeling less tired and sleepy during the day and sleeping better at night.
In another study, college students who used Calm's 7-day introductory mindfulness course every day or once in a while also experienced greater well-being.
It's important to note that researchers who also work for Calm have done most of these studies.
Pros and cons
Pros
The Calm app is easy to use and beginner-friendly.
It features soothing nature sounds and landscapes.
When you begin, the app asks a few questions about your experience level and meditation goals to give you a better-tailored experience.
The app offers both guided and unguided meditations.
You can track your moods over time.
The app is available in 6 languages.
It offers a large library of Sleep Stories, several narrated by celebrities.
It features audio Masterclasses taught by experts in their field.
Focus music playlist, including songs from big-name artists.
Guided meditations are available in a variety of lengths (from 3 minutes to 25 minutes).
The app is frequently updated.
You receive daily mindfulness quotes.
Premium Family Plan (up to 6 members) is available for $99.99 per year.
Cons
Free version is limited.
To access the free trial, you'll need to enter payment information. If you forget to unsubscribe, you'll still be charged for the subscription price.
Some users say it's difficult to reach customer service.
The shortest "Daily" meditation is 10 minutes, which may be too long for some users.
Some users may find the Sleep Stories too long.
If the above overview of the two services doesn't give you enough info to decide which may be right for you, here's a more direct comparison.
Meditations
Headspace
hundreds of guided meditation and mindfulness exercises
beginner courses on the building blocks of meditation
10-day courses on everything from navigating anger, change, or restlessness to enhancing productivity, happiness, or patience
30-day courses on a range of subjects, from managing anxiety to dealing with pain to finding focus to cultivating creativity
meditations and animated videos for kids, divided by age group
brief (3-minute) meditations when you only have a few minutes to practice
single meditations for when you're waking up, wanting to focus or relax, or trying to fall asleep
Calm
guided meditation sessions in lengths of 3, 5, 10, 15, 20, or 25 minutes
a new Daily Calm each day — 10-minute sessions to help start your day or unwind before bed
a 30-day how-to program for beginners
7- and 21-day mindfulness programs for both beginning and advanced users
unguided timed meditations
variety of mindfulness topics, including calming anxiety, managing stress, forgiveness, and many more
Sleep
Headspace
sleepcasts: calming stories paired with relaxing sounds
soothing music or nature sounds to help you reach a deep sleep
the Wake Up feature offers short daily videos to get you going in the morning
Calm
over 100 Sleep Stories (bedtime stories) for adults and kids featuring celebrity narrators like Matthew McConaughey and Leona Lewis
breathing exercises to help you relax
soundscapes: heavy rain, campfire, ocean waves, a babbling brook, and other sounds to help you sleep
30+ soothing nature sounds and scenes
Fitness
Headspace
Move Mode section to help you relieve tension and stress
guided home workouts
fitness courses covering 28 days of fitness and cardio with mindfulness techniques
fitness training with guidance from experts and Olympians
fitness features include: feel-good yoga, mindful cardio, quick workouts, and more
Calm
Calm Body: a collection of 10-minute sessions to guide you through mindful movement and gentle stretching exercises, including mindful warm-up, mindful cool-down, evening stretch, and morning stretch.
Focus
Headspace
Focus Mode: meditation courses, soundscapes, mindfulness exercises, and a focus playlist curated by John Legend
focus-enhancing music to boost concentration and productivity
12 focus music stations
23 ambient soundscapes
Calm
focus tracks available in the music section
7 Days of Focus: a 7-step meditation series to help you stay present
Other
Headspace
SOS sessions for acute moments of anxiety and stress
Weathering the Storm feature to help you build resilience in tough times
breathwork exercises
Calm
visualization/breathing exercises
a variety of mindfulness topics, including loving-kindness, gratitude, body scan, calm kids, mindfulness at work, and many more
Cost
Features
Rating
Kids
Platform
Headspace
• $12.99 per month
• $69.99 per year
• $9.99 per year for students
• daily meditations
• sleepcasts
• stress relief & coping
• focus
• fitness
• 4.9 in App Store (894.5k reviews);
• 4.4 Google Play (270k reviews)
• meditations for kids ages 5–12
• animated videos
• Apple iOS
• Google Play
Calm
• $14.99 per month
• $69.99 for annual membership
• $399.99 for lifetime membership
• guided meditations
• Sleep Stories
• breathing
• stretching
• relaxing music
• 4.8 in App Store (1.5 million reviews)
• 4.3 in Google Play (485k reviews)
• Sleep Stories
• Calm Kids
• Apple iOS
• Google Play
Both Calm and Headspace are overall considered reputable and well reviewed.
The Calm app receives a 4.8 out of 5 rating on the App Store with about 1.5 million ratings submitted. On Google Play, the app receives a 4.3 rating with about 485,000 ratings total.
Similarly, Headspace receives an App Store rating of 4.9 out of about 894,500 ratings submitted and a 4.4 rating on Google Play based on 270,000 user reviews.
The vast majority of users give both apps a 5-star rating. Still, not all users are satisfied. For both companies, users:
consider it a major downside that payment information is required when you sign up for a free trial
report that canceling their subscription or receiving refunds for erroneous charges is difficult and that subscriptions often renew without warning
state that customer service is unresponsive
These types of complaints are not only noted in reviews on the App and Google Play Stores but also in the Better Business Bureau profiles for both apps.
You can sign up for Calm and Headspace on their respective websites or get started by downloading the app you're interested in and creating a user account.
For both apps, payment information is required at sign-up, which means you cannot make use of their free trial without adding your credit card or other payment data.
If you're interested in trying Calm or Headspace, it may be worth checking with your employer to see if they offer either app as a company benefit. If this is the case, sign-up may look slightly different, but your employer may have clear instructions for you, which you can follow.
Because both Headspace and Calm are helpful for kick-starting and maintaining a meditation practice. Picking the best one really comes down to personal preference.
To figure out which app is right for you, it helps to reflect on your intentions and natural tendencies. For example, start by considering these questions:
Why do I want to meditate?
What do I hope to gain from using a meditation app?
What helps me feel calm?
How much time can I devote to meditation each day?
Besides the above questions, here's a quick cheat sheet to help you figure out which app is best for your specific needs.
Headspace may be the right choice for you if
you're brand new to meditation, as Headspace offers a very approachable, in-depth introduction to meditation and clear guidance on which meditations to start with
your schedule is demanding, or you find it difficult to focus on 10-minute meditations, since Headspace offers 1- to 5-minute practices
you prefer a playful, bright aesthetic with cheerful, animated illustrations
you have a hard time sitting still when meditating or want to combine mindfulness with low to moderate impact movement (taught by Olympic athletes)
Calm may be the right choice for you if
you're having difficulty falling or staying asleep, as Calm's library of bedtime stories, soundscapes, and soothing music is especially comprehensive
you gravitate toward natural surroundings and feel a particular sense of calm when looking at and listening to nature — Calm features sounds of rain, rushing waves, and evening crickets and lets you customize your dashboard with a scene you find most soothing
you really resonate with music, using it to help you focus on school or work, or wind down — Calm offers exclusive music from artists like Ariana Grande, Ellie Goulding, and Keith Urban along with various ambient and nature sounds
you're more experienced with meditation or prefer less structure, as Calm also includes open-ended practices
Meditation has many benefits, including reducing anxiety and improving sleep. Meditation apps, such as Headspace and Calm, can help you get started and build a more consistent practice.
To figure out which app is right for you, it's a good idea to reflect on your personal preferences and needs. Why do you want to meditate? What kind of aesthetic do you like? Does it even matter? How much time can you carve out for meditating?
Once you've homed in on what's important to you, consider downloading your pick.