Deep breathing can help improve your emotional, mental, and physical health, and your overall well-being.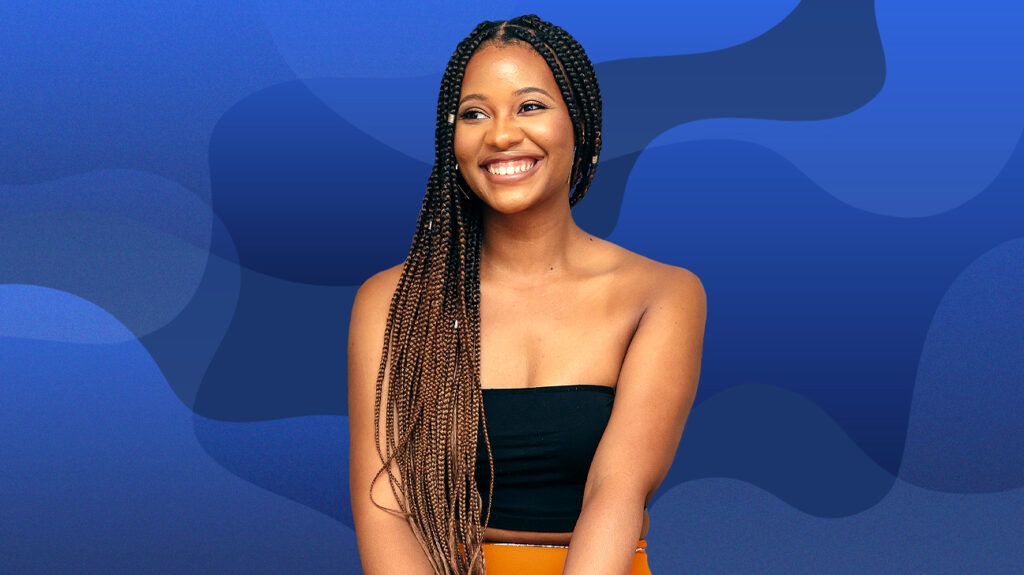 In 2018, certified breathwork instructor Jasmine Marie, an NYU Stern School of Business grad and former brand development professional, set out on a new quest to bring the benefits of breathwork to Black women.
Everyone experiences feelings of stress and anxiety. But Black Americans have some of the highest reported levels of chronic stress in the country.
Unlike typical stress that often goes away after a short time, chronic stress is constant and long lasting, keeping the body in a constant state of fight, flight, or freeze.
For Black people, chronic stress is often associated with environmental factors like poverty, discrimination, and traumatic childhood experiences.
Black women are particularly vulnerable to experiencing chronic stress for many reasons — the pressure to constantly be strong and the racism and discrimination they face daily.
So, Marie combined her knowledge of business, marketing, and mental health to create Black Girls Breathing (BGB), an organization that offers free and accessible mental health resources through breathwork and community. Their sessions also incorporate a licensed community therapist.
We chatted about trauma, stress, and the benefits of breathwork in Black women and how she and Black Girls Breathing are on a mission to massively expand their reach.
This interview has been edited for brevity, length, and clarity.
Why did you decide to start Black Girls Breathing, and what is its mission?
I didn't see this powerful tool — breathwork — being offered to my community. Understanding the impact of chronic stress and trauma from systemic racism and knowing how breathwork can reframe the nervous system and heal the body of trauma, I knew this tool had to be made available to combat the specific mental and emotional health challenges Black women face.
The physical diseases and challenges Black women experience more than other demographics stem from those mental and emotional factors that have all been linked back to chronic stress.
I just believed in what the power of not only making the space for Black women to use this tool could be, but the sense of community to tear down those stigmas prevalent in the Black community around addressing our mental health.
When people have a community that looks like them taking care of their mental health, they're more likely to be open to trying it as well.
You're more encouraged to keep doing it when you see other people like you are also taking care of their mental well-being, especially when you've never seen that before.
That's been really powerful.
What makes Black Girls Breathing different than other wellness groups and services?
Breathwork sessions can be costly. The work we're doing to address the specific challenges Black women face would be the equivalent of getting an individual breathwork session, which can range from $150 to $300.
In addition, general breathwork classes aren't tackling the particular issues Black women face — from microaggressions to dealing with racism and sexism in their day-to-day lives.
All these issues gravely impact our mental health, and it should be addressed in session, but generally, it won't be. So we're providing those tailored sessions for Black women.
What is the impact of trauma and grief on Black women's health?
Black women experience fatalities related to certain diseases — such as high blood pressure, heart disease, and stroke — more than any other group.
There are so many disparities when you compare those findings against white women — really grave differences.
There's also a Black maternal health crisis right now, and Black women are three times more likely to die from pregnancy-related issues than white women. All of that.
We have a built-in part of our nervous system — the parasympathetic nervous system — that kicks in to counter the stress and anxiety we experience in our bodies.
But what happens if you're chronically stressed?
That part of your system has gotten drowned out, you're consistently operating on high cortisol — the primary stress hormone. Now your nervous system is at wits' end, which impacts every single system in your body.
That's why understanding how mental health can have an impact on our physical health and creating solutions that can heal these issues from the beginning is important. We know that Black women are chronically stressed, so what are the tools we can get them to incorporate on a daily basis to help counter that stress?
What's the mechanism by which breathwork helps to combat chronic stress and improve overall health?
Through the elongation and duration of the breath — using various breathing patterns — you're literally activating the parasympathetic nervous system that helps us in moments of stress and anxiety. But just like a muscle, if you don't use it, it won't be activated.
Since Black women are often chronically stressed, we're not activating our parasympathetic nervous system. It's literally fried.
Breathwork helps to strengthen that muscle, so to speak, until we get to a place where our body's natural calming system kicks in when we feel stressed.
Because Black women are highly stressed, there's a lot of disconnection from our bodies. It's not uncommon for us to suddenly realize, "Wow, I've had this pain I've been ignoring for months. I need to go to the doctor."
Instead, we just push through.
This mentality is a generational thing, especially for those of us whose ancestors were enslaved people. We've been running a lot on survival because that was our only option.
Breathwork is a way to tap back into our bodies and acknowledge how we're feeling.
How have Black women been impacted by the COVID-19 pandemic, and have those impacts been disproportionate?
I know Black women have been impacted disproportionately by the pandemic because we've done our own research and data collection. It showed up not just in the quantitative data but in the qualitative data — looking at stories around losing jobs, family members, and so much more due to the COVID-19 pandemic.
Our community — not only from a health perspective but economically, too — was impacted more than any other group. And a lot of Black people who were entering the workforce or already had a career are breaking certain generational patterns of wealth and are now being depended upon to take care of their entire family.
What happens when that sole provider loses their job? What happens to the family structure?
During the COVID-19 pandemic, the day-to-day challenges of being Black in America and elsewhere was still happening — at work and at home. It's been compounded grief and trauma.
We already didn't have enough resources, and then the pandemic hits, and we're stripped of even more economic power.
So, now you're even more concerned about your bills, and if you don't have health insurance, your physical and mental health won't be a priority for you.
What are some of the biggest problems with the current mental healthcare and medical system? How is Black Girls Breathing filling the gaps?
According to the 2018 census, nearly 90% of people had health insurance coverage, whether through the marketplace, Medicare, or their employer. However, according to our research, only a small percentage (28%) report having a consistent mental health resource outside of Black Girls Breathing.
Our community is a lifeline for so many Black women because of the lack of accessibility to other mental healthcare.
There's also the bigger issue of healthcare providers not understanding our demographic through data and research. We're also underrepresented in clinical trials.
Doctors are using research based on studies filled with white people. Lots of the research that's dedicated to looking into health issues that impact Black people are not being managed by Black people or have Black participants.
We know there's widespread hesitance and distrust of the medical and healthcare field among Black people. So, an organization saying, "We're just gonna collect data from Black people" without building a relationship first won't be successful.
That is a capability that we've honed in on — Black Girls Breathing uses the engagement and trust of our community to help fill that data gap.
One thing I'm really proud of is that thus far, we haven't compensated for our data collection, and yet we boast 96% completion rates when we send out a survey after our virtual breathwork circles. That's because of the trust we've built and the transparency around what we're doing with this information.
What I look forward to in disrupting the research, how it's collected, and how we structure the studies is creating an ecosystem that pours right back into the community.
I'm grateful that we have research consultants and healthcare industry advisers on our team who can provide their relationships and expertise. But what if we didn't have that?
My access and ability to understand the issues we face as Black women are privileges and allow me to break through systemic barriers that have kept others from developing solutions to them.
Black Girls Breathing has a new "1 million by 2025" initiative. Can you explain what that is and how BGB plans to reach this goal?
I'm really excited about that. We knew that one year of accessibility was not going to do. I could spend the next 4 years of my career working with our community just on the trauma from the COVID-19 pandemic alone.
The work is not done.
We're ready to solve the gaps in the mental healthcare system. We're ready for all the companies who said, 'We want to step up and address this issue,' to put their money where their mouth is for an organization that's ready to scale. We know the issues. I don't want to keep talking about it — I want to act.
The 1 million by 2025 initiative is how we tackle that. We plan to reach our goal by:
expanding the virtual breathwork circles
launching our breathwork facilitator training program
tapping different markets hosted by those facilitators
building upon our technological platform to provide even more real-time access to resources
partnering and sharing tools with different community organizations that already serve this demographic and are looking to make an impact on Black women and girls
We have a robust plan, but then what comes next is the funding. We've been pitching to potential corporate partners, which we're really excited about. We have some companies who just get our mission and our goal. Since we have such a clear plan, we expect for it to be really easy to tell who's in it or not.
Are you just talking about the issues, or are you ready to invest in a company that wants to solve them?
The plan is clear, everything is outlined, and we have a solid team. We've got 4 years. We're ready.
I feel like the world is ready for this work, as well. And it's needed.