We include products we think are useful for our readers. If you buy through links on this page, we may earn a small commission. Here's our process.
Psych Central only shows you brands and products that we stand behind.
Our team thoroughly researches and evaluates the recommendations we make on our site. To establish that the product manufacturers addressed safety and efficacy standards, we:
Evaluate ingredients and composition: Do they have the potential to cause harm?
Fact-check all health claims: Do they align with the current body of scientific evidence?
Assess the brand: Does it operate with integrity and adhere to industry best practices?
We do the research so you can find trusted products for your health and wellness.
Research-informed mental health apps are a great tool for supplementing traditional treatment and promoting mental wellness.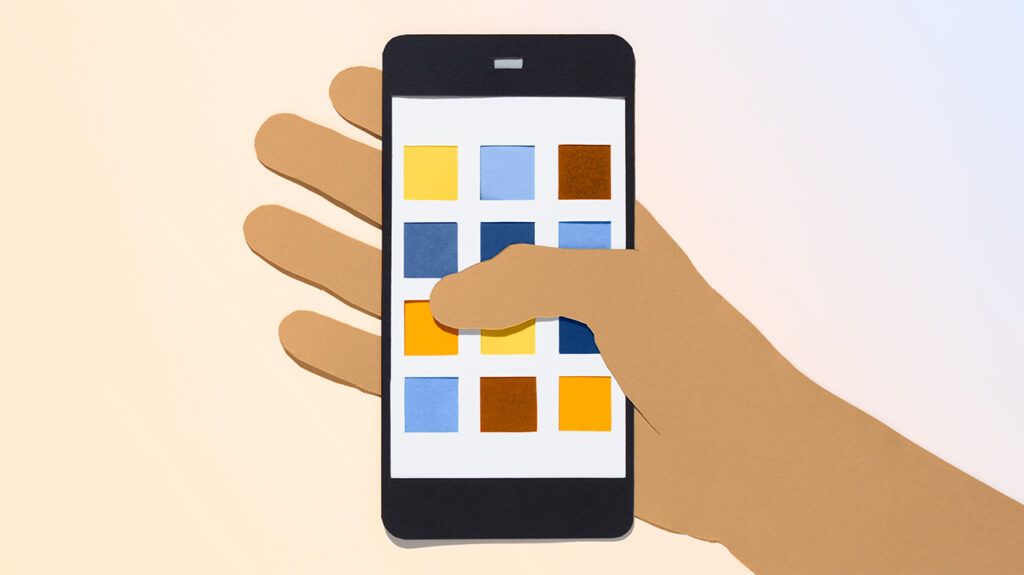 It seems as if there's an app for everything — from checking your email to watching your favorite shows to even "speaking in dog."
There are also a seemingly endless number of health apps aimed at helping you track your physical or mental health. But how do you decide which ones are legit?
Just because an app is available doesn't mean it's been vetted as being safe and effective for the condition or concern it targets. In fact, most mental health apps are surprisingly not designed in conjunction with a mental health expert. Because of that lack of expertise, some apps may give just plain bad advice.
However, research-informed mental health apps may be different. Some research suggests that they may be a great tool to supplement traditional therapy and to help manage your wellness needs.
If you want to jump directly to the sections for each app, you can click the links below.
Mental health apps are digital tools to help improve your mental health and wellness. While these apps can't treat or diagnose any conditions, they're a convenient way to support your mental health journey in addition to therapy or other forms of treatment.
Research suggests that mental health apps can also help better monitor and manage symptoms or disorders. However, while there are many mental health apps available, not all of them are backed by research and may not be as effective as those that are.
A research-informed app is based on techniques that have been researched and found effective, such as:
In some cases, the apps themselves may be backed by scientific research, though it's important to keep in mind that studies on specific apps are often conducted by researchers with a link to the creators of the app, which may influence results. Also, research on these apps is often preliminary or ongoing, so it may take more time to determine how effective they really are.
Some people use the term "evidence-based" interchangeably with "research-informed," but generally speaking "evidence-based" refers to rigorous research, and it's rare that apps have been studied thoroughly and independently. Therefore, it's often more appropriate to use the phrases "research-informed" or "supported by research."
We took several factors into account when making our top app picks, including:
Supported by research. Each of our selections is backed by scientific research.
User reviews. We scoured the reviews to ensure each app is well-received by the majority of actual users.
Price. We've included options that suit any budget — from free apps to those requiring a one-time or monthly fee.
Vetting. All services have been vetted to ensure that they meet Psych Central's medical, editorial, and business standards.
Best overall
Price: Free for basic; Premium upgrade available for $8.99/month
Available for: iPhone, Android
Described as "fitness for your mental health," Moodfit strives to get your mental health in shape. It does this by offering a variety of science-backed tools and activities to guide you on your mental wellness journey, including:
The app helps you establish healthy routines so that you can meet your unique needs. It also tracks your habits, so you can identify patterns and areas for improvement.
Why we chose it
Moodfit helps you find what works best to support your unique mental health needs by offering a customizable suite of tools and resources.
What we like
It's customizable to meet your unique goals.
It offers a wide variety of tools to fit your needs and preferences.
The app provides weekly and monthly summary reports to help you identify patterns and discover what does (and doesn't) work for you.
It's easy to use with an intuitive interface.
What to look out for
A few users noticed longer loading times, particularly when inputting tracking information.
Certain features are available only with an additional cost.
While Moodfit is built on science-backed techniques like CBT, mindfulness, and deep breathing and is often included in review studies on mental health apps, research specifically on the app's effectiveness is lacking.
Best for therapy
Price: Varies depending on your location and therapist availabilty; plans start at $65/week
Available for: iPhone, Android
Talkspace makes therapy easy, by providing access to licensed mental health professionals right from your phone. The app gives you direct access to a therapist of your choosing, wherever and whenever you need support.
This is a good option for those with busy schedules or who prefer to speak with a therapist from where they feel most comfortable, instead of going to an office.
You can choose to talk, video, or text chat with your therapist, or even schedule a live session at a mutually convenient time.
Research from 2020 indicates that messaging with a therapist via Talkspace helped reduce symptoms of anxiety and depression. Another study from 2020 suggests that treatment delivered through text, voice, and video messaging via Talkspace was similarly effective in reducing symptoms of post-traumatic stress disorder (PTSD) as traditional forms of treatment.
Still, it's good to keep in mind that researchers involved in these studies were connected to Talkspace, which may influence results.
Why we chose it
Talkspace offers 24/7 direct access to mental health professionals in a variety of specialties, so you can find the support you need when you need it.
What we like
Talkspace provides 24/7 direct access to licensed mental health professionals.
It offers several ways to connect with therapists, including video, text, and audio chat messaging.
You can change therapists, so you can find the right one for your needs.
What to look out for
The relatively high cost may be a barrier for some.
Communication is not always live, so there may be a wait time for responses from your therapist
If you'd like to learn more about Talkspace, consider reading our in-depth review.
Best for meditation
Price: $12.99/month; $69.99/year
Available for: iPhone, Android
The Headspace app uses mindfulness and meditation tools and resources to help you live a more mindful life. These practices are designed to support your mental well-being by helping relax your mind and establish positive, healthy habits.
Meditation has both mental and physical health benefits. Research shows that it can help:
reduce stress and anxiety
ease symptoms of depression
lower blood pressure
soothe certain types of pain
Plus, many studies have researched the effectiveness of Headspace specifically, though scientists conducting the studies were often connected to the company, which may influence results.
Why we chose it
The Headspace app offers a variety of scientifically supported meditation and mindfulness exercises that are known to help reduce stress, relax the mind, and boost focus.
What we like
Headspace provides a nice assortment of meditations with a variety of types and lengths.
It offers exercises for all experience levels — from beginner to advanced.
Users rate the app very highly.
What to look out for
A paid subscription is required for most features, including most meditations.
Some users say the company's customer service can be slow to respond.
If you'd like to learn more about Headspace, consider reading our in-depth review.
Best for stress
Price: Free
Available for: iPhone
Research shows that deep breathing may help reduce stress, making the iBreathe app a good choice for those looking for a simple way to promote calm.
iBreathe doesn't have any bells or whistles other than providing several deep breathing exercises, so you can focus on establishing a stress-free breathing practice without distraction.
The app may be simple, but it does allow for a lot of personalization. You have complete control over all of your breathing intervals, with customization options for how long you inhale, exhale, hold, or even cycle through in each exercise. You can also set breathing reminders for yourself throughout the day.
Why we chose it
iBreathe focuses solely on offering customizable breathing exercises that help ease stress and promote a sense of calm.
What we like
It's simple and easy to use.
You can customize breathing intervals within exercises.
It integrates with Apple Health.
You can schedule multiple breathing reminders throughout the day.
What to look out for
The app is available only for iPhone, not Android.
It doesn't offer options beyond breathing exercises.
Best for anxiety
Price: Free
Available for: iPhone, Android
MindShift was created by the nonprofit Anxiety Canada, so this app focuses solely on ways to relieve anxiety. It uses scientifically proven strategies rooted in CBT practices that promote mindfulness and relaxation.
Research shows that CBT is effective for easing symptoms of anxiety and anxiety disorders.
These tools target mindset, helping you reorient your thinking and make positive, lasting changes to make anxiety manageable.
MindShift is free and offers quick relief tools, a community forum, and experiments and exercises to challenge limiting beliefs and overcome fears that cause anxiety.
Why we chose it
MindShift uses interactive CBT-based tools and strategies to ease anxiety by helping promote relaxation and mindfulness techniques.
What we like
It was deeveloped specifically to provide anxiety relief by Anxiety Canada.
The app offers a community forum for peer-to-peer support.
It provides a variety of tools to promote healthy habits, including a thought journal, coping cards, meditations, and exercises to help you build positive habits.
What to look out for
It's specifically tailored for anxiety relief, so may not be suited toward tracking other mental health needs.
Some users find tracking to be too time-consuming.
Best for sleep
Price: Free
Available for: iPhone, Android
Do you experience insomnia or other sleep problems? CBT-i Coach may help. This app is for anyone with insomnia or who would like to improve their sleep regimen and habits.
CBT-i Coach was a collaborative effort between:
the U.S. Department of Veteran Affairs' National Center for PTSD
Stanford School of Medicine
the U.S. Department of Defense's National Center for Telehealth and Technology
It's a free app designed to support professional insomnia or sleep disorder treatment (though it can be used on its own!).
Through a structured program, CBT-i Coach helps you learn about sleep while developing your own positive sleep routine.
In a 2016 study, almost 60% of clinicians participating in a survey 2 years after the CBT-i Coach app was released noted that they had used the app with a client and that they felt the app improved homework adherence and treatment outcomes.
Similarly, another 2016 study noted that participants who used the CBT-i Coach app as a supplement to CBT-i treatment experienced significant improvements in sleep and that the app didn't compromise the benefits of CBT-i therapy. It's important to know, however, that participants who only received CBT-i treatment without using the app, also reported significant sleep improvements.
Why we chose it
CBT-i Coach offers a structured program that uses scientifically proven strategies to help you build better sleep habits to improve and alleviate symptoms of insomnia.
What we like
It's completely free with no ads.
The app is especially useful for veterans who face sleep challenges, as it was created based on the manual "Cognitive Behavioral Therapy for Insomnia in Veterans."
The app's interface is simple and easy to navigate, especially for tracking sleep habits.
What to look out for
Many users find that some features are not easily accessible.
For those not working with a sleep therapist while using the app, the technical language used to describe sleep habits may be difficult to understand.
Best for improving mood
Price: $14.99/month; $139.99/year; $449.99/lifetime access
Available for: iPhone, Android
A little fun is almost guaranteed to put a smile on your face. With the Happify app, you participate in games that are not only fun but are backed by science to improve your mood, lower stress levels, and overcome negative thoughts, among other positive benefits.
This app helps you transform your life by allowing you to target a specific mental wellness area that you'd like to improve. Happify focuses on positive emotions to promote meaningful improvement to overall happiness.
Happify offers over 65 tracks to help with:
coping better with stress
navigating negative thoughts
building self-confidence
fueling your career success
achieving mindfulness through meditation
Why we chose it
Happify uses fun, engaging, and science-backed games and activities to help manage stress, practice mindfulness, build confidence, and boost your overall mood.
What we like
The app offers fun and engaging games tailored to different goals.
It was developed by mental health professionals.
It's easy to use.
What to look out for
Very limited options are available on the free version, so paid upgrades are required for more variety and choices.
It's on the pricier side.
Some users find that the timed challenges can create stress, rather than reduce it.
Best for tracking symptoms
Price: Free for basic; Premium subscriptions from $4.49–$15.99/month or $27.99/year
Available for: iPhone, Android
With capabilities for wellness journaling, setting medication reminders, and even recording your food, the Bearable app goes beyond simply tracking symptoms. The app provides a comprehensive outlook on your overall physical and mental health and wellness.
This may give you a deeper insight into your health, and how factors like different medications, treatments, or triggers may be affecting it. Identifying symptoms related to these factors can help you communicate your health with your doctor, allowing for better engagement and diagnosis.
In one 2021 review study of apps to track symptoms in people with cancer, Bearable was one of the top three highest-scoring apps. While this is encouraging, it's good to keep in mind that research specifically on whether the app is beneficial for people with mental health conditions is lacking.
Why we chose it
Bearable makes tracking symptoms easy so that you can better understand patterns, behaviors, and symptoms and share them with your treatment team.
What we like
It's easy to use and customizable.
It integrates with Apple Health.
The app sllows you to track your mood, symptoms, daily activities, sleep, medication, exercise, and more.
Community input is valued and implemented.
What to look out for
Health integration for Android users isn't available.
For some users, it may be overwhelming to have so many tracking options.
The insights feature isn't included in the free version.
Best for tracking medications
Price: Free; offers in-app purchase
Available for: iPhone, Android
Do you feel like you may benefit from reminders when it comes to taking and refilling your medications? Medisafe is an easy-to-use solution.
This app, created by Medisafe Inc., offers a clean and simple interface for managing your medication reminders. It allows you to share reports with others, including your prescription provider and family members.
Research on the Medisafe app indicates that it may help improve medication adherence, though it's important to keep in mind that these studies are often conducted by researchers with connections to Medisafe Inc., which may influence results.
Why we chose it
One of the easiest to use medication tracking apps available, Medisafe not only helps you stay safe and on track with all of your prescription medications, but it also has the unique capability of alerting a designated contact when you've missed any dosages.
What we like
It provides alerts whenever any of your medications shouldn't be taken together.
It offers integration with GoodRx, a discount prescription drug provider.
The app has plenty of reminder options, including when it's time for refills.
It allows users to easily communicate their past and current medications with their treatment team.
What to look out for
Some users feel the app has too many features, which may create confusion.
Some Android users have reported reminder issues when switching time zones.
App
Best for
Price
Available for
Features
MoodFit
Overall
• Free for basic
• Premium upgrade available for $8.99/month
• iPhone
• Android
Tools, resources, and activities to gain insight into your mental health
Talkspace
Therapy
• Prices vary
• plans start at $65/week
• iPhone
• Android
24/7 direct access to licensed therapists
Headspace
Meditation
• $12.99/month
• $69.99/year
• iPhone
• Android
Meditation and mindfulness activities to promote calm
iBreathe
Stress
• Free
• iPhone
Breathing exercises to reduce stress
MindShift
Anxiety
• Free
• iPhone
• Android
CBT strategies that target mindset to ease anxiety
CBT-i Coach
Sleep
• Free
• iPhone
• Android
Structured program to build better sleep habits
Happify
Improving mood
• $14.99/month
• $139.99/year
• $449.99/lifetime access
• iPhone
• Android
Science-backed games and activities targeting overall happiness
Bearable
Tracking symptoms
• Free for basic
• Premium subscriptions from $4.49–$15.99/month or $27.99/year
• iPhone
• Android
Tracks all aspects of wellness for better communication with your doctor
Medisafe
Tracking medications
• Free
• Offers in-app purchase
• iPhone
• Android
Tracks all medications and helps avoid taking meds that don't mix well
Can't find what you were hoping for here? Not to worry — there are many research-informed mental health apps available for download. Here are a few tips on finding the right one for you:
Backed by science. While there are many mental health apps, not all are supported by scientific evidence. It's a good idea to do a little research and see if an app is based on well-researched principles or has been studied independently.
Positive user feedback. It's recommended to read reviews to see the experience actual users are having with the app.
Cost. Many apps are free, but some cost a monthly, annual, or one-time fee. It's a good idea to consider what will work best with your budget.
Design and features. You may want to consider making a list of features that are most important to you, so you can look for apps targeted to those needs.
User security and privacy. It's important to look for apps that keep your data safe and secure.
Research-informed mental health apps are backed by scientific research, making them a quality option for your mental health journey. They can be a good tool to add to existing therapy or medication treatment. Some of these apps connect you directly with mental health professionals, while others provide tools and resources that offer support.
Though they aren't meant to be a replacement for treatment, mental health apps can effectively improve your overall mental wellness, as well as help target specific challenges. From helping you deal with anxiety, sleep issues, stress, meditation, or medication adherence — chances are there's a science-backed app to suit your needs.