We include products we think are useful for our readers. If you buy through links on this page, we may earn a small commission Here's our process.
Psych Central only shows you brands and products that we stand behind.
Our team thoroughly researches and evaluates the recommendations we make on our site. To establish that the product manufacturers addressed safety and efficacy standards, we:
Evaluate ingredients and composition: Do they have the potential to cause harm?
Fact-check all health claims: Do they align with the current body of scientific evidence?
Assess the brand: Does it operate with integrity and adhere to industry best practices?
We do the research so you can find trusted products for your health and wellness.
Online therapy and support services are effective and accessible resources to help you cope with postpartum depression.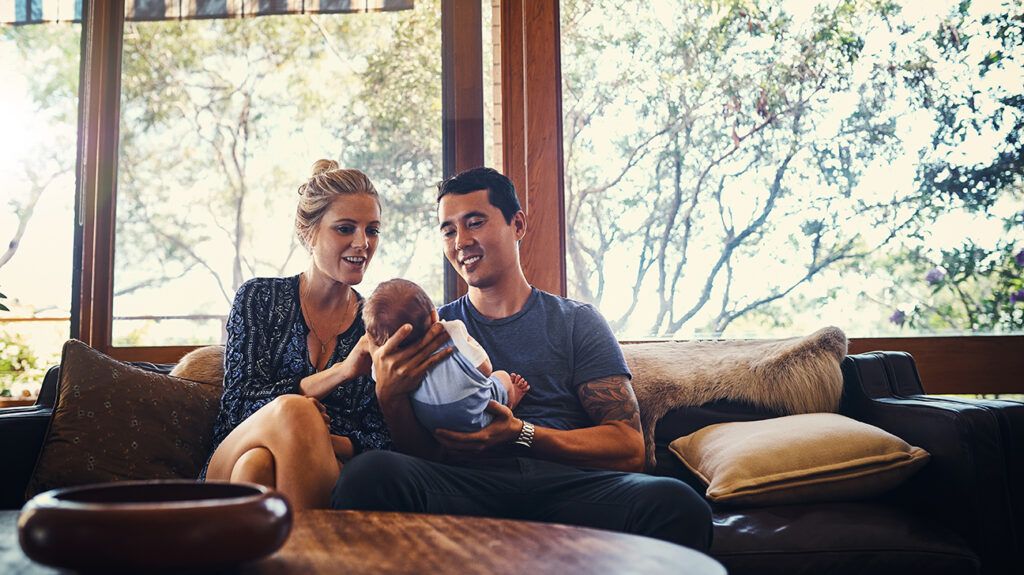 While it's natural to feel tired or emotional after having a new baby, some new parents experience deeper or more severe symptoms than the usual "baby blues." They may be experiencing postpartum depression (PPD).
PPD can be difficult to manage on your own, especially when going through all of the changes that come with welcoming a new baby into your life. If you're looking for support, online therapy and support services can help.
Participating in individual therapy or a support group can provide you with support, guidance, and resources for coping with PPD and its symptoms.
Postpartum depression (PPD) is a severe mental health condition that affects between 6.5% and 20% of women who've recently given birth. It can bring about intense changes in mood, feelings of hopelessness or wanting to withdraw from others, and — in some cases — causes thoughts of harming yourself or your baby.
While a 2014 review suggests that the condition often lasts 3 to 6 months, PPD can continue for several years. How long PPD lasts can vary, and symptoms may remain for far longer (and become more severe) without treatment.
PPD can also affect the non-birthing partner. Research shows that 8% to 10% of fathers experience postpartum depression, particularly during the first 3 to 6 months of their child's life.
Postpartum depression can impact your physical and mental well-being. It can affect each person differently, and you may notice that the intensity of your symptoms varies over time.
Most people with PPD notice signs within a few weeks of giving birth. Some, though, may not experience symptoms for several months.
Common symptoms include:
intense anger or irritability
sudden shifts in mood
feeling sad or crying
exhaustion or lack of energy
severe anxiety
sleeping too much or too little
feeling disconnected from your baby
feeling disconnected from your partner
eating too much or too little
feelings of shame, guilt, or self-judgment
unexplained aches or pains
unexplained illnesses
memory issues
lack of interest in activities you used to love
difficulty concentrating or making decisions
withdrawing from others
lack of control
thoughts of harming yourself or your baby
If you're experiencing suicidal thoughts, help is available
You can access free support right away with these resources:
If you want to jump directly to the sections for each platform, you can click the links below.
We considered several factors when selecting our top choices of the best online postpartum depression therapy and support groups, including:
Reputation. Each of our picks are from reputable, well-respected, and well-established companies.
Reviews. We scoured reviews from real users to ensure that we chose options with only overwhelmingly positive feedback.
Safety. Your privacy is important, and we considered options that offer only safe and secure platforms that protect you and your safety.
Quality. Each service we chose offers care from licensed mental health professionals or from high quality, experienced peer leaders.
Vetting. We make sure to carefully vet each service we select so that they meet Psych Central's editorial, medical, and business standards.
Best for messaging
Price: Plans starting at $260 a month
Platforms: Video messaging, phone messaging, text messaging
Accepts insurance: Yes
Talkspace is a comprehensive therapy platform that offers several support options for a variety of needs.
The company is very well established in the online telehealth space, and they have a very large and diverse pool of experienced and licensed mental health professionals on their roster. The platform offers both live therapy sessions (for higher-priced plans) as well as 24/7 messaging access through Talkspace's easy-to-use app and online platform.
Users are matched with a therapist based on the specific support they're looking for, so those looking for help with postpartum depression will be connected with a professional experienced in managing the condition.
In addition to individual support, Talkspace offers couples therapy. This can benefit those looking to navigate the effects of postpartum depression together, whether one or both partners are experiencing PPD.
Why we chose it
Talkspace uses a simple assessment to match you with a licensed mental health professional who specializes in areas that will meet your unique needs, including postpartum depression.
What we like
You have access to unlimited messaging and can text your therapist 24/7.
It offers both individual and couples therapy as well as psychiatry services and options for teens.
The service offers multiple price points, based on services selected.
Talkspace works with many insurance providers.
What to look out for
Though Talkspace claims to be 80% more affordable than many face-to-face therapy, it may still be expensive for some.
You are matched with a therapist rather than choosing one yourself (though you can switch if needed).
Therapists may not respond on weekends.
Live sessions are available only on higher priced plans.
If you'd like to learn more about Talkspace, consider reading our in-depth review.
Best for live sessions + messaging
Price: Plans starting at $60–$90 a week
Platforms: Video calls, phone calls, text messaging
Accepts insurance: No
In addition to weekly sessions with a licensed therapist, BetterHelp offers the option to connect with your provider via text message between sessions. This is great for busy parents, particularly those caring for a new baby.
Having a new baby can affect many areas of your life, and BetterHelp has various support options that can serve new parents beyond postpartum depression. This can include navigating parenting issues or reestablishing your connection with your partner now that you're parents.
BetterHelp also provides free advice and articles on numerous subjects via their website, giving you tools and resources to dive deep into understanding various areas of mental health and wellness.
BetterHelp doesn't offer psychiatric care, so those looking for medication management to treat more severe PPD symptoms may want to seek support elsewhere.
Why we chose it
BetterHelp offers the option to message with a licensed therapist 24/7 in between live sessions, so support is always available.
What we like
Therapists are available 24/7.
Group sessions are available for individuals, couples, and families.
You have multiple ways to access services, based on your preferences (phone, computer, tablet, or messaging).
BetterHelp offers a 7-day free trial.
What to look out for
While online therapy tends to be lower priced than in-person support, it may still be expensive for some.
BetterHelp does not work directly with insurance providers, Medicaid, or Medicare.
They don't provide access to psychiatry services for medication management.
If you want to learn more about BetterHelp, consider reading our in-depth review.
Best for non-birthing partners
Price: Plans starting at $99 a month
Platforms: Video, phone
Accepts insurance: No
Rethink My Therapy provides support options for the entire family, including children living with a parent experiencing PPD and non-birthing partners looking for support. The platform offers access to a variety of therapists and psychiatrists, many of whom specialize in postpartum depression.
Non-birthing partners can take advantage of Rethink My Therapy's services through individual and couples therapy sessions. Research has shown that PPD can affect new dads who may develop symptoms such as feeling overwhelmed or neglected, experiencing resentment toward their baby, or repressing emotions.
Though they don't offer direct text messaging, Rethink My Therapy is a highly accessible and easy-to-use service. It's also low cost, despite not accepting insurance. They even offer a free 7-day trial to ensure the platform meets your needs.
Why we chose it
Rethink My Therapy provides support for your entire household by offering services for individuals, couples, and families, including non-birthing parents experiencing PPD.
What we like
Individual, couples, and family therapy options are available.
They offer a variety of plans and price points.
Medication management services are available; Rethink My Therapy can also send records to your primary care doctor.
You can try the service free for 7 days.
What to look out for
The service does not currently offer text messaging.
Rethink My Therapy doesn't accept insurance.
Best for peer-to-peer support
Price: Free
Platforms: Video, phone
Accepts insurance: No
Postpartum Support International (PSI) is a hub of information and resources on all things related to postpartum depression. They provide learning tools, in-depth articles, and both professional and peer support for new parents.
In addition to online group therapy via phone or video, PSI offers over 20 unique support groups led by trained volunteers. Each group specializes in a specific issue related to PPD, such as:
In addition to peer-to-peer support groups, PSI also offers a 6-month 1-on-1 peer mentorship program. This program connects parents going through PPD with a mentor who has experienced and overcome PPD. Mentorship sessions are held weekly and offer insight, guidance, and encouragement.
All PSI groups and resources are free to use and engage in, making it a great option for those on a tight budget. They can also help you connect with trained mental health professionals in your area through their detailed directory of providers.
Why we chose it
Postpartum Support International offers access to trained professionals and licensed therapists to provide group therapy tailored to your unique situation.
What we like
Services are free.
PSI has peer-led groups that specialize in a variety of postpartum issues as well as one-on-one mentorship opportunities.
The site offers a robust directory of qualified postpartum mental health professionals and support groups throughout the United States, United Kingdom, Canada, and Australia.
What to look out for
The 24/7 Helpline is staffed by trained volunteers rather than licensed therapists.
Some groups are led by PSI-trained facilitators rather than licensed mental health professionals.
Best for group therapy
Price: Plans starting at $60 a month
Platforms: App only
Accepts insurance: No
Sesh offers virtual group therapy sessions that are led by board certified therapists. Sessions are available in a wide variety of focus areas, including:
Unlike most other services, Sesh does not limit how many groups or sessions you can attend. This allows you to find groups that meet all of your unique needs related to PPD or any other areas you may want support in.
While Sesh uses an app to find, book, and pay for services, group sessions may happen outside of the Sesh platform. Licensed providers may offer their group via Zoom or another video conferencing platform.
Most Sesh plans are fairly low cost, even though the platform doesn't accept insurance. They also offer a 2-week free trial, so you can make sure Sesh is right for you before you invest in their services. Sponsored memberships are also available for those in need.
Why we chose it
Sesh specializes in group therapy and support groups led by licensed mental health professionals.
What we like
Sesh focuses solely on group therapy and support.
All groups are led by vetted, licensed mental health professionals.
It offers unlimited group sessions.
Sesh has a 2-week free trial.
What to look out for
Sesh doesn't offer individual therapy.
Sessions are scheduled via the Sesh app but may be held on outside platforms (like Zoom).
All services are arranged via the Sesh app only.
The company doesn't accept insurance.
Service
Best for
Price
Platforms
Accepts insurance?
Talkspace
messaging
starting at $260/month
• video messaging
• phone messaging
• text messaging
• live sessions at higher priced plans
Yes
Betterhelp
live chat + messaging
$60–$90/week
• live video
• live phone
• 24/7 text messaging
No
Rethink My Therapy
non-birthing partners
starting at $99/month
• video
• phone
No
Postpartum Support International
Peer-to-peer support
free
• video
• phone
No
Sesh
group therapy
starting at $60/month
• app only
No
Though we've shared a few of our favorite online support services, many others are available to help you cope with postpartum depression. If you didn't find what you're looking for in our selections, here are some things to consider as you search for the right PPD therapist for you:
Costs and payment options. Does the price fit your budget? Are there different types of payment plans or service tiers offered? Does insurance cover all or part of the cost?
Types of services. Do you want individual, couples, or family support? Or would you prefer a group setting?
Licensure. Are licensed therapists leading or facilitating sessions?
Availability options. When do you prefer to meet? Are services available during specific hours, or can you contact a therapist 24/7?
Platforms. What platform best serves your needs? Do you want to video chat, or would you prefer texting? Do you want multiple options for reaching a therapist?
User reviews. What do actual users say about the service?
What causes postpartum depression?
The exact cause of postpartum depression is unknown. Still, some experts believe it may be tied to hormonal fluctuations caused by pregnancy and giving birth.
Physical and emotional triggers may also play a part, including:
thyroid disorders
sleep deprivation
poor diet
social isolation
a recent loss
depression during pregnancy
How long does postpartum depression last?
Postpartum depression can last weeks, months, or even years if left untreated.
A review from 2014 suggests that for some people, symptoms can resolve within 3 to 6 months after they start. Others may experience symptoms for a year or more after symptoms begin. Each person experiences PPD differently, and how long it lasts will often depend on your symptoms and treatment plan.
Is online therapy safe for treating postpartum depression?
Yes, online therapy for treating postpartum depression is very safe — and can be very effective. In fact, 2020 research shows that online cognitive behavioral therapy (CBT) can be just as effective as in-person treatment.
Online therapy is also cost-effective and offers support for those who may not otherwise have access to mental health services, including those who live in rural areas and parents with limited availability due to caring for a new baby.
But if you're experiencing more severe symptoms, or if you're in crisis, online support may not be for you. You may want to consider seeking in-person support from a licensed mental health professional or contact a crisis support line.
Postpartum depression is a serious but treatable condition that affects many new parents, including fathers and non-birthing partners.
PPD causes various physical and emotional symptoms, including:
sleep problems
lack of appetite
unexplained anger or irritability
sadness
withdrawing from others
Symptoms can last from a few weeks to over a year. Some people may experience mild symptoms, while others may be more severe.
Both individual and group therapy are effective ways to treat or manage PPD. Working with a licensed mental health professional or a peer who shares your experiences can give you resources and strategies to cope with — and even overcome — your postpartum depression.