Self-care, engaging in mourning practices, and talking to others who relate can help you through the process of grieving a pet.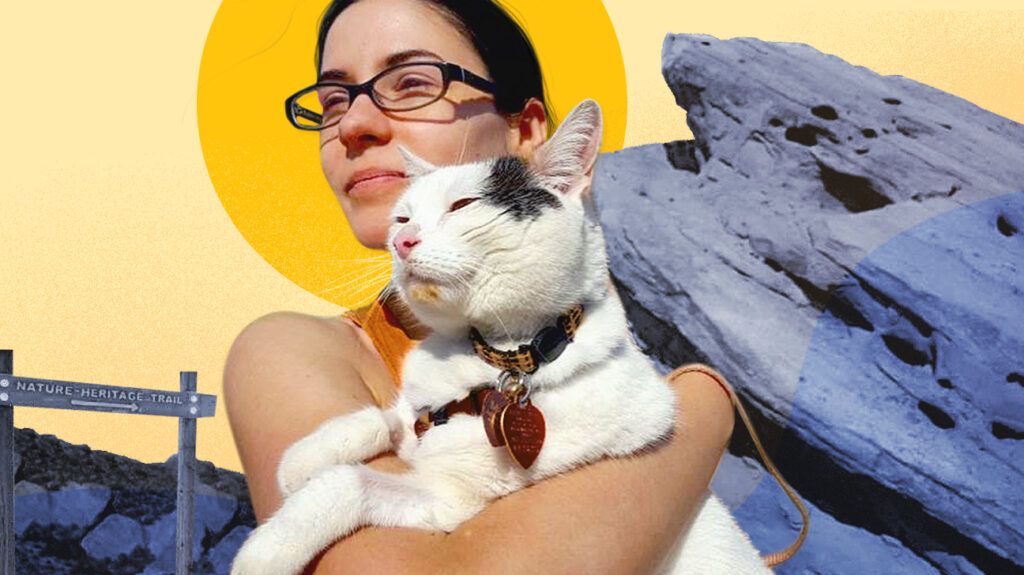 Losing someone you love can feel devastating, and the same goes for the death of a cat, dog, or other types of pets.
I know because I've now experienced the loss of four beloved animals that were with me from the time they were babies until they took their last breaths.
The death of my cat, Marilyn, stands out the most. She was diagnosed with cancer in March 2017 and lived for several months under the treatment of a veterinary oncologist.
I often called Marilyn "adventure kitten." I learned that there's a community of adventure cats and their human companions. It's a community Marilyn and I enjoyed being a part of.
She loved to go on trips and adventures. So she and I spent the remainder of her life hiking around Southern California.
When it was time to say goodbye, I just couldn't take her back to the vet's office. So I hired a mobile vet to come on one last hike with us. She passed peacefully in my arms while overlooking the city of Los Angeles.
Even though the vets assured me this was the right decision, it didn't make it any less painful.
When I was reeling after the loss of Marilyn, a family member described the feeling of losing a pet as having the air sucked out of your home. That's exactly how it felt for me.
"The specific reasons why it's so painful to a particular person are unique to that person," says Nadja Geipert, a marriage and family therapist at LA Family Therapy in Los Angeles. Geipert created her own pet grief toolbox to help clients.
"There are things you feel about this cat, this dog, this bird, that no one else feels, which is true for all grief," She adds. "Your relationship is completely unique, and your pet is completely irreplaceable in its unique qualities."
Each time I've loved and lost a pet, it's felt like the end of a chapter in my life. Marilyn helped me cope with the loss of my childhood rabbit, Fluffy. She was also with me through my college years and the journey of starting my editorial career.
I found myself grieving Marilyn and the end of an era.
Attachment
Geipert explains that attachment theory also plays a role in how we process grief.
Our attachment style develops in early childhood and is largely based on interactions with primary caregivers. What we learn during early development forms our worldview and shapes the way we connect and relate to others.
"If we spend enough time [around] anyone or anything and there's a bond, when it goes away it's like somebody took your limbs away," she says. "At some point, our brain processes things as if they're actually part of us, like if you're a tennis player, at some point your brain stops distinguishing between the racket and the arm."
Guilt
When animals are older or very ill, we as caregivers are usually faced with the incredibly hard decision of when to say goodbye. This can lead to feelings of guilt. You might think "Did I make the right decision?" or "What if they had more time?"
If these feelings come up for you, it can be helpful to shift your mindset to view euthanasia under these circumstances as an act of compassion.
Remember that if your vet was recommending you say goodbye, your pet was most likely in a lot of pain, and it wasn't going to get better.
Since we all feel and process grief in our own way, there's no clear answer to how long these feelings will last for you.
You'll probably notice more intense feelings immediately after the loss, but these generally lessen as time goes on.
"It's going to take as long as it's going to take," says Geipert. It's not a linear process, and that's OK. Grief can come and go in waves.
During this time, it can help to find your own way of mourning and processing the death of a pet. Here are some tips.
Try to let yourself feel
You've experienced a loss, and it's OK to let yourself feel all the feelings surrounding it.
"Cry whenever you feel like crying," says Geipert. However, she recommends using your judgment on when and where that's appropriate.
"Tears release stress hormones." She adds that if you're not a heavy crier, that's OK too. "Everybody's way is different."
Try to practice self-compassion
Be good to yourself. Try to engage in some self-care activities as you're going through the grieving process. You can do this by making some extra space for your regular self-care activities or trying something new that you think could feel restorative.
Take some time off from work if you need to.
Some self-care activities you can try at home are:
soaking in a warm bath
yoga
taking time for a hobby
Consider talking with someone who can relate
"Talking about exactly how you feel is incredibly helpful in grief, which is why it's helpful for people to go to therapy or find a support group," says Geipert.
She recommends finding a way to talk about what and how you're feeling. You can do that with others who have lost a pet, a therapist, or supportive friends and family.
I belonged to a disabled rabbit community and an adventure cat community online. The members were extremely supportive when I posted about losing a pet.
Try a mourning process
Societies and cultures throughout human history have engaged in mourning rituals to cope with emotional pain after a loss. Trying a ritual could also help you grieve after the death of a pet. You might try something familiar, such as having a memorial, or you could create your own practice.
I still light a yahrzeit candle (a Jewish tradition for honoring the anniversary of a loved one's passing) on the anniversary of Marilyn's death.
Geipert says she did an exercise that really helped after losing her cat. She wrote to him.
It's an exercise she also recommends to clients.
"Write a thank-you card to your deceased pet," Geipert says. "Talk about everything you'll miss and what you're most grateful for. Talk about what you regret. Say everything you want to say."
Remove items at your own pace
Some people may want to get rid of their pet's things quickly after a loss, and others may need to do it more gradually.
If it feels challenging to let go of your pet's items, let yourself do it at a pace that feels good for you.
Remember that there's no right or wrong way. This is your process.
Consider finding a way to memorialize your pet
A good way to honor the love you felt for your pet is to memorialize them. If you like to create, try writing, making a photo collage, or arranging a resting place for them inside or outside of your home.
If you're not artistically inclined, there are online services that make art from a photo of your pet. You can also find beautiful ways to keep their remains (if you want to display them or wear them in a memorable piece of jewelry).
I have photos of Marilyn's adventures around my apartment, and I talk about her often. Her adventure Instagram account is still live as a tribute to her journey.
I also had a large canvas print of Marilyn made for her oncologist's office. Her doctor was very kind and told me she'd share Marilyn's story with others; it was oddly comforting.
It's never easy to lose a pet, but it is possible to find peace after loss and joy in the memories that live in your heart.
"If you've lost your [pet] and you're completely heartbroken, know that that's a sign of how mentally healthy you are," says Geipert. "You have the capacity for deep love; it's a good thing."
She recommends reaching out to a therapist if you feel unable to process the pain after a loss.
"If you're really getting stuck in something you're feeling, going to therapy can help you get unstuck."
You can also try online therapy or an online grief support group, if that's a better fit for you.