We include products we think are useful for our readers. If you buy through links on this page, we may earn a small commission. Here's our process.
Psych Central only shows you brands and products that we stand behind.
Our team thoroughly researches and evaluates the recommendations we make on our site. To establish that the product manufacturers addressed safety and efficacy standards, we:
Evaluate ingredients and composition: Do they have the potential to cause harm?
Fact-check all health claims: Do they align with the current body of scientific evidence?
Assess the brand: Does it operate with integrity and adhere to industry best practices?
We do the research so you can find trusted products for your health and wellness.
Looking for online help for your depression? We've rounded up the 12 best resources to assist various unique needs.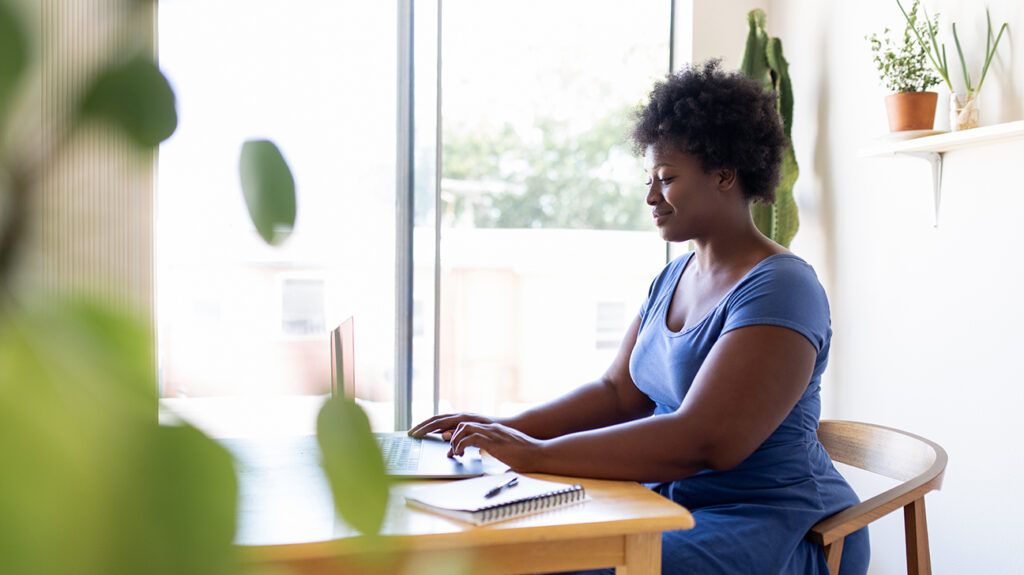 If you're looking for helpful resources for depression, you're not alone. Depression is very common.
The COVID-19 pandemic contributed to a tripling of depression in the United States in the early months of 2020, with the rate rising from 8.5% to 27.8%. By late 2021, the rate of depression had climbed to 32.8%, or 1 in 3 U.S. adults.
Research shows that telehealth, or online health services, can ease many of the challenges of providing healthcare during the COVID-19 pandemic. It can help clients and therapists alike avoid physical contact and minimize the risk of COVID transmission.
But teletherapy and online support may also have benefits when there's no pandemic going on.
As the world continues to become increasingly digital, one of the most accessible ways to receive help for depression is online.
Online resources like the ones in this article generally can't provide help in a crisis (though many services list helpful resources, such as phone numbers to national and international crisis hotlines).
If you need help right now:
Call a crisis hotline:
Text:

HOME to the Crisis Text Line at 741741
START to The Trevor Project at 678678
The Veterans Crisis Line at 838255
HAND to the Deaf Crisis Line at 839863

If you're not in the United States, you can find a crisis helpline in your country with Befrienders Worldwide.
If you want to jump directly to the sections for each resource, you can click the links below.
We've listed the 12 best online resources for depression. Some are for a specific demographic, such as
teens
the LGBTQIA+ community
recent parents
Some are focused on treatment styles, such as:
general counseling
support groups
medication prescriptions
We've also included varied platforms, including:
websites
apps
podcasts
hotlines
a chat bot
Depending on the platform, you can engage by:
reading
listening
chatting
real-time phone or video calls
When choosing what services and products to include, we considered the following criteria:
Cost. We looked for resources that are on the more affordable end.
Reviews. We looked into what users are saying about each resource and why they liked it.
Reputation. We considered how well-known a resource is and what kinds of ratings it has received.
Uniqueness. We chose resources that all offer something different from one another so that all needs can be met.
Vetting. All services have been vetted to ensure that they meet Psych Central's medical, editorial, and business standards.
Best overall
Price: $60-$90 a week (billed every 4 weeks), $240-$360 a month
BetterHelp is a subscription-based therapy platform available via its website and app, which is free to download. While it doesn't accept insurance, there may be ways to make this service more affordable. Also, customers can cancel their subscriptions at any time.
BetterHelp is the largest online therapy provider in the world. Its primary focus is to connect individuals wanting online therapy with compatible licensed therapists.
The main benefit of BetterHelp is that it offers a range of therapy formats, including:
video calls
phone calls
text messaging
Participants can message an unlimited amount with their therapist. Also, switching therapists is easy to do at any time.
BetterHelp is also one of the most affordable therapy options available.
Why we chose it
accessible wherever there is Internet through computer, tablet, or smartphone

addresses various mental health issues, such as depression, anxiety, and stress

easy to use even if you aren't technically skilled
What we like
various therapy formats, including live chat, phone, video call, 24/7 messaging
scheduling live sessions available through your client portal
access in the United States and the United Kingdom
What to look out for
not covered by insurance
does not affiliate with psychiatrists or medical doctors, so there are no diagnoses or medication prescriptions
therapist-matching rather than choosing a therapist, although you can switch therapists later
available to people 18 years or older
If you'd like to learn more about BetterHelp, consider reading our in-depth review.
Best for chatting
Talkspace has three subscriptions options. The cheapest option doesn't offer live sessions but provides unlimited text, video, and audio messaging in which your therapist will respond to you daily Monday through Friday.
The more expensive packages provide either 1 live 30-minute session a month or 4 live 30-minute sessions a month. The app is free to download.
Talkspace provides therapy for individuals, couples, and teens and an option for psychiatry assistance to receive prescriptions for medication.
After a brief assessment during the sign-up process, you'll be matched with three therapists from which you can choose. You can switch therapists at any point for no extra cost.
Talkspace is likely the best online therapy platform for those looking to message a licensed therapist at any point in the day.
Why we chose it
ease in connecting with a licensed therapist by live video, chat, or phone
availability of both therapy and medication management
What we like
available to teens
possibility to receive medication prescriptions through a psychiatrist
ability to choose a therapist out of three options
accepts some insurance plans
What to look out for
only higher-priced plans include live sessions
not covered by Medicare or Medicaid
exact pricing not viewable until sign-up
If you'd like to learn more about Talkspace, consider reading our in-depth review.
Best for community
Price:

Basic plan: free (app is free to download)
Self-care plan: $8.99 a month or $53.99 a year
Classes and 1:1 coaching: $50 a month $350 a year
Therapy: about $140 for initial appointment and $85 on average for follow-ups
Subscription fees covered by some health insurance plans
The Sanvello app and website offer help with depression, stress, and anxiety through a combination of:
self-care
community support
coaching
therapy
Sanvello helps you manage mental health by learning and practicing CBT. You'll find guided meditations, journals, and short courses to help you develop useful CBT skills. You can share your experience and get help from others in the community hub.
Sanvello has a free version and several levels of premium subscriptions. It also offers access to licensed therapists via video in some parts of the United States. This option is in the highest premium plan and is restricted to specific insurance plans. Self-pay for therapy is not available.
Many of the reviewers find the community the most helpful aspect of the app. It's supportive, helpful, and never bullying.
Why we chose it
has judgment-free advice and inspiration from other community members
can ask questions and provide comments on a wide range of topics
has interactive articles and courses to help you understand difficult topics
What we like
has a judgment-free community hub where you can

get help and provide support
is a good beginning place to learn mindfulness and CBT
has a good collection of meditations, learning courses, and mood-tracking tools in a single app
What to look out for
collects and shares data, so be sure to review privacy options
busy interface that is sometimes difficult to navigate
Sanvello therapists not yet available in all parts of the United States
Best for LGBTQIA+
Price: $60–$90 a week (billed every 4 weeks), $240–$360 a month, app free to download
Members of the LGBTQIA+ community, particularly younger folks, are disproportionately affected by mental health. This reality was made even more evident during the peak of the COVID-19 pandemic.
For instance, the Trevor Project revealed that as many as 59% of LGBTQ youth and 66% of trans and nonbinary youth reported depression symptoms during the pandemic, compared with 29% of straight/cisgender youth.
Because the LGBTQIA+ community tends to face mental health issues more frequently than most straight, cisgender folks, BetterHelp created Pride Counseling specifically to help the LGBTQIA+ community access therapy.
Pride Counseling is a subsidiary of BetterHelp. It's an online therapy provider that matches clients with licensed therapists and provides unlimited messaging and live online therapies sessions. Its therapists specialize in the LGBTQIA+ community. It is accessible via website or app.
You'll be matched with a therapist after an initial assessment but can switch to a different counselor at any point. Plus, you can cancel your subscription at any time.
Why we chose it
welcomes people from any gender, orientation, or identity
guarantees confidentiality and encrypts all messages between you and your therapist
therapists are licensed psychologists, therapists, or social workers
What we like
specialized care for the LGBTQIA+ community
various therapy formats, including messaging, phone, video, and chat
available in the United States and United Kingdom
What to look out for
doesn't accept insurance
therapists can't diagnose conditions or prescribe medication
therapist-matching rather than choosing a therapist
available to people 18 years or older
Best for teens
Price: $60–$90 a week (billed every 4 weeks), $240–$360 a month; app free to download
Although some online platforms like Talkspace offer services for teens, Teen Counseling is an online therapy provider specializing solely in teen counseling.
Like Pride Counseling, Teen Counseling is a subsidiary of BetterHelp. As with BetterHelp, clients can switch therapists or cancel their subscription at any time.
According to the Teen Counseling website, it has more than 11,000 licensed therapists trained in working with teens. What's unique about Teen Counseling is that the therapist will have private sessions with the parents and the teen. Each session is private unless safety concerns arise.
Why we chose it
specializes exclusively in teen counseling
parents discuss child's issues and situation with the therapist first, then must give approval before child is connected
child use an app on their telephone to communicate with the therapist
What we like
specialized service for teens ages 13–19 years
therapy formats include messaging, phone, video, and chat
possibility to switch therapists and cancel at any point
available in the United States and United Kingdom
What to look out for
therapist-matching rather than choosing a therapist
doesn't accept insurance
parent or legal guardian has to sign up first and invite the teen
therapists can't diagnose conditions or prescribe medication
Best for postpartum depression
Postpartum Support International (PSI) offers a variety of services, all free of charge.
It's an online educational platform to spread awareness about postpartum depression and to assist parents who are experiencing it. PSI works to support parents of any gender.
Although many think only mothers can experience postpartum depression, in reality, many fathers face postpartum depression as well.
The stats paint a clear picture. Approximately 10% to 15% of women experience postpartum depression after delivery, with 25% to 50% of these experiencing symptoms for more than 6 months. About 8% to 10% of men will experience some form of postpartum depression in the first 3 months as well.
Why we chose it
PSI offers a wide range of services for recent parents, including:
a helpline
online support groups
local support group information
peer mentor programs
online chat forums with postpartum experts
What we like
offers a variety of services, all free of charge
resources in English, Spanish, German, French, and Hebrew
offers helplines via phone or text in English and Spanish
advocates for legislation and research for perinatal mental health
What to look out for
not an online therapy platform
support group meeting times are listed in Pacific Time
Best for cognitive behavioral therapy
Price: $39.95–$79.95 a week
Online-Therapy.com offers three subscription packages. Plus, the first month is 20% off, and customers can change packages or cancel at any time. It does not have an app.
Online-Therapy.com is a more action-focused platform than other online therapy providers, such as BetterHelp or Talkspace.
For instance, Online-Therapy.com not only offers therapy sessions and messaging with a therapist, but also:
worksheets
yoga and meditation videos
activity plans
tests
The focus of this platform is less on live therapy sessions and more on activities inspired by CBT. However, if you're interested in 30-minute live sessions with a licensed therapist as well, you can choose one of the higher-tier packages that include this service.
Why we chose it
good CBT introduction
licensed therapist availability in paid version
offers variety of tools for learning and practice
What we like
resources in addition to therapy
allows for anonymity
subscriptions can be put on hold if needed
What to look out for
live therapy sessions only included in more expensive subscription packages
lowest tier package includes only daily therapist replies Monday through Friday
doesn't accept insurance
therapist-matching rather than choosing a therapist
available to people 18 years or older
Best chatbot
Price:

Free app
Premium versions range from $99 a year (or in-app intro $59 offer) for access to library of sleep stories, meditations, and therapeutic exercises; to $99 a week (intro in-app offer of $79), which gives you four live text sessions with a qualified therapist, unlimited messaging support at other times, and library access
Wysa is an artificial intelligence (AI) chatbot app that uses empathetic listening and CBT techniques to help you feel heard. It's designed to help you talk things through, with a cute penguin bot who listens and asks the right questions to help you along.
Professional human support is also available in the premium version. Wysa keeps your communications encrypted and private, and you don't have to use your real name or email address.
There is quite a lot of content in the free version, including unlimited chats with the bot and related materials that it refers you to.
Wysa learns from your input, so its responses are progressively tailored to you. Reviewers say they often use the app as a coping mechanism in between real-life therapy appointments. The most popular feature is the cute animated penguin who worms its way into even a skeptical heart to make you feel happier and not alone.
Why we chose it
available instantly 24/7 when your other mental health channels may not be available
can serve as a bridge between your regular therapy appointments

meditations, mindfulness tools, calming exercises

, plus a personal therapist available in premium plans
What we like
no registration or login required, start chatting using a random username and no email
videos, articles, exercises, and mindfulness techniques suggested by bot for you
easily navigable interface
What to look out for
bot sometimes prone to loops and misunderstandings
not a substitute for depression therapy, best used as a support tool
designed for use by adults over age 18, or children over age 13 with parental supervision
not designed for use in a mental health crisis
Best for care with medical prescriptions
Price: $95 a month for depression and anxiety services; otherwise, $25 consultation fee; app free to download
Lemonaid is a national telehealth service that prescribes medication for various health issues. After answering an online form on your health history and speaking directly with a medical professional, clients will receive a medical prescription and have their medication delivered in the mail.
Lemonaid typically charges a $25 consultation fee, which covers an evaluation by a doctor or nurse practitioner and a prescription. The cost of the medication itself is separate.
Once you receive your prescription, you can opt for delivery, which Lemonaid will provide for free, or you can choose to have your prescription sent to your local pharmacy.
However, depression and anxiety services are a fixed monthly fee that covers consultations and medicines prescribed and shipped through Lemonaid.
If you're interested in receiving medical prescriptions without having to leave your home, Lemonaid could be a good option for you.
Why we chose it
offers consultations and medication you can access from your home
handles a variety of medical conditions, so they understand if you have coexisting conditions with your depression
fixed monthly fee for depression and anxiety services
What we like
mail-order pharmacy (delivery typically within 2–3 days in discreet packaging)
telehealth service with access to doctors and nurse practitioners
available in all 50 states and Washington, D.C.
What to look out for
not an online therapy platform
anxiety and depression service available to people between the ages of 25–60 years
consultation not covered by insurance
medication is billed in addition to your subscription plan
Best for insurance coverage
Price: three subscription plans (app free to download)

Medication and Care Counseling: $85/month
Therapy: $259/month
Medication and Therapy: $325/month
Cerebral is an online provider of care and medications exclusively for mental health conditions. It currently operates in 33 states and is expanding to others.
It offers video, phone, or text appointments and follow-ups with licensed medication providers and therapists. It also has care counselors who help you with behavioral health techniques and coping mechanisms. Services are available on its website and app.
It's one of the few online care-and-medication providers that accept insurance. Most other providers require you to submit your claims to your healthcare professional. You can also do that with Cerebral if your healthcare professional is not in Cerebral's network.
So far, Cerebral accepts only a few of the bigger healthcare professionals and is working to expand its network. One big advantage for older clients is that it accepts Medicare in some states. Hardly any other online providers accept Medicare.
Cerebral offers three subscription options (some available only in certain states). It treats various mental health conditions, including:
Why we chose it
accepts insurance, including Medicare and a handful of other healthcare providers

has its own mail-order pharmacy and delivers medications either to you or a local pharmacy
is designed for long-term treatment of a wide range of mental health conditions
What we like
uses licensed, trained professionals with graduate degrees from accredited institutions as prescribers and therapists
uses mindfulness, meditation, and breathing exercises in combination with a treatment and medication plan
provides prescriptions only after prescriber determines a need for medication, a diagnosis, and a treatment plan
What to look out for
Best podcast
This is a podcast by Dr. Margaret Rutherford, a psychologist in private practice for 25 years and author of the book "Perfectly Hidden Depression." She highlights what she calls "hidden depression," or hiding depression by high performance or perfectionism.
She invites you to email her or record a message on her website with any questions you have or situations you need help with. She says she reads every one! She then structures her podcast around messages she has received.
Why we chose it
discusses depression from unusual angles sometimes hidden from therapists
hosted by a trained psychological professional
What we like
host is available for personal interaction via comments, personal stories, and questions, and she answers
has 2 million downloads
features diverse voices and issues
What to look out for
focus is on hidden depression
covers a varied mental health issues, including depression, anxiety, trauma, and grief
Best crisis hotline
You don't need to be considering suicide to call this hotline. Anyone in a mental crisis can call and get help. A trained counselor will answer (yes, a real person), listen to your issues, and get you connected with the help you need.
Alternatively, you can get help via the Lifeline Chat service. You'll fill out a brief pre-chat survey and then you'll be connected to a counselor.
The counselors on both the telephone and chat lines are available 24/7. Anyone who is experiencing depression, going through a hard time, just needs to talk, or is thinking about suicide can use this service. You'll reach someone who is trained to help and support you through whatever difficulties you may be facing.
Why we chose it
always available for you when you're in a crisis and don't know where else to turn
has trained counselors who are immediately available
for anyone in emotional crisis, no need to be considering suicide
What we like
free and confidential
get immediate help right away, plus resources for later
available for people in crisis, as well as for people who need help on how to handle a situation with someone else
starting July 16 in the United States, a new three-digit dialing code will route callers to this hotline: Dial 988
What to look out for
intended for crisis counseling, not general online therapy
may be referred to another service that can better help you
may be a short delay while connecting when you first call
The 12 resources in this roundup offer a wide variety of services, platforms, insurance coverage, and cost. You can compare the various options in the table below and find which resource best suits your needs for online depression help.
Provider
Best for
Services
Platforms
Insurance
Cost
BetterHelp
Best overall
• therapy
• website
• app
No
• $60–$90 a week (billed every 4 weeks)
• $240–$360 a month
Talkspace
Chatting
• therapy
• psychiatry
• website
• app
• Yes, some health plans
• No: Medicaid or Medicare
• $230–396 a month
Sanvello
Community
• therapy
• self-care
• community support
• coaching
• website
• app
Yes, some health plans
• various plans
• $8.99–$50 a month for self-care and coaching
• therapy costs $140 for initial appointment and $85 on average for follow-ups
Pride Counseling (subsidiary of BetterHelp)
LGBTQIA+ community
• therapy
• website
• app
No, but they offer financial aid if you're eligible
• $60–$90 a week (billed every 4 weeks)
• $240–$360 a month
Teen Counseling (subsidiary of BetterHelp)
Teens
•therapy
• website
• app
No
• $60–$90 a week (billed every 4 weeks)
• $240–$360 a month
Postpartum Support International
Postpartum depression
• educational platform
• help for parents with PPD
• website
• helpline
n/a
• free
Online-Therapy.com
Cognitive behavioral therapy
• CBT activities
• live therapy sessions in higher-priced plans
• website
No
• $39.95–$79.95 a week
Wysa
Chatbot
• AI mental health chatbot
• CBT techniques
• commentary
• resources
• app
No, but it partners with some institutions that may offer financial help
• Free app
• premium versions from $99 a year to $99 a week
• intro offers
• free 7-day trial for premium tiers
Lemonaid
Medication prescriptions
• prescription service
• website
• app
No, but some health plans will cover the prescriptions, which Lemonaid will then send to your local pharmacy
• $95 a month for depression and anxiety services
• $25 consultation fee
Cerebral
Insurance acceptance
• care
• prescription service
• website
• app
• Yes, some health plans and Medicare
• plans ranging from $85–325/month
The SelfWork Podcast
Podcast
• podcast about depression
• focus on hidden depression
• podcast
n/a
free
National Suicide Prevention Hotline
Hotline
• crisis hotline
• phone
• chat
• text
n/a
free
If you didn't find what you were hoping for here, you could consider these tips on how to find the right online depression help for you:
Qualifications. If you're looking for therapy, it's important to make sure the caregivers involved are licensed and experienced professionals who provide the type of therapy you are looking for.
Privacy and security. It's a good idea to check a site's data-sharing policy. You want to be sure your sensitive information isn't passed on to third parties.
Forums. If you seek help from an online forum, keep in mind that anyone can reply, including people who may not have the qualifications to offer medical advice. If you want to try something mentioned in a forum, it's best to discuss it first with your treatment team.
Price. You may want to determine your budget before choosing a service. It's also recommended to read the fine print before accepting any promos or offers.
If our list doesn't match what you're looking for, or if you're looking for a therapist with a certain cultural background or specialization, consider these tools to find support:
How do I know if I have depression?
Depression is more than feeling down or having a few bad days. According to the American Psychiatric Association, depression is characterized by long-term feelings of sadness that affect how you feel, think, and act. Often, you lose interest in activities you once enjoyed and find it difficult to function at work and at home.
Other symptoms of depression may include:
appetite changes
changes in sleep patterns
fatigue and decreased energy
difficulty making decisions or concentrating
feelings of worthlessness

thoughts of death or suicide
If you'd like to learn more about the symptoms of depression, consider reading our in-depth article.
How is depression treated?
Depression, no matter how severe it is or how long you have experienced it, can be treated. Treatment is most effective when started early.
According to the National Institute of Mental Health, depression is usually treated by medication, therapy, or a combination of both. Brain stimulation therapies such as electroconvulsive therapy are a further option.
If you'd like to learn more about the treatments for depression, consider reading our in-depth article.
There's a range of options for getting help online for depression, no matter who you are. You could speak with a licensed therapist over video chat, phone, or text message, find self-guided therapy tools, AI-based therapy, online group therapy, and more.
Even within each of these categories, there are resources for specific demographics, such as teens, recent parents, and the LGBTQIA+ community.
The hardest part is often knowing how to find these resources and determining which one is best for you. The best advice is to simply begin.
Finding the right fit for online therapy sometimes takes time, so consider starting as soon as you can. It may feel intimidating, but these resources will help guide you through each step of the process.
Want to learn more about depression? Psych Central's Let's Talk About: Depression resource can help.