We include products we think are useful for our readers. If you buy through links on this page, we may earn a small commission Here's our process.
Psych Central only shows you brands and products that we stand behind.
Our team thoroughly researches and evaluates the recommendations we make on our site. To establish that the product manufacturers addressed safety and efficacy standards, we:
Evaluate ingredients and composition: Do they have the potential to cause harm?
Fact-check all health claims: Do they align with the current body of scientific evidence?
Assess the brand: Does it operate with integrity and adhere to industry best practices?
We do the research so you can find trusted products for your health and wellness.
The world is stressful these days, to say the least. Thankfully, there's a range of products that may support you on your self-care journey.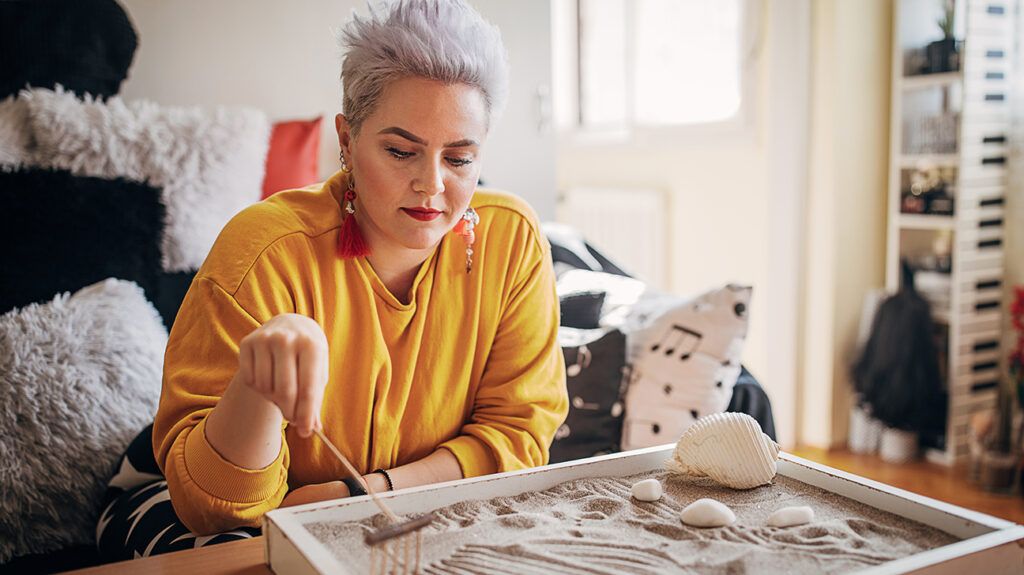 In small doses, stress can be a good thing. But if unmanaged, it can lead to a range of mental, emotional, and physical complications. These days, we could all use a little more "chill."
According to a recent survey by the American Psychological Association, 67% of U.S. adults have increased stress from the COVID-19 pandemic. To add to that, 49% say their behavior has been affected, from snapping at loved ones to more rapid shifts in mood.
While there's no one-size-fits-all to combat stress, we hope some of our favorite products can help you find little doses of relief throughout your day.
You may find that stress-relief products help your situation temporarily, but it's always a good idea to check in with a professional, especially if anxiety and stress are interfering with your everyday quality of life.
While we love each of the products on this list, they simply can't replace a professional treatment plan.
A doctor or mental health professional can help you with a diagnosis and guide you toward important resources and medications that may help.
If you want to jump directly to the section for each platform, you can click the links below.
Google "stress relief products" and you may be so overwhelmed with options that it's hard to know where to look first. But never fear: We've got your back and took care of the research for you, so you have one less thing to worry about on your to-do list.
Here's how we chose our favorites:
ratings
reviews
features
price
scientific research
General price ranges with dollar signs ($ to $$$) are indicated below. One dollar sign means the product is considered rather affordable, whereas three dollar signs indicate a higher price range.
Keep in mind that the article features a variety of products, so a direct comparison isn't possible.
Pricing guide:
$ = under $15
$$ = $15–$30
$$$ = over $30
Best meditation app
Price: $–$$$ (options include per month, per year, or for a lifetime membership)
Sitting in silence may not sound very enticing, but the benefits may change your mind.
Research from 2021 shows that meditation can:
decrease your blood pressure
lower your heart rate
reduce a stress hormone called cortisol
disrupt cytokine levels, which are inflammatory proteins in your brain
There's some research to support the Calm app, specifically, with its range of stress-reducing features, from guided meditations to stretching programs. Don't forget the library of sleep stories narrated by well-known voices like Matthew McConaughey.
Why we chose it
Calm is considered #1 in the sleep, meditation, and relaxation category. To date, it has been given a 5-star rating more than 1.5 million times.
What we like
free trial for 7 days
intuitive, well-organized app design
some features are available without a membership
What to look out for
free trial requires payment details
Best face mask
Price: $
When you don't have the time or the budget for a professional facial, this at-home version might just be the next best thing.
Depending on your mood, this mask can be placed in the freezer or the microwave for hot or cold relief on your face. You can use it for a few minutes during your day or try it right before bed to promote restful sleep.
Plus, it's scented with lavender, which is well known for increasing relaxation and reducing stress in a range of populations, from students to older adults.
Why we chose it
The adjustable strap helps hold the mask into place, so you can actually see out the eye holes and get on with your day.
What we like
easy to clean
leakproof design
snug Velcro strap
What to look for
don't leave in the microwave for longer than intended
Best desktop accessory
Price: $$$
If a relaxing getaway isn't in the cards anytime soon, bring the ancient Japanese tradition of Zen gardening home to you.
This starter kit has everything you need to make a serene desktop version, with sand, stones, and an artificial bonsai tree, a sacred symbol of spirituality in Zen Buddhism.
When you're feeling stressed, enjoy the calming, meditative effects of raking the white sand in any design that feels intuitive.
Why we chose it
The sand tray is bigger than other products in the same price category. A bigger space means more space to play — and melt that stress away.
What we like
container for tool storage
looks great in any room
endless ways to decorate the sand tray
What to look for
keep small parts away from pets and children
Best stress ball
Price: $$
Stored-up anxiety in the body is no fun. All of that energy needs to be released somewhere — and that's where stress balls come in.
Instead of biting your nails or chewing on the back of your pens, squeezing a stress ball may help when you're having a tough moment. In fact, research from 2020 shows that stress balls can have a positive impact on stress.
Along with motivational words to help keep you calm, these balls from MindPanda have an aromatherapy element. Each one has a different scent:
Why we chose it
Unlike similar products, these are made with tear-resistant fabric, an absolute must when you're handling them during times of stress.
What we like
multiple color options
different strengths and ball sizes
tear-resistant fabric
What to look for
may not be suitable if you're sensitive to smells while stressed
Best foot bath
Price: $$$
Rather than splurge on a spa day, recreate the experience at home as often as you like.
Grab your favorite bathrobe, a good book, and maybe a glass of wine, then dip your feet into this warm foot bath. The raised nodes and bubbles will gently massage your feet after a long, hard day.
If stress makes it hard for you to get some quality Zzz's, a 2016 study suggests that a foot bath can promote more restful sleep.
Why we chose it
The complimentary tea tree soak adds a little something extra to the whole experience. Plus, the water heats up quickly, so you don't have to wait very long to indulge.
What we like
can be used with Epsom salts
digital temperature control
heats water and keeps it warm
What to look out for
you must move your feet back and forth to get a massage
Best coloring book
Price: $
Stress relief doesn't have to be complicated, and coloring is a perfect example of that.
Though it may seem a little far-fetched, coloring has science-backed benefits. One 2020 study showed that coloring can lower anxiety and reduce heart rate. A 2017 study showed that anxiety symptoms may improve within just 1 week of daily coloring.
In this coloring book, the intricate designs are paired with calming words and phrases like "breathe," "awaken," and "shine on." All you need now are some colored pencils.
Why we chose it
For the price of a cup of coffee, this little book can provide hours and hours of art therapy that you can take with you wherever you go.
What we like
durable paper, so there's no bleed-through
perforated sheets so you can hang up your work
What to look out for
some may find that these detailed designs are too time-consuming
Best oil diffuser
Price: $$
Bring the smell of the yoga studio home with you.
Research from 2021 shows that aromatherapy with essential oils like lavender and rosemary can promote relaxation, called an anxiolytic effect. In addition, research from 2015 suggests that aromatherapy can be a great compliment to other lifestyle adjustments, like nutrition and exercise.
With more than 23,000 ratings and 4.6 stars, this minimalist essential oil diffuser may just be your new favorite accessory for stress relief.
Why we chose it
This diffuser can hold 2 cups of water, so you can have long-lasting aromatherapy without the need to keep refilling the tank.
What we like
powered by remote control
seven rotating or fixed color modes
automatic shutoff to prevent overheating
What to look out for
some may find the sound of the motor distracting
Best condiment
Price: $$
If anxiety relief tastes like hot chocolate with a dash of peppermint — how can you go wrong?
This popular blend contains adaptogenic herbs which have been studied for their effects on regulating cortisol (a stress hormone).
One 2021 study found that reishi has the potential to soothe the central nervous system. Another 2021 study found that ashwagandha has numerous benefits, including long-standing use in Ayurvedic medicine for anxiety relief.
Please note: while ashwagandha is safe for most people, it should not be mixed with certain antidepressants or antianxiety medications. Be sure to check with your doctor before trying this product.
Why we chose it
This versatile product can be a pleasant beverage on its own, blended into a smoothie, or mixed with CBD oil for a blissed-out experience.
What we like
may ease stress within minutes
includes recipes (chia pudding, anyone?)
Instagrammable packaging
What to look out for
may not be suitable to mix with certain medications
Best essential oil
Price: $
When you're on the go, it can be helpful to have a stress-buster in your pocket.
Wherever you are, you can grab the roll-on, apply it to your wrists, take a deep inhale, and enjoy a quiet moment of calm before you move on with the rest of your day.
This relaxing blend contains:
cardamom
ginger
peppermint
Spanish sage
sweet fennel
Plus, if you're ever in the mood to branch out, UpNature has a whole range of essential oil roll-ons you can try, like "Dream" and "Breathe."
Why we chose it
The essential oil roll-on is free of additives, leaving you with only essential oils and a gentle carrier oil on your skin.
What we like
portable
cruelty-free
safe for wrists, temples, neck, and feet
What to look out for
for some, essential oils may irritate skin
Best drink
Price: $$
It turns out, magnesium may help with anxiety symptoms.
A 2018 study found that this important mineral may have a role in managing neurotransmitters in the brain, though more research is still needed.
This Nature Vitality blend tastes like raspberry lemonade with magnesium sourced from the Pacific Ocean. It doesn't take much to do the trick (start with half a teaspoon), and it can even be mixed with chamomile, should you want extra relaxation support.
Just be sure that before you add any supplement to your diet, like magnesium, you talk to your doctor first.
Why we chose it
It's the leading magnesium brand in the US. Plus, we think it's easier and more enjoyable than magnesium pills. Simply pour your dose into a glass of water, let it fizz and settle, then enjoy.
What we like
flavored with stevia
tastes great warm or cold
may support bowel movements, as a bonus
What to look out for
start with a low dose to avoid digestive distress
Best art set
Price: $$$
The Zen way of living is all about appreciating the present moment.
As this blank canvas becomes filled with your art, then you watch it fade away to blank again, you'll be reminded that all things are temporary — including stress.
Your task here is simple. Dip the bamboo brush into water, draw whatever you're feeling, then watch your inkless design disappear within 3 to 10 minutes. You can truly let your creative side loose, knowing that there's no such thing as a finished product.
Why we chose it
What we like
minimalist design
reservoir for water
suitable for kids and adults
What to look out for
Best card deck
Price: $
We could all use a little pep talk from time to time.
Whether you pick one card a day, or shuffle and draw whenever you're feeling stressed, this 45-card deck has a positive affirmation ready to support you at any moment.
Each card provides comforting words you can read out loud to yourself, or a loving message to reflect on in your journal or meditation practice. You can even hang these cards up in high-traffic areas, like your bathroom or near your door.
Why we chose it
What we like
portable
beautiful artwork
suitable for adults and children
What to look out for
bigger than playing cards
Best workbook
Price: $$
Would you expect to build a house without the proper tools? Of course not.
A calm life is no different. It takes skills, many of which can be learned through this workbook. Through various exercises, you'll be able to identify the root causes of your stress and replace unhelpful habits with more mindful ones.
This book material is centered around mindfulness-based stress reduction, which is clinically proven to reduce symptoms of stress, anxiety, panic, and depression.
Why we chose it
What we like
therapist recommended
audio files to support book material
rooted in science-backed techniques
available as paperback and Kindle
What to look for
electronic version doesn't include logs and worksheets
What products are good for stress relief?
How can I reduce stress naturally?
How can I reduce anxiety fast?
Stress is on the rise, particularly with the pandemic and other global issues.
While these stress-relief products can't replace therapy and medication, you may find that they can effectively complement your overall treatment plan.
If stress is interfering with your everyday life, please know that you don't have to go through this alone. Support is available and healing is possible. By taking the first step to finding professional help, you'll be better equipped to handle life's many challenges.
As they say, this too shall pass. Try to take it one moment — one breath — at a time.
de Vibe M, et al. (2017). Mindfulness-based stress reduction (MBSR) for improving health, quality of life and social functioning in adults: A systematic review and meta-analysis. https://onlinelibrary.wiley.com/doi/pdf/10.4073/csr.2017.11
Ebrahimi H, et al. (2021). The effects of lavender and chamomile essential oil inhalation aromatherapy on depression, anxiety and stress in older community-dwelling people: A randomized controlled trial. https://www.sciencedirect.com/science/article/abs/pii/S155083072100001X
Flett JAM, et al. (2017). Sharpen your pencils: Preliminary evidence that adult coloring reduces depressive symptoms and anxiety. https://www.tandfonline.com/doi/abs/10.1080/10400419.2017.1376505
Huberty J, et al. (2019). Efficacy of the mindfulness meditation mobile app "Calm" to reduce stress among college students: Randomized controlled trial. https://www.ncbi.nlm.nih.gov/pmc/articles/PMC6614998/
Kasar KS, et al. (2020). The effect of a stress ball on stress, vital signs and patient comfort in hemodialysis patients: A randomized controlled trial. https://www.sciencedirect.com/science/article/abs/pii/S174438812031118X
Pascoe MC, et al. (2021). Psychobiological mechanisms underlying the mood benefits of meditation: A narrative review. https://www.sciencedirect.com/science/article/pii/S2666497621000114
Rahmani A, et al. (2016). Comparing the effect of foot reflexology massage, foot bath and their combination on quality of sleep in patients with acute coronary syndrome. https://www.ncbi.nlm.nih.gov/pmc/articles/PMC5187550/
Schecter RA, et al. (2017). Fidget spinners: Purported benefits, adverse effects and accepted alternatives. https://journals.lww.com/co-pediatrics/Abstract/2017/10000/Fidget_spinners__Purported_benefits,_adverse.17.aspx
Stress in America 2020: A national mental health crisis. (2020). https://www.apa.org/news/press/releases/stress/2020/report-october
Turturro N, et al. (2020). Does coloring reduce anxiety? Comparing the psychological and psychophysiological benefits of coloring versus drawing. https://journals.sagepub.com/doi/abs/10.1177/0276237420923290