We include products we think are useful for our readers. If you buy through links on this page, we may earn a small commission. Here's our process.
Psych Central only shows you brands and products that we stand behind.
Our team thoroughly researches and evaluates the recommendations we make on our site. To establish that the product manufacturers addressed safety and efficacy standards, we:
Evaluate ingredients and composition: Do they have the potential to cause harm?
Fact-check all health claims: Do they align with the current body of scientific evidence?
Assess the brand: Does it operate with integrity and adhere to industry best practices?
We do the research so you can find trusted products for your health and wellness.
Online anxiety support groups can help you connect with others and share your experiences in a supportive, judgment-free zone.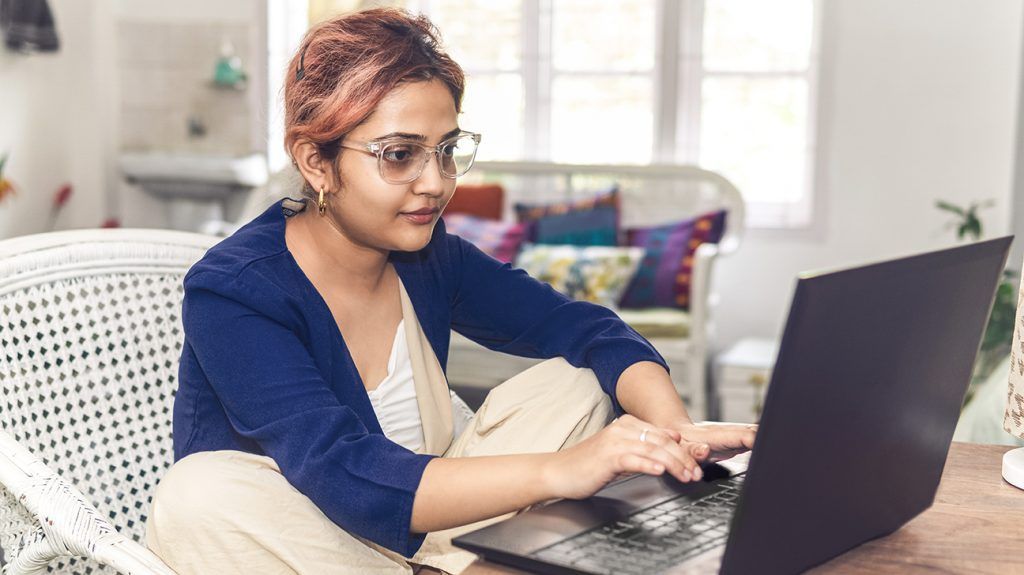 Living with anxiety can be an isolating experience, and you may feel alone at times, especially if people around you can't relate to what you're going through.
Online anxiety support groups provide a safe space in which you can:
connect with others with anxiety
share your feelings
find support and strength from the community
Anxiety is a common mental health condition. In fact, 31% of adults in the United States will experience an anxiety disorder at some point in their lives. If you have anxiety, you don't have to go through it alone. Sometimes, having support from others who have similar experiences is just what you need.
We've compiled a list of our favorite online anxiety support groups, which you can access from the comfort of your home.
Something to keep in mind
While anxiety support groups can be a great resource, they can't replace treatment if a medical professional has recommended therapy or prescribed medication for your anxiety disorder.
Support groups are also unsuitable to help you when you are in crisis.
If you're considering self-harm or suicide, help is available
If you're having thoughts of suicide or self-harm, you can access free support right away with these resources:
If you want to jump directly to the section for each service, you can click the links below.
To select the best online anxiety support groups, we spent time considering important aspects of each platform, including:
anonymity and privacy offered to participants
accuracy of information provided on the site
established and secure website or app
guidelines for participation
moderation (particularly for discussion forums)
user reviews
qualifications of the staff
As you search through mental health sites, you want a trustworthy place you can go where you know you'll get unbiased, factual information. Gaining and maintaining your trust is a primary goal of our editorial team.
All of our content is editorially independent, and we ensure that business partners and sponsors never influence our content. We link only to products and services we believe fill a direct need or provide value to our readers.
Finally, all of our health content is reviewed by our medical affairs team to ensure that it's medically accurate and aligned with current standards of care.
Best overall
Price: most groups are free, but some charge a small fee to participate
Platform: website
Support Groups Central offers support groups for various mental health conditions, including anxiety. In addition to groups categorized by conditions, there are groups for:
People of Color
the LGBTQIA+ community
veterans
People from around the world use the groups to:
share their experiences
encourage one another
offer support
In addition to asking questions on the discussion forums, members can join meetings via video and audio. If you prefer anonymity, you can turn off your video and log in with a username.
Why we chose it as best overall
Support Groups Central is a large platform, offering a wide range of support groups, covering a span of conditions, including anxiety, post-traumatic stress disorder (PTSD), and narcolepsy. Getting started is free and meetings are directed by trained instructors.
What we like
Meetings are led by trained instructors, many of whom are licensed mental health professionals.
You can sign up for email alerts about future meetings by topics of interest.
According to Support Groups Central's website, 95% of participants would recommend the service to others.
What to look out for
Some groups charge a fee or request donations to participate.
As with most discussion forums, it's advisable to be cautious with tips offered by group members and to discuss them with your treatment team, as the information may not be evidence-based or medically recommended.
Best app
Price: free access to connect with listeners in chat rooms and forums; $150 a month for unlimited chat sessions with a licensed mental health professional
Platform: app, website
7 Cups is an online emotional support service that allows users to connect with friendly, caring support any time, day or night.
The app has more than 300,000 trained volunteers called "listeners" who provide free emotional support when you need it. Connect one-on-one with a listener in a private chat room, find support and friendship in the forums, or join a scheduled support group session.
7 Cups offers online meetings each week, including sharing circles and support sessions. They also have a community specifically for anxiety support.
Why we chose it as best app
7 Cups is a unique service in that you can connect with a trained listener 24/7 to receive emotional support.
What we like
You can connect with a caring listener within minutes of logging on, any time day or night.
Self-help guides provide detailed information on many mental health topics and conditions to give users information and advice on coping strategies.
Professional moderators maintain a safe, supportive community.
Web- and app-based, so you can access the service from your tablet, computer, or smartphone.
What to look out for
Accessing chats with a licensed mental health professional costs $150 a month, and is only available to people older than 18 years.
There is a high turnover of listeners, which means you may need to speak with a new person each time you log in.
The listeners are trained volunteers, not mental health professionals.
Tips offered in the forums may not be evidence-based or medically recommended, so it's best to use caution and discuss anything you may want to try with your treatment team.
Best for people with anxiety and substance use disorder
Price: free
Platform: Website
SMART Recovery offers support for those living with substance use disorder (SUD) and other dual diagnoses, including anxiety.
Mutual-support groups with members around the world help participants resolve problems related to addiction.
SMART Recovery takes a science-based approach that emphasizes self-empowerment and changing behaviors.
The site provides free access to more than 40 online meetings a week, and online discussion forums are open around the clock.
Why we chose it as best for anxiety and SUD
SMART Recovery's groups and online meetings are free and open to anyone looking for research-based support for addiction recovery.
What we like
The search function helps you find local in-person groups, local virtual groups, and virtual groups with others around the world.
SMART Recovery uses evidence, science-based approaches to recovery.
What to look out for
The service doesn't require group leaders to be sober.
Members are encouraged to focus on the present and future, rather than share stories from the past.
Best for immediate support
Price: free
Platform: website
Mental Health America (MHA) is a community-based nonprofit organization dedicated to addressing mental health conditions and promoting wellness.
The site offers early identification and intervention, as well as a list of services and support for those who need it.
MHA's online support group, Inspire, is a free resource that allows members to share experiences, ask questions, and get peer-to-peer support from others who understand what it's like to live with anxiety.
Why we chose it as best for immediate support
MHA's Inspire is a free platform where members with anxiety can take free mental health screening tests and connect with one another for 24/7 support.
What we like
MHA offers free mental health screening tests, including a test for anxiety.
Inspire is the largest provider of health-specific communities.
Groups are moderated by MHA staff.
What to look out for
The groups are led by peers, not trained mental health professionals.
Best peer-to-peer support group
Price: free
Platform: website
TheTribe wellness community is a peer-to-peer support group for those living with mental health conditions, including anxiety disorders.
With over 130,000 members, TheTribe users share stories and meet others with similar experiences in a supportive online space.
In addition to online groups, TheTribe encourages members to complete fun activities and offers resources to find online therapy.
Why we chose it as best peer-to-peer support group
The tribe offers a large platform in which people living with a variety of anxiety disorders can connect with one another in a safe space.
What we like
TheTribe has groups for various communities, including anxiety, the LGBTQIA+ community, and teens.
Inspirational wellness tools include wellness tracker, member blogs, mood mapping, and sending kudos to other members.
What to look out for
There's a lack of facilitators.
TheTribe doesn't offer discussion boards.
Best online discussion forum
Price: free
Platform: website
The Anxiety and Depression Association of America (ADAA) is a not-for-profit organization dedicated to education and research around mental health conditions.
The site offers a comprehensive list of community and online support groups for anxiety disorders and other mental health conditions.
AADA's online chat-based forums and peer-to-peer support groups allow members to:
connect with others who are experiencing anxiety
contribute to conversations
ask questions
share their journey
Why we chose it as best online discussion forum
The ADAA forum is a safe space where both English- and Spanish-speaking individuals with anxiety can connect with and support one another.
What we like
The site hosts active discussion forums with engaged members from around the world.
Educational resources include webinars, podcasts, videos, books, and brochures on anxiety disorders.
ADAA has support groups for English- as well as Spanish-speaking folks.
What to look out for
Groups aren't led by trained professionals, though they are moderated by community members.
It's best to use caution with suggestions made by forum members and to discuss whether suggested practices are safe for you with your treatment team.
Best for
Features
Platforms
Price
Support Groups Central
Overall
• diverse groups available
• specialized groups for LGBTQIA+ community, veterans,
People of Color
website
• most free
• some charge small fee
7 Cups
App
• open 24/7
• trained listeners
• option to chat with mental health pro (for a fee)
app,
website
• free for forum
• $150 a month to chat with mental health pro
SMART Recovery
Anxiety and SUD
• support for SUD and anxiety
• free meetings
• science-based approach
website
free
Inspire by MHA
Immediate support
• peer support
• mental health screening tests
website
free
TheTribe
Peer-to-peer support
• specialized groups for LGBTQIA+,
teens, etc.
• wellness tools
website
free
Anxiety and Depression Association of America
Online discussion forum
• English & Spanish
• educational resources
website
free
An anxiety support group is a place where people living with anxiety can:
connect
share experiences and tips
support one another
Some support groups are led by trained professionals while others simply offer peer support without a specific agenda.
If you didn't find what you were looking for in this list, here are a few things to keep in mind when looking for an anxiety support group that suits your needs:
Do you want to attend an online or in-person group?
Do you want a group that's primarily peer support or one led by a trained professional?
Do you prefer talking to one person at a time or posting on a forum?
Do you want a free group or are you OK with paying a fee?
Are you looking for anxiety support within a specific community, such as veterans, People of Color, LGBTQIA+ folks, or new moms?
Do you prefer a structured format that follows a curriculum or a more free-flowing format?
For best results, it's important to attend or make use of the group regularly. A small 2020 study found that online and offline peer support groups are central to recovery from mental health conditions.
What is the purpose of a support group for anxiety?
For many people, living with anxiety is a lonely experience. Online support groups bring people together to share thoughts and feelings, learn coping strategies, and hear stories of others that can be validating to your own experience.
Online anxiety support groups often fill a gap between medical treatment for anxiety and the need for emotional support, helping members feel less alone.
Whether you have access to other mental health support or not, online anxiety support groups offer fellowship, understanding, and a safe space to share and connect with others — all from the comfort of your own home.
How do online support groups differ from in-person support groups?
Online support groups are becoming increasingly popular, as a convenient, affordable, and accessible alternative to in-person groups. These groups offer accessibility, flexibility, and privacy. People with social anxiety may find online groups less intimidating to participate in.
In-person anxiety support groups give members the chance to engage in face-to-face interactions, which may make relationship building and fostering connections a little easier for some.
How are anxiety support groups structured?
Anxiety support groups can be structured in a variety of ways. Some groups follow a curriculum while others allow the members to choose the topics, just go with the flow, or a combination of both.
Support groups can also have different types of facilitators.
Professional-led groups are those guided by a licensed mental health professional. Other groups are led by peer facilitators — people who live with an anxiety disorder but who've made significant progress in managing their symptoms. These peer facilitators often receive training before leading a support group.
Self-help groups tend to be those organized and managed by members (peers) with no professionals guiding the conversations.
Some support groups are ongoing, while others have a specific number of sessions.
And, of course, some are online while others are face-to-face.
You may need to try both online and in-person support groups to determine which is the best fit for you. There may be times you prefer the ease of online groups and others where you crave in-person interactions. So it's also OK to switch between these formats or make use of both at the same time.
Online support groups won't treat anxiety on their own, but having access to peer support can be very helpful in managing anxiety in your daily life.
You may be nervous about sharing personal issues with people you've just met when you first joined a group. Try to listen and warm up to others in the group. Over time, you may feel more comfortable sharing your own experiences.
It's important to remember that a support group isn't a substitute for professional mental health care. If you need help coping with your anxiety beyond what a support group can provide, talking with a doctor or therapist might be best.