We include products we think are useful for our readers. If you buy through links on this page, we may earn a small commission Here's our process.
Psych Central only shows you brands and products that we stand behind.
Our team thoroughly researches and evaluates the recommendations we make on our site. To establish that the product manufacturers addressed safety and efficacy standards, we:
Evaluate ingredients and composition: Do they have the potential to cause harm?
Fact-check all health claims: Do they align with the current body of scientific evidence?
Assess the brand: Does it operate with integrity and adhere to industry best practices?
We do the research so you can find trusted products for your health and wellness.
Teen Counseling is a telemental health platform designed to connect teens and their parents with therapists.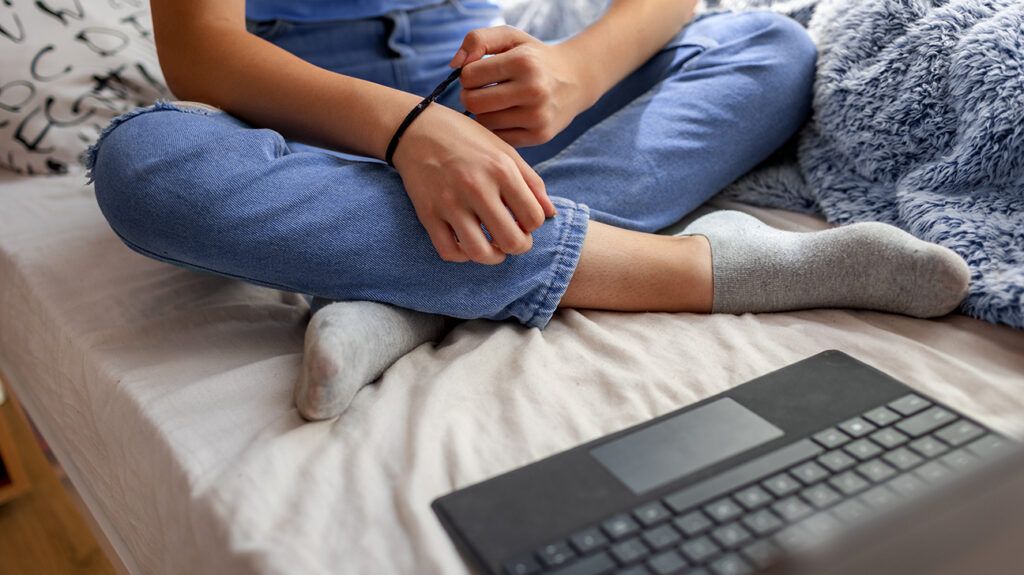 Today's teens face challenges many of their parents never imagined, from the pervasive nature of social media and the instant communication of mobile phones to a worldwide pandemic.
According to a 2021 review study, anxiety among children and teens increased from 11.6% to 20.5%, and depression rose from 12.9% to 25.2% during the COVID-19 pandemic. Yet, many teens couldn't meet with therapists in person, and those in low-income households could not afford the services that were available.
Telemental health platforms and services existed before the pandemic, but they became more common and accessible because of the pandemic.
A 2017 pre-pandemic review found that telemental healthcare can be an effective way to treat a wide variety of mental illnesses. These platforms often provide access to care at a lower cost and reach remote locations where few in-person options may be available.
Teen Counseling is an online platform that connects teens with trained and licensed therapists. It also provides opportunities for parents to consult with professionals about their teen's mental health.
How we researched Teen Counseling
We don't recommend any service before asking serious questions and looking at how the platform's design plays out in real life. We considered the following factors:
Clinical qualifications. What are the credentials and experience of those providing services? Do you get to choose who you work with? Can you change therapists?
User experience and reviews. Are users satisfied with the quality of their care? Do they have a positive experience? Are there common pros and cons?
Cost. What payment plans are offered? How do those options compare to traditional healthcare rates? Does the platform accept insurance?
Ease of use. How easy is it to navigate the website? How easy is it to connect with a therapist?
Privacy. Can teens use the site without parental consent? Do parents have to set up the account? Can parents access counseling sessions?
Communication and appointments. How soon can you schedule appointments? What communication methods can you use? How much access do users have to their therapist?
Plus, all services we include in reviews undergo a vetting process to ensure they meet our medical, editorial, and business standards.
Before we dive into our in-depth review, here's an overview of some of Teen Counseling's pros and cons.
Pros
It's less expensive than some in-person mental health services.
You get open, 24/7 communication with a therapist.
You have access to vetted mental health professionals.
You can access the platform from anywhere with an internet connection.
Users can message, phone call, live chat, or video conference with their therapist.
The screening process helps teens find a good therapist match.
Users can change therapists at any time.
Parents can meet with therapists to discuss their teen.
Cons
Prices vary depending on the therapist's qualifications.
Users cannot pick therapists, only get matched with them (though switching is possible).
Users may get matched with therapists in a different city who may not be familiar with local services.
The effectiveness of Teen Counseling may rely heavily on the therapist's responsiveness.
Teen Counseling doesn't offer a free trial.
The service doesn't offer refunds after charging for the month.
The service doesn't include prescriptions or medication management.
Teen Counseling, a sister site to BetterHelp, is a telemental health platform designed to connect teens with therapists. The platform doesn't employ therapists. Rather they facilitate access and make connections to vetted therapists.
Teens or parents can sign up, each inviting the other as part of the signup process. A brief screening process at sign-up matches teens with a mental health professional. The therapist, teen, and/or parent set up appointments via the most convenient communication method.
Teen Counseling is designed to help teens to work through and cope with issues like:
These kinds of services work well for users who have reliable access to a mobile phone, laptop, or another connected device and internet that's fast enough to prevent disconnections during sessions.
It's important to keep in mind that Teen Counseling isn't designed for those in immediate danger or crisis. It's also not approved for those who've received a court order or order from another authority that mandates required counseling.
If you're experiencing suicidal thoughts, help is available
You can access free support right away with these resources:
Counselors are equipped to treat a wide range of mental health conditions and illnesses, from anxiety and stress to eating disorders and relationship problems.
You can set up appointments for video conferences, live chats, or phone calls or leave messages that your therapist can answer at their convenience.
Your digital waiting 'room'
Each account includes two dedicated digital "rooms" — one for the teen and therapist only and one for the parent and therapist only. These rooms are where users message and initiate chats, calls, and video conferences.
Messaging and live chats
You can leave messages in the room for the therapist 24/7. The therapist can then reply at their convenience. You can also schedule a live chat, enter the room, and chat in real-time with your therapist.
Phone calls and video conferences
Phone calls require a scheduled appointment. You log into your account at the appointed time. The therapist then prompts you to put in the number of the landline or mobile phone you're using, and the platform makes an online call.
For a video conference, you log into your account, and the therapist prompts you to start the video session. These sessions require a Chrome or Firefox web browser if using a laptop or computer. When using an iPhone, iPad, or Android phone, you need to use the TeenCounseling app.
All of the therapists available through Teen Counseling must be a/an:
accredited psychologist (PhD/PsyD)
licensed marriage and family therapist (LMFT)
licensed clinical social worker (LCSW/LMSW)
licensed professional therapist
All of these qualifications require either a master's or doctorate degree. Therapists are required to have passed certifications and qualifications of the state in which they practice. They must also have at least 1,000 hours of hands-on experience and have practiced for at least 3 years.
A parent or a teen can open an account by filling out the screening questions. You are connected with a real-life person to further discuss your needs before making a final therapist match.
Parents then send an invite to their teen or a teen invites their parent to get consent.
You work with one therapist for all treatment sessions. However, you can change therapists at any time.
A growing body of evidence supports the use of telemental health platforms and services.
A 2017 systematic review of 25 articles found that using telemental health platforms for psychotherapy and other mental health services improved patient satisfaction and resulted in lower costs.
Studies from 2021 conducted among people close to giving birth, college students, and youth and teens with chronic illnesses support the convenience and cost-effectiveness of telemental health services.
However, there are challenges to an online-only platform. Users need access to technology, knowledge of how to use the technology, and access to a private location for sessions.
Plus, some experts believe that online therapy loses some of the nuances that make therapy more effective, such as reading a client's body language.
The cost of Teen Counseling varies based on:
your location
your chosen preferences
the therapist's availability
the therapist's qualifications
The fees generally run between $60 to $90 a week. Fees are billed in full at the beginning of the month, taking the monthly costs to $240 to $360 a month.
Users can cancel at any time. However, if you cancel in the middle of the month, previously charged funds are not refunded.
Does Teen Counseling offer discounts?
Teen Counseling does not offer free trials or discounts at the time of writing.
When it comes to customer reviews, Teen Counseling has a mixed bag of results.
Positive reviews
Many teens report that they have successfully connected with a responsive therapist. And both teens and parents say they get much-needed therapy to develop coping and relationship skills. Some also note that it's a less expensive option.
Plus, parents express relief at connecting their teens with mental health care far sooner than they could through in-person services. It's especially helpful for those in areas where there are few in-person options.
Negative reviews
A number of negative reviews report unresponsive therapists or therapists who don't show up for scheduled appointments.
Also, while you can cancel services at any time, some users report problems with that process. Negative reviews also state that it can be difficult to get a response from customer service.
Teen Counseling's privacy policy includes following HIPAA regulations and protecting sensitive information from outside sources.
The website tracks viewed pages and collects web beacons and cookies. The platform also monitors appointments and when users access their account and room, as well as when therapists access rooms.
Participating mental health professionals are required by law to notify relevant authorities if they suspect users may pose a threat or harm themselves or others. They also state that therapists will comply with court authorities, law enforcement, and other legal authorities if requested.
Service
Cost
Accepts insurance
Services for teens
Ages
Therapy format
Available nationwide?
Teen Counseling
$240–$360 a month
no
• therapy
• 13–19 years
• video
• phone
• text
• live chat
yes
Talkspace
$230–$396 a month
yes
• therapy
• 13–17 (therapy)
• psychiatry not available for teens
• video
• phone
• messaging
yes
Brightline
$60–$180 a session
• therapy
• 6–17
• video
no
Rethink My Therapy
$99–$129 a month
no
• therapy
•13–17 with parental consent
• video
• phone
• messaging
yes
MDLive
$284 for initial visit; $108 for follow-ups
yes
• therapy
• psychiatry
• 10–17
• video
• phone
yes
Is TeenCounseling.com right for my teenager?
Teen Counseling is a good option for teens who are comfortable with digital communication and may need help developing coping skills or who have mental health issues.
The platform creates an easily accessible platform with discrete, private communication with a therapist.
Parents also get support from the same mental health professional, helping them to know how they can support their teen.
However, Teen Counseling cannot provide help in a crisis. Plus, it cannot be used to fulfill a court order.
Does TeenCounseling.com accept insurance?
Teen Counseling does not accept insurance, nor do they submit claims. However, you may be able to get reimbursed depending on your insurance plan.
How do Teen Counseling's live chat sessions work?
Live chat sessions require an appointment. Once you've logged into your account either online or through the Teen Counseling app at the appropriate time, you can enter your "room" and start messaging in real-time.
Teen Counseling is a telemental health platform that matches teens and their parents with a therapist. The costs are sometimes lower than in-person sessions, though it depends on the user's insurance and the availability of therapists in their area.
It can be a convenient way to communicate with a therapist and get mental health care that's may not otherwise be accessible to you.