We include products we think are useful for our readers. If you buy through links on this page, we may earn a small commission Here's our process.
Psych Central only shows you brands and products that we stand behind.
Our team thoroughly researches and evaluates the recommendations we make on our site. To establish that the product manufacturers addressed safety and efficacy standards, we:
Evaluate ingredients and composition: Do they have the potential to cause harm?
Fact-check all health claims: Do they align with the current body of scientific evidence?
Assess the brand: Does it operate with integrity and adhere to industry best practices?
We do the research so you can find trusted products for your health and wellness.
Secure chat, text, and video therapy are available online for teens with legit stressors and trauma. Talkspace, 7 Cups, and Teen Counseling all made our list.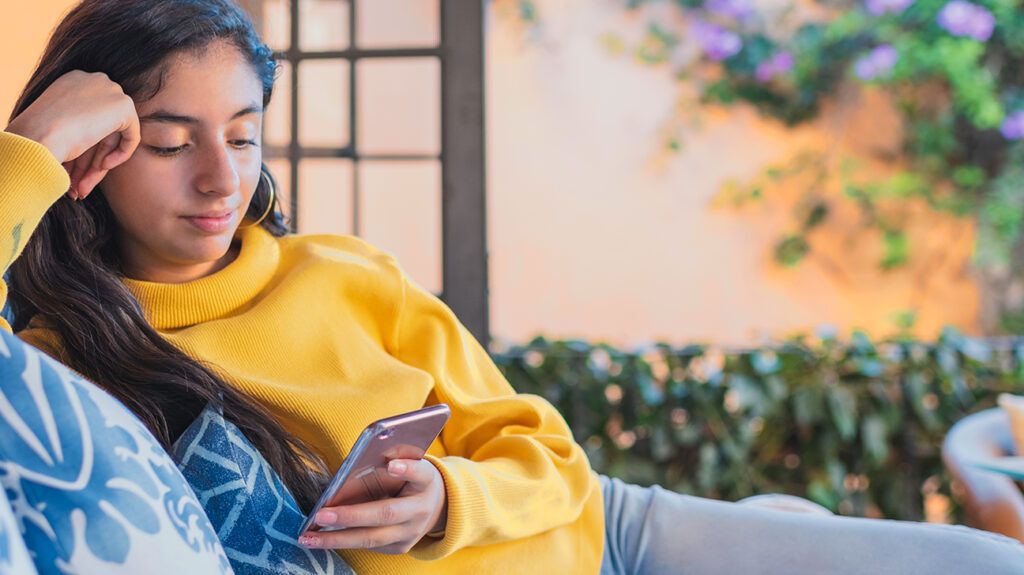 Teenagers' lives have always been marked by change, growth, and at least a few experiences worthy of unpacking in a therapist's office.
However, over the past few years, teenagers have faced increasing mental health challenges.
In recent years, data about young populations from the Programme for International Student Assessment and Centers for Disease Control and Prevention note significant increases in:
Plus, according to the National Alliance on Mental Illness, approximately half of lifetime mental health conditions begin by age 14 and three-quarters by age 24.
Combine all that with the reality of the current therapist shortage, and the difficulty of finding a good teen therapist near you.
Enter online therapy.
Our selection criteria for the best online therapy for teens included:
User reviews. The chosen platforms are highly rated and reviewed by clients.
Security level of platform. The platforms comply with security standards, allowing users a safe and secure therapy experience.
Credentials of clinicians and staff. Therapists working for the platforms are licensed and have several years of working experience.
Cost. Pricing for the services seems reasonable and in line with or lower than comparable services.
Vetting. All services have been vetted to ensure that they meet Psych Central's medical, editorial, and business standards.
If you're considering self-harm or suicide, you're not alone
Online resources like the ones in this article generally can't provide help in a crisis (though many services list helpful resources, such as phone numbers of national and international crisis hotlines).
If you need help right now
Call a crisis hotline:
Text:
If you're not in the United States, you can find a crisis helpline in your country with Befrienders Worldwide.
Best for unlimited texting
Price

$230–$396 a month, depending on chosen plan
three plans available — Unlimited Messaging Plus, Unlimited Messaging Premium, and Unlimited Messaging Ultimate

Therapy format: text-based messaging, audio, video
If you're unable to find a nearby therapist for your teen, Talkspace makes it incredibly easy to find one online. With Talkspace, your teenager can receive professional support through text-based therapy, making it accessible and comfortable for them to express their thoughts and emotions.
The sign-up process involves a brief assessment that results in a short list of therapists.
Talkspace provides therapy for:
The sign-up process involves a brief assessment that results in a short list of therapists.
Why we chose it
With Talkspace, teens can send messages to their therapist any time of day via:
The therapist will reply on a daily basis.
What we like
Talkspace ensures their clients' privacy. For instance, the platform is HIPAA-compliant and uses banking-grade encryption.
Teens get 24/7 access to leave messages for their therapist.
Depending on your health plan, teen therapy through Talkspace may be covered through caregivers' employee assistance programs or behavioral health benefits. However, you may need to check with your specific plan to determine whether family members like your teenager are covered as well.
You can try out a new therapist for your teen at any point without being charged.
What to look out for
Interested users have to sign up to learn about specific pricing.
Therapists often have enormous caseloads, which may affect the quality of the provided services.
Some clients complain that the service has an impersonal approach offering oversimplified solutions to complex problems in the form of worksheets, exercises, or questions.
Video calls are included in only higher-priced plans.
If you'd like to learn more, consider reading our in-depth Talkspace review.
Best for chat support
Price

$60–$90 a week (billed monthly at $240–$360)

Therapy format: messaging, chat, phone, video
Owned by well-known online therapy site BetterHelp, Teen Counseling matches adolescents ages 13–17 with licensed counselors.
Teenagers can seek counseling for a wide range of issues, including:
anxiety
depression
coping skills
Why we chose it
The online therapy platform allows teens and therapists to engage in real-time conversations via chat, allowing for instant feedback during difficult times.
What we like
Multiple communication options with licensed therapists are available, including live chat. The opportunity to have real-time text conversations can be useful in meeting teens in moments of anxiety or other current symptoms.
The teenage therapy service offers a convenient monthly subscription.
Teen Counseling is available in the United States and the United Kingdom.
What to look out for
If you'd like to learn more, consider reading our in-depth Teen Counseling review.
Best for tweens
Price

$60 a session for coaching
$180 a session for behavior therapy
$190 a session for medication support

Therapy format: video, messaging, chat
Co-founded by psychiatrist Dr. Giovanni Colella, Brightline serves kids and teens ages 6–17.
This online counseling service for children and teenagers offers behavioral therapy and coaching from social workers, psychologists, and counselors, as well as the opportunity to seek prescription medication from licensed physicians.
Why we chose it
Brightline allows families to access care from:
psychiatrists
therapists
coaches
speech therapists
All of whom can work together.
What we like
There's no waitlist.
Care plans can bring in parents and caregivers.
What to look out for
Brightline offers coaching in addition to therapy. It's important to specify whether you're open to working with someone in a coaching capacity who may be unlicensed.
Brightline services — including behavior therapy, evaluation, and medication support — are now available nationwide, including in Alaska and Hawaii.
Best for psychiatric care
Price

$284 for the initial visit for psychiatric care (medication management)
$108 for follow-ups

Therapy format: phone, video
Launched in 2009, MDLive offers behavioral health therapy, including psychiatry. They don't require users to make an account before viewing rates. They also have a lookup tool that allows users to check their coverage.
MDLIVE offers quick and convenient appointment scheduling, including evenings and weekends. You can typically have your first appointment within a week or less.
Why we chose it
MDLive is one of the few online healthcare platforms offering psychiatric care for teens. Psychiatrists can treat numerous mental health conditions, including:
What we like
This is one of the few services that has online psychiatry services for children ages 10 and older.
MDLive accepts insurance.
Doctors are available 24 hours a day, 7 days a week.
What to look out for
You have to prepay for appointments.
While MDLive psychiatry visits may be more affordable than visiting an out-of-network psychiatrist or paying out of pocket, the cost is still steep.
Best for affordability and simplicity
Price

$80 for therapist
$95 for psychologist

Therapy format: video
LiveHealth Online offers easy and affordable online therapy for teens. Their free app is available on both iPhone and Android devices, allowing you to schedule video visits with psychologists and therapists across the United States.
LiveHealth Online accommodates adolescents ages 10 to 17, with parents adding their child to their account and assisting them in signing in for the visit. The level of parental involvement during the session is determined by the therapist.
Why we chose it
LiveHealth Online offers a seamless experience for parents and teens in their search for quality therapy, thanks to its user-friendly phone app and straightforward payment structure.
What we like
LiveHealth Online collaborates with insurance providers while also offering affordable self-pay options.
The appointment scheduling process is convenient and accessible through both computers and phones.
Accommodations are made for clients with vision or hearing loss.
The customer service team is available 24/7.
What to look out for
Adult children 18 and over must create their own accounts.
At this time, LiveHealth Online psychiatry is only available for ages 18 and up.
Best if you need to vent
Price

free to chat with a trained listener

Therapy format: chat room, forum
At 7 Cups, therapy with a licensed counselor is available only for adults, but teenagers can chat for free with a trained listener any time, day or night. They can also find peer support in 7 Cups' teen community forums.
Though trained listeners aren't licensed therapists, they can offer emotional support and a listening ear. Teens may find it helpful to simply have someone to talk with during difficult or stressful times.
Plus, research from 2015 indicates that users are overall very satisfied with the support from trained listeners.
Why we chose it
Whenever teenagers need a listening ear, 7 Cups' trained listeners and community forums are available to them 24/7.
What we like
Free emotional support services are available 24/7.
Conversations with trained listeners are anonymous and on-demand.
Teenagers can choose a listener who's had similar experiences.
7 Cups offers teen community forums.
What to look out for
7 Cups is not a crisis line.
Trained listeners are volunteers, not licensed mental health professionals.
Therapy with a licensed professional is only available to people 18 years and older.
Best for a free consultation
Price

free consultation
$100–$200 per average 45–50-minute session (depending on state and therapist)

Therapy format: phone, video
Before getting started with an online therapist, all potential clients of Synergy eTherapy get a free consultation. During this time, your teen can get a good idea of what online therapy will be like and ask any questions they might have.
There is no commitment and no subscription plan. You can just pay for each session as you go. If you decide it's not for you, there are no further payments or obligations.
As of July 2023 Synergy eTherapy is only offered in 15 states:
California
Colorado
Florida
Georgia
Illinois
Iowa
Kansas
Maine
Michigan
Minnesota
New Jersey
New York
Pennsylvania
South Carolina
Wisconsin
Why we chose it
Synergy eTherapy is a no-commitment healthcare platform that accepts insurance and allows users to test the service before getting started.
What we like
All clients get a free consultation to see if it's a good fit.
If you're interested, a few states offer intern rates at $50 a session.
Many therapists in the network accept insurance.
No surprise billing.
What to look out for
The service is not available in all states. However, several states are part of the Psychology Interjurisdictional Compact (PSYPACT), which allows telepsychology practice across state borders.
Not all therapists take insurance (but most offer reasonable out-of-pocket rates).
Price
Available nationwide?
Therapy format
Mobile app?
TalkspaceM
$230–$396 a month
yes
• video
• messaging
• phone
yes
Teen CounselingM
$240–$360 a month
yes
• video
• messaging
• phone
yes
BrightlineM
$60–$180 a session
no
• video
yes
MDLiveM
$284 for initial visit; $108 for follow-ups
yes
• video
yes
LiveHealth OnlineM
$80 therapist; $95 psychologist
yes
video
yes
7 CupsM
free chat (trained listener)
yes
• chat room
• forum
yes
Synergy eTherapy
$100–$200 average per session (many therapists take insurance)
no
• phone
• video
no
M Mobile app available
Many research studies have found online therapy to be an effective form of therapy.
For instance, a 2017 review of studies found that online cognitive behavioral therapy (CBT) is a cost-effective way to treat mental health conditions and is effective in treating and managing conditions like:
generalized anxiety disorder
major depression
social anxiety disorder
panic disorder
OCD
bipolar disorder
Some research from 2018 even suggests that internet-based CBT can be as effective as in-person therapy.
While it may depend greatly on individual needs, online therapy can be particularly convenient for certain teen populations:
Teens who feel more comfortable discussing in-depth personal matters online rather than face-to-face may feel more comfortable with online options.
Teens who require more scheduling options at nontraditional times may benefit from online services like text or video messaging that don't require client and therapist to be in the same room at the same time.
Teens who prefer to remain anonymous may benefit from some online platforms allowing for anonymity.
Teens who live in rural areas and may not have access to an in-person office may benefit from virtual sessions.
If you want to learn more about whether online therapy is right for you, consider checking out this article.
While online therapy can be beneficial for many people, it isn't suitable for the following teen populations:
teens requiring crisis intervention or a higher level of supervised care
teens experiencing suicidal ideation or psychosis
teens who may communicate better with in-person body language than they do via text or who may require in-person diagnosis
teens who require therapy following a court order
Does insurance cover online therapy?
Many online telehealth providers accept insurance, and online therapy can often even be covered by Medicaid or Medicare.
However, not all online services are covered by or accept insurance, so it's important to check with the online therapy provider you're interested in, as well as your insurance, to see what may and may not be covered.
If you want to learn more about online therapy and insurance, consider checking out this article.
Can a minor sign up without parental consent?
Whether a minor can sign up for therapy services without parental consent can vary from state to state. While some states allow it, most states require written permission from the parents or guardians.
Talkspace, for example, allows minors to sign up without parental consent, depending on the state.
Can parents participate in the therapy?
A lot of times, therapists welcome the involvement of parents, but it may depend on your teen's specific situation, such as their treatment needs and goals.
Are online therapists licensed?
Yes. As with in-person therapy, online therapy provides counseling from a licensed mental health professional. Most online platforms also require their therapists to have a certain number of years of work experience.
Is it typical for a 13-year-old to go to therapy?
Yes, it's not uncommon for preteens and adolescents to go to therapy. Many teens can benefit from therapy as they navigate various challenges and transitions during this stage of their lives.
How do I know if a teen needs therapy or counseling?
Determining whether a teen needs therapy or counseling can depend on various factors and individual circumstances. Here are some signs that may indicate a teen could benefit from professional support:
self-esteem issues
behavioral changes
school-related problems (academic or peer difficulties)
difficulty getting along with parents or family members
traumatic experiences
preoccupation with body image or disordered eating
engaging in high-consequence behaviors
changes in sleep or appetite
What to look for in online teen therapy
When considering online therapy for teens, there are several factors that parents should look for to ensure the best possible experience and outcomes.
Here are some key considerations:
age-appropriate approach
secure communication, safety, and privacy measures
parental involvement options
cost and insurance coverage
user-friendly platform
flexible scheduling options
What's the difference between onlline therapy vs. online counseling?
Online therapy and online counseling are terms often used interchangeably, but they do have a few notable differences.
Online therapy typically involves comprehensive treatment, such as cognitive behavioral therapy (CBT), provided by licensed therapists, while online counseling may offer more focused support for specific issues (stress management, career guidance, personal development).
While we tried to compile a solid list of online therapy services for teens, we understand that the platforms we chose may not work for everyone.
If you didn't find what you were hoping for, it might help to make a list of your own criteria when searching for a therapist. For instance:
Are you looking for a therapist with a certain specialization or training in a specific type of therapy?
Are you interested in online options only, or is in-person therapy a possibility? Keep in mind that many local providers offer both in-person and online options.
Do you have a certain budget or need a therapist your insurance covers?
Are you looking for a therapist with a certain cultural competency?
Regarding the latter, plenty of online resources may be able to help you find the right support, including:
You may also want to check out Psych Central's How to Find Mental Health Support hub for more information on topics like:
While some teens may prefer to build a therapeutic alliance in person with a counselor, many may prefer the accessibility and breadth of options of online therapy.
The services on this list may be a good start if you find that you or your adolescent would like to begin an online therapy journey.
Still, keep in mind that the most important thing is to find a service that's right for your situation and that many local practices may offer both in-person and online options.