We include products we think are useful for our readers. If you buy through links on this page, we may earn a small commission. Here's our process.
Psych Central only shows you brands and products that we stand behind.
Our team thoroughly researches and evaluates the recommendations we make on our site. To establish that the product manufacturers addressed safety and efficacy standards, we:
Evaluate ingredients and composition: Do they have the potential to cause harm?
Fact-check all health claims: Do they align with the current body of scientific evidence?
Assess the brand: Does it operate with integrity and adhere to industry best practices?
We do the research so you can find trusted products for your health and wellness.
The Headspace app features a wide variety of guided meditations and exercises. Here are the app's pros and cons.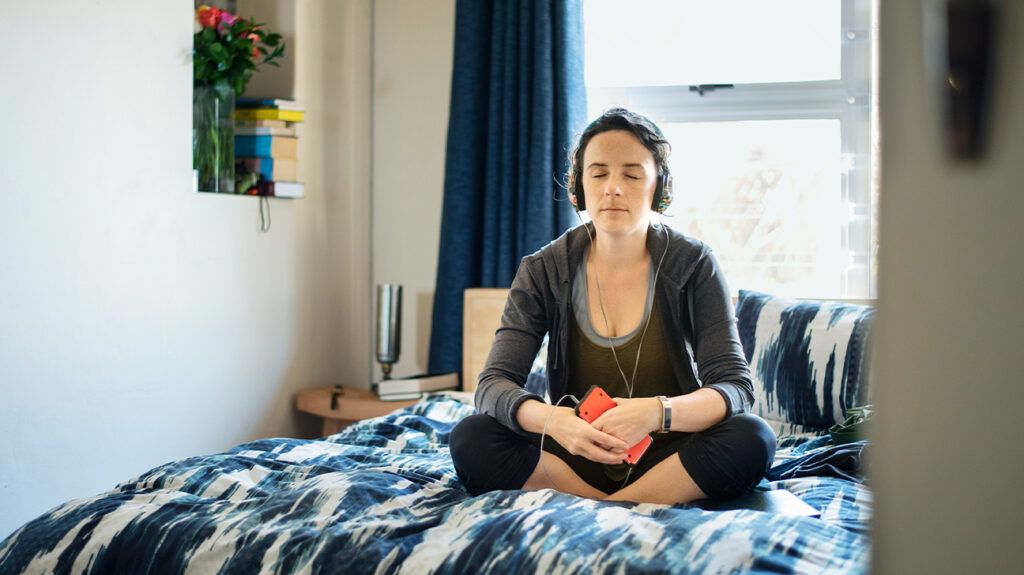 Whether you're new to meditation, returning after a bit of a break, or wanting some variety in your practice, a meditation app may be an option to consider.
The app may help you remain consistent with your meditation practice. Meditation has been shown to provide many benefits for your mental and physical health.
For example, according to the National Center for Complementary and Integrative Health (NCCIH), some research shows that meditation can reduce:
anxiety
depression
high blood pressure
symptoms of irritable bowel syndrome (IBS)
Headspace is a commonly recommended app for meditators of all levels. But does it live up to the hype?
How we researched Headspace
Before we recommend a meditation app, it's put through a vetting process where we review the following factors:
Features. We search for apps with features that cater to both novice and experienced meditators.
User reviews. We check to see what current users have to say about the app. Are most customers having a positive experience?
Overall rating. We try to ensure the apps we recommend have earned more than 4 stars on both Google Play and the App Store.
Cost. We select apps that meet every budget, from apps that are completely free to those with more complex features and thus higher rates.
Operating system. We make sure the apps work on both Android and iOS.
If you're interested, you can learn more about our vetting process here.
Headspace began in 2010 as an events company in London that educated people about mindfulness. It eventually became an app as attendees wanted more help with practicing at home.
Former Buddhist monk Andy Puddicombe cofounded Headspace with Rich Pierson, a then burned-out ad executive who needed help de-stressing from his demanding job.
With its colorful design, Headspace aims to improve the health and happiness of users worldwide.
The app features guided meditations, courses, animations, and videos for a wide range of needs and concerns, including:
Studies by Headspace and independent researchers have found various benefits.
For example, using Headspace for 10 sessions:
What's more, a 2018 study with workers found improvements in well-being, distress, and job strain. A 2017 study with pediatric nurses found improvements in self-compassion.
According to Headspace's website, 27 published and 51 in-progress studies have tested or are currently testing its effectiveness. You can find more research on Headspace here.
While the Headspace app may offer many benefits, there are some downsides to consider as well.
What's great about the Headspace app?
Large selection. Headspace has a diverse selection of meditations that aim to fulfill both beginners' and longtime meditators' needs and preferences. For example, practices are guided, semi-guided, or unguided.
Ease of use. The app is designed to be easily navigable and includes user-friendly illustrations, animations, and content.
Workout meditations. If you're new to meditation or have a hard time sitting still, Headspace offers Move Mode, which are varied workout videos from Olympian trainers that combine physical exercises with mindful techniques.
Encourages consistency. The designers of Headspace want to encourage users to be more consistent with their meditation practice.
Kid-friendly options. Headspace offers practices for the entire family, with age-appropriate features for toddlers, teens, and adults.
What are the downsides of the Headspace app?
Payment information required. One of the Headspace app's biggest downsides is that you have access to a free trial only after signing up for a paid plan. In many cases, subscriptions renew without warning.
Unresponsive customer service. Users report the company's customer service can be very slow to respond. Getting a response may require sending several emails. Plus, many users find it hard to cancel their subscriptions and receive refunds.
Busy interface. Some users may find the fun, sunny interface to be too bright, too busy, or less soothing than other apps, such as Calm.
Less comprehensive sleep content. Headspace's library of sleep casts (bedtime stories) isn't as comprehensive as the Calm app's collection.
Headspace with limited access to features is free to download. For instance, you have access to:
the first level of the basic course
two fitness workouts
several sleep meditations
one sleep cast
Headspace offers several subscription options. The monthly membership costs $12.99 a month and offers a 7-day free trial. Annual membership is $69.99 with a 14-day free trial.
Special pricing is also available for eligible college students and families. Students pay $9.99 for an annual membership, while families can get six accounts for $99.99 a year.
Educators and healthcare professionals may be eligible for free subscriptions.
Until recently, Puddicombe was both the creator and voice behind all Headspace meditations. Today, most of the app's content also features a female voice. In addition, Headspace offers meditations in:
French
German
Spanish
Portuguese
Overall, Headspace comes with a wide array of offerings, including:
Beginner's courses with three levels to help first-time meditators learn the foundations of meditation practice
10-day courses on topics such as kindness, anger, happiness, acceptance, and productivity
30-day courses on many topics, including letting go of stress, managing anxiety, and improving self-esteem
Mini meditations, which are bite-sized practices you can do on the go
Single meditation practices for starting the day, relaxing, focusing, and falling back asleep
Workout videos from fitness trainers who help you train both your mind and body and offer low- to medium-impact exercises
Sleep practices, such as sleep casts (45- to 55-minute soothing stories from voice actors) and calming music tracks to help you get a more restful slumber
Focus playlists, featuring gentle music, breathing exercises, and meditations designed to help you focus as you study, work, or simply clear your mind
Headspace also offers meditations and activities for kids, from toddlers to teens. These practices are divided into three age groups:
5 years and younger
6 to 8 years
9 to 12 years
Exercises in the kids' section revolve around five themes:
calm
focus
kindness
sleep
wake up
While the Headspace app started out as "just" a meditation app, it has increased its offerings and now offers different types of meditation and mindful activities. Its main content areas include:
Meditation
Headspace uses a variety of meditation techniques inspired by Burmese and Tibetan Buddhist traditions. All these techniques feature animations to add greater clarity to the process.
These include the following meditation approaches:
Visualization. This technique involves imagining positive ideas or images to calm the mind.
Resting awareness. This approach allows you to develop a deep and relaxed awareness of the moment.
Self-reflection. With this approach, you learn to recognize your thoughts, feelings, and beliefs for what they are.
Mental noting. This technique teaches you to gently direct your thoughts to stay in the present moment.
Body scan. This approach allows you to tune in to your body and notice how it feels without judgment.
Focused attention. This technique involves intensely focusing on something to quiet your mind.
Loving kindness. This approach is focused on sending love to yourself and others.
Compassion. With this technique, you silently repeat phrases with an intention to care, connect, and understand.
Sleep
If you're having trouble falling asleep, Headspace's sleep content may be worth a try. It includes:
guided meditations to help you fall asleep
Sleepcasts, which are 45- to 50-minute sleep stories narrated to white noise
short exercises and meditations if you wake up during the night
sleep radio, which consists of 8-hour tracks ranging from music to nature sounds
Move
Headspace's Move section consists of 10- to 30-minute low or medium impact workouts. These sessions are coached by athletes like Kim Glass or Leon Taylor and focus on:
mindfulness
breathwork
mind-body connection
Focus
As the name suggests, Headspace's Focus section is designed to help you focus — on work, chores, or anything else you need to focus on.
The playlists include:
meditations
curated music, including lo-fi beats or playlists by artists like John Legend
soundscapes
Connecting with friends
Another way in which Headspace encourages users to make meditation a habit is by connecting with family members, friends, or co-workers who are also using the app.
You can share your progress with your friends, receive encouragement from them to do a meditation practice, or send encouragement their way.
Because of the guided meditations, basic courses, user-friendly design, and accessible content, Headspace could be an excellent option for beginners. It effectively answers the questions "How do I meditate?" and "Where do I start?"
Meditation can be intimidating, so the app provides specific, easy-to-digest instructions and clear-cut starting points.
Headspace offers short meditations if you're busy, easily overwhelmed, or want a genuinely restorative break (versus scrolling doom-and-gloom news headlines).
At the same time, Headspace may be helpful for meditation pros, too. Headspace can help longtime meditators shake up a practice that starts to feel stale with new content regularly added.
Plus, you'll find meditations and courses for concerns that regularly arise because, well, you're a human. From stress and anxiety to trouble sleeping, Headspace can serve as a positive, supportive tool.
Still, as with any app, it requires commitment, which may naturally wax and wane, depending on what's going on in your life.
How does Headspace compare to Calm, another popular meditation app?
Both Headspace and Calm are popular, positively rated meditation apps. And both apps offer the following features:
help for beginners
brief meditations
bedtime stories
music playlists
kids' features
exercise videos
However, they each have a unique presentation and differ slightly in their approach.
Headspace may be best if you're new to meditation, as it's clearly guided and breaks down the process into easy steps.
Calm is a bit less structured and revolves around a nature theme with relaxing soundscapes.
Users of both apps criticize that:
payment information is required when signing up for a free trial
canceling a subscription or receiving a refund for erroneous charges is difficult
customer service is unresponsive
If you'd like to learn more, you can check out our in-depth comparison of Calm and Headspace here.
Headspace seems to have something for (almost) everyone. Beginning meditators may appreciate the cheerful aesthetic, concrete practices, and approachable language. Headspace aims to demystify meditation and make it easily accessible.
Veteran meditators may appreciate sampling new meditations that come in guided, semi-guided, and unguided varieties, and taking courses on common concerns that touch all of us (hello, stress).
But Headspace isn't without drawbacks. Some users don't like the app's not-so-responsive customer service and that it can auto-renew subscriptions without warning. Plus, some people may prefer a different design and aesthetic.