We include products we think are useful for our readers. If you buy through links on this page, we may earn a small commission. Here's our process.
Psych Central only shows you brands and products that we stand behind.
Our team thoroughly researches and evaluates the recommendations we make on our site. To establish that the product manufacturers addressed safety and efficacy standards, we:
Evaluate ingredients and composition: Do they have the potential to cause harm?
Fact-check all health claims: Do they align with the current body of scientific evidence?
Assess the brand: Does it operate with integrity and adhere to industry best practices?
We do the research so you can find trusted products for your health and wellness.
Meditation pillows may help you get more comfortable as you meditate. Here are our top 12 picks.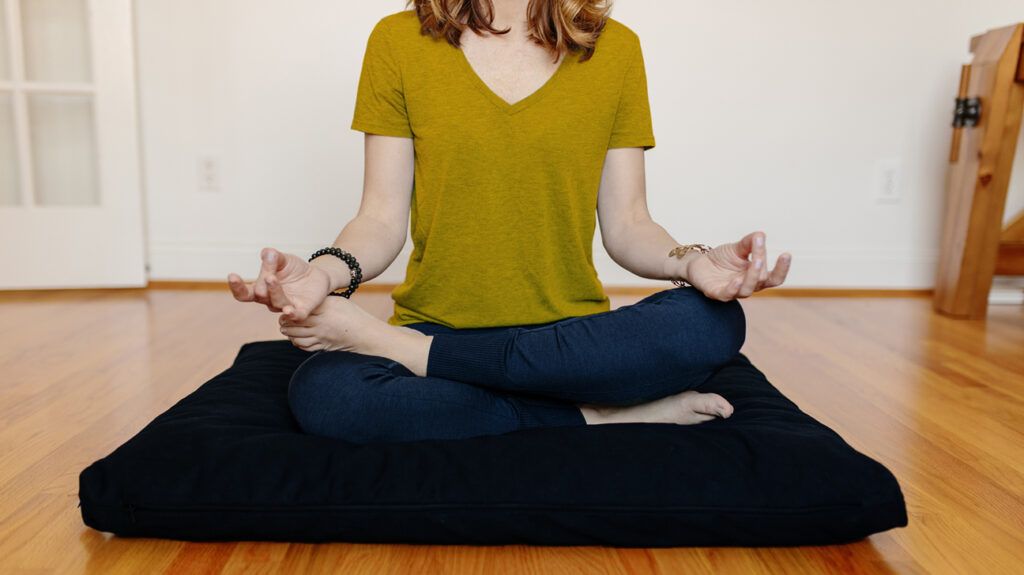 Due to its many purported health benefits, meditation has become increasingly popular.
Data from 2017 shows that 10% more U.S. adults practiced meditation in 2017, compared with 2012.
Meditation has been linked to:
increased calmness
physical relaxation
blood pressure improvements
reduced symptoms of anxiety and depression
While there are many types of meditation and positions you can meditate in — including standing, walking, or lying down — many require you to sit.
While it sounds simple in theory, sitting for meditation can be a complex process.
If you're sitting on the floor, you're going to want to work toward a position that you can maintain for some time while keeping still.
Though research on their effectiveness is lacking, if you meditate for longer than a few minutes a day, your body may thank you for a supportive, well-fitting meditation cushion.
A meditation pillow is a firm yet comfortable cushion designed to help you sit comfortably for meditation, especially for longer periods. Traditionally, there are two main types of sitting cushions:
Zafu. This is a round firm cushion usually filled with either buckwheat hulls or kapok tree fiber.
Zabuton. This is a rectangular cushion, generally placed under your zafu or meditation bench, or used on its own.
We selected cushions that are best for the most common meditation postures of either sitting cross-legged on the floor or kneeling with your feet tucked under you.
Our topmost considerations are quality construction and ease of use. We also give high points for:
having positive review comments
being made of natural and sustainable materials
being provided by reputable, socially conscious companies that are highly regarded by meditation experts
Plus, all pillows have been vetted to ensure that they meet Psych Central's medical, editorial, and business standards.
General price ranges with dollar signs ($ to $$$) are indicated below. One dollar sign means the product is lower-priced, whereas three dollar signs indicate a higher price range.
Pricing guide:
$ = under $50
$$ = $50–$100
$$$ = over $100
Best overall
Price: $$$
Size: 14″ diameter x 8″ height
Weight: 5.7 lbs.
Filling:

kapok fiber and buckwheat hulls

Cover: cotton twill
Why we chose it for 'Best overall'
What makes the KaBu Zafu unique is that its filling is half kapok and half buckwheat hulls. You can sit on the kapok side for a softer seat or rotate to the buckwheat side for a firmer base.
Also, you can turn it on its side (like a wheel) for added height or sit with it between your knees for a seiza, or kneeling posture.
This is a versatile meditation cushion sold by The Meditation Store at Zen Mountain Monastery in upstate New York. It's the zafu (round) cushion style, which is the most common and adaptable cushion.
What we like
Its dual filling makes the KaBu Zafu very adaptable.
The cushions are handcrafted by a small, family-owned business in Shelbourne Falls, Massachusetts, with USA-made materials.
The cover is zippered and removable for cleaning.
The monastery website calls these cushions "monk-tested, monk-approved" because monastics developed and regularly use the cushion line. Cushion sales support the work of the Zen Mountain Monastery.
What to look out for
The KaBu Zafu cushion is a little higher than some zafus. You can remove some of the filling if you prefer a lower cushion. There is no inner lining, so if you remove the cover, be careful to preserve the filling.
Shipping usually takes about 2 weeks, as the monastery is a small religious nonprofit that cloisters 1 week every month.
Best meditation cushion set
Price: $$$
Size:

zafu: 18″ diameter x 5″ high
zabuton: 24″ deep x 30″ wide x 4″ high

Weight:

zafu: 6 lbs.
zabuton: 6.8 lbs.

Filling:

zafu: buckwheat hulls
zabuton: cotton batting inside an unbleached cotton liner

Cover: 100% cotton
Why we chose it for 'Best set'
You'll see many longtime meditators using a zafu-zabuton set, which combines a traditional zafu (round cushion) with a rectangular zabuton, or floor cushion. Together the two parts of the set support your seat, legs, and feet. The floor mat provides cushioning for your feet and ankles so you can keep a comfortable seated position longer.
What we like
Both the zafu and the zabuton have zippered, removable, washable 100% cotton covers.
Both provide firm and durable support.
You can customize the height and firmness of the zafu by adding or removing buckwheat hulls.
There is a handle for easy carrying.
What to look out for
You must take the buckwheat hulls out from the meditation cushion and transfer them into a plastic bag before you can wash the cushion cover.
Best Buddhist meditation pillow
Price: $$
Size: approximately 13″ diameter x 8″ high
Weight:

with kapok filling: 3 pounds
with buckwheat hulls filling: 6.5 pounds

Filling: either buckwheat hulls or natural kapok fiber
Cover: cotton twill
Why we chose it for 'Best Buddhist meditation pillow'
This zafu is available through the world-renowned San Francisco Zen Center Bookstore.
The cushion is made nearby in Stockton, California, by Yan's International Inc. in the traditional zafu style associated with Zen Buddhism, with pleated sides and firmly stuffed filling.
If you choose the kapok-filled version, you'll be getting natural kapok, which does not collapse after a few sittings as artificial kapok does. The cushion with buckwheat filling compresses very little with use, and the store likens it to sitting in sand that holds your shape.
What we like
This is a traditional, firm, durable, double-stitched zafu.
You can choose either buckwheat hull or natural kapok tree fiber filling.
The cover is removable for cleaning or adjusting the amount of filling to alter the cushion's height and firmness.
It's provided by a well-known nonprofit meditation center in the Buddhist tradition that offers many community outreach programs, including meditation instruction and sitting sessions online free of charge.
What to look out for
You can purchase this cushion online, but you must contact the bookstore if you want it shipped. The cushion is also available for pickup at the Zen Center Bookstore in San Francisco.
Best zafu meditation pillow
Price: $
Size: 15″ diameter x 5.5″ height
Weight: 6.5 lbs.
Filling: U.S.-farmed buckwheat hulls
Cover: 100% organic cotton
Why we chose it for 'Best zafu'
This is a firm, well-constructed meditation cushion in the popular zafu style. It molds well to your shape, and you can alter its height by removing buckwheat hulls from the inner pocket that holds the filling. This cushion is very versatile, and you can shape it to use on a bench, a chair, or kneeling.
This company had an unfortunate incident of bug infestation in their cushions in 2017. They say they have remedied the situation by using hulls that are U.S.-farmed and carefully treated without harsh chemicals and inspected in-house for quality control.
What we like
The cover is removable and has a carrying handle.
It has sturdy double-stitched construction to support body weights of 350+ pounds.
Zippered inner 100% cotton liner allows removal/addition of buckwheat hull filling to personalize cushion fit.
What to look out for
Some reviewers find the cushion needs a break-in period to allow filling to settle and mold to your body.

Cold-machine wash the outer cover and let it air dry, not in a machine dryer.
Best zabuton meditation cushion
Price:

Regular: $$
Large: $$
To use under meditation bench: $$

Size:

Regular: 27″ depth x 33″ width x 4.5″ loft

Large: 30″ depth x 33″ width x 4.5″ loft
To use under meditation bench: 27″ depth x 33″ width x 2.5″ loft

Weight:

Regular: 6 lbs.
Large: 7 lbs.
To use under meditation bench: Not specified

Filling: there is an inner cushion made of cotton batting
Cover: cotton, cotton-poly blend, recycled poly/organic cotton, or 100% organic cotton
Why we chose it for 'Best zabuton'
Samadhi Cushions has been making quality meditation supplies since 1975.
We picked this as the best zabuton because it comes in various sizes and provides substantial cushioning and good support for your knees and ankles. It's also available in several kinds of fabric for the cover and various sizes to fit all sizes of meditators.
Samadhi Cushions also offers an excellent summary of how to choose your meditation cushion.
What we like
Cover is zippered to allow removal of the inner cushion.
The filling is a separate cushion itself.
You can order both the cover and the inner cushion separately if you ever want to replace them.
It's handmade at the company's workshop in northern Vermont.
What to watch out for
The company advises that the filling will compress with use. The large size might be a better choice if you're a larger size yourself, or you plan to sit for extended periods.
Be sure to wash the cover in cool water by hand.
Best buckwheat meditation pillow
Price: $
Size: 16″ diameter x 5″ height
Weight: 5.39 lbs.
Filling: buckwheat hulls and 1″ of foam
Cover: polyester velvet
Why we chose it for 'Best buckwheat'
This is a zafu-type meditation cushion designed to be used for either meditation or yoga. It offers substantial support and can be molded to fit your body.
The fill is made of buckwheat hulls that have been treated with high heat to avoid the bug infestation that tends to trouble buckwheat-filled meditation pillows. The buckwheat hull filling creates a cushion with a firm, comfortable base that settles into your body contours.
What we like
Foam padding inside supplements buckwheat hulls filling for comfort.
Beautiful mandala-patterned cover comes in four colors and is removable for washing.
It has a handle for easy carrying.
Height is adjustable by adding or removing filling from the inner pouch.
A paired zabuton is available.
What to look out for
Reviewers say this cushion had a previous problem with bug infestation, but the company says it has resolved the issue.
This is a straight-sided zafu shaped like a drum, rather than with pleated sides like some other zafus.
Best yoga meditation cushion
Price: $$
Size: 25.6″ wide x 10.2″ depth x 5.9″ height
Weight: 4.8 lbs.
Filling: two layers of recycled polyester foam
Cover: 100% organic cotton or faux suede
Why we chose it for 'Best yoga mediation cushion'
This rectangular cushion is designed for meditation, yoga, stretching, or all at the same time. It can be used as a meditation seat, a block for yoga practice, or under-the-knee support while lying down or stretching.
What we like
Materials are eco-friendly, ethically produced, and nontoxic. Some are recycled.
You receive a separate complimentary cotton carrying bag.
Cover is removable and has a carrying handle.
It's available in soft colors, like amethyst, rose quartz, or emerald.
The inside has two mixed-density layers of recycled foam, designed to be durable and long lasting.
What to look out for
One reviewer comments that it compresses significantly when sat upon.
To clean the cover, the company recommends dry cleaning but says it can also be gently handwashed with line drying, or on a gentle/delicate cycle in the washing machine with the bolster cover turned inside out.
Best for travel
Price: $
Maximum inflated size: 18" width x 6" tall in the rear x 2" tall in the front
Filling: air
Weight: 12 ounces
Cover: flocked fabric (exact material not specified)
Why we chose it for 'Best for travel'
This is a unique meditation cushion you'll be glad to have on your next hike, camping trip, or retreat. It's an inflatable air cushion carefully designed for cushioning, spine support, and pelvic tilt.
It has three air chambers for you to customize your position. You can adjust the two side chambers for hip and thigh support, while the main chamber gives you the lift you need.
What we like
It's easy to inflate — no pumps needed.
The sitting block angles forward so you can position yourself in a traditional sitting meditation posture.
When deflated and flattened into the complimentary 9″ x 10″ carrying case, it takes up hardly any room in your backpack or suitcase.
What to look out for
Make sure you get the current model. It has been updated since the earlier models that had trouble with leaking valves and seams. Reviewers say the current model no longer has these problems.
Maximum recommended sitting weight is 200 pounds.
Best for outdoors
Price: $$
Size: 9″ long x 7.5″ wide x 5.5″ high
Filling: tri-density laminated foam
Weight: 13.6 ounces (a little less than 1 lb.)
Cover: 1000 denier Cordura nylon fabric
Why we chose it for 'Best for outdoors'
You can take almost any meditation cushion outside, but this one's made for the outdoors. It's designed for use anywhere from hiking trails to the neighborhood park (though nothing can stop you from using it at the office).
This combination pad and cushion is made up of two main pieces. The first is a block of foam that is angled forward so you can sit in the traditional triangular meditation position with hips supported and knees on the ground. The second main piece is an attached six-panel apron that stretches out in front where you put your legs and feet.
The whole thing folds up neatly into a lunchbox shape, reminiscent of an ingenious origami.
What we like
Outside covering is a tough nylon fabric designed to withstand abrasion, water, and other rigors of the outdoor world.
Has a carrying handle and magnetic clasps for secure closure.
It's comfortable, durable, and easy to carry anywhere.
It has loops for attaching it to carry-on luggage, backpack, or bicycle rack.
What to look out for
The only way to clean it is to wipe it down.
It's a fairly new product and has few online reviews yet.
Best for budget
Price: $
Size: 12″ diameter x 6″ inches high
Weight: not specified
Filling: buckwheat hulls inside inner liner
Cover: organic cotton twill
Why we chose it for 'Best for budget'
Although this is a budget-priced cushion, the reviewers love its size, quality, and firmness that supports even large meditators. One of its best features is its inner liner containing the buckwheat hull filling, so you can add or remove some to get a custom height.
What we like
It has a zippered cover and an inner liner to make it easy to remove or add filling.
It's made of natural materials: 100% organic cotton cover and U.S.-farmed, commercially cleaned buckwheat hulls filling.
The company says its products are all assembled by new immigrants to the United States. The company has a commitment to help refugees make a new life for themselves. It says it pays workers above minimum wage, with regular increases and opportunities for profit-sharing.
What to look out for
Some feel this cushion is a little too high. This can be remedied by removing some of the buckwheat hulls from the inner liner.
This is a rondo-shaped cushion with straighter sides resembling a drum, rather than the rounded pleated sides of a traditional zafu. Waterglider also makes a traditionally shaped zafu.
Best for kids
Price: $
Size: 12″ diameter x 4″ height
Weight: not specified
Filling: buckwheat hulls
Cover: organic cotton duck (colored with low-impact dyes)
Why we chose it for 'Best for kids'
Data from the National Health Interview Survey 2017 indicates that about 5.4% of U.S. children practiced meditation in 2017, compared with less than 1% in 2012. And just like adults, children may benefit from a good meditation pillow.
This is a child-size zafu sitting cushion that looks just like zafus designed for adult use — well, maybe a little more colorful and bright. It's designed for children ages 3 to 12 years.
The zippered cover has a carrying handle. The cover is removable for easy cleaning. The filling is organic buckwheat hulls inside a zippered muslin shell, making it easy to add or remove some of the filling to customize the firmness and size of the cushion.
What we like
Available in nine bright colors and some two-toned designs.
Replacement cushion inserts are available.
Products are handcrafted by a small company in Cambridge, Massachusetts, founded in 1979 by a young practicing Zen Buddhist.
What to look out for
Dry cleaning is recommended for the two-toned cushion covers to avoid bleeding.
Be sure to introduce meditation carefully to children, monitoring and guiding them along the way. Try reading tips for getting started.
Best innovative meditation cushion
Price: $$$
Size: 27.6″ length x 33″ width x 12.8″ height
Weight: 15 pounds
Filling: steel frame and high-density foam
Cover: available in various fabrics, leather, and vegan leather
Why we chose it for 'Best innovative meditation cushion'
There are many ingenious designs for newer meditation cushions. Here we present the luxury model of innovative meditation cushions.
Its unique shape mimics a wing chair, only more cushiony and without legs. It's designed to ease pain in the hips, joints, and lower limbs during long periods of meditation.
The idea is that you sit on the uplifted center back, then position your hips and thighs on the wings, and tuck your legs and feet into the recessed area below.
What we like
It's usable out of the box and doesn't need to be assembled.
Reviewers say it allows for a comfortable sitting position even for beginning meditators and those with less flexibility in their hips and legs.
It comes in a variety of beautiful fabrics, leather, and faux leather.
What to look out for
The fabric coverings should be spot-cleaned by hand.
At 15 pounds, this cushion is primarily stationary.
A newer meditator warned in the reviews that you should sit on it, not in it. The recess below the seat is intended for your lower limbs, not to try to sit in.
Best
Price
Size
Filling
Cover
The Monastery Store KaBu Zafu Meditation Cushion
overall
$$$
14″x8″
• kapok
• buck-wheat hulls
• cotton twill
Halfmoon Essential Cotton Round Sit Set
set
$$$
• zafu: 18″x5″
• zabuton: 24″x30″4″
• zafu: buckwheat hulls
•zabuton: cotton batting
• cotton
San Francisco Zen Center Zafu
Buddhist
$$
13″x8″
• kapok
• buck-wheat hulls
• cotton twill
Seat of Your Soul Meditation Cushion
zafu
$
15″x5.5″
•buck-
wheat hulls
• organic cotton
Samadhi Cushions Zabuton Meditation Mat
zabuton
$$
• regular: 27″x33″x4.5″
• large: 30″x33″x4.5″
• under bench: 27″x33″x2.5″
• cotton batting
• cotton
• cotton-poly blend
• recycled poly/organic cotton
• organic cotton
Florensi Adjustable Meditation Cushion
buckwheat
$
16″x5″
• buck-wheat hulls
• 1″ foam
• polyester velvet
Ajna Wellbeing Yoga Bolster Pillow
yoga
$$
25.6″x10.2″x5.9″
• polyester foam
• organic cotton
• faux suede
BrightSpot Solutions Mobile Meditator
travel
$
18″x6″x2″
• air
• flocked fabric
GoZafu Outdoor Meditation Cushion
outdoor
$$
9″x7.5″x5.5″
• tri-density laminated foam
• nylon fabric
Waterglider International Rondo Meditation Cushion
budget
$
12″x6″
• buck-wheat hulls
• organic cotton twill
DharmaCrafts DharmaKids Zippered Buckwheat Hull Zafu
kids
$
12″x4″
• buck-wheat hulls
• organic cotton duck
Alexia Meditation Seat
innovative
$$$
27.6″x33″x12.8″
• high density foam
• various fabrics
• leather
• vegan leather
You may find that our list doesn't have exactly what you're looking for in a meditation cushion. Here are some pointers on how to find a pillow that works for you.
Position. Decide what position you prefer for sitting meditation. The cross-legged position is the most common, but remember you can also do sitting meditation while kneeling on the ground or sitting in a chair.
Height. The best starting point in choosing a meditation cushion for the cross-legged sitting position is to determine how far off the ground you need to sit for your knees to touch the ground.
Firmness. Decide what degree of firmness you prefer in the filling. Kapok fiber gives you a soft cushion, while buckwheat hulls tend to be firmer.
Shape. Decide if you want a traditional zafu-shaped cushion, or would you like to try something different like a crescent, wedge, or even a flower.
Can I use a regular pillow for meditation?
Yes, you can, but it most likely won't support you very well. Meditation traditionally uses a zafu-and-zabuton combination, which works quite well to support you in an upright, stable position. A good meditation pillow or set is often a once-in-a-lifetime purchase and may soon become a companion in your meditation practice.
Do meditation cushions fit?
Yes, meditation cushions do fit. You want them to be:
big enough for you to sit cross-legged comfortably
the right height to allow your knees to rest either on the floor or on added support cushions
firm enough to support your body for long periods of time
flexible enough to let you position and angle the cushion so that your hips flex forward to just the right pitch to comfortably support your body in a triangle shape
Can I tweak the fit?
Yes, you can. You can adjust the positioning of meditation cushions to accommodate your sitting style or squish them to mold them into the shape you want.
Don't hesitate to keep experimenting. Over time, you'll hit the sweet spot.
How do you sit on a meditation pillow?
Sitting cross-legged on the ground or floor is one of the most common positions for sitting meditation, also called zazen in the Japanese Zen tradition. There is no one correct way to do this since bodies and flexibility vary greatly.
However, a sitting position is considered to be most comfortable and supportive for cross-legged sitting meditation. To achieve a grounded, stable position:
Try to sit cross-legged on the front third of a meditation pillow to raise your behind just a little so that the cushion acts like a wedge supporting your hips and letting your knees angle downward.
Do your best to ensure your knees touch either the ground or added support cushions. In this way you form a firm tripod base with your lower body.
Aim to keep your spine straight but not rigid.
You can also turn a zafu on its side, like a wheel, then place it between your legs and sit with your ankles tucked under you to meditate in a kneeling position. You can also meditate in a chair.
Shosan Vicki Austin of the San Francisco Zen Center has a video showing detailed instructions for optimal sitting meditation positions on the floor and in a chair. She emphasizes that sitting postures are adaptable to all body conditions.
What are these cushions filled with?
The filling of traditional meditation cushions is usually either kapok tree fiber or buckwheat hulls. Some use polystyrene beads to avoid their tendency to become hard when sat upon.
Buckwheat hull filling will generally make your cushion about twice as heavy as one filled with kapok tree fiber, which is extremely fine and light. When you sit on a cushion filled with buckwheat hulls, it will mold to your seating position and not compress much further over time.
Kapok is softer but less firm overall. Some prefer it for its lightweight and softness.
A good meditation cushion will help you sit in a comfortable, stable position and may very well last you a lifetime. Take time making your choice, but remember you can often tweak and adjust a cushion once you receive it. Also, time and regular sitting will give your cushion its unique shape.
Consider height, shape, firmness, and type when you choose your meditation cushion. All of these will help you achieve the balance, awareness, and rest your meditation can bring.