Consenting adults come together for many reasons and age isn't always a factor. Older men may fall for younger women and younger women may sometimes prefer to date older men.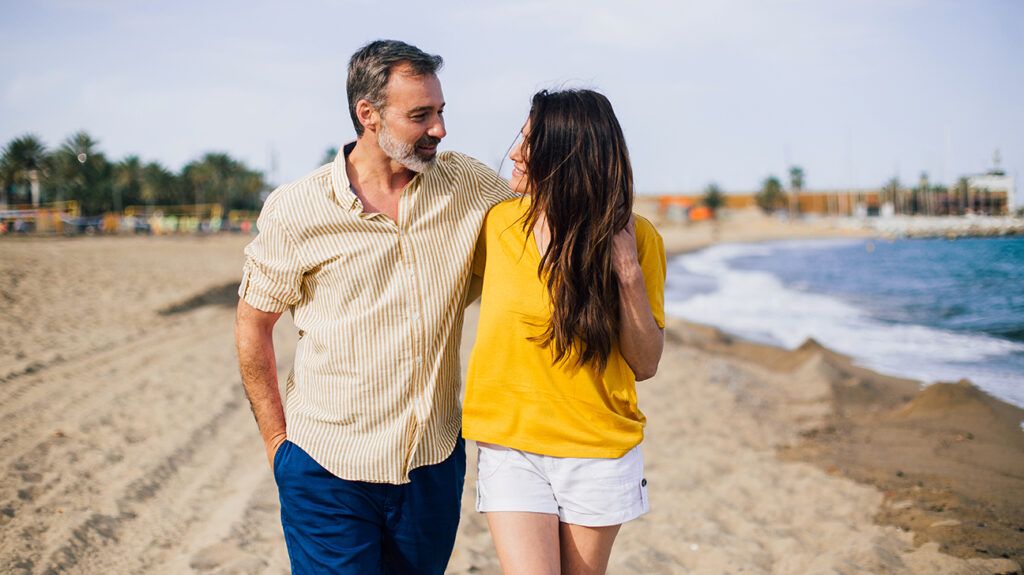 While some people may believe the motives behind big age gaps in relationships are always sinister, older men may gravitate toward younger women for many valid reasons, and that may be the case for younger women dating older men, too.
This article discusses older men dating younger women where both partners are above the legal age of consent in their state.
If both partners are above the legal age of consent, it doesn't mean consent is implicit. Asking for consent and both people being on the same page is key in any healthy romantic relationship.
If you're below the age of consent and an adult's behavior is making you feel uncomfortable or unsafe, help is available. You can:
Call the National Sexual Assault Hotline at 800-656-4673 for confidential, 24/7 support.
Visit Stop It Now! for online resources or reach out to their helpline at 888-773-8368.
Visit Childhelp for resources to handle and report abuse or to chat live with someone who can help.
Why does anybody want to date someone else? There are infinite possibilities.
The vulnerability of young girls has made the older-men-dating-younger-women stereotype a predatory one.
While it's true that some men may consider younger women easy targets for manipulation or control, there are less sinister reasons an older man may be drawn to someone younger.
Sometimes it just happens. You fall in love with the person and overlook their age. Other times, it's actually the energy, appearance, and life perspective of a younger woman that may be attractive to an older man. In some instances, the intention may not be a healthy one. Every case is different.
Ancestral practices
A 2020 large-scale replication study examined mate preferences across 45 countries. Researchers found that most men placed a higher emphasis on appearance when it came to choosing a partner.
The reason behind it isn't necessarily vanity.
Primitive humans seemed to have selected mates based on reproductive success. Features like youth, symmetrical bone structure, and wide hips in females were viewed as signs of overall health and vitality, which would ensure species survival.
On some level, the ancestral and instinctual attraction to such features may remain in both Eastern and Western cultures, as noted by a large international study from 2020.
This could be a reason why men, in general, may be attracted to younger women.
Long-standing traditions
Stephanie Juliano, a licensed professional clinical counselor from Rio Rancho, New Mexico, points out women haven't traditionally had the benefit of equality.
"Men initially had more privileges, and so it was not unheard of taking a younger partner to take care of, and on the other hand, a young woman leaving home was being taken care of both financially and socially," she explains.
While the adult-child relationship dynamic has been denounced in some parts of the world, there's still much work to do in that respect. It's also possible that these practices have influenced dating culture and there may still be an undercurrent of older men dating consensual younger women based on wanting to be their provider.
Entering crisis mode
It's probably one of the most discussed reasons for older men dating younger women: The midlife or identity crisis.
Do older men mentally resist aging by dating younger partners? Is the midlife crisis even real? There's much discussion but limited research on the topic. Some argue that this is yet another stereotyped cliche that doesn't have much proof behind it.
How old is "too old" when it comes to an age gap in relationships?
According to data accumulated over the course of 7 decades, in developed countries, the average age gap among heterosexual couples is 2 to 3 years.
In these relationships, the data indicates it's more common for men to be the older partner.
Age gaps are rarely discussed until they're considered "too big," but there's no hard rule about when an age gap becomes significant.
Reported satisfaction in a relationship may start to see diminishing returns if the age gap between partners is larger than 10 years, suggests an 80-paper review from 2016.
In misogynist cultures, young women dating older men may be often accused of being "gold diggers," or just in the relationship for financial gain.
Research, however, shows that when it comes to establishing long-term relationships, the majority of women, of all ages, are typically interested in older men.
A large study of more than 12,000 participants in Finland found that most women prefer same-age or older male partners throughout life, while men, regardless of age, tend to prefer women in their 20s.
While women may also seek older men out of long-standing provider traditions, there are other reasons this matchup might be appealing.
Emotional maturity
Research suggests men take longer than women to reach mental maturity, making it reasonable for young women to feel more emotionally compatible and secure with older men.
The father complex
Young women who grow up with absent, emotionally unavailable, or abusive fathers may develop what's known as the father complex.
The father or Oedipus complex isn't a recognized disorder in the Diagnostic and Statistical Manual of Mental Disorders, 5th edition, text revision (DSM-5-TR), and it's a controversial term. Originally a Sigmund Freud's theory, the term and concept have been long controverted.
Initially, the theory described how children form a strong attachment with the parent of the opposite sex and start to compete for attention and love with parents of the same sex. This is part of the natural psychosexual development.
When a person stays psychologically stuck in this stage of development, they may experience challenges in adult relationships.
When it comes to younger women dating older men, some people refer to the complex as "daddy issues," a gendered stereotyping term.
Only a mental health professional can accurately determine if a younger woman's attraction to older men has roots in unresolved childhood conflicts.
What about older women and younger men?
A double standard may exist in some cultures that accept older men dating younger women. Older women dating younger men may not be seen so kindly, although it could be explained differently.
Mary Mimi Schultz, a licensed professional counselor from Houston, explains this is often because the component of vulnerability is missing from this dynamic.
"When a younger man dates an older woman, it is more accepted because she is not in the relationship for money, typically," says Schultz.
In a chauvinist culture, an older woman may still be seen as the weaker one in the relationship, not the one taking advantage of a younger partner, which may happen to older men dating younger women.
When two people genuinely love one another and have built that love on commonalities, companionship, respect, and trust, a relationship can work — regardless of the age gap.
Patricia O'laughlin, a licensed marriage and family therapist from Los Angeles, says relationships with a large age gap may be wonderful opportunities for personal growth.
"There can be significant differences in beliefs between generations. It's a real chance to learn how to consider multiple perspectives on an issue or experience," she says.
Schultz adds these types of relationships also tend to have high levels of maturity, which can mean a lower chance of settling for less than ideal circumstances.
"Typically, an age gap difference means one is in it for the love and relationship," she says.
Any relationship can face challenges, but research suggests age gaps like those in relationships between older men and younger women have been linked to:
Depression
As partners age, the older partner may not be able to meet the energy levels of the younger partner, or may feel inadequate.
Depression in older adults may also be linked to experiences unique to the age, like losing close friends and retirement, something a younger partner may not be able to relate to.
Infidelity and lack of relationship commitment
Although not a rule, it's possible that younger partners may gravitate back toward people their own age, particularly if the older partner doesn't have the same sex drive.
Infidelity isn't exclusive to relationships with age gaps, though. As in any other case, trust and open communication are key to managing this challenge.
Lower relationship satisfaction
Many factors can influence relationship satisfaction. With a large age gap, partners may experience stress or anxiety from:
social stigma
different priorities in life, or goals that don't align
clashing social circles
age-related health challenges
How to manage challenges
Experts cite communication as critical for the success of relationships between older men and younger women.
Juliano recommends open communication about big life questions, right from the start.
"Are there common interests in life goals, religion, family, where do you see yourself, what do you want in the next 5, 10, 15+ years?" she suggests you ask yourself.
O'Laughlin explains that figuring out these questions and creating plans to address them can strengthen your relationship and decrease resentment and conflict.
If you're unsure where to start, a relationship counselor can help you and your partner identify areas of concern and possible solutions.
Why would older men date younger women and vice versa? As with any other relationship, there are many factors involved. Emotional security, maturity, common life perspectives, physical attraction, and chemistry may be involved. Instincts and culture may also play an important part.
It's also possible in some cases that unresolved relationship challenges with father figures or traumatic experiences may be at play. Only a mental health professional can determine if this is the case.
Having a big age gap doesn't necessarily mean your relationship is bound to fail. Open communication about life goals and expectations can help you and your partner build a foundation of trust and respect.