We include products we think are useful for our readers. If you buy through links on this page, we may earn a small commission Here's our process.
Psych Central only shows you brands and products that we stand behind.
Our team thoroughly researches and evaluates the recommendations we make on our site. To establish that the product manufacturers addressed safety and efficacy standards, we:
Evaluate ingredients and composition: Do they have the potential to cause harm?
Fact-check all health claims: Do they align with the current body of scientific evidence?
Assess the brand: Does it operate with integrity and adhere to industry best practices?
We do the research so you can find trusted products for your health and wellness.
We asked our team of experts to share their insider tips on the best books for therapy and self-help.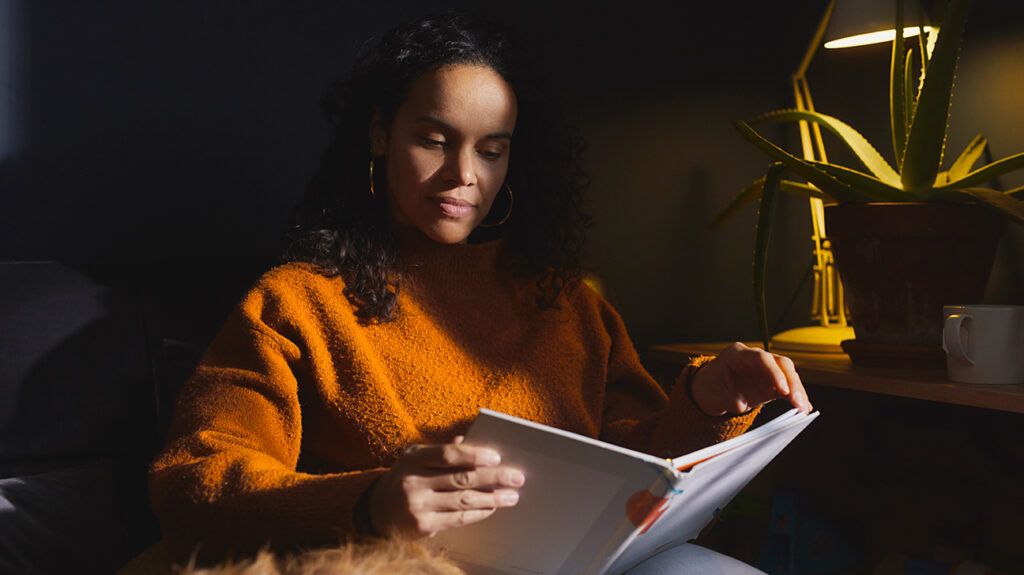 From magical realms and foreign lands to quiet suburban streets and long-ago times, books can take you on a thousand journeys and let you live a thousand lifetimes.
Beyond the fictional worlds you may find within their pages, nonfiction books can also take you on a journey — one of self-discovery. Therapy-based and self-help books can provide you with insight and resources to overcome obstacles and become your best self.
But with countless titles available, it can be overwhelming to know where to begin. This is why we've reached out to our team of mental health experts to help you find the best therapy book for your unique needs.
If you want to jump directly to the sections for each platform, you can click the links below.
When making our selections, we polled our team of board-certified mental health professionals for their expert recommendations.
We also considered:
author qualifications. The authors are credentialed or have lived experience in the topic they're writing on.
cost and accessibility. We try to include books that fit various budgets. Most books are also available in different formats, including Kindle and audiobooks.
user reviews. All books have overwhelmingly received high ratings and positive reviews from readers.
In addition, each book has been carefully vetted, to ensure it meets Psych Central's editorial, medical, and business standards.
A note on price
General price ranges with dollar signs ($ to $$$) are indicated below. Books with one dollar sign are generally lower-priced, while books with three dollar signs have a higher cost.
Prices shared refer to the paperback versions of each book. Most of the books listed are also available in other formats, including Kindle and audio editions, which can vary in cost.
$ = under $10
$$ = $10–$15
$$$ = over $15
Best for coping with loss
Price: $$
Written by: Pema Chodron
Available formats: paperback, Kindle, hardcover, audiobook
Through the lens of Buddhist practice, this best-selling book encourages positive change by facing difficult seasons of loss, heartbreak, or negative patterns head-on rather than shying away from them.
The book provides insights and strategies for overcoming these obstacles by turning them into moments of joy instead of moments of pain. The author uses short, easy-to-digest chapters to guide readers on this journey of transformation.
Why our experts recommend it
"While the Buddhist psychological principles in this book could be helpful for anyone, the concepts within it are exceptionally helpful for those in the wake of loss, divorce, or unexpected changes. When we are in the darkest of places, Pema Chodron helps move us gently and steadily toward acceptance of what is. I have recommended this book to countless patients in my practice and each has found something that connected with them. "
— Nathan Greene, PsyD
Best for self-reflection
Price: $$$
Written by: Glenn R. Schiraldi
Available formats: paperback, Kindle
This workbook is designed to help you understand and navigate challenges by cultivating a growth mindset. It offers practical and easy-to-follow exercises that use cognitive behavioral therapy (CBT), mindfulness, and other science-backed approaches to strengthen and increase your mental wellness.
Alongside building skills to become more resilient, "The Resilience Workbook" is also a tool for self-reflection. The insights and exercises it provides give you an opportunity to examine your behaviors and patterns to identify where you can make positive changes.
In addition to being one of our expert advisors' top picks, "The Resilience Workbook" has also been recognized as an Association for Behavioral and Cognitive Therapies Self-Help Recommendations, due to its evidence-based approach.
Why our experts recommend it
"'The Resilience Workbook' is a great way to self-reflect and use resources that are based on research. This important workbook is useful for anyone who wants to improve their resilience and mental health."
— Debra Rose Wilson, PhD, MSN, RN, IBCLC, AHN-BC, CHT
Best for navigating relationships
Price: $$$
Written by: Kevin Patterson
Available formats: paperback, Kindle, audiobook
"Love's Not Color Blind" provides insights and advice for those looking to establish — or simply understand — nontraditional relationships.
By looking at polyamory through the lens of racial inclusion, Kevin Patterson examines how racial differences can affect non-monogamous relationships and their communities. The book gives readers an understanding of the polyamorous community and offers proactive steps for overcoming racism within it.
While the book's research and anecdotes center around ethical non-monogamous relationships, the concepts presented are universal and can benefit relationships of all types.
Why our experts recommend it
"This book opened my eyes to important issues regarding race and polyamory. Regardless of your relationship style, this book will illuminate relevant concepts and challenge the way you see yourselves and others relationally. This is the kind of book that changes you."
— Lori Lawrenz, PsyD, licensed psychologist (Hawaii Center for Sexual and Relationship Health)
Best for cognitive behavioral therapy
Price: $$$
Written by: David D. Burns, MD
Available formats: paperback, Kindle, hardcover, spiral-bound
Cognitive behavioral therapy (CBT) is used to treat mental and physical health conditions through techniques that gradually change mindsets and behaviors. In "Feeling Good," Dr. Burns gives readers a deeper look into CBT practices and how they can help treat symptoms of depression, anxiety, and other disorders.
With over five million copies sold, this popular book has helped many people understand their feelings and develop strategies for building confidence and reducing anxiety and depression.
Why our experts recommend it
"This book does an excellent job explaining the concepts of cognitive behavioral therapy in a way that is simple and easy to understand. It also has great exercises and worksheets that help consumers effectively build skills to recognize and approach thoughts, emotions, and behaviors in a more adaptive way."
— Matthew Boland, PhD
Best for managing stress
Price: $$
Written by: Ruth C White, PhD, MPH, MSW
Available formats: paperback, Kindle
With bite-sized lessons and easy-to-follow instructions, "The Stress Management Workbook" is a great tool for anyone with a little time and a lot of (or any) stress.
This workbook walks readers through short exercises that take 10 minutes or less to complete. These lessons help you identify your unique stress triggers and provide strategies for handling them in the moment.
It also helps you set short- and long-term goals for managing your stress to help you cultivate an overall happier and healthier lifestyle.
Why our experts recommend it
"'The Stress Management Workbook' is known as the seminal resource for stress management strategies. The education about stress, strategies for integrating nuggets of stress management, and newest evidenced-based approaches give the reader many opportunities to explore and reduce stress and live in a calmer realm."
— Debra Rose Wilson, PhD, MSN, RN, IBCLC, AHN-BC, CHT
Best for men experiencing depression
Price: $
Written by: Terrence Real
Available formats: paperback, Kindle, hardcover, audiobook
With a focus on men's mental health, "I Don't Want to Talk About It" dives deep into how many men hide their depression to avoid potential judgment or ridicule.
Author Terrence Real uses his own experiences alongside research and other anecdotal evidence to reveal the reasons why men often tend to hide — or ignore — their depression. He also explores how men can uncover the root of their pain, and provides strategies for managing their condition.
While this book is recommended for men looking to cope with their depression, it can also serve as a great resource for their loved ones by giving them ways to understand and support the mental wellness of the men in their lives.
Why our experts recommend it
"This book does a great job of providing support to those who identify as male who may be experiencing symptoms of depression. It provides approachable examples, bite-size research, and therapeutic techniques that can be immediately implemented."
— Kendra Kubala, PsyD
Best for coping with trauma
Price: $$
Written by: Peter Levine and Ann Frederick
Available formats: paperback, Kindle, audiobook, spiral-bound
A unique exploration into how humans experience trauma while wild animals do not, "Walking the Tiger" offers a fresh perspective into how we react to and heal from traumatic events.
The authors approach their subject by taking away its mystery. They shed light on why trauma happens and use their research to normalize its symptoms.
The book also offers strategies for overcoming trauma, by providing readers with easy-to-follow, sensory-based exercises that rely on physical sensations to manage symptoms and heal.
Why our experts recommend it
"This classic book has practical and useful information to help those touched by trauma to do the hard work of engaging and exploring their own trauma. It is informational, as well as a workbook-style book, that is user-friendly and written in an understandable way. As a psychologist, this book has been a tool that clients can use in conjunction with their therapy."
— Lori Lawrenz, PsyD, licensed psychologist (Hawaii Center for Sexual and Relationship Health)
Best for families with children
Price: $$
Written by: Nadine Burke-Harris, MD
Available formats: paperback
Originally published as "The Deepest Well," this updated edition of Dr. Burke-Harris's book explores how stressful childhood events can create lifelong mental and physical health challenges.
She offers both scientific and anecdotal evidence to explain how these Adverse Childhood Experiences (ACEs) can change a person's neural system. In this exploration, "Toxic Childhood Stress" also looks toward hope and action by proposing strategies for overcoming childhood trauma, both during those formative years and later in life.
Why our experts recommend it
"Dr. Burke-Harris does an incredible job of identifying ways in which chronic, complex trauma and adversity impact a variety of areas of one's life, both short- and long-term."
— Kendra Kubala, PsyD
Best for talk therapy
Price: $$$
Written by: Lori Gottleib
Available formats: paperback, Kindle, hardcover, audiobook, mp3, CD
Therapists are human, too.
Sharing her experience with therapy as both a therapist and as a patient, psychotherapist Lori Gottleib uses humor and warmth to tackle the universal feelings we all sometimes find difficult to navigate.
In this personal account, Gottleib uses her unique perspective to not only explore the benefits of psychotherapy in overcoming challenges, but she also dives deep into the unique relationship between a patient and their clinician — and the important role talk therapy can play in your life.
Why our experts recommend it
"This firsthand account of a therapist's experience in her own psychotherapy has introduced so many to the healing power of a good relationship between a therapist and client. At a time in which there has been a strong push toward CBT therapies in the field, this approachable and relatable story conveys the power, depth, and opportunity for growth in long-term relational psychotherapy."
— Nathan Greene, PsyD
Best for understanding physical symptoms
Price: $$
Written by: Bessel Van der Kolk
Available formats: paperback, Kindle, hardcover, audiobook, spiral-bound
Trauma doesn't only affect our mental well-being. Science shows that it can also take a toll on our physical wellness.
"The Body Keeps the Score" dives into the connection between trauma and the body, exploring the author's research into how both the body's shape and its abilities can be impacted by certain events.
The book also shares a variety of ways to help overcome the physical effects of trauma, such as through yoga, meditation, and neurofeedback. It also shares other potentially effective approaches to tackling trauma, such as participating in sports or drama.
Why our experts recommend it
"[This book] provides insights into how trauma can manifest later on in physical symptoms, which can be helpful for people to understand this link without feeling stigmatized that it's 'all in their head.'"
— Tiffany Taft, PsyD
Best for finding joy
Price: $$$
Written by: Jenny Lawson
Available formats: paperback, Kindle, hardcover, audiobook
"Furiously Happy" is written to make you laugh — while also making you feel seen.
With a warm and humorous approach to this serious subject, the author takes you along for the ride as she navigates her own mental health issues. Her story and voice are relatable, letting you feel like a trusted friend rather than a reader.
Throughout her journey, she learns to embrace the humor and joy within her situation — and shares how you, too, can turn pain into positivity.
Why our experts recommend it
"Jenny Lawson discusses her own [difficulties] with mental illness in a relatable and hilarious fashion. Often avoided topics, such as self-harm, are addressed in a way that isn't based in shame.'Furiously Happy' is about pettily and aggressively surviving in a ridiculous world, and it brings me so much joy. "
— Francis Kuehnle RN-BC, MSN
Best for family dynamics
Price: $
Written by: Lindsay C. Gibson
Available formats: paperback, Kindle, hardcover, audiobook
In "Adult Children of Emotionally Immature Parents," clinical psychologist Gibson explores how the relationships we had with our parents in childhood inform how we feel today. The book examines several types of parents and the long-term impact that their parenting styles can have.
The book provides readers who've experienced difficult parents with guidance and support for overcoming their pasts and heal as they move forward into their futures.
Why our experts recommend it
"This book helps adults identify ways in which their upbringing and childhood relationships with caregivers may impact their present patterns and current relationships — even decades later. This book validates those who do not have the idealized relationship with their family members that we often see reflected in media."
— Kendra Kubala, PsyD
There are many great books on the market that cover a variety of self-help topics, from managing stress and coping with trauma to strengthening relationships and understanding different types of therapy. Books are a great resource for understanding different approaches and strategies to strengthen mental wellness.
Beyond sharing guidance and insight, therapy-centered books are often used as a tool to enhance traditional therapy. However, they are not intended to replace it.
Working with a licensed therapist or other qualified mental health professional can provide you with an official diagnosis, and your therapist can work with you to put together a treatment plan tailored to your unique needs.