Finding support when facing addiction can be overwhelming. Here are some of the best sobriety support groups that might help.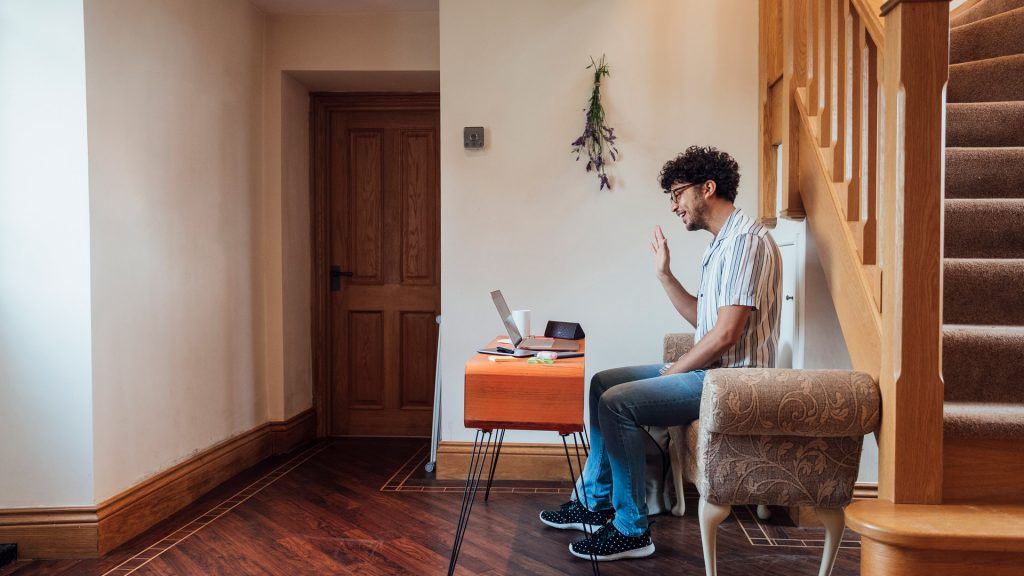 It feels as if alcohol is everywhere in today's culture. No matter where you look, you seem to see ads enticing you with the promise of how much more fun your life can be with a few drinks. But for someone working on their sobriety, these ads are far from fun reminders of their addiction.
Alcohol use disorder (AUD), formerly known as alcoholism, can have serious consequences, too. Excessive drinking is responsible for approximately 95,000 deaths a year in the United States.
Still, recovery from alcohol and substance use disorders is possible, especially if you have a good support system. Online sobriety and alcohol recovery groups can help you navigate your journey to getting better.
"Support groups for those [living with] substance use disorders offer peer support and usually include training on how to manage everyday life without using," says Claire Karakey, a licensed professional counselor and founder of Claibourne Counseling in Scottsdale, Arizona.
Substance use support groups can be known by many other names, too. For example, there are substance-specific groups — like alcohol recovery support groups — or groups for people at different stages of substance use — like sobriety support groups or recovery support groups.
"In addition to letting the individual know that there are others [living] with similar issues and that there is hope of recovery," explains Karakey, "these groups provide their members an outlet to share both wins and losses that they may not feel comfortable sharing with anyone else."
Building this sense of community is important for maintaining sobriety.
Research indicates that long-term encouragement from support groups and family can lead to a higher rate of sustained sobriety.
If you want to jump directly to the sections for each service, you can click the links below.
When choosing the best online sobriety groups, we kept these important factors in mind:
user reviews and evaluations
accessibility for new members to join online
attitudes toward alcohol and substance use
tools and information being provided to attendees
emphasis on community and group support
Moreover, all services have been vetted to ensure they meet Psych Central's medical, editorial, and business standards.
Best overall
Price: free; donations encouraged
Types of support: in-person and online meetings; free literature
When it comes to sobriety support groups, Alcoholics Anonymous (AA) is probably the first group that comes to mind. The group has a long history, which goes back to the publishing of "Alcoholics Anonymous," or as members call it, "The Big Book," in 1939.
The Big Book lays out the "12 steps of Alcoholics Anonymous." These steps begin by recognizing and declaring that your addiction behaviors may be beyond your control and that you will put your faith in a higher power to help you through your recovery.
The AA website offers a listing of alcohol support groups and meeting places in your area, as well as links to the local chapter's website.
Alcoholics Anonymous is free to anyone who wants to participate, but there is a suggestion for donations to anyone who is able to contribute.
If you don't have alcohol use disorder but live with a different type of substance use disorder, Narcotics Anonymous may be an alternative option.
Why we chose it
Alcoholics Anonymous is available nationwide with support groups in all 50 states. In addition to a geographical group locator on its website, AA has added a phone app that makes it even easier to find support groups and resources right from your phone.
What we like
AA has a long history of helping people with alcohol addiction and has become the top support group for people with alcohol use disorder.
Meetings are free to attend.
Most AA literature, including The Big Book, is available for free as a PDF download from AA's website.
It's a good fit for anyone who is religious and wants their faith to play a role in their recovery.
What to look out for
Regular attendance is a big part of AA, so this may not be a good fit for someone unable to attend regular meetings.
AA is not a good fit for anyone who doesn't believe in a higher power.
It's not a good fit for someone who isn't able to fully commit to the 12 step process or has found that 12 step programs aren't for them.
AA may not work for you if you're interested in cutting down on drinking rather than staying completely abstinent.
Best online toolkit
Price: free; donations encouraged
Types of support: in-person, online, and hybrid meetings, online discussion forum, online toolkit
While AA and other 12-step programs may be best known, research indicates that alternative options to 12-step programs, including SMART Recovery, may also be effective.
Self-Management And Recovery Training (SMART) is an organization that takes a more psychological approach to face addiction by using cognitive behavioral therapy (CBT) techniques to address thoughts and attitudes that lead to choices that may be harmful.
SMART offers in-person and online meetings based on your location. Group meetings are free of charge, but donations are accepted and encouraged at the end of meetings.
In addition to organizing meetings, SMART offers a wide collection of online resources and media, including videos, podcasts, and worksheets. Your free account also gives you access to several discussion forums.
Why we chose it
SMART Recovery has a massive online toolkit full of literature and worksheets for group participants, as well as friends and family members looking for support when a loved one experiences difficulties with addiction.
What we like
SMART is an alternative for those those who found 12-step programs unhelpful.
Meetings are free.
Supplemental readings are available at a low cost.
Some people found that they benefited from attending both SMART and AA meetings.
What to look out for
CBT techniques may initially seem unfamiliar and harder to grasp for people who are used to AA.
Best secular community
Price: free; donations encouraged
Types of support: in-person and online meetings, online discussion forum, online bookstore
As an alternative to faith-based recovery groups, LifeRing believes that you are the person best suited to understand and control your own sobriety.
This group offers both in-person meetings as well as an impressive number of daily online meetings offered at various times throughout the day.
Meetings focus on healing in the present and don't focus on someone's difficult past. There is no requirement to introduce yourself as an "addict" like with some other support groups, and attendees typically talk about the week they just had.
LifeRing is free to attend, but donations are encouraged after meetings.
Why we chose it
There are many approaches to managing addiction, and while some people have found success through faith-based support, LifeRing allows those managing addiction to approach sobriety in a secular way that puts themselves at the center of their own recovery.
What we like
LifeRing offers support for those looking for a secular group.
Numerous online meeting opportunities can fit anyone's schedule.
The program has a strong emphasis on social interactions and social reinforcement.
What to look out for
Participants are encouraged to create their own recovery plan, which may be challenging for those who want to follow a pre-established plan.
Those who want to include a faith-based or spiritual focus to their recovery may not like this secular approach.
Best support group for women
Price: silent donations collected but not required
Types of support: in-person meetings, online discussion forum, phone support
Women for Sobriety (WFS) was created because many recovery programs were designed based on how men recover from addiction. Research suggests that men and women experience and recover from addiction in very different ways.
WFS aims to help women deal with addiction by minimizing negative behaviors and growing their sense of self-value, self-worth, and self-efficacy.
Meetings are offered in-person (however, they have temporarily switched to video conference due to COVID-19) and are free to attend. A $2–$5 silent donation is encouraged if participants are able to give one.
Each meeting begins by reading the 13 Acceptance Statements. Then each person introduces herself with positive affirmations and shares a positive experience she had.
WFS also offers additional support through phone volunteers and an online forum.
Why we chose it
This program is specifically aimed at helping women with substance use disorder. Each meeting begins with introductions and statements of affirmation. Each participant is encouraged to share their successes and focus on accepting themselves as they are and their personal progress.
What we like
This support group is aimed directly at helping women.
The meeting structure, affirmations, and Acceptance Statements are clearly listed on the WFS website for anyone curious about the group.
Silent donations allow those with financial limitations to still participate.
What to look out for
WFS encourages daily reflection and active application of the 13 Acceptance Statements, which may be difficult for some people to commit to daily.
Best social media app
Price: app is free to download and access social networking with $99 a month for personalized coaching
Types of support: social networking, global newsfeed, social support
Sober Grid is a social-media-style app that connects people recovering from addiction and people who are sober. You can create a profile that is anonymous, or you can decide to share as much personal information as you'd like.
The app allows you to share your location (if you chose to share it) and helps you locate other people using the app in your area.
There is also a newsfeed option to share inspirational quotes, messages, or your own personal story with the community.
Another feature of the app is a "burning desire" button that you can press to notify your group that you are having a difficult time and are thinking about drinking or using again soon.
Sober Grid is free to download to your smartphone. Plus, an additional monthly subscription plan for $99 a month (following a free trial) allows unlimited texts and voice calls with a recovery coach.
Why we chose it
This app helps you access other sober people worldwide through a social-media-style platform. App users can share their stories with the community and it can alert other app users when you need some extra support.
What we like
Social Grid allows you to digitally meet people who are sober in your area for support.
App users are able to share their stories and receive encouragement from the global community.
You can control how much information you share.
You can remain anonymous.
What to look out for
Users report the app can be a little buggy.
The newsfeed content can be a little stale sometimes or meme heavy.
Best for a sober lifestyle
Price: app free to download
Types of support: Discussion forum, chat groups, free literature, sober matchmaking
Loosid is a free app for your smartphone that encourages you to have fun while staying sober. It also connects you with other people who are sober. The most popular feature on the app is its dating network that lets you create a profile and match yours with other singles using the app.
Once you're matched with someone, the app offers a local listing of date spots that serve mocktails or places that are alcohol-free.
The app also offers help for people living with addiction with six 24/7 hotlines. The hotlines are run by other members of the Loosid community.
Why we chose it
Loosid focuses on living a happy, fulfilling life with other people in sobriety and offers resources and suggestions for sober dating and sober nightlife activities.
What we like
It's free to download.
"Sober Dating" removes the pressure to "go out for drinks" by pairing you with people also committed to sobriety.
It offers local support from people who are sober in your area along with resources to find professional help.
What to look out for
If you live in a small town, the app may be limited in its restaurant and dating spot recommendations.
Best for supporting impacted families
Price: free; donations encouraged
Types of support: in-person meetings, online meetings, telephone support, online bookstore
If you're living with a family member or loved one who has alcohol use disorder, it can negatively affect your health and well-being. Seeing someone you love misuse a substance can also be scary.
That's why Al-Anon Family Groups were created. These groups help people share their experiences from living with a person with alcohol use disorder in a safe and compassionate support group.
Meetings can be held in person or online depending on your location. They're free to attend, but a request for donations may be made at the end of the meeting.
If you choose to attend the meeting, you won't be expected to talk unless you want to. Attendance is kept confidential.
Why we chose it
Addiction affects the lives of more people than just those who are dealing with addiction. Al-Anon Family Groups give friends and family the support and resources they need to help them cope through challenging times.
What we like
Support group chapters are available all across the globe.
You don't need to register or give any personal information to attend meetings.
Teens are given a unique place to talk privately, too. It's called Alateen, and that's where they can find support among their peers.
What to look out for
This service is intended only for families and loved ones. It's not a meeting intended for people with alcohol or substance use disorder.
Meetings are intended for family members of people with alcohol use disorder, so they may not be as helpful if your family member is misusing another substance.
Best
Price
Types of support
Support Meetings?
Alcoholics Anonymous
Overall
• free
• donations encouraged
• in-person and online meetings
• free literature
Yes:
In-person & online
SMART Recovery
Online toolkit
• free
• donations encouraged
• in-person, online, and hybrid meetings
• online discussion forum
• online toolkit
Yes:
In-person & online
LifeRing
Secular community
• free
• donations encouraged
• in-person and online meetings
• online discussion forum
• online bookstore
Yes:
In-person & online
Women for Sobriety
Support group for women
• silent donations (optional)
• in-person meetings
• online discussion forum
• phone support
Yes:
In-person
Sober Grid
Social media app
• free to download
• $99/month for personalized coaching
• social networking
• global newsfeed
• social support
No:
But personalized online coaching is available
Loosid App
Sober lifestyle
• free to download
• discussion forum
• chat groups
• free literature
• sober matchmaking
No:
But online chat groups, discussion forums, and sober matchmaking are available
Al-Anon Family Groups
Supporting impacted families
• free
• donations encouraged
• in-person and online meetings
• telephone support
• online bookstore
Yes:
In-person & online
If you find that the sobriety and alcohol recovery support groups on this list don't provide the support you're looking for, here are a few things to consider while looking for one that better suits your needs:
Your goals. What are you hoping to gain from a sobriety support group? Are you looking for peer support, the accountablity of a system that tracks your sobriety (like chips for how many days you have been sober), or both? Is there a religious affliation, social perspective, or belief system that you want to be a part of your sobriety?
Participant reviews/testimonials. How many people attend the support meetings? Have the participants grown and benefited from the group? Is there someone (or even a few people) who are further along in their sobriety who you can ask advice from?
Cost. What is the cost of attending meetings? Can you afford to regularly attend meetings? Is there strong pressure for you to buy books, attend paid seminars, or buy products? How much time and effort is asked of you outside of meetings?
How you benefit from meetings. Do you feel supported and empowered during and after the meeting? Are you receiving the support that you need or do you feel like you're settling for a group that's not the right fit? If you do need additional support, are there ways that you can ask for additional help and is it available?
The biggest benefit of online support groups is that you can attend from almost anywhere without having to commute or drive to the meeting location. This is particularly helpful for smaller support organizations that don't have many locations, allowing you to attend, even if you don't live near a meeting location.
However, for some people, online meetings may not be an ideal format. If you live in an area without a reliable internet connection or your living situation doesn't allow you to attend meetings where you can have your privacy and talk openly, you may not get as much out of the support meeting or lose your motivation to continue attending.
How are recovery support groups structured?
The structure of in-person and online meetings varies from group to group, but most encourage you to share your story with the group (within your comfort level), support others in the group, and reflect on ways to improve your life going forward.
A large component of support groups is spending time talking with other people who are in the same situation as you. This "peer support" time together has been shown to be incredibly beneficial and often results in higher substance use abstinence rates and feeling more satisfied with substance use treatments.
Do alcohol recovery support groups accept insurance?
Many of the support groups on this list offer free services or request an optional donation — so there isn't any pressure to pay beyond what you can afford. However, talking with a professional therapist or coach usually comes at a higher cost.
It isn't common for insurances to cover support groups, and these groups don't advertise that they're approved for insurance coverage either. However, it's always a good idea to call your insurance provider to double-check if any of these services or expenses are covered.
Research shows that when you initiate positive changes in your life, like attending a sobriety group, engaging in productive activities, and understanding your own relationship and attitude toward addictive substances, you have a better foundation to achieve your goals.
"The truth is that substance use support groups are open and effective for all stages of addiction," explains Karakey. "Individuals from all walks of life [can develop addiction] and choose to attend support meetings."
Still, if you're feeling overwhelmed or unsure, consider talking with a trusted doctor or mental health professional who specializes in addiction.
If you feel that you need additional help, organizations like Recovery Centers of America (RCA) offer treatment, medically managed intensive inpatient treatment, and rehabilitation.
The Substance Abuse and Mental Health Service Administration (SAMHSA) is a national resource and helpline that can provide you with additional information and treatment referrals. They can be reached at 1-800-662-4357.