We include products we think are useful for our readers. If you buy through links on this page, we may earn a small commission Here's our process.
Psych Central only shows you brands and products that we stand behind.
Our team thoroughly researches and evaluates the recommendations we make on our site. To establish that the product manufacturers addressed safety and efficacy standards, we:
Evaluate ingredients and composition: Do they have the potential to cause harm?
Fact-check all health claims: Do they align with the current body of scientific evidence?
Assess the brand: Does it operate with integrity and adhere to industry best practices?
We do the research so you can find trusted products for your health and wellness.
The Calm app offers soothing meditations, courses, and bedtime stories. Learn about its many pros and a few important cons.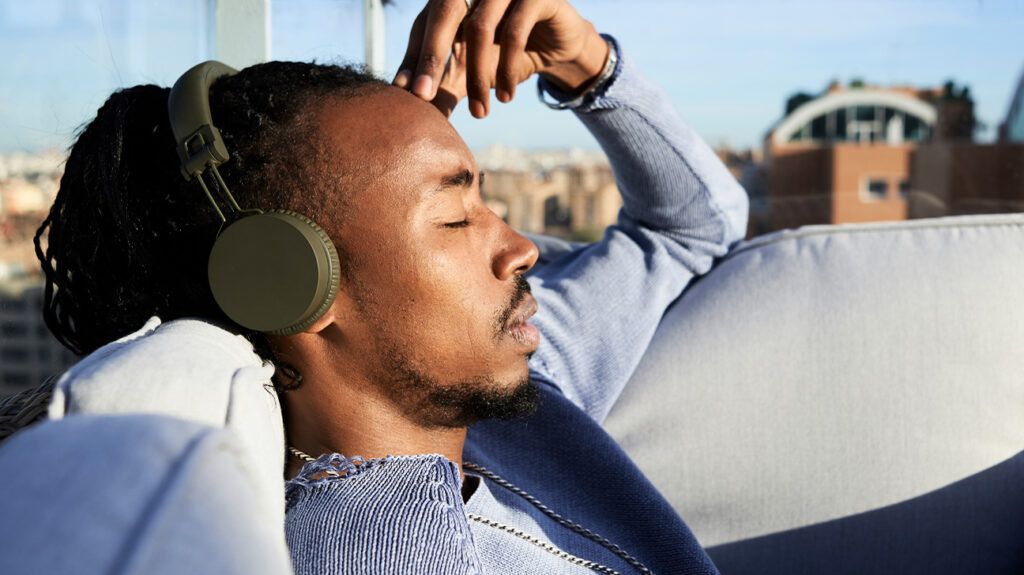 Maybe you're brand new to meditation or you've tried many times to establish a consistent practice to no avail. Maybe your brain starts buzzing right at bedtime and it takes you forever to fall asleep as you toss and turn. Or you're a longtime meditator looking for some variety.
Whatever your situation, you may be wondering if the Calm app, with its guided meditations and sleep stories, is right for you. As countless meditation apps saturate the market, it's tough to know which one is best.
Could Calm be your ticket out of sleepless nights and into calmer days?
How we researched the Calm app
Because Psych Central values integrity, we take the time to vet products and services before sharing recommendations. This vetting process includes the following:
Price point. Quality services that are accessible are important, and this is an important piece of how we make our determinations.
Expertise. We research the credentials and experience of the clinicians involved in the service.
Communication. This includes the frequency that you can speak to your clinician and the customer service features and options.
Ease of use. While some of us are tech savvy, it is important that the site or app isn't too complicated for a widespread consumer market.
Reviews. Feedback, whether negative or positive, from folks who have interacted with the platform factor into the overall recommendation.
This page explains the vetting process in greater detail.
Launched in 2012, Calm was founded by entrepreneurs and friends Michael Acton Smith and Alex Tew. Tamara Levitt, head of mindfulness, creates and voices all the meditations.
With its meditations, courses, and bedtime stories, the app aims to help you sleep more and stress less.
Calm offers a wide array of tools, all of which are available with a paid subscription. You can access a free 7-day trial with limited access after putting in your payment information.
Other than English, Calm is available in:
Spanish
German
French
Korean
Portuguese
Here are some of Calm's standout offerings:
The Daily Calm is an original 10-minute meditation. A different one appears every day on the home screen.
How to Meditate is a 30-day program for beginners.
Meditations include calming anxiety, fostering focus, easing depression, and practicing gratitude.
Scenes is a selection of soothing sounds and images — lakes, waterfalls, crickets, sunsets, and pouring rain.
Masterclasses are courses on wide-ranging topics by world-renowned experts, including radical self-compassion by mindfulness teacher Tara Brach, creative living by author Elizabeth Gilbert, happiness by researcher Shawn Achor, and peak performance by Olympic gold medalist Jason Kidd.
Calm Body includes morning and evening stretches and warm-up and cool-down exercises to help you move your body mindfully.
Sleep Stories include more than 100 bedtime stories to help you fall asleep faster that are narrated by celebrities, including Matthew McConaughey, Kelly Rowland, and LeVar Burton.
Music is a mix of calming soundscapes and exclusive music from artists, such as Moby and Ellie Goulding, which help you focus, relax, or sleep.
Calm offers mindful tools for kids, too, including Sleep Stories like "TheVelveteen Rabbit," soundscapes, and lullabies. Calm's meditations for kids are available in these age categories:
3–4 years
5–6 years
7–10 years
11–13 years
14–17 years
Calm offers a limited free version, as well as several subscription options.
Free version
The free version of the Calm app includes daily gratitude check-ins and limited access to their general content and sleep stories.
Subscription options
The subscription options all apply to the premium version of the app, which includes:
unlimited access to general content that is regularly updated
soothing sleep stories for both children and adults
guided meditations
masterclasses
and more
To access all its features, Calm offers an annual subscription for $69.99. Sometimes you can score a 40% discount and pay $41.99 for a yearly membership. You can also purchase a lifetime subscription for $399.99.
Plus, depending on a few details, you may be able to shave off some of your recurring costs.
Family plan
If you and some loved ones are all interested in de-stressing but also want to be mindful of expenses, you could consider Calm's family plan.
It allows six individuals to pay one flat fee of $99.99 per year for premium accounts, all without sharing any account details between the members.
Prime student discount
If you're in college and already use Amazon's Prime Student discount, you can also use Calm for a significantly lowered price.
Prime Student members can use Calm Premium for 3 months for free and then for a discounted annual subscription of $8.99 per year.
Through your employer
Many companies recognize the importance of their employees' physical and mental well-being and may offer special perks, such as a subscription to meditation apps like Calm.
It's worth checking with your HR department about whether they offer Calm to employees.
Several studies have examined Calm's benefits and efficacy. For example, in a 2019 study involving 88 college students, Calm reduced stress and improved mindfulness and self-compassion skills.
In a 2020 study involving 80 people with myeloproliferative neoplasm (MPN), a rare form of blood cancer, Calm decreased depression and anxiety symptoms more than people who underwent an educational class on MPN.
In another study, 128 people with MPN who used Calm reported improvements in mental health, sleep, fatigue, and pain.
In a survey study published in 2020, almost all (97%) of 1,537 parents whose children used Calm reported that sleep stories improved their kids' sleep. Also, most parents noted that Calm's other components helped their kids' sleep.
There have been additional studies focusing on how the app impacted sleep, as well as ongoing studies regarding topics like prenatal stress and the potential sleep improvement of adults with cancer.
Note that some of the researchers involved in the above studies work for Calm and have declared potential conflicts of interest.
If you'd like to read more about the science of Calm, you can follow this link to the Calm app.
The Calm app offers excellent benefits, but it also has several potentially frustrating drawbacks.
What's great about the Calm app?
Great for beginners. For many people who are new to meditation, sitting in silence may be intimidating and uncomfortable. The Calm app does a great job of educating you about mindfulness and providing accessible practices.
Great for experienced meditators. Because it has both guided and unguided meditations, it can also appeal to individuals who are familiar with mediation but want additional structure to their practice or more flexibility.
May help with various aspects of life. Its informative, user-friendly courses from mindfulness experts also can help you improve important areas of your life, including sleep and parenting.
Soothing interface. Calm has a beautiful, soothing aesthetic and interface with images of natural landscapes, such as mountains, oceans, and forests, truly embodying its name and the practice of meditation.
What are the downsides of the Calm app?
Payment information upfront. One of Calm's main downsides is that you have to enter your payment information when signing up. Some users report being charged the annual membership after canceling within the trial period.
Unresponsive customer service. Users report that customer service can be unresponsive, and the app automatically renews your subscription without warning.
Aesthetic may not be for everyone. Instead of finding the interface calming, you may find it boring, preferring a brighter, more cheerful aesthetic with illustrations and animations (like Calm's competitor Headspace offers).
Time commitment. The daily meditations are about 10 minutes long, so if you're pressed for time or just beginning to meditate, you may be tempted to skip it. Still, some shorter meditations are available in different areas of the app.
If you've been perusing the App Store in search of a meditation app, chances are you've come across Headspace as an option as well. The two have similar focuses and price points.
According to our research, just a few things separate the two, making the choice really come down to personal preference.
Headspace may be the move if:
you're a meditation newbie or someone with limited time, as it offers shorter guided meditation options
you need your meditation to be coupled with bright and engaging animation
you prefer to have light physical movement as a complement to your mindfulness
Calm may be a better fit if:
you have experience with meditation already or prefer less structure, as longer and unguided meditations are available
you prefer serene, nature-focused themes with your meditation time
you're aiming to have help with your sleep, as an entire section of Calm's content is geared toward sleep improvement
Still unsure? Consider reading our take on the differences between the two app offerings.
Calm can be particularly useful for people with sleeping issues due to its extensive library of bedtime stories, soothing music and soundscapes, and gentle evening exercises.
The app can also be a great tool if you're yearning for quality alone time that doesn't take much time.
If you find yourself excessively doomscrolling, replacing your social or news apps with Calm may be restorative. You can still check your phone from bed, but at least you're caring for your mind (and body) with calming meditations and bedtime stories.
Because Calm offers guided and unguided meditations, it's equally useful for beginners and longtime meditators. Because new content is added regularly, you have the opportunity to deepen your practice — and let's be honest, avoid getting bored.
To help you decide whether Calm is right for you, consider your goals and intentions around using it. For example, begin by asking yourself these questions:
Why am I using Calm?
What do I hope Calm will help me with?
Do I think I'll use it daily?
What features most resonate with me?
Whatever your relationship with meditation (or lack thereof), Calm may help you create a daily mindfulness practice and care for yourself overall.
The app's soothing vibes and ambient sounds provide a genuine respite from today's cacophony of bells, whistles, and depressing headlines.
Calm, however, comes with some drawbacks, including poor customer service, without-warning auto-renewals, and difficulty canceling. Also, the app's interface might not resonate with you.
If you think Calm may not be the best fit for your meditation needs, there are plenty of other options to look into. Still, if you think Calm might just be what you're looking for, you can get started by clicking the button below.