We include products we think are useful for our readers. If you buy through links on this page, we may earn a small commission Here's our process.
Psych Central only shows you brands and products that we stand behind.
Our team thoroughly researches and evaluates the recommendations we make on our site. To establish that the product manufacturers addressed safety and efficacy standards, we:
Evaluate ingredients and composition: Do they have the potential to cause harm?
Fact-check all health claims: Do they align with the current body of scientific evidence?
Assess the brand: Does it operate with integrity and adhere to industry best practices?
We do the research so you can find trusted products for your health and wellness.
Need to chat with a peer or trained professional about depression? Online support groups and services can be there for you.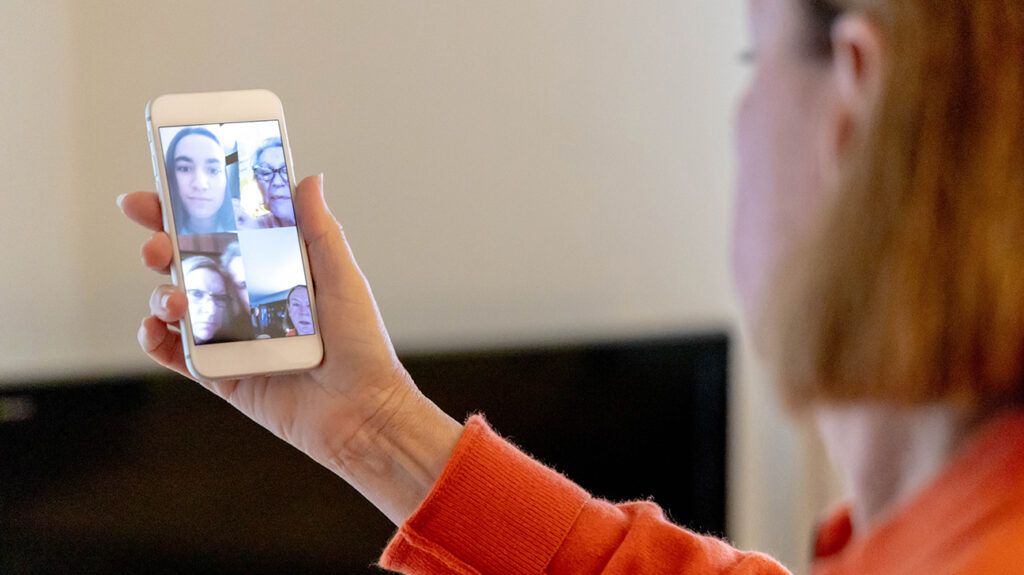 When you experience depression, you often need support now. Depression doesn't keep regular business hours.
Annually, approximately 17.3 million U.S. adults experience at least one major episode of depression. If you're one of those people, you know that making your way through can be challenging.
Still, the internet offers numerous ways to receive the support you need when you need it. To help you sort through the huge number of options, we've narrowed it down to the top nine online depression support groups.
If you want to jump directly to the sections for each resource, you can click the links below.
Online therapy and support services, like the ones in this article, generally can't provide help in a crisis (though many services list helpful resources, such as phone numbers to national and international crisis hotlines).
If you or someone you know is considering suicide or self-harm, you're not alone, and help is available:
To find the right services, we reviewed numerous contenders, looking at the following:
Price. When you live with depression, cost shouldn't be a barrier to support. That's why we did our best to find as many free options as possible.
Options. We looked to find groups that had more to offer than one generic type of support for depression.
Reputation. We focused on groups that have been around for a while. This way, you can rest assured that your community isn't going anywhere.
Vetting. All services have been vetted to ensure that they meet Psych Central's medical, editorial, and business standards.
Best overall
Cost: free
Structure: chat space on website; 100 categories of support groups
As a 24/7 online chat that supports individuals, families, friends, and caregivers, Mental Health America's Inspire support community has over 2 million registered members.
With more than 100 categories, members can find a group of people who can relate to their specific needs and difficulties.
There are general groups for depression, grief and bereavement, post-traumatic stress disorder (PTSD), and suicide, to name a few. Plus, you can check out more specific groups based on specific medical conditions, such as cancer and diabetes, and less common diseases like scleroderma and myocarditis. Also, families, caregivers, teens, and young adults can join groups just for them.
Members can "friend" and message other members and participate in discussion feeds in their specific community. Each community features round-the-clock moderators to ensure comments remain kind and supportive.
Why we chose it
Mental Health America is a mental health advocacy group that's been around since 1909. The Inspire Support Community is always available and has more than 100 support groups to help you with your specific needs.
What we like
With so many groups available, you're highly likely to find a group of people who can relate to the health condition you or a loved one is experiencing.
No matter the time, you don't have to be alone. There's always someone available for a chat.
Patient advocacy partners provide members with expert support related to specific conditions.
What to look out for
Online support is through written communication. Depending on how fast you and others type, this may make conversations feel a bit slow.
Though the community is moderated, keep in mind that things users post may not always be medically verified. If you want to try something suggested in the community, it's best to check with your treatment team first to ensure it's safe for you.
Best directory
Cost: free
Structure: group video meetings led by trained facilitators
What began as a weekly support group in Los Angeles has grown into a site offering online support that has reached thousands of participants in over 120 countries.
While the original format of the group remains the same, there are now over 25 support group options based on various conditions and gender or sexual identity. When you click on a category, you're brought to a list of upcoming meetings, including information about the date, time, cost, and sponsor organization.
Many of their groups are sponsored by national organizations, giving participants access to group leaders who are experts in the specific condition or concern causing the depression.
Why we chose it
With a global reach in 120 countries, SGC offers meetings by trained facilitators, including groups specifically designed for those with depression.
What we like
There are many reasons you may be experiencing depression. Here, you can find a group that can relate to your specific circumstances.
There are groups just for women, LGBTQIA+ folks, and People of Color.
All group leaders have completed a training program and are there to ensure everyone in the conversation has a chance to be heard.
What to look out for
Even though some groups may be led by licensed professionals, there's no guarantee.
Video is required for the meetings.
Best for chatting
Cost: free for most services; $150 a month for online therapy and counseling (for ages 18 years and older)
Structure: chat rooms available 24/7, scheduled online events, and online therapy
If you just need someone to listen, 7 Cups offers a combination of trained listeners and licensed therapists who can lend an ear. The idea behind 7 Cups is to give everyone an opportunity to be heard.
Listeners are people who have completed a training course and volunteer to support anyone who may be going through a rough time. While this may not seem like a good idea at first, researchers say that users find the 7 Cups listeners just as helpful as psychotherapy, and the support feels more genuine.
The group also offers listeners advanced training and certifications, something listeners say increases their knowledge and confidence.
If you'd like to connect with a community for regular support, you can find forums and chat rooms that feature various communities based on age, condition, and more.
Still, keep in mind that anyone can post in these forums, and suggestions made may not be based on scientific evidence or medical recommendations. If you're interested in something you've read in the forums, it's best to discuss it with your treatment team.
Why we chose it
Whether you're there for the free around-the-clock chat rooms, forums, or trainer listeners, 7 Cups offers community-based support for various age groups, conditions, and more. Plus, for those 18 years and older, therapy from a mental health professional is available for a monthly fee.
What we like
You can connect with a 7 Cups listener 24/7.
You can receive support in numerous ways, including listeners, forums, chat rooms, and trained therapists.
What to look out for
Being "heard" by a listener is done via chat, not by phone.
Therapy from a professional therapist or counselor is available only for people over the age of 18.
Best for one-on-one support
Cost: between $60–$80/week, billed every 4 weeks
Structure: web-based therapy sessions
Professional help should be affordable. At least that's the theory behind BetterHelp, an online counseling platform that offers support from:
psychologists
marriage and family therapists
clinical social workers
licensed professional counselors
When you sign up with the platform, you'll be matched with a therapist who is experienced in your specific situation or condition. This includes support for depression.
Research has shown that BetterHelp and online therapy may be beneficial in reducing symptoms of depression, though more research is needed. Plus, scientists involved in the study had connections to BetterHelp, which may affect results.
Why we chose it
BetterHelp offers easily accessible online therapy at a lower price compared with in-person options. Plus, if you're unsure whether it's right for you, you can make use of their 7-day free trial.
What we like
Finding a trained professional with whom you connect can be hard. BetterHelp has so many options that there's a higher likelihood of finding someone who's a good match.
You can communicate with your counselor by messaging, text chats, phone chats, and video chats.
Based on your response to their questions, being matched with a counselor is pretty quick — between several hours and several days.
What to look out for
BetterHelp is not available to minors.
BetterHelp doesn't provide support for people who have thoughts of self-harm or are in a crisis situation.
Best peer-to-peer support
Cost: free
Structure: 90-minute regularly scheduled online meeting, peer-led by trained leader
Peer-to-peer support has many benefits, according to researchers. By connecting with others who share your condition, you feel less alone, can learn tried-and-true coping strategies, and even remove some of the stigma surrounding depression.
That's where NAMI comes in. Following a structured model, NAMI's groups are filled with people who have experienced the same mental health symptoms. Plus, they're led by people who've been in your shoes.
Their 90-minute meetings, most of which occur weekly, are confidential spaces in which you can share your experience and difficulties without feeling judged. You'll likely walk away with some helpful advice and solutions to what may be getting you down.
Why we chose it
With NAMI, you get peer-to-peer support in a structured model, allowing you to connect with others who are in the same boat.
What we like
All groups follow a structured model that ensures everyone in the session can share and receive support.
You may feel less alone knowing that many others are experiencing the same thoughts and feelings as you.
If you'd like, you can help others, which, let's face it, can be a great feeling.
What to look out for
Mental health professionals do not lead groups.
Groups are based on location, and if one isn't available near you, you may need to start your own.
Best for postpartum depression
Cost: free
Structure: weekly online group meetings for various categories; also, phone and text helplines
As one of the most common complications associated with childbirth, postpartum depression affects around 13% or about 1 in 8 women in the United States.
But the reality is that it's not only mothers and birthing people who may experience postpartum depression. It can affect many populations.
Fathers and partners may also have difficulties with the adjustment or how to help their partner. Birthing people may experience depression after placing their child up for adoption, and adoptive parents may experience it, too. And both neonatal intensive care unit parents and those who lost their child during pregnancy or shortly after birth may experience postpartum depression as well.
Postpartum Support International (PSI) is here for all of that. They have support groups for each of these categories and more. In addition to weekly group meetings that feature members from around the world, PSI offers:
education and training for families and providers
phone chats with experts
resources in English, Spanish, French, German, and Hebrew
Why we chose it
PSI offers resources and support for anyone experiencing postpartum depression.
What we like
This group walks the walk. In addition to support, they advocate for research and legislation surrounding perinatal mental health.
Various tools and resources are available.
What to look out for
Meeting times are listed in Pacific Time, so you'll need to be aware of what you choose and put into your calendar.
Best for community
Cost: Self-Care plan: $8.99 a month, $53.99 a year; may be covered by some insurance plans
Structure: 24/7 chat room inside therapy app and website
Sanvello is an online therapy app and website that specializes in treating anxiety and depression. It has a community hub that it describes as a "judgment-free, label-free space." In this chat room, you'll likely be able to find someone who is experiencing the same issues as you are.
Community members give understanding and encouraging words. It may help you feel less alone, and because of Sanvello's community rules, you're unlikely to experience negativity or bullying.
Still, it's good to remember that recommendations from other users aren't medical advice and may not be evidence-based. It's a good idea to discuss any suggestions with your doctor before implementing them.
Why we chose it
The Sanvello community hub and chats may offer a stop-gap measure for help in between your therapy appointments. The community is described as a safe, supportive, and bully-free space.
What we like
You'll get a fresh perspective on depression in a safe space without judgment or negativity.
You'll be chatting with members of an app for depression and anxiety, so they'll likely have similar interests to yours.
If you want therapy, you can arrange an affordable session in the app.
What to look out for
This is not a free service, so it's important to be mindful when signing up for the subscription plan you want.
Suggestions you get in the community hub will be from individuals, not medical professionals.
Some topics, such as suicide, are not permitted in chat.
Best for specialized groups
Cost: free
Structure: scheduled web-based online meetings
These online support groups offered by Depression and Bipolar Support Alliance (DBSA) provide a safe, welcoming place for people living with depression and bipolar disorder to share daily experiences and coping skills. Attendees also offer each other hope and encouragement.
You can attend either:
Why we chose it
DBSA support groups are led by peers who know firsthand what it's like to live with a mood disorder. In addition to generalized support groups, DBSA offers specialized groups for:
young adults
military veterans
People of Color
DBSA friends, family, and caregivers
people with diagnoses of both substance use and mood disorders
What we like
These are regularly scheduled meetings, so you'll be able to rely on attending regularly.
DBSA tells you what to expect in a support group meeting and establishes behavior guidelines.
They have specialized groups so you can participate with others with shared interests.
What to look out for
You need to create a free DBSA account to participate in the national DBSA support groups, which are hosted by Support Groups Central (SGC).
Local chapters of DBSA offer local support groups, which are often zoom meetings not hosted by SGC.
Best for resources
Cost: free
Structure: online chat space
ADAA is a nonprofit offering resources, including support groups and a chat space, to provide help managing:
In addition to the chat space, you'll find resources and research summaries to educate yourself and others.
AADA says it hosts more than 11 million visitors every year on its website, which provides:
therapist database
support groups
webinars
blog posts
podcasts and videos
ADAA emphasizes that it does not provide medical advice, diagnosis, or treatment.
Why we chose it
AADA's primary purpose is to provide a space for peer-to-peer emotional support. It also provides many educational resources on its website.
What we like
It has guidelines to maintain kind, respectful, and understanding interactions.
There's a wide range of topics in the chat space, such as handling difficult co-workers and managing wellness days.
It makes clear it does not provide therapy and offers a therapist database where you can find one if needed.
What to look out for
No emergency medical support or treatment is available in the ADAA online community.
No political content or self-promotion is allowed.
Online support groups are all basically emotional support platforms, but they vary in a lot of ways, too.
Support Group
Best for
Cost
Structure
Inspire Support Community (MHA)
best overall
free
web-based chat room support groups, 100 categories
Support Groups Central (SGC)
best directory
free
group video meetings led by trained facilitators
7 Cups
best for chatting
• free 24/7 online chat
• $150/month for therapy
chatrooms available 24/7, scheduled online events, and online therapy
BetterHelp
one-on-one support
$60–$80/week
web-based therapy sessions
National Alliance on Mental Illness
peer-to-peer support
free
90-minute regularly scheduled online meeting, peer-led by trained leader
Postpartum Support International
postpartum depression
free
weekly online group meetings for various categories; also phone and text helplines
Sanvello
community
• $8.99/month
• $53.99/year
• other premium plans available
24/7 chat room inside therapy app and website
Depression and Bipolar Support Alliance
specialized groups
free
scheduled web-based online meetings, at national or local levels
Anxiety and Depression Association of America
additional resources
free
online chat space, as well as educational resources
If you didn't find what you were hoping for, here are some tips on how to find the right online depression support group for you:
Get the right focus. Support groups are usually open to anyone, but they often involve specific topics or groups of people. You'll probably want to do some research to find the right one for your situation.
Make sure you're comfortable. You want to be comfortable in the support group space. You don't have to be discouraged if the first one you try isn't right for you. We've put together some tips on how to vet (and trust) support groups, which you may find helpful.
Think before you take it offline. Most support groups warn against engaging in offline calls or visits with people from the group who you don't know.
Keep in mind a support group is not a medical office. In an online support platform, anyone can often reply, including people who may not have the qualifications to offer medical advice. It's a good idea to check with your treatment team before trying anything new suggested online.
If your symptoms are interfering with your daily life, it may be time to seek professional help. Depression is medically treatable by professionals, but medical professionals are usually not found in support groups. A support group is more for emotional support and educational resources.
What is the purpose of a support group for depression?
Researchers have found many benefits to joining a support group when you live with depression, including:
knowing you're not alone can make you feel less socially isolated when you're experiencing a depressive episode
feeling safe when talking with strangers who "get it," versus family or friends who may not be able to relate and may make you feel judged
feeling heard and supported
helping others who are in a similar situation
How do online support groups differ from in-person support groups?
With online support groups, you can get the type of help you want or need (message boards, chats, peer support, professional help) when you want or need it. Many online communities offer support 24/7, helping you when you need it most.
How do I know which option is best for me?
Try to think about what you need the most. Is it a trained therapist? A connection with peers? Someone to listen to you? Support surrounding a specific condition?
Once you've figured out your biggest need, you can look for a site that fits your criteria. If, after a certain amount of time — like 1 month — you don't feel it's the right place for you, it's OK to search for another site that may be a better fit.
Do you have to be diagnosed with depression to join an online depression support group?
No, you do not have to have a medical diagnosis of depression to join a support group. Your medical diagnosis and treatment will occur in a clinical setting. Support groups are to give emotional support and resources for learning about a condition, either for yourself or others.
Whether you live with mild or severe depression, when combined with traditional treatment like therapy and medication, having a support network by your side can make a world of difference. And if attending an in-person support meeting or therapy session isn't possible for you, there are options you can use from the comfort of your home.
Online support groups come in many options, from peer-to-peer to professional help. There are groups for various conditions, so you'll likely find at least one that supports your specific needs.