We include products we think are useful for our readers. If you buy through links on this page, we may earn a small commission. Here's our process.
Psych Central only shows you brands and products that we stand behind.
Our team thoroughly researches and evaluates the recommendations we make on our site. To establish that the product manufacturers addressed safety and efficacy standards, we:
Evaluate ingredients and composition: Do they have the potential to cause harm?
Fact-check all health claims: Do they align with the current body of scientific evidence?
Assess the brand: Does it operate with integrity and adhere to industry best practices?
We do the research so you can find trusted products for your health and wellness.
If you're looking for a way to increase focus at work, school, or home, fidget toys may help.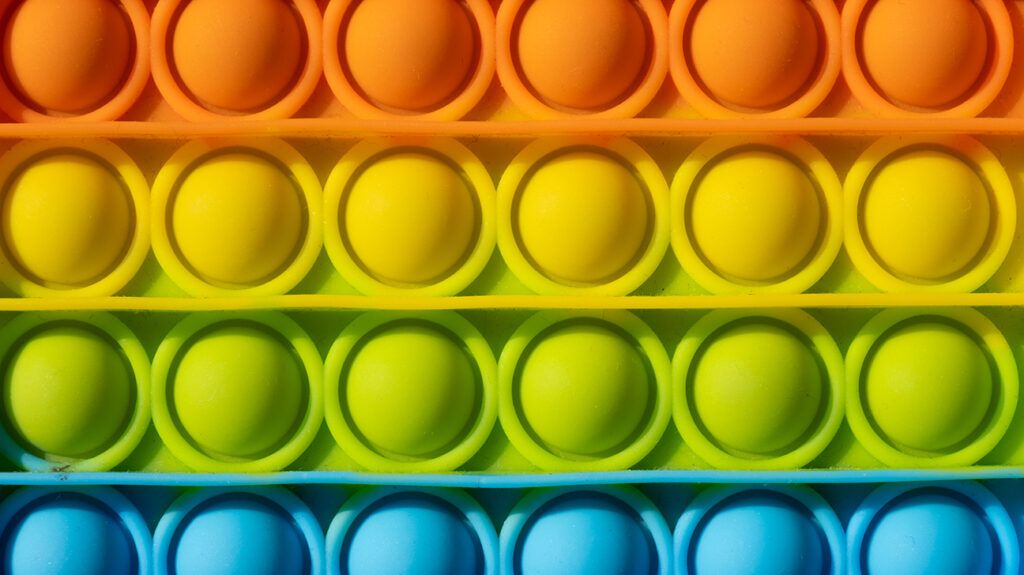 Staying focused during meetings or paying attention in class can be difficult for many people. In some cases, these situations may trigger an overwhelming urge to fidget.
Fidgeting may include tapping your foot, wiggling around in your seat, or playing with your pen or pencil so much that it actually breaks.
If this resonates with you, you're not alone. Most people engage in some form of fidgeting once in a while. However, to help you fidget more effectively, you might want to consider getting a fidget toy to occupy your hands and fulfill your need for movement.
Fidget toys are specially designed tools that spin, pop, or offer other ways to keep your hands busy. They come in a wide range of styles, colors, and movement options to fit specific fidgeting needs.
It's important to keep in mind that scientific evidence on their effectiveness to help with mental well-being is limited. Still, anecdotal evidence suggests that some people find these toys helpful, though such evidence is often laden with bias.
If you want to jump directly to the sections for each product, you can click the links below.
With so many fidget toys on the market, it may feel overwhelming to find one that fits your needs. To help narrow the field and chose products for this roundup, we focused on:
positive user reviews
cost
high ratings by consumers
Moreover, all services have been vetted to ensure they meet Psych Central's medical, editorial, and business standards.
General price ranges with dollar signs ($ to $$$) are indicated below. One dollar sign means the product is considered rather affordable, whereas three dollar signs indicate a higher price range.
Pricing guide:
$ = under $10
$$ = $10–$20
$$$ = over $20
Best overall
Price: $
Recommended age range: all ages
Key features: 12-sided cube, pocket sized, lightweight
Shaped like an octagon with 12 sides, the Dodecagon is a good option for people who have multiple ways they like to fidget. It has a joystick, integrated stress balls, gears, switches — plenty of tools to keep your hands and fingers busy.
What we like
You can choose from multiple functions.
It's highly portable and easy to use.
It's cost-effective for the number of fidgeting options it offers.
What to look out for
Some functions are slightly noisy, which might not bode well in classroom scenarios.
It may have too many options for some people, potentially causing distraction instead of focus.
Best for ADHD
Price: $$$
Recommended age range: older children and adults
Key features: three magnetized rings, various colors and sizes
Available in different ring sizes and colors, Fingears are a fun three-ring circus for your fingers that may help with focus. They're magnetized and stick together, offering a twirling and spinning action that may help satisfy the fidgeting needs of people with ADHD.
What we like
Fingears are easy to carry along and use in almost any situation.
They offer different actions and fun tricks to keep hands busy.
They don't produce noise when you use them.
What to look out for
The rings separate, so they may get misplaced easily.
They're small in size, so it may not be appropriate for young children.
Best sensory toy
Price: $
Recommended age range: all ages
Key features: pops like bubble wrap, easy-to-clean, various colors and shapes
Somewhat of a viral sensation on social media, Pop Its are soft handheld fidget devices that mimic the bubble popping action of bubble wrap. They come in a wide range of shapes and colors and are popular among school-age children and teens.
What we like
Pop Its are ideal for all ages.
It's easy to clean.
The product is durable for daily use.
The popping action and sound delivers tactile and auditory sensory input.
What to look out for
Pop Its do create a popping noise when used, which may cause a distraction in the classroom or workplace setting.
Best for autism spectrum disorder
Price: $$
Recommended age range: 10+
Key features: stainless steel, double pendulum, visually stimulating
Many autistic children and adults find watching an item in motion soothing.
This toy combines the action of a typical fidget spinner with a double pendulum spinner. The unique product is small, quiet, and will work in almost any environment.
What we like
Its design produces a unique double spinning action that may prevent boredom.
It's durable, portable, and silent.
The spinning action may appeal to autistic users.
What to look out for
It may be slightly more difficult to operate than a typical fidget spinner.
Best multi-fidgeting tool
Price: $$
Recommended age range: all ages
Key features: eight fidget functions, pocket sized, lightweight
While our "Best overall" option tops this product in terms of number of fidgeting options, we consider this controller pad another great multi-fidgeting choice.
If you're unsure what fidget action is best, this toy covers multiple options with nine ways to fidget all in one handheld pad. It offers rocking, switching, rolling, and spinning actions and comes with a lanyard attached.
What we like
The product provides many fidgeting options.
It's highly portable and discreet.
You can easily operate it with one hand.
What to look out for
Some functions may create noise.
Best spinner
Price: $
Recommended age range: older children and adults
Key features: discrete,stainless steel, long-spinning
An all-time classic, this handheld gadget is a favorite among children and adults because of its smooth spinning action.
What we like
It's designed for people with ADHD but may also help autistic individuals, folks with anxiety, and anyone who needs to fidget.
It delivers a visual and tactile sensory experience.
It's available in a wide range of styles and price ranges.
What to look out for
Because of small parts, fidget spinners are not recommended for very young children.
Best for younger kids
Price: $
Recommended age range: children
Key features: tactile stimulation, colorful, bendable, connecting
For preschool- or grade school-age children, these colorful tubular fidget toys deliver a sound and action that's fun and engaging. You can stretch them out and push them together or connect them to make long tubes.
What we like
The tubes are easy to handle for small hands.
They're lightweight and portable.
Twisting, stretching, and connecting these tubes may help improve fine motor skills.
What to look out for
The popping noise can be loud, which may be too much for children with auditory sensory challenges.
Best for adults
Price: $$$
Recommended age range: 6+ years
Key features: smooth rotation, shapeable, high-quality case,
Made up of several hinged mini-cubes, theFube Infinity Cube can be reconfigured into other shapes the user chooses. As a result, it provides virtually endless ways to occupy your hands.
What we like
It has a unique operation that transforms into different shapes.
Its portable design allows you to keep it in your pocket, bag, or purse.
It may be an option for people who are dissatisfied with typical fidget toys.
What to look out for
It emits an audible clicking noise, which makes it challenging to use in public.
Best fidget pen
Price: $$
Recommended age range: older children and adults
Key Features: stretchable, body-spinning, ball-spinning
For people who like to fidget with pens and pencils, this fidget tool is the ideal solution. You can write with it, bend it, and use its detachable magnetic loop as a separate fidget tool.
What we like
It has dual use as a pen and a fidget tool.
It's discreet for use anywhere.
It has an aesthetically pleasing design.
What to look out for
It includes small magnetic balls that may pose a choking hazard to young children.
Best for inconspicuous use
Price: $-$$
Recommended age range: teens and adults
Key Features: three rings in a gift box, outer band spins around inner band, variety of colors
This fidget device is a ring that you wear on your finger with a spinning outer band. It comes in a variety of colors and allows you to fidget without others noticing.
What we like
It can be used very discreetly.
You can wear it all the time.
You can choose from lots of color options.
What to look out for
They may make a slight noise when spinning.
If you didn't find what you were looking for on our list, here are some tips on finding the right product for you.
When choosing a fidget toy, it's a good idea to consider who will be using it before hitting the "buy now" button.
Will a child be carrying the fidget toy back and forth to school? Will an adult use it in an office environment? These are all things to consider before choosing a product.
Also, certain materials, textures, and motions might be more beneficial than others, depending on personal needs. For example, you may find it calming to squeeze a soft, squishy stress ball where someone else might prefer the action of a hard plastic spinner.
How to pick an age appropriate fidget toy
Though fidgeting isn't an age-specific phenomenon, it's always a good idea to consider age before buying a fidget toy.
If buying for a young child, be sure the fidget toy is durable and doesn't have any small parts that could be a choking hazard.
If buying for a teen or adult, consider the environment where the toy will be used. If it's going to be used at school or work, for instance, it's best to avoid one that is distracting or makes noise.
Can fidget toys help?
Fidgeting is a common human behavior that often occurs when a person is nervous, in a stressful situation, or is attempting to focus on a task or pay attention.
Some people find that fidget toys help them stay calm and focused. However, research on their effectiveness for this purpose is lacking.
A 2018 study suggests fidget toys can be a fun way to increase fine motor control, which is the ability to move the small muscles in the hands to complete intricate tasks like writing. Some people find fidget toys provide the tactile manipulation needed to remain calm and focused during work, school, or home.
Another 2006 pilot study observed 29 sixth-grade students who were allowed to use stress balls in the classroom. Researchers observed and videotaped the students during the 7-week intervention as well as for 3 weeks before it began.
The findings show that when students used the stress balls, their writing improved and they were less distracted. Kinesthetic learners used the stress balls more consistently and showed the greatest improvement in attention.
The best way to figure out if a fidget toy may work for you is to give it a try.
Do fidget toys help with anxiety?
Aside from anecdotes, there is little evidence on whether fidget toys can help specifically with anxiety.
Fidget toys do appear to reduce stress, which is related to anxiety and other emotions like anger, worry, or frustration. Unlike anxiety, stress if often triggered by an external source, though internal factors can sometimes play a role, too.
Do fidget toys help with ADHD?
Research on the helpfulness of fidgeting in ADHD is mixed.
A study in adolescents with attention deficit hyperactivity disorder (ADHD) found that movement was linked to accuracy on tasks requiring intense concentration. In fact, the more the teens moved, the better their cognitive performance.
However, another study found that attention levels in children with ADHD did not improve when they used fidget toys. In fact, the scientists suggest fidget toys may actually have a negative effect.
Do fidget toys help with autism?
Though research is limited on the use of fidget toys in autism, it's known that fidgeting is common in autistic people, and many find it soothing and helpful to engage in repetitive movements.
If your child fidgets a lot, it may be helpful to try out a fidget toy to see if it helps with either concentration or stress.
However, some experts note that even though fidgeting may be soothing for autistic people, it may reinforce and potentially even increase repetitive movements, including potentially harmful movements like hitting oneself or others. It may be advisable to discuss the use of fidget toys for your autistic child with their treatment team to determine whether it's a good idea in your kid's unique case.
Whether you're a student finding it hard to stay alert during long lectures, a person with ADHD who needs something to help them focus, or someone experiencing anxiety from time to time, fidget toys may be able to help.
Research on how much or whether they can help is limited. Still, many people find these spinning, popping, or squishy gadgets promote focus and attention when they need it most.
So, if you or someone you know craves movement in certain situations, consider trying one of these gadgets. It might be just the thing you need to satisfy your urge to fidget.