"I did it for me," we often hear people say about their cosmetic surgery decisions. But what does that mean? And for mental health?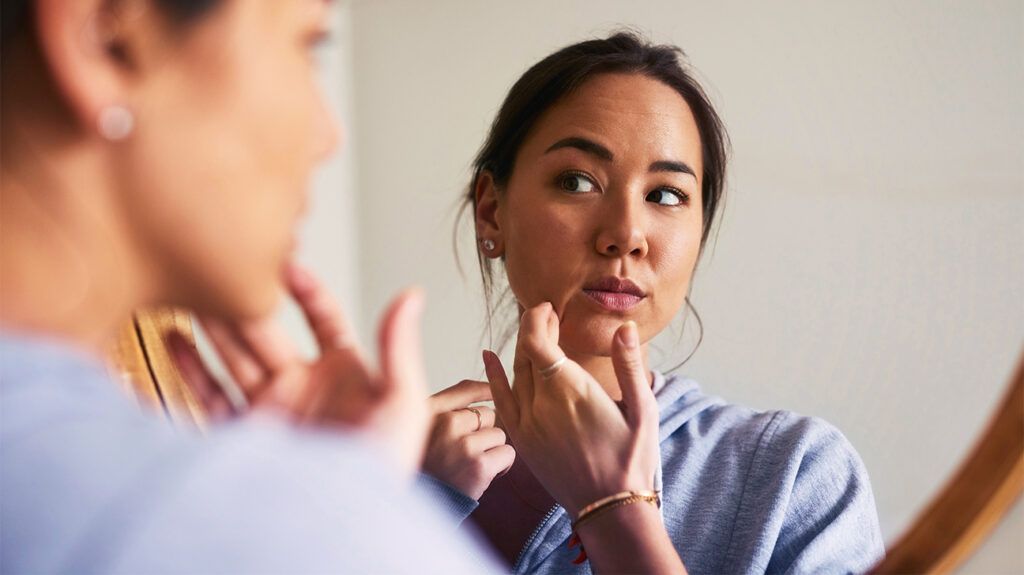 We strive to share insights based on diverse experiences without stigma or shame. This is a powerful voice.
I've had plastic surgery for reasons other than medical necessity. I did it because my body had flaws I just couldn't accept, and there was an option available to change it.
So, I did. That's the unvarnished truth, but it's not how I frame the conversation when speaking with others.
I recently had a conversation on the "Inside Mental Health" podcast with plastic surgeon Dr. James Marotta. As I explained my history with cosmetic nips and tucks, he unpacked some common sentiments as well as some psychology behind these decisions.
Because of my conflicting — or shameful — feelings about cosmetic surgery, I feel the need to further explain my rationale.
I lost more than 300 pounds after a gastric bypass and had a lot of excess skin. I had very pronounced chest tissue that made me look — and feel — terrible. I do admit that I like the way I look now better than before.
Marotta says the internalized shame I have about plastic surgery is not uncommon. He explains that the majority of his patients ask him if they are vain, and confide that their friends and family are telling them they're absurd for considering plastic surgery.
"When you have a physical flaw that bothers you, you know people are perceiving you in a certain way," Marotta says. "It's something that you, if you're bothered by it, you want to do something about it because you don't want to live that way."
A 2012 study of plastic surgery buy-in of young women in Brazil noted that most of the "shame" the women expressed was in their presurgical appearances. Their hesitation to speak publicly of their augmentations had more to do with their feelings over their former selves.
In fact, in his book "Modernity and Self-Identity," sociologist Anthony Giddens notes shame as resulting from insecurity over social acceptability.
Put simply, our shame has less to do with the surgeries than the need to explain what previous features initiated our surgeries.
Less vanity, more a willingness to change
Marotta goes on to explain that many things in our lives can be cultivated and changed. We don't just have to accept the baseline of what we are born with.
Take intelligence, for example.
"You can read more books, you can study more. You can become a more interesting person," he emphasizes.
"My point is, you can avail yourself of all medical science has to optimize your appearance as well. It's a healthy, empowering way to look at plastic surgery, instead of from being always a vanity purchase," Marotta says.
Is it good for mental health, though?
Though a research article in a recent issue of Facial Plastic Surgery Clinics explains people with body dysmorphic disorder and borderline personality disorder account for up to 15% of those who seek facelifts or facial augmentations, the research points out these are a small percentage and are not caused by cosmetic procedures.
A small 2007 analysis found that women reported an increase in self-esteem following breast implants. Specifically:
a 14% increase in self-esteem
a 78.6% increase in sexual desire
an 81% increase in arousal
Study author Cynthia Figueroa-Haas emphasized she believes there are psychological benefits healthcare professionals shouldn't dismiss.
According to 2020 data from the American Society of Plastic Surgeons, people ages 40 to 54 received the majority of cosmetic procedures in 2020. With 6.1 million cosmetic surgeries, this age group got 45% of the total of all cosmetic surgeries.
As for other age groups:
people ages 70 and above got around 246,000 cosmetic surgeries
people ages 55 to 69 got 3.9 million cosmetic surgeries
people ages 30 to 39 got 2.1 million cosmetic surgeries
people ages 20 to 29 got 768,000 cosmetic surgeries
teens got around 230,000 cosmetic surgeries
The American Society of Plastic Surgeons notes that men make up 8% of all cosmetic procedures and women make up 92% of the market.
The organization further notes that from 2019 to 2020, the following groups received fewer plastic surgeries:
white Americans (20% decrease)
Asian Americans (5% decrease)
Hispanic Americans (4% decrease)
The same number of African Americans received plastic surgery (1.7 million).
The most popular types of surgeries were also noteworthy:
Type
In 2020
% change from 2000
upper arm lift
14,447
4,174%
lower body lift
8,433
3,974%
cheek implant
108,189
938%
dermabrasion
139,933
231%
butt lift
2,872
112%
lip augmentation
34,236
84%
facelift
234,374
75%
thigh lift
87,051
75%
breast lift
87,051
65%
chin augmentation
43,900
63%
tummy tuck
97,988
56%
gender confirmation
(trans female patients)
6,368
13%
gender confirmation
(trans male patients)
9,985
11%
eyelid surgery
325,112
-1%
breast implant
193,073
-9%
breast reduction in men
(gynecomastia)
18,575
-9%
nose reshaping
352,555
-9%
breast implant removals
36,367
-11%
forehead lift
88,675
-27%
liposuction
211,067
-40%
hair transplantation
9,670
-78%
A 2016 study analyzed more than 80 surgeon-curated procedure guidelines. It looked into how cosmetic surgery:
reinforces polarized gender standards
perpetuates racially unilateral standards
The study found that physical markers of gender and race were subject to reconstruction. Physical attributes of whiteness were also found to be used as a template of sorts.
A 2005 compilation of four studies interviewing more than 1,000 college students led to the creation of a "Cosmetic Surgery Scale."
Using this 15-criteria scale, researchers found acceptance of cosmetic surgery was more tied to fears of becoming unattractive than hopes of becoming more attractive.
Researchers found that as women aged, more held favorable attitudes toward plastic surgery. Men were more in favor of it when they were younger, and less as they aged.
Repeated cosmetic surgery isn't officially cataloged as an obsessive-compulsion or behavioral addiction on its own, but may be a feature of body dysmorphic disorder: when what you perceive about your appearance is psychologically, and sometimes visibly, skewed to the point where someone may repeatedly take actions to rectify flaws they believe are there.
No one surgery creates an "addiction" any more than a single alcoholic drink qualifies someone as having a substance use disorder. Still, media can paint a stigmatizing picture.
The reality is that everything has a salacious side. It's what captures our attention.
"People love plastic surgery nightmares… That's what plays on the tabloids… and that's the first thought that comes to people's minds is plastic surgery, nightmares, deformity, depravity, the extremes, the circus of plastic surgery," Marotta says. "Kind of like watching the car wreck: You can't help but turn your head."
In reality, Marotta says that "99.9% of my practice is everyday normal people [who] have a procedure, love the results, move on with their life."
In talking with Marotta, I took note that he never said "correct something" but rather used the terms "change" or "alter."
For the vast majority of people, plastic surgery is a viable option to alter something they're unhappy with about their body.
The guilt or shame we feel about the procedure is an unfortunate byproduct of the way society views our motivations for plastic surgery.
For those managing body dysmorphic disorder or another mental health condition that both fuels and is triggered by cosmetic surgeries, just like any other mental health condition, you might be best off tailoring talk therapies and treatment plans that support you.
There are many reasons a person may choose to have plastic surgery. Each reason is personal and valuable to them. Punishing ourselves emotionally for a change we believe has value, or allowing ourselves to be shamed by others, serves no useful purpose.
We must remember that these decisions are ours alone. We're free to do whatever we want with our own bodies. Getting cosmetic work done means only that you're open to change. The rest of the narrative is up to you.
Want to learn more from Dr. James C. Marotta, author of "You're Not a Vanity Purchase: Why You Shouldn't Feel Bad About Looking Good"? Click the player below or visit the official "Inside Mental Health" episode page for "Is Plastic Surgery Vain?"
Gabe Howard is an award-winning writer and speaker who lives with bipolar disorder. He is the author of the popular book "Mental Illness Is an Asshole and Other Observations," available from Amazon; signed copies are also available directly from the author. Gabe is the host of Healthline Media's weekly podcast, "Inside Mental Health." You can listen and learn more here. Gabe can be found online at gabehoward.com.