To transform treatment outcomes for the Latinx community, approaching care with a sociocultural lens may help.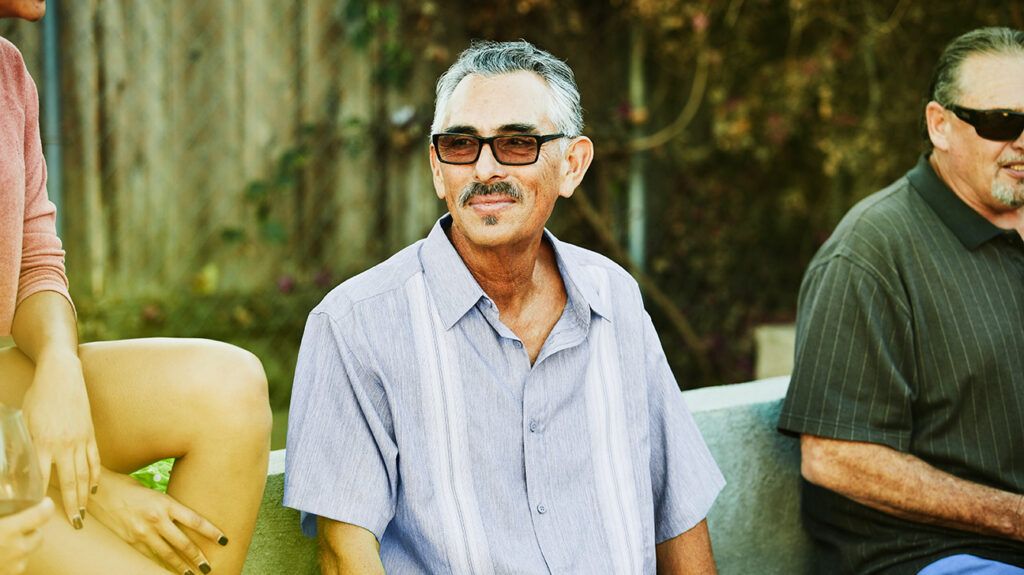 While some may believe that substance use disorders (SUDs) impact those living with the condition in similar ways, the truth is that due to racial and ethnic disparities, historically marginalized communities may experience SUDs and access to treatment quite differently.
The 2020 National Survey on Drug Use and Health (NSDUH) found that 12.7% of Hispanic or Latinx people ages 12 and older, or 6.2 million people, had a substance use disorder (SUD). When looking at those over the age of 18, the prevalence was even higher, with 13.5%.
Yet, 94.8% of those ages 12 and older who were classified as needing SUD treatment in a specialty facility like a hospital, mental health center, or an inpatient or outpatient rehabilitation facility didn't receive such specialty care.
A 2020 review study found that those in the Hispanic community may face several barriers that affect access to treatment, including:
higher rates of unemployment
less likelihood of having insurance
less access to internet
longer travel times to SUD service locations
Even when treatment is accessible, research from 2007 and 2020 suggests that — compared with white people — Hispanic Americans may face:
less successful treatment outcomes
lower satisfaction with treatment
shorter stays in SUD programs
While the barriers mentioned above may explain some of the disparity, 2007 research suggests a cultural mismatch between clinicians and clients may be at work as well. Some evidence indicates a clash in values, beliefs, and practices between Latinx cultural traditions and how treatment programs are structured.
In this article, the gender-neutral term Latinx is used to refer to folks who identify as "Hispanic," "Latino," "Latina," or "Latinx" in the United States. This typically includes individuals with ancestral origins from Latin America.
When data is reported, or studies are referenced, terminology from the original data source is used.
Manuel Cano, PhD, assistant professor of social work at University of Texas-San Antonio, studies SUDs in Hispanic Americans. He says rates for substance use are higher among Latinx people who:
were born in the United States
lived more years in the United States than more recent immigrants
use English more than they use Spanish
It's important to emphasize the Latinx community comprises numerous diverse subgroups and is not a monolith. It's also important to note that substance use varies across heritage groups and locations.
For instance, research from 2015 indicates that Mexican Americans reported higher rates of alcohol use disorder, whereas Puerto Ricans were more likely to report illegal drug use. Plus, among the subgroups, Cuban Americans were less likely to remain in treatment. Still, the scientists acknowledged that their study had limitations and more research is needed.
While there are unique factors that may impact substance use for the Latinx community in the United States, they may vary across subgroups, location, gender, and type of substance. Nevertheless, some of these contributing factors may include:
Untreated mental health conditions
The United States Census Bureau estimates that 18.5% of the U.S. population is Hispanic or Latinx — more than 61 million people. Plus, the 2020 NSDUH reports that 18.4% of people with Hispanic or Latinx backgrounds were living with a mental health condition (other than SUD) in 2020.
Untreated mental health conditions are often cited as one possible root of substance use.
While the presence of other mental health conditions is not unique to the Latinx community, it may still contribute to high rates of SUDs.
Discrimination
A 2014 study found a relationship between substance use and discrimination among people from the Latinx community. While researchers observed some differences with regard to gender, whether people were born within or outside the United States, and ethnic subgroups, they nonetheless concluded that discrimination affected the health and well-being of all members of the Latinx community.
Since it can be stressful when a person or group is treated differently than other groups of people, individuals belonging to marginalized groups may respond to discrimination with potentially harmful coping mechanisms such as substance use.
Acculturation and assimilation
Acculturation refers to culture change and a transfer of values such as religious, social, and health values from one group to another.
Assimilation refers to the process individuals and groups of different backgrounds go through, such as learning a new language, when they adapt to a new, dominant culture of a society.
Both acculturation and assimilation have been found to impact substance use within the Latinx community, for example in 2008 and 2019 research.
"The stressors of adapting to life in the [United States] and the accompanying stressors of difficult working and living conditions may be what partially explains the link between acculturation measures and substance use," says Cano.
Socioeconomic status
Socioeconomic status refers to several social and economic factors in a person's life, including:
work experience
access to family resources
social position compared with other people
According to a 2019 report of the Joint Economic Committee of the United States Congress, Hispanic workers earn 74% of what the typical white worker earns. Plus, Hispanic households are 1.7 times as likely to live in poverty than white households.
Cano notes that "The cumulative effects of marginalization can lead to coping with this stress via use of substances in some cases. It is also possible that time spent working in very demanding occupations in the [United States] can also lead to initiating drug use in some cases when drugs are available (e.g., using methamphetamine to stay awake and alert when working multiple jobs or night shifts)."
Though research and awareness about mental health and substance use in the Latinx community is increasing, more still needs to be done.
While there are many models for treating substance use, the Latinx community may benefit from a biopsychosocial or sociocultural treatment approach that considers causes and solutions for substance use disorders to derive from many factors including:
cultural
biological
psychological
social
To learn what might help improve the quality of care for Latinx populations, Psych Central spoke with Sheila Vakharia, PhD, licensed master social worker, former social work professor specializing in addictions, and deputy director of the Department of Research and Academic Engagement at Drug Policy Alliance.
Here are some ways Vakharia suggests treatment can be overhauled to more adequately respond to the needs of the Latinx community on a systemic level, with societal and political support.
Widely expand coverage
The ability to access treatment can depend largely on where you live and how many programs, if any, are in your immediate area. Since accessing treatment for substance use intersects with issues of infrastructure and health equity, it would help if policymakers and communities began expanding coverage geographically.
"We know that lots of people live in rural and suburban communities across the country, where public transportation infrastructure is basically nonexistent. You have to have access to a car to even be able to get to a treatment program. That's not even including methadone clinics, of which many people do not even have a methadone clinic in their county," Vakharia says.
Expanding coverage also means expanding access to insurance programs. A recent Kaiser Family Foundation analysis found that 28.9 million people were uninsured in the United States in 2019 and that Hispanic people were disproportionately impacted. In fact, Hispanic individuals were found to be over 2.5 times more likely to be uninsured than their white counterparts — or 19.1% compared with 7.1%.
Emphasize the community and family instead of the individual
Many Western approaches to treating substance use emphasize an individual approach to treatment. Common messaging includes the notion that reducing time with other people who use will reduce the likelihood of use.
The common suggestion to reduce time with loved ones who use drugs may not be compatible with Latinx people who prioritize tight family and community bonds.
For treatment to be successful, clinicians and program developers may benefit from developing programs in accordance with family-oriented cultural and religious values.
Another common trope of many treatment programs is "you can't help people if you're not helping yourself," an idea that isn't quite compatible with someone who, for example, may be supporting their family financially.
"Familismo" is a term used in Latinx culture that underlines the importance of family, a concept that treatment interventions may benefit from adopting.
Research from 2021 supports the idea that family-oriented treatment may help improve treatment outcomes, especially for young people with substance use.
Make treatment accessible
Some levels of care for treating substance use disorder and addictions involve inpatient programs that can last for 14, 28, or even 90 days.
"If you are the breadwinner in your family, [you may think to yourself] 'I will sacrifice my addiction treatment to pay the bills at home,'" Vakharia says.
According to a 2006 book chapter from Center for Substance Abuse Treatment on addressing diverse populations, various levels of outpatient care may work toward broadening overall accessibility to marginalized groups, including Latinx people, by, for example:
setting up outpatient groups in people's native language (while keeping in mind that some may prefer a group held in English)
including a strong outreach component
partnering with agencies and groups that deliver complimentary community services such as child care, English-as-a-second-language classes, or medical and other services that people may need to stay in SUD treatment
providing meals and transportation stipends to avoid additional costs
Other things communities and mental health professionals may offer to help increase accessibility are:
increased time flexibility
allowing for video, text, and phone visits
Train and hire more Latinx social workers
Social workers play a pivotal role in recovery as they are often the primary healthcare professional who serves people with SUDs. Research from 2013 found that 71% to 87% of social workers reported working with people facing the condition.
Since social work is a predominantly white profession, Latinx people seeking treatment for substance use are more than likely to encounter a white social worker who may not understand their unique needs.
Culturally responsive prevention and treatment is listed as one sociocultural factor in accessing treatment in SAMHSA's 2020 report "The Opioid Crisis and the Hispanic/Latino Population: An Urgent Issue."
Some reasons more social workers from non-white backgrounds would be helpful include:
reducing language barriers
developing rapport
overall cultural competency
Wherever possible, medical professionals offering treatment may benefit from trying to implement the National Standards for Culturally and Linguistically Appropriate Services (CLAS) in Health and Health Care.
This is a document created by a collaboration between the U.S. Department of Health and Human Services and Office of Minority Health, which outlines how healthcare organizations can:
increase health equity
improve quality
eliminate health care disparities
Many view culturally competent care as simply providing interpreters or merely hiring bilingual staff. This couldn't be further from the truth.
"Cultural competence can mean [language], but significant portions of the Latinx community in the United States call English their first language. It doesn't necessarily mean linguistics, although linguistics are really important, but also the understanding of cultural and family values," says Vakharia.
Below are three examples of interventions healthcare professionals may consider implementing to reduce barriers to care and improve treatment outcomes for the Latinx community facing SUD.
Keep in mind that these examples were highlighted in an 2020 SAMSHA issue brief and are related to opioid use disorder but the overarching approach may be applied across several kinds of SUDs.
Implement a screening process for substance use in a variety of healthcare settings
In 2018, 57% of opioid-related overdose deaths in New Mexico were among Hispanics.
Conducted over 5 years, the New Mexico Screening, Brief Intervention and Referral to Treatment (SBIRT) project was launched in 6 sites across the state in community health centers, border counties, and rural areas to screen adults in a variety of healthcare settings for substance use and better connect them to further treatment.
Offer services that help build overall stability
Reducing food insecurity, securing adequate housing, and offering employment training may help improve treatment outcomes.
Bellevue Hospital in New York City, an addiction treatment clinic, provides holistic care by connecting clients to community organizations that assist with overall stability.
Tailor substance use-related public health prevention messages
Reaching people within the Latinx community through platforms they may use more frequently may help raise awareness and reduce barriers and stigma.
CETPA, a Georgia-based nonprofit that provides behavioral health services to the Latinx community, created a media campaign in Spanish produced in partnership with local Spanish TV stations that educated the local community on opioid use disorder.
Even as the medical community and society as a whole work to reimagine what treatment for substance use disorder looks like for the Latinx community, know that help is available and healing is possible.
If you or someone you love is facing an SUD, consider reaching out to a trusted healthcare professional for an evaluation and to explore your treatment options.
If you identify as Latinx and are in recovery and would like to be part of training healthcare professionals in providing competent care, consider checking out a training to become a peer recovery coach.
Where to find immediate support via Spanish-speaking hotlines