If your spouse won't go to marriage counseling, there are some things you can do. Whether you convince them of the positives of counseling or find another option, you can find happiness.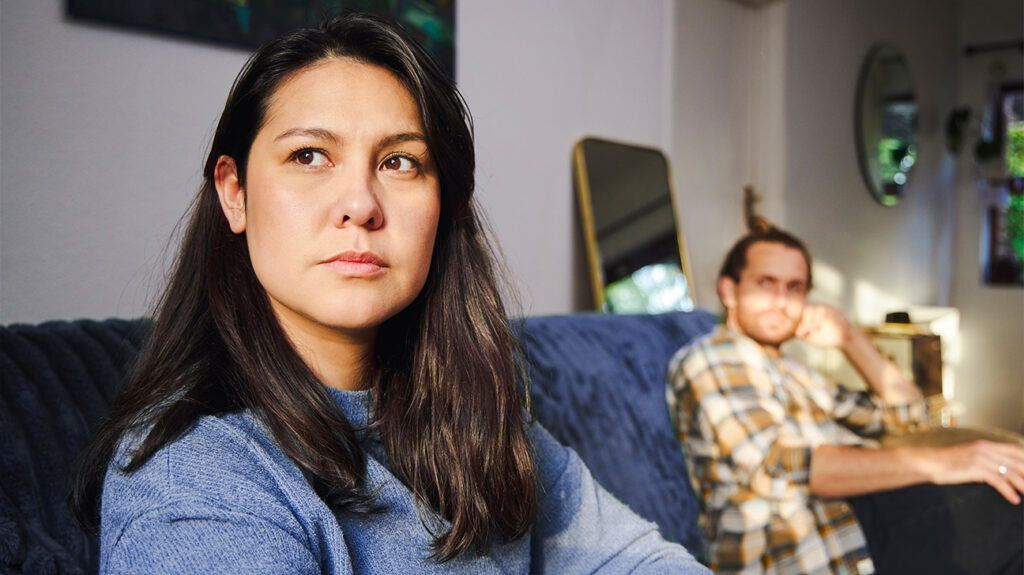 As you begin to experience stressors in your relationship, it can take a toll and contribute to a breakdown. These stressors might include financial issues, work, children, infidelity, and other life changes.
If this happens, couples counseling could be a beneficial option, but your partner might not be on board.
Your partner might refuse to go to couples counseling because they think you can work through the issues without professional help.
Or, they might have also had a bad experience with counseling in the past and believe that it could ruin the relationship. In other instances, your partner might not want to acknowledge that something needs to change.
When you get married or enter a serious relationship, you likely don't plan on attending couples counseling down the road. But counseling can help you improve your relationship. It can help you see one another's perspective or build positive habits to meet each other's needs.
2019 research shows that Emotionally Focused Couples Therapy (EFCT) can improve relationship satisfaction. Experts followed up with couples who experienced an improved relationship through therapy and found long-term satisfaction.
EFCT can help each of you understand how your response affects the other. Without understanding, you can experience problematic behavior and reactions. This therapy can help you identify destructive cycles and overcome them.
Another beneficial treatment option to discuss is discernment counseling. The therapist will focus on each partner individually, encouraging clarity and confidence in the relationship.
When talking with your partner, highlighting these positive aspects can help. You can focus on the collaboration of understanding one another's perspectives to ensure that it isn't one-sided.
Your partner might be more likely to agree to attend counseling if they know you want to learn how to be better too. Consider visiting Psych Central's resource page for online relationship therapy services that may best suit your needs, such as Our Relationship.
You can try self-help books if your partner doesn't want to go to counseling. Research from 2018 shows that reading can help you overcome problems and understand why things happen. It can also provide emotional benefits and encourages personal improvement and growth.
If you'd like, consider starting with the following self-help books for relationships:
I Hear You: The Surprisingly Simple Skill Behind Extraordinary Relationships, written by Michael S. Sorensen
Relationship coach Michael S. Sorenson wrote this short read to help you improve your conversations with your partner. He teaches readers to approach a conflict calmly and de-escalate the situation. You can also learn to share your opinion in a non-offensive way.
Getting The Love You Want: A Guide for Couples, written by Dr. Harville Hendrix
Learning about the science behind love can help improve and build a more supportive relationship. Dr. Harville Hendrix focuses on communicating more effectively and discusses Imago therapy, focusing on the unconscious images of love.
The Seven Principles for Making Marriage Work, written by John M. Gottman
Psychology professor John M. Gottman discusses how a happy relationship consists of seven principles. These principles include:
maintaining a love map
fostering fondness and admiration
turning toward one another
accepting influence
solving conflicts
coping with problems that you can't change
finding shared meaning
If your partner doesn't want to go to a counseling session, you may consider trying a couple's workshop, such as Harville and Helen, instead.
It can help you learn ways to understand one another and why things happen. A couple's workshop can help you strengthen your relationship.
If your partner doesn't want to go to marriage counseling, you can try different exercises instead. An alternative approach to therapy can help improve your marriage and strengthen your bond. Consider spending a set amount of time discussing your relationship and feelings daily.
You can also go on regular dates to spend quality time together while working on your marriage. Another idea is to make it a point to do nice things for one another each day.
Taking time to focus on your relationship can improve the situation and help you understand one another.
You don't have to give up on seeing a marriage counselor if your partner won't go. Going to couples counseling alone can improve your relationship by helping you with your part of it.
Focusing on yourself can encourage your relationship in a positive direction. Plus, going to marriage and family counseling alone can help you cope with the stress of relationship problems.
Your relationship can survive without counseling if each of you is willing to put in the effort.
Trying another exercise instead of counseling can improve your relationship and help you overcome the problems. For instance, you may consider trying an app like Coral or Love Nudge, which could help strengthen your relationship in little ways.
It's up to you to decide if you're OK with trying something other than counseling.
The bottom line is that you can't force your partner to attend marriage counseling. You might be able to change their mind, but you may have to come up with another solution instead.
Your relationship doesn't have to end if your partner doesn't want to go to counseling. You can try other strategies, but how you want to progress is up to you. You can work on strengthening your relationship or moving on if you think it's best for you.
While you can't force your partner into counseling, you can go yourself and see what you can do to improve the situation. When your partner sees you working on the issues, it might encourage them to do the same.