Cows can be lovable, huggable creatures — and a bonding session might be just what you need.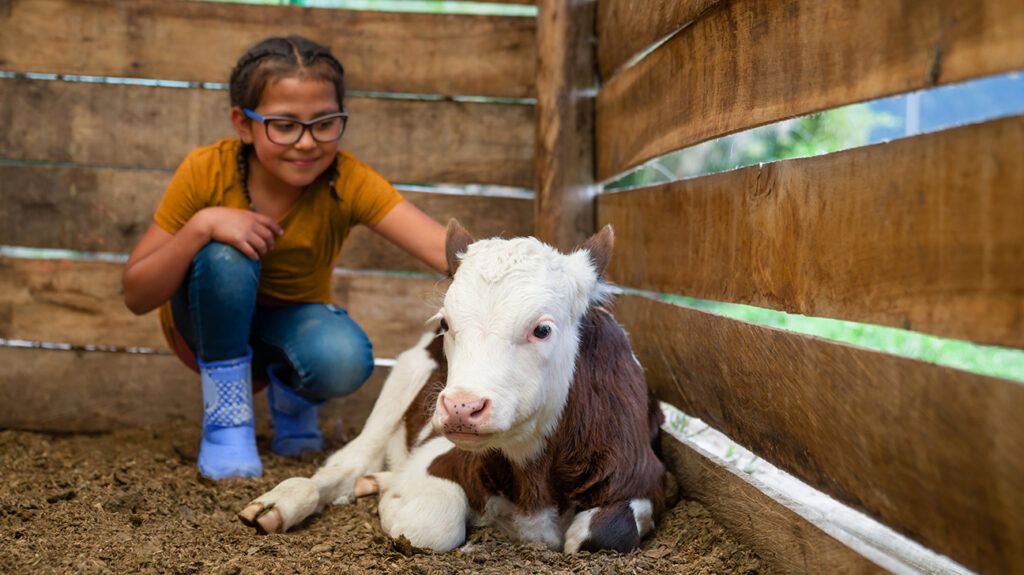 When it comes to cuddly animals, chances are the first animal you think of isn't a cow. (It wasn't ours either!).
But at least one California-based nonprofit, the Gentle Barn, is offering cow hug therapy to help people who are feeling down or anxious feel just a little bit better.
Other farm sanctuaries offer similar cuddling sessions with bovines too. It's also popular in the Netherlands, where it's been practiced in the rural provinces for about a decade.
In short: Just what it sounds like. For one hour, you can book a private session to cuddle, pet, or just hang out with a cow at the barn.
If you want, you can bring one extra person to the session, too — though two people are the max in order not to overwhelm the cow.
The Gentle Barn claims that this can help you feel grounded, rejuvenated, and relaxed. They even suggest it could help combat compassion fatigue.
And all around the world, people seem to be enjoying (and posting on social) their cow-hug experiences.
Well, cow hugging is kind of new, but a 2011 study did show that animal-assisted therapy with farm animals — specifically cows — was beneficial in reducing depression in people with psychiatric disorders. So maybe the folks at the Gentle Barn are on to something.
Plus, there is research to support the idea of animal-assisted therapy more generally.
A 2014 study has shown that dogs, cats, fish — even robotic animals — can boost our health in several ways, like lowering blood pressure and making us feel:
A 2019 study, for example, found that watching dog videos or interacting with a dog helped lower students' stress levels and boosted their mood.
In addition, a 2020 study found that animal-assisted therapy with a bird could boost happiness in chronic psychiatric patients who had been living in a nursing home in Tehran, Iran.
A review article also found benefits for people with:
depression
autism
dementia
schizophrenia
In addition, when we hug someone — including animals — it can release the chemical oxytocin, a hormone that has been associated with:
bonding
love
happiness
less stress
Hugs can also reduce fear and anxiety while boosting self-esteem.
Cows are pretty big animals, sometimes weighing thousands of pounds, so if they don't like the idea or they're feeling a little hugged-out at the moment, they could probably hurt you with a kick.
You can ask first to confirm farm sanctuary staff and caretakers first make sure the cows aren't feeling too overwhelmed. You could also ask what's the best way to approach the cows. The farms and sanctuaries that offer this practice tend to choose cows that don't mind a lot of human interaction.
An older 2007 study on cows has shown that cows do like being massaged in certain places on their body, including their upper back and neck.
While there hasn't been a ton of peer-reviewed research into cow hugging directly, there is evidence backing up the idea of animal-assisted therapy because it can help lower tension, ease sadness and depression, and lower your heartbeat. And cows — even though they're big — can give great hugs as we pat their necks and back gently.