Also known as "cannabis lite," delta-8 THC is popping up all over the United States.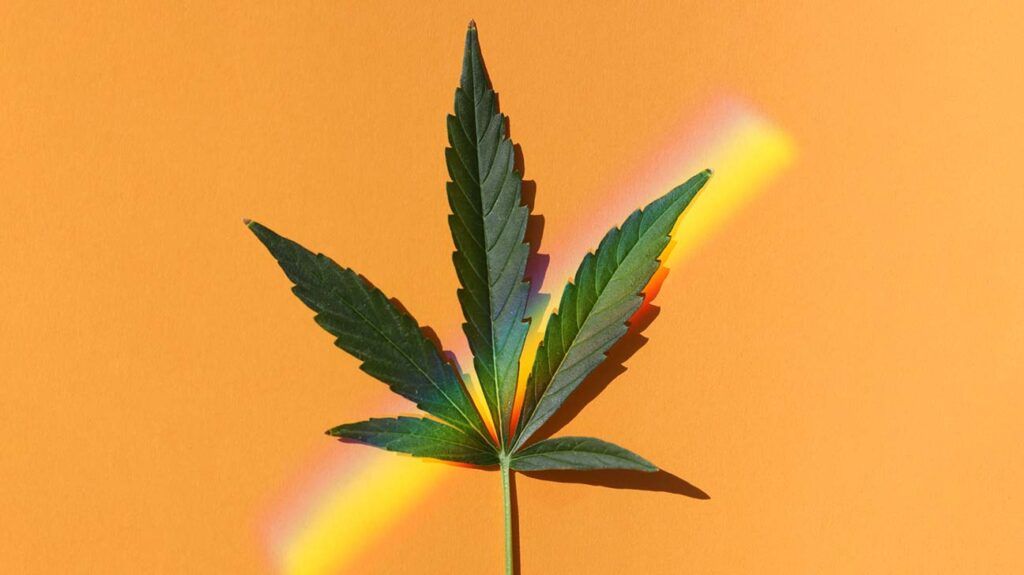 One summer morning on a recent trip to a mostly vaccinated New York City, I was strolling through a charming neighborhood in South Brooklyn in search of coffee and a smoothie.
The sun was shining and there was a sense of lightness in the air. The heaviness of the COVID-19 pandemic had lifted, and maskless faces were all smiles. It was during those brief, delightful days before the arrival of the Delta variant when we'd temporarily convinced ourselves that COVID-19 was over.
Serendipitously, I wandered into a bohemian café that lured me in like catnip with its lush windowsill plants, sage wands, and crystals. But what really caught my attention was the chalkboard sign on the sidewalk that read, "Delta-8 THC Sold Here."
I was curious. Cannabis had recently been legalized in New York, but it was still too soon for it to be available at a dispensary, let alone a coffee shop.
I placed my order for a blue spirulina and cashew milk smoothie and inquired about the sign.
"What's delta-8 THC?" I humbly asked the sales associate. "I'm not from around here."
"It's like CBD, but slightly stronger," they replied.
"Great," I said. "I'll take some of those lemonade gummies."
The sales associate recommended half of a 25-milligram (mg) delta-8 gummy to start. In hindsight, I found that one-eighth of this small but mighty gummy was a more appropriate dose for me.
At some point during that blissful immersion, I wondered how this substance could be legal. Delta-8 is also widely available in states like North Carolina, where I live, and where cannabis restrictions are much tighter.
So, I talked with a few industry and medical experts about this trendy strain of cannabis to find out more.
Delta-8 tetrahydrocannabinol, or delta-8 THC, is one of over 100 cannabinoids found in the Cannabis sativa plant. Also known as "cannabis lite" and "diet weed," delta-8 has become increasingly popular among cannabis enthusiasts in recent years.
In fact, a 2022 study shows a 700% increase in online searches for delta-8 THC. The data indicates that searches for delta-8 were about 10 times higher in the United States than other countries, with 22.3 million searches occurring during the first 8 months of 2021.
As a cannabinoid, delta-8 THC is found in cannabis and hemp plants. It combines with proteins called cannabinoid receptors, which are found on the surface of cells within the body.
Delta-8 THC is also a psychoactive substance. It's structurally and biologically similar to delta-9 THC, the main component of the cannabis plant that produces a "high."
Although the effects of delta-8 are not as potent as its delta-9 counterpart, the Food and Drug Administration (FDA) has issued a warning about the safety of delta-8 products.
Lewis Jassey, DO, medical director at Leafwell, says a key difference between delta-8 and delta-9 THC is "the location of a double bond between two carbons."
"This slight difference can cause big differences in effects," Jassey explains. "For people who are particularly sensitive to delta-9 THC but still want the mood-elevating, appetite-stimulating, and pain-relieving effects, delta-8 THC may be particularly useful."
Jassey says that delta-9 is more known for its "biphasic effects," meaning it can have different effects at different doses.
"Those with anxiety may find that a small amount of delta-9 THC can alleviate their anxiety," says Jassey. "Take a little too much, however, and delta-9 THC can induce anxiety."
Proponents of delta-8 THC have described it as delta-9's "nicer, younger sibling," according to a 2021 study, the largest research study on delta-8 to date.
Daniele Piomelli, PhD, director of the Center for the Study of Cannabis at the University of California, Irvine, explains that while delta-8 activates cannabinoid receptors with less potency than delta-9, it can still get you high.
Though it's been around since the 1970s, the recent rise in delta-8 THC's popularity may be attributed to legal loopholes.
For starters, delta-8 is found in a minuscule fraction of the cannabis plant. It can also be chemically synthesized from CBD (cannabidiol), which is widely touted for its potential medicinal and therapeutic benefits. CBD is not as intoxicating as delta-9 because it does not directly stimulate cannabinoid receptors.
Liz Rogan, founder of the Cannabis Business Council of Santa Barbara County, says that hemp-based delta-8 is legal because of a loophole in the 2018 Farm Bill, which legalized hemp and hemp products.
"Delta-8 interacts with both the CB1 and CB2 receptors, so it [may] help many of the same conditions as cannabis, and since it's hemp-derived, it's legal in all states," Rogan says.
It's important to note that delta-8 would still produce a positive result on a drug test, she adds.
Still, Rogan says the most important thing you should know about delta-8 products before trying them is that they're unregulated, which means you should exercise caution.
"If you were to try a product made with delta-8, I would suggest choosing from a Colorado or California company that has a good long-term reputation with constantly updated, consistent lab results, and learning as much as you can about how they make their products," Rogan says.
"Also when trying any THC products, start with a very low dose (below 5 mg) and know that edibles, like gummies, can take up to 90 minutes to take effect," she adds.
Research on the efficacy and safety of delta-8 THC products is currently limited, and most evidence is anecdotal. Some reports suggest that delta-8 THC may be helpful for certain conditions, but it's a good idea to consult a healthcare professional first.
Mental health conditions
According to Jassey, some people may find delta-8 helpful for managing symptoms of depression and anxiety, and other mental health conditions, as some anecdotal reports suggest.
For instance, results from a 2021 survey suggest that delta-8 THC may be just as effective as delta-9 and pharmaceutical drugs, possibly resulting in fewer undesirable or adverse effects.
Researchers found that 51% of survey participants used delta-8 THC to treat a range of mental health and medical conditions, such as:
"The above findings, though promising, should be taken with a pinch of salt," says Jassey. "The sample size is not given, and questionnaires are prone to bias and a certain amount of subjectivity."
Piomelli says there's still not enough credible evidence to recommend delta-8 for treating mental health conditions.
"I would avoid using either [delta-8 or delta-9] for mental health conditions — even though they might temporarily attenuate some symptoms, I'm concerned about long-term detrimental effects," Piomelli says.
Chemotherapy and cancer treatment
Research on the benefits of delta-8 for relieving symptoms associated with chemotherapy is limited and dated. But an older study from 1995 found that administering delta-8 before chemotherapy in children with cancer prevented nausea with only minor side effects.
"There is strong evidence that delta-9 THC alleviates nausea and pain, so it's not surprising that delta-8 THC produces the same effects in cancer patients, especially when they are treated with chemotherapeutic drugs," Piomelli says.
"Activation of these [cannabinoid] receptors produces a host of effects in lab studies, but only a few have been convincingly demonstrated in people — including alleviation of nausea and chronic pain," he says.
Older research from 1973 shows that delta-8 THC was about 50% to 66% less potent than delta-9 THC — but this was long before the mass production of designer gummies, tinctures, and chocolates.
And though delta-8 is still less potent than delta-9, the FDA has issued a stark warning about its safety. Here are some of the key takeaways:
Delta-8 products have not been evaluated for safe use and may be marketed in ways that compromise public health safety.
Adverse events and reactions have been reported to the FDA about products containing delta-8 THC.
Delta-8 THC produces psychoactive and intoxicating effects.
Products containing concentrated amounts of delta-8 THC may contain harmful chemicals.
Delta-8 THC should never be used by children or pets.
Accidental poisoning
As an expert in cannabis regulation and compliance, Rogan echoes the FDA's warning. She says there's been an increase in calls to poison control centers and emergency room visits due to delta-8 THC.
"Random lab tests have shown wide variances in potency, and there is no GRAS [generally recognized as safe] status," Rogan says. "It's a total gamble."
Delta-8 THC is not classified as a controlled substance, which means it's widely available throughout the United States to adults 21 and older.
Depending on where you live and the cannabis laws in your state, some children may be able to gain access to delta-8, such as those who have a medical cannabis card.
Although the sale of cannabis to minors is prohibited by federal law, accidental exposure is common among children.
"It's frustrating because delta-8 has a lot of potential to help people, especially in places where cannabis is prohibited," Rogan says. "But until there is more standardization and research, I truly don't feel safe recommending it [for mental and physical health conditions]."
Potential for toxicity
Delta-8 THC is made synthetically in a lab, which has sparked concern among scientists.
Because there are no regulations and safety tests for products containing delta-8 THC, the products could contain harmful chemicals as a result of the manufacturing process.
In addition, Rogan explains that the Cannabis sativa plant is a "phyto-accumulator plant," meaning it has the ability to uptake toxins found in soil, which then become concentrated in the plant and in the oil.
Because of this unique ability, Rogan says that cannabis is currently being used at places like Chernobyl and superfund sites in the United States to help with soil remediation.
"This is why it's crucial to get lab-tested products," Rogan says. "In addition to the heavy metal, pesticides, mold, and other potential contaminants, lab testing is important to ensure that the product sold matches the label (i.e., mg dosage) because due to the lack of regulation, these products are sold at a high markup and with no oversight or regulation."
Cognitive impairment
A 2022 research review looked at 10 meta-analyses that included more than 43,000 participants and found that cannabis use led to acute and persistent cognitive impairments.
Because delta-8 THC activates the same cannabinoid receptors as delta-9, prolonged use of delta-8 could also lead to cognitive decline.
"It's reasonable to assume that the side effects of delta-8-THC would overlap with those of delta-9 THC," Piomelli says.
"Though the chemical difference between the two compounds is tiny, it could be enough to allow interactions with other proteins which could lead to as-yet-unseen side effects," he says.
In smaller, manageable doses, I've found delta-8 THC to be relaxing versus anxiety-inducing. But learning the potentially dangerous side effects of this unregulated substance makes me apprehensive about trying it again.
If you're interested in using delta-8 to manage a mental health condition, you may want to do some more research and talk with your doctor first.
"When it comes to synthetically produced delta-8 THC, it's always best to be wary," Jassey says. "Hopefully, as cannabis growers and breeders improve their techniques and ability to select for minor cannabinoids, this will change in the future."
Though we're still a few years out (at least), legalizing cannabis at the federal level could mean more safety regulations for products containing delta-8 THC, which is a good thing.
"I don't anticipate it happening in the very near future," Rogan says. "[But] I think we'll continue to see many states come online with both medical and recreational legislation, and we'll also see a global movement as more countries are welcoming the same changes."
---
Andrea Rice (she/her) is an award-winning journalist based in Raleigh, North Carolina. As a staff writer for PsychCentral, she covers mental health news and trending topics. Her work has appeared in news outlets such as The New York Times and INDY Week, and wellness publications such as Yoga Journal, Verywell, and mindbodygreen. As a yoga and meditation teacher since 2010, Andrea's book, The Yoga Almanac, offers seasonal practices to nourish the body and mind. Connect with her on LinkedIn and Twitter, and read more of her work on her website.