When she felt mainstream spaces failed her, Gloria Lucas stepped up for BIPOC and created new opportunities of representation and healing.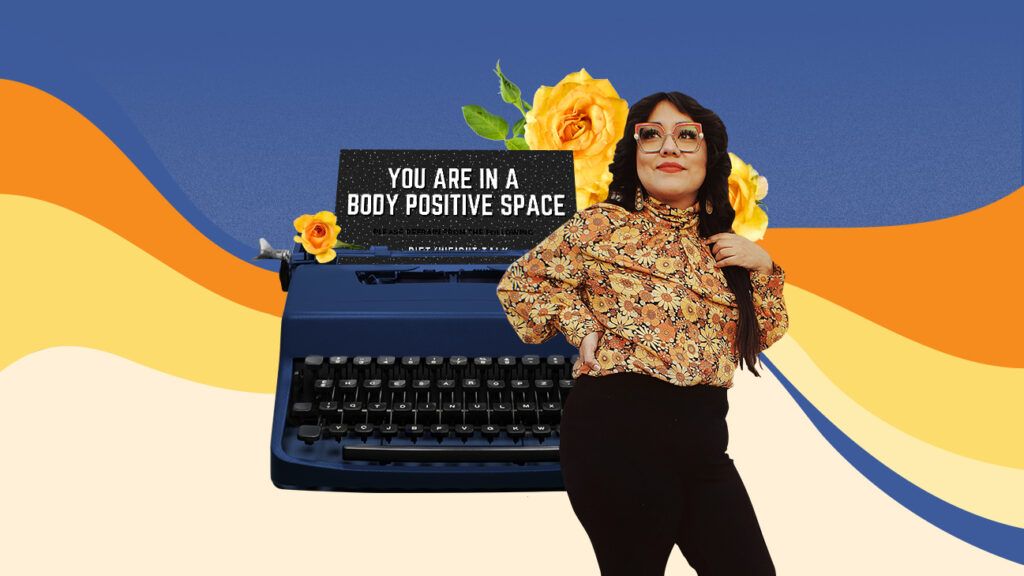 A decade ago, 20-something Gloria Lucas picked up BUST magazine from the shelves of an independent record store in Riverside, California. She flipped open the feminist publication to an article on women and food featuring the artist Lee Price.
It was there that an inkling for what would become her life's work was born.
On the heels of an eating disorder, Lucas stared at the magazine pages. She took in the lifelike paintings of naked women. They appeared in bathtubs indulging in mounds of Chinese takeout and laying in bed surrounded by half-eaten cupcakes of every flavor.
In Lee Price's art, Lucas saw a vibrancy missing from the typical eating disorder representations. Those often feature stock photos with images of thin white women looking distressed over a small salad plate.
The experience inspired her to create Nalgona Positivity Pride (NPP), an organization dedicated to education and community-based support for Black, Indigenous, communities of color (BICC) living with eating disorders and body image challenges.
Nalgona translates to "girl with a big butt."
As it's proudly stated on NPP's website, the organization "emerged out of a great need not only to shed light on the experiences and barriers that exist in BICC affected by body-image and troubled eating but to create opportunities of healing by and for BICC."
Since NPP's launch in 2014, Lucas, now 30 years old, has spoken extensively about historical trauma's role in the development of eating disorders. She's taken her message everywhere, from Planned Parenthood to the Eating Disorder Foundation to Harvard University.
"I wanted to create a project that had multiple formats: art, activism, public speaking, and merch," says Lucas.
Nowadays, NPP's Etsy shop includes art prints and T-shirts decorated with slogans such as "Matriarchal Brilliance" and "Perfectionism and Food Deprivation Are Rooted in White Supremacy."
NPP also facilitates support groups for Black, Indigenous, and People of Color (BIPOC), LGBT folks, and people who are transgender. Currently, it's at work on offering online courses such as Harm Reduction for Eating Disorders.
Reframing 'nalgona'
In some online spaces, the term "nalgona" conjures exoticized images often used as hypersexualized objects. It's also been used as a warning to mean "you are gaining weight."
In the world of Nalgona Positivity Pride, nalgona, if you want it to be, is a compliment, a source of power, and a reclamation.
When "Nalgona" was written in giant letters on a banner at a popup market also founded by Lucas, playful smiles and intrigue appeared on bypassers' faces.
A big butt then became not a sexual object or a source of shame but a reason to laugh.
Lucas' activism is rooted in scholarship, such as the work of Dr. Joy DeGruy and Sonya Renee Taylor. Yet, it remains unstuffy and is fit for the meme generation.
Humor is what powers NPP's Instagram account, which boasts over 100K followers.
Just recently, the account reposted a meme originally shared by "frogwitch." It showed a sassy frog's philosophy that easily could be NPP's own: Ass: Fat. Stomach: Not flat. Attitude: Talks smack.
Filled with unapologetic images of people in larger bodies, NPP's Instagram is multifunctional. It serves as a comedy club, a source of health information, a therapy for the impact of historical trauma, and a college seminar on Indigenous women resisting colonialism and patriarchy.
The account has more than 18,000 posts and reminds followers that healing from eating disorders is a non-linear process. Also, to acknowledge that the relationship with food, in a sociopolitical context, is highly complex.
"I'm not a perfect Instagram DJ," Lucas tells Psych Central. She isn't immune to a platform notorious for comparison and exacerbating one's insecurities. "I don't think there's a lot of space or representation on Instagram, that shows when you're 'in it.'"
She explains how her vulnerability on social media is a tradeoff for sustaining a community where people identify with authenticity. They don't take themselves too seriously but realize they may need support exploring their relationship with food.
While social media can contribute to low self-esteem and feelings of loneliness for some people, it can also counteract isolation and be a source of positive reinforcement.
Yet NPP's Instagram is more than a community — it provides a missing service in an eating disorder landscape that traditionally centers on the experiences of middle-class white women and seems to exclude everyone else.
NPP's Instagram is conceived as a body-positive space where you won't find the typical tableaus of eating disorder recovery: no weight-related accomplishments, no before and after photos, and no mentions of the scale.
"We let our bodies be unbound and free. It's the total opposite of being invisible," explains Lucas. "Being the daughter of immigrants, the messages I received in the media was to be as little as possible in more ways than one. I now really emphasize the importance of taking up physical space."
The feedback Lucas receives from social media followers is hopeful: NPP's posts are a point of entry for BIPOC folks to identify a dysfunctional relationship with food, raise awareness about a potential problem, and help prevent recurrence from eating disorders.
When Lucas first visited Overeaters Anonymous, she was the youngest in the room and the only person of color, she told The Appetite Podcast hosted by Opal: Food + Body Wisdom.
To look around and not see relatable faces likely made the already-hard experience of seeking help even harder.
The glaring lack of representation of BIPOC and people in larger bodies in the eating disorder support community extends beyond media. It's also present in healthcare settings where a Western approach to healing is often recommended.
NPP's work highlights the need to speak directly to the experiences of marginalized populations.
"It might sound depressing, but it [can] take BIPOC folks a longer time to realize that they might have a problem," says Lucas. "I've had people share that they go to my page, and the information has helped them go to treatment."
The quality of eating disorder treatment for BIPOC varies.
Lucas' perspective? "We need to talk about and address white supremacy. We need to talk about genocide, we need to talk about environmental degradation, and settler colonialism. We also need to celebrate what doesn't fit in the binary."
One of the ways NPP's content leads followers to examine their own relationship with food is by discussing racist beauty standards, weight stigma, food insecurity, and the impact of one's environment.
By unpacking the historical and societal layers of one's relationship with food, healing can begin. Only if it's a systemic effort and not merely an individual one, though.
Lucas says, "If we want people, especially Indigenous people, throughout the world to be liberated, and to have a beautiful relationship with food, then we have to restore their relationship to land and make efforts to support their autonomy and reclamation of ancestral wisdom."