Drug Class: Tetracyclic antidepressants
Table of Contents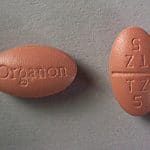 Overview
Remeron (mirtazapine) is classified as a tetracyclic antidepressants. It is used to treat depression and major depressive disorder.
This medication may improve mood and increase feelings of well-being.
This information is for educational purposes only. Not every known side effect, adverse effect, or drug interaction is in this database. If you have questions about your medicines, talk to your healthcare provider.
It works by helping change certain chemicals in the brain, which professionals refer to as "neurotransmitters." It is not yet well-understood why changing these neurochemicals results in symptom relief for the conditions this drug is commonly prescribed for.
How to Take It
Follow the directions for using this medicine provided by your doctor. This medicine should be taken with food. Continue to take this medicine even if you feel well. Do not miss any doses.
Side Effects
Side effects that may occur while taking this medicine include:
dry mouth
anxiousness
constipation
dizziness
confusion
nausea
increased weight gain
increased appetite
Contact your doctor immediately if you experience:
swelling of hands or feet
fast/irregular heartbeat
flu-like symptoms, fever, chills, sore throat, mouth sores, or other signs of infection
severe dizziness
blurred vision
fainting
trouble breathing
seizures
Warnings & Precautions
Let your doctor or pharmacist know if you are allergic to this medication, ingredients in this medication, or if you have any other allergies.
Mirtazapine may cause QT prolongation (a condition that affects the heart rhythm). This condition can rarely cause serious (rarely fatal) fast/irregular heartbeat and other symptoms (such as severe dizziness, fainting) that require immediate medical attention.
Talk to your doctor about your medical history of psychiatric disorders, such as bipolar or manic depressive disorder, a history of suicidal thoughts, angle-closure glaucoma, or personal or family history of stroke or heart disease.
This drug may make you drowsy or dizzy. Do not use machinery or drive until you are confident such activities can be performed safely.
Inform your dentist or doctor about all the products you use (including prescription drugs, nonprescription drugs, and herbal products) before having surgery.
Mirtazapine may contain aspartame. If you have phenylketonuria (PKU) or any other condition where you must restrict your intake of aspartame (or phenylalanine), check with your doctor before using this medication.
For an overdose, seek medical attention immediately. For non-emergencies, contact your local or regional poison control center at 1-800-222-1222.
Drug Interactions
Before taking any new medicine, either prescription or over-the-counter, check with your doctor or pharmacist. This includes supplements and herbal products.
Dosage & Missed Dose
Mirtazapine comes as a tablet and as a disintegrating tablet to take by mouth. It usually is taken once a day at bedtime. It may be taken with or without food.
Usual Adult Dose for Depression:
Initial dose: 15 mg orally once a day at bedtime Maintenance dose: 15 to 45 mg orally once a day Maximum dose: 45 mg/day
When taking the disintegrating tablet, open the blister pack with dry hands and place tablet on your tongue. It will disintegrate on the tongue and can be swallowed with saliva; it is not necessary to take with water. Once the tablet is removed from the blister pack, it cannot be stored. Do not split mirtazapine disintegrating tablets.
If you skip a dose, take your next dose as soon as you remember. If it is time for your next dose, skip the missed dose and go back to your regular schedule. Do not double doses or take extra medicine to make up for the missed dose.
Storage
Keep this medication in the container it came in, tightly closed, and out of reach of children. Store it at room temperature and away from excess heat and moisture (preferably not in the bathroom). Throw away any medication that is outdated or no longer needed.
Pregnancy/Nursing
If you plan on becoming pregnant, discuss with your doctor the benefits and risks of using this medicine during pregnancy. It may harm a developing fetus. It is NOT known if this medicine is excreted in breast milk. It is recommended that you DO NOT breast-feed while taking this medicine unless your doctor or pediatrician has recommended it.
More Information
For more information, talk to your doctor, pharmacist or health care provider, or you can visit this website, https://www.webmd.com/drugs/2/drug-20404/remeron-soltab-oral/details#uses for additional information from the manufacturer of this drug.