Drug Class: Antidepressant, MAO inhibitor
Table of Contents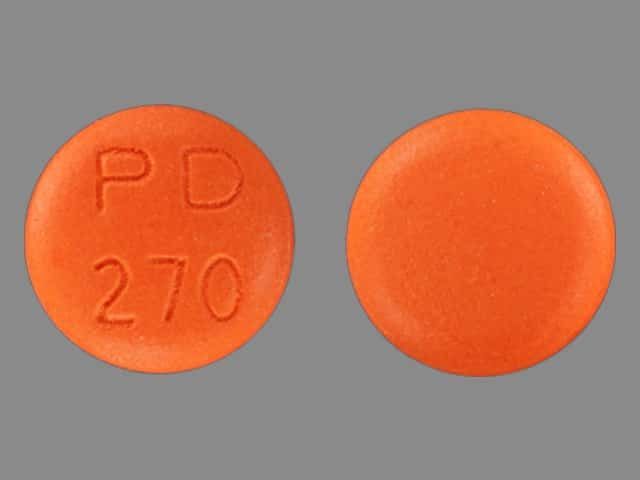 Overview
Nardil (phenelzine) is a monoamine oxidase inhibitor (MAOI) used to treat depression. It can improve your feelings of well-being and mood. Often this medication is used in treating those who have not responded to treatment using other drugs.
Your doctor may prescribe this medicine for other conditions such bipolar depression, panic disorder, and Post Traumatic Stress Disorder (PTSD).
This information is for educational purposes only. Not every known side effect, adverse effect, or drug interaction is in this database. If you have questions about your medicines, talk to your health care provider.
It works by helping change certain chemicals in the brain, which professionals refer to as "neurotransmitters." It is not yet well-understood why changing these neurochemicals results in symptom relief for the conditions this drug is commonly prescribed for.
How to Take It
Follow the directions for taking this medicine exactly as prescribed on your prescription bottle. Phenelzine comes as a tablet and is taken orally. Do not take more or less of this medication than your doctor has told you to.
Side Effects
Side effects that may occur while taking this medicine include:
upset stomach
weakness
diarrhea
dry mouth
drowsiness
anxiety
indigestion
unusually long or deep sleep
insomnia
constipation
impotence
Contact your doctor immediately if you experience:
chills
neck stiffness
severe stomach pain
swelling
rapid heartbeat
unusual thoughts or behavior
overactive reflexes
difficulty or painful urination
shivering
shaky arms or legs
dark urine
unusual weight gain
clay-colored stools
light-headedness/fainting
Warnings & Precautions
Tell your doctor if you are allergic to phenelzine or Nardil, or if you have other allergies.
When taking MAO inhibitors, avoid foods including aged cheeses, sauerkraut, yogurt, raisins, bananas, sour cream, pickled herring, liver, dry sausage, canned figs, avocados, soy sauce, turkey, yeast extracts, papaya products, fava beans and broad bean pods. These foods contain tyramine or tryptophan and should not be taken with this medicine and for 2 weeks following the discontinuation of this drug.
Tell your doctor right away if you experience vision changes, fainting, muscle stiffness, changes in sexual ability, mental or mood changes, tremors, shivering, swollen legs or ankles, or unusual weight gain.
Get medical help right away if you develop loss of coordination, fast heartbeat, hallucinations, unexplained fever, severe dizziness, severe nausea, diarrhea, or vomiting, twitching muscles, or unusual agitation. This medication may cause a serious condition called serotonin toxicity.
Avoid alcoholic beverages while taking this medicine.
Be cautious when driving or performing other hazardous activities. Phenelzine can impair judgment.
This medicine can cause dizziness or drowsiness.
Phenelzine may cause an attack (rare) of extremely high blood pressure, which may be fatal.
Cigarette smoking may decrease the effectiveness of this drug. Talk to your doctor if you smoke.
For an overdose, seek medical attention immediately. For non emergencies, contact your local or regional poison control center at 1-800-222-1222.
Drug Interactions
Avoid foods that are high in tyramine while you are taking Phenelzine. These include:
aged or smoked meats
meat extracts
spoiled meats, fish, or dairy products
beer and wine (alcoholic and non-alcoholic)
yogurt
hard cheese (cream cheese or cottage cheese are OK)
cold medicine that contains tyramine or dextromethorphan
large quantities of caffeine or chocolate
fava beans
sauerkraut
yeast extracts
Dosage & Missed Dose
Take Nardil exactly as prescribed by your doctor. Follow the directions on your prescription label. Your dose may be changed by your doctor to ensure you get the best results.
When taking Nardil, your blood pressure will need to be checked often.
Take your next dose as soon as you remember. If it is time for your next dose, skip the missed dose and go back to your regular schedule. Do not double doses or take extra medicine to make up for the missed dose.
Storage
Keep this medication in the container it came in, tightly closed, and out of reach of children. Store it at room temperature and away from excess heat and moisture (preferably not in the bathroom). Throw away any medication that is outdated or no longer needed.
Pregnancy/Nursing
During pregnancy, Nardil should be used when absolutely necessary. Consult with your doctor to discuss the risks and benefits. Do not stop taking this medication unless directed by your doctor.
It is not known whether this drug passes into breast milk. Consult your doctor before breast-feeding.
More Information
For more information, talk to your doctor, pharmacist or health care provider, or you can visit this website, https://www.nlm.nih.gov/medlineplus/druginfo/meds/a682089.html for additional information from the manufacturer of this drug.