Neurological development changes with age for everyone, even autistic folks. But that doesn't mean you can grow out of autism.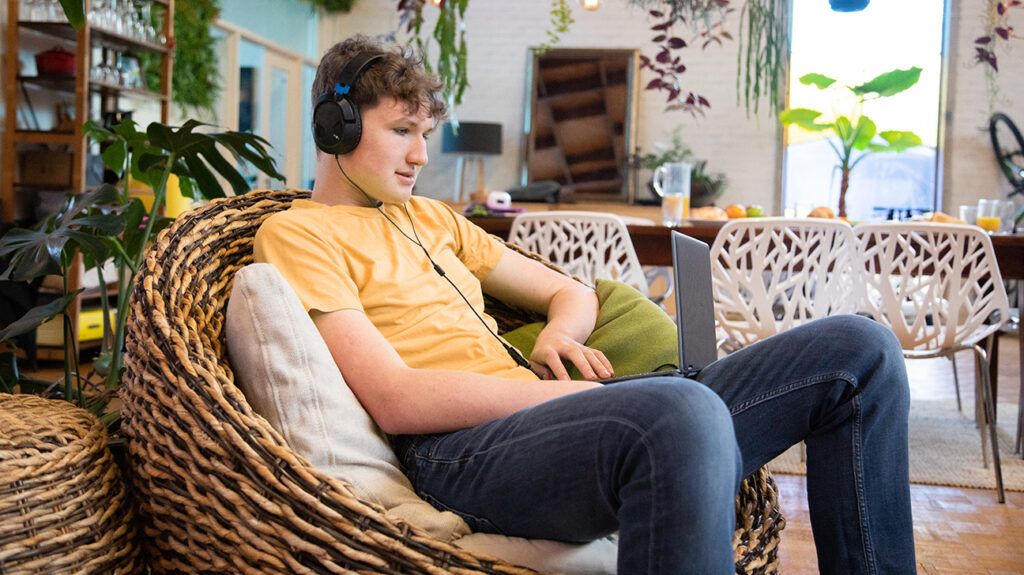 Autism spectrum disorder (ASD) is a neurodevelopmental condition that may cause difficulty with communication in social settings and lead to repetitive behaviors.
Conversations around autism often are often centered on autistic children. Many people may question the prevalence of autism in adults and whether the diagnosis can change over time.
Although how autism may present in an individual can change, an individual cannot grow out of autism.
"ASD is not an on and off switch," says Nicole Tetreault, PhD, a neuroscientist and author in Los Angeles. "It's an identification meant to help people get the proper supports and guides in place so they thrive and live in their magic."
A note on neurodivergent people
There is no cure for autism, and many people in the autistic community don't feel the need for one. Instead, they recognize autism as a neurotype rather than a disability or condition that needs to be cured.
Neurodivergent folks, including autistic people, may communicate in diverse ways. For instance, avoiding eye contact and fidgeting may help them concentrate better or feel more comfortable in conversation.
Many autistic folks consider ASD an aspect of their personality rather than something to improve or fix. This is connected to the idea of using language like neurodivergent or neurodiverse, which conveys a variance in neurological processing without placing any values or judgment.
Everyone — including neurotypical people — grows and develops at different rates throughout their lives. And because autism exists on a spectrum, one person's behavior can't be compared with another's.
"Humans develop asynchronously, [meaning] that regions of the brain grow at varying rates and time points and develop uniquely," Tetreault says.
Yet some autistic folks may develop different coping skills as they get older. For example, stimming preferences may change as an autistic person finds different ways to self-soothe.
Diane Gould, a licensed clinical social worker and a therapist in Chicago, says that autistic individuals can become more adaptable, especially when they get the support they need.
She adds that the inverse may also be true — people with ASD may become more rigid, anxious, and less willing to engage with the world if they don't get the support and accommodations they need to thrive.
Questioning whether an autistic person will "grow out of" their disorder is potentially harmful and fails to acknowledge autism as part of their identity.
Autistic folks shouldn't have to feel like they need to change, and placing the expectation on them could suppress a fundamental aspect of their personality.
As a result, some autistic folks may mask their identity to please others. And in doing so, they may appear on the outside to have changed or "grown out" of their disorder.
"This takes a great toll on them and sometimes brings them to the point where they can't function," Gould says. "We need to be careful not to reinforce masking and instead learn to respect autistic people for who they are."
Accepting autism as part of a person's identity means supporting their unique strengths rather than aiming to change their behavior.
"The identification of autism can be misunderstood where people think of it as a deficit-based or that there is something to fix," Tetreault says. "There is a unique individual — and the individual is beyond the label."
She adds that encouraging autistic children to lean into their natural passions and interests can benefit them in the long run. And using language like "neurodivergent" helps an autistic person feel understood rather than ostracized.
Misdiagnoses among autistic adults may occur if external symptoms are less visible. In some cases, an autistic individual may be misdiagnosed with an alternate condition.
"Many girls and women have been told they have anxiety and ADHD when they are autistic," Gould says. "Many boys and some girls are told that they have ADHD and (oppositional defiance disorder) ODD and can't be autistic because they make eye contact, are imaginative, and socially motivated."
As a result of being misdiagnosed, folks who may be on the autism spectrum cannot receive the support and care they need.
"People should not be diagnosed quickly from the DSM-5 — that could lead to an incorrect diagnosis that may be proved wrong later in life," Gould says.
The expectation that someone will "grow out of autism" can be harmful and cause an autistic person to mask or hide who they truly are.
An accurate autism diagnosis will not change or disappear over time. But as neurodivergent folks continue to age and develop, how they interact with the world does, too — just like neurotypical individuals.
Adequate support systems and accommodations can aid in the healthy development and exploration of an autistic person's identity. And specialized therapies can help autistic folks learn more about their coping skills, such as working with their stims or addressing comorbid mental health disorders.