If you or your child are autistic, you might appreciate the support of an autism service dog.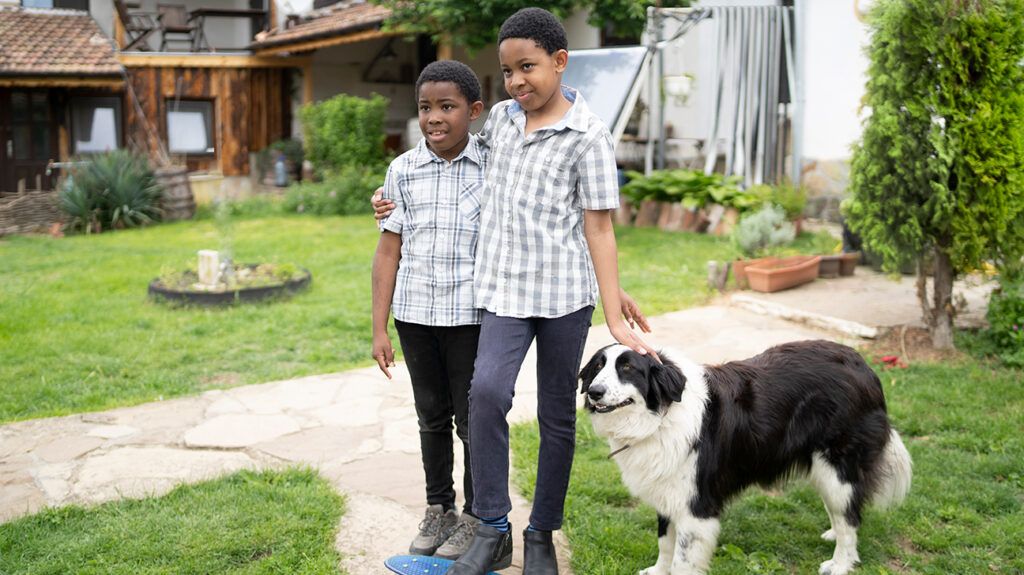 Having a service dog is a big commitment that is well worth the investment for some people, for its targeted benefits.
A service dog is one that has been trained for specific tasks to help a person with a disability or mental health condition (called a psychiatric service dog in this case). Each dog's training is tailored to the needs of its handler.
Examples include:
medication reminders
seizure alerts
interrupting handler self-harm
post-meltdown support
room searches and safety checks
Emotional support animals aren't in the same category because they don't have task-specific training.
For some autistic people, the right fit service dog can mean the difference between living and thriving. Each person's experience is unique, but benefits can include:
stress reduction
fewer agoraphobia symptoms
more frequent outings resulting in more social contact
improved communication and social interaction
It's estimated that about 77% of autistic adults experience mental health challenges relating to stress, like anxiety and depression.
The referenced 2019 study of animal-assisted therapy (AAT) involving 53 autistic adults found that AAT with dogs reduced stress and agoraphobia symptoms. Benefits also included better social responsiveness and fewer depressive symptoms.
Service dogs also provide their humans with loyal, nonverbal friendships. Dogs are intelligent, intuitive animals who form attachments to humans without using words. Close companionship free from stress-provoking social conventions is a comfort for many autistic people.
It's this relationship that enables a service dog to help its human. Licensed clinical social worker Sharon Kaye-O'Connor explains, "Dogs can be so incredibly attuned to the emotions and experiences of their people, so a service dog can often sense when their human is experiencing elevated anxiety, distress, or headed for a meltdown.
"The dog can then intervene by providing emotional comfort, sensory support (deep pressure by leaning against them or laying across their lap) or leading them to a safer or quieter place."
Benefits for autistic kids
Autistic kids experience similar benefits from their service dogs, including:
improved sleep
search and rescue when an autistic kid may wander or leave supervision
tethering and emergency down to prevent wandering or leaving supervision
deep pressure therapy
Kaye-O'Connor adds, "Service dogs can also helpfully stand between their autistic humans and other people in crowded places, like public transportation, to help reduce overwhelm."
Service dog benefits extend to the classroom, where their presence is protected by the Americans with Disabilities Act (ADA).
Some of the many educational benefits service dogs provide include:
calming anxiety
redirecting harmful behaviors
increasing independence
Service dogs can also help autistic kids develop more:
empathy
generosity
responsibility
patience
Other family members benefit too. A 2017 study found that levels of the stress hormone cortisol were lower in parents when there was a service dog in the household.
There are also challenges associated with having a service dog.
"Service dogs are also a huge commitment and responsibility," cautions Kaye-O'Connor. "When considering if a service dog may be helpful, it is also important to consider the lifelong care the dog will need to be healthy and happy."
Other factors to consider include:
interpreting dog behavior
extra work
additional costs
the dog's welfare
How do I know if a psychiatric service dog is right for me?
It's important that you genuinely like dogs. If you're drawn to animals and naturally seek comfort from them, a service dog might be right for you.
If you'd like to workshop this decision aloud, you may want to see this video from Purple Ella, an autistic woman who lives with ADHD.
Do I have to have full support needs to qualify for a PSD?
Sometimes autistic people with minimal support needs don't qualify for service dogs. If this is your situation, you may be eligible for an emotional support animal instead.
To qualify for a service dog, a disability must prevent you from functioning in at least one aspect of daily life. If you feel this applies to you, a doctor may be able to help you qualify by screening the impact of your condition.
How much does a service dog for autism support cost?
According to the National Service Animal Registry, service dogs range in price from around $15,000 to $30,000. Insurance doesn't cover this cost.
How long does it take to get a trained service dog obtained and at home?
Getting a service dog is a lengthy process that includes a waitlist and training period. You can expect to wait for around one year, likely longer.
What kind of training is involved for a service dog for ASD?
Service dogs receive some advanced training before they're matched with their human. Since each person's support needs are slightly different, training is tailored to the individual, with their participation.
How can I get a psychiatric service dog for autism support?
To get a psychiatric service dog, you apply, pay, and participate in training.
For example, 4 Paws for Ability summarizes their client process as follows:
application
acceptance
fee for service
training
follow up support
If you're able to invest the time, money, and effort required, an autism service dog could be a good fit and a big help.
The first step is visiting a doctor, who can help you determine if you're eligible. Then you can contact a local service dog organization and begin the application process.