More than a century after his passing, researchers are still trying to unravel the mystery of the legendary painter's mental health.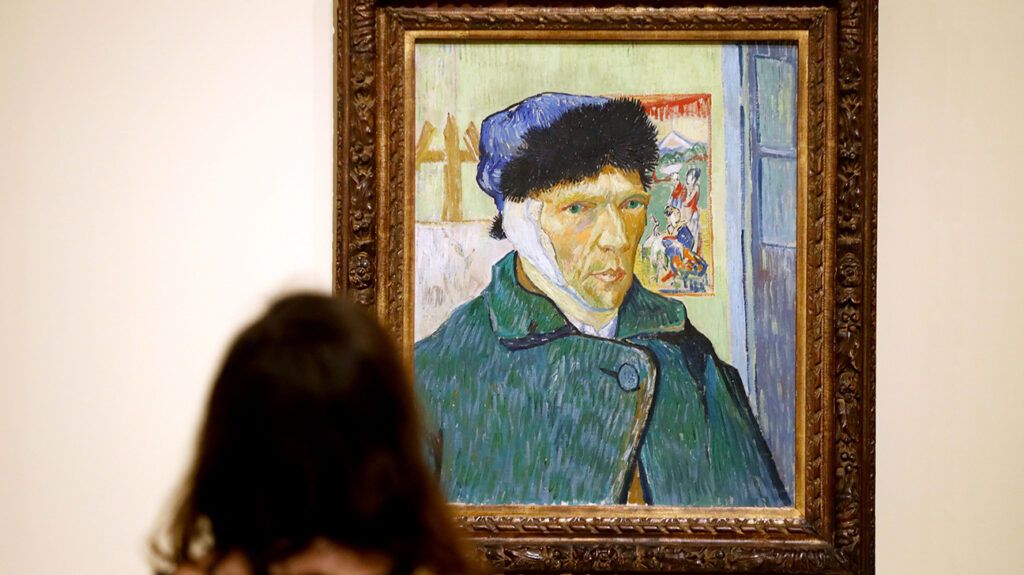 Post-Impressionist painter Vincent van Gogh is one of the most influential and celebrated artists of all time. But among mental health experts, his life and legacy hold a different significance.
Arguably one of the most famous examples of an artist who experienced public challenges with mental illness, most experts agree that van Gogh lived with psychosis in some form.
But psychosis is a symptom of other disorders, not a diagnosis in itself.
The question of what condition the artist may have had has been the subject of speculation for decades. Doctors, psychologists, and historians alike have tried — and largely failed — to come to a consensus.
In 2016, Amsterdam's Van Gogh Museum hosted a symposium of 35 psychiatrists, psychologists, neurologists, doctors, and art historians to debate van Gogh's possible diagnoses. Experts examined van Gogh's life and mental health using evidence from his:
paintings and artwork
writings
personal documents
Though the discussion of van Gogh's mental health may never be settled, researchers believe they're closer than ever to pinpointing mental health conditions the artistic genius may have lived with.
Born to a poor family in the Netherlands in 1853, van Gogh became seriously interested in art at the age of 15 when he began working at his uncle's art dealership. By his 20s, van Gogh was painting regularly.
Despite his renown today, van Gogh did not see success as an artist in his lifetime, and largely lived in poverty.
Van Gogh experienced a breakdown at age 20 after the woman he loved rejected his marriage proposal. But it wasn't until his 30s that his mental health took a dramatic downturn.
On December 23, 1888, van Gogh famously cut off his own ear after an argument with his friend and roommate, Paul Gauguin. Less than 2 years later on July 29, 1890, van Gogh died at age 37 as a result of injuries from a self-inflicted gunshot wound he sustained 2 days earlier.
Since then, many medical and psychological theories attempted to explain what van Gogh may have experienced.
Van Gogh chronicled many of his mental health symptoms in the letters he wrote. His symptoms were also described in the official register at the Saint-Rémy asylum where Van Gogh admitted himself in 1889.
Some of the psychiatric symptoms the artist likely experienced included:
Van Gogh also experienced physical symptoms, including:
Documents from the time also suggest that van Gogh periodically went into a "stupor," described as unresponsiveness. Experts believe it's possible that this could have been a form of catatonia.
For decades, experts and researchers have offered alternative theories about what conditions van Gogh may have lived with.
Epilepsy
After van Gogh cut off his ear in December 1888, he was diagnosed by his physician with "acute mania with generalized delirium" and "mental epilepsy". The artist himself reportedly also believed that he had this condition.
Epilepsy is a neurological condition causing abnormal brain activity that can result in seizures.
Epilepsy commonly occurs alongside other mental health conditions, including depression and anxiety, and can also sometimes cause psychosis.
Bipolar disorder
Because van Gogh reportedly experienced periods of high energy and productivity, often followed by episodes of depression and extreme fatigue, many experts have theorized that the artist lived with bipolar disorder.
In a 2020 analysis of van Gogh's mental health, three art historians concluded that he most likely developed bipolar disorder as a young adult. In addition to extreme shifts in mood, bipolar disorder can also cause other symptoms van Gogh reportedly lived with, including:
psychosis
insomnia
memory problems
Borderline personality disorder (BPD)
Borderline personality disorder (BPD) is a personality disorder that affects a person's mood and behavior.
In a 2000 analysis, the Dutch psychiatrist Erwin van Meekeren argued that van Gogh likely lived with this disorder. Van Meekeren, who wrote the book "Starry Starry Night: Life and Psychiatric History of Vincent van Gogh," pointed out that most experts base their diagnoses on van Gogh's most extreme symptoms.
But according to van Meekeren, van Gogh showed signs of BPD throughout most of his life, including:
In a 2020 assessment, experts concluded that although BPD couldn't necessarily explain van Gogh's symptoms, it was most likely an underlying cause of another condition for van Gogh, such as bipolar disorder.
Alcohol withdrawal
Many historians and doctors have speculated that van Gogh may have experienced symptoms of alcohol withdrawal due to alcohol use disorder (AUD).
Van Gogh became increasingly dependent on alcohol in the late 1880s, and was forced to quit "cold turkey" during multiple hospital stays between 1888 and 1889. Findings from a 2020 study showed that van Gogh was diagnosed with "delirium" after one hospital admittance, likely caused in part by alcohol withdrawal.
Researchers argue that the symptoms van Gogh experienced during these years may be signs of alcohol withdrawal, such as:
hallucinations
anxiety
nightmares
seizures
Schizophrenia
Although van Gogh's history of mental illness has frequently been associated with schizophrenia over the years, researchers and experts have largely ruled out a possible diagnosis.
Van Gogh's episodes of psychosis were brief and punctuated by periods of complete recovery. However, people with schizophrenia don't typically experience this type of periodic remission.
Van Gogh syndrome is an unofficial term for repetitive self-mutilation, inspired by van Gogh's most infamous episode of self-harm when he cut off his ear in 1888.
However, van Gogh syndrome is not recognized in the Diagnostic and Statistical Manual of Mental Disorders, 5th edition (DSM-5). Experts are wary of using the term, since the definition of van Gogh syndrome is vague and lacks clear diagnostic markers.
Non-suicidal self-injury disorder
The closest diagnosis to van Gogh syndrome in the DSM-5 is non-suicidal self-injury disorder.
The criteria for this diagnosis are engaging in self-injury for at least 5 days with the intention of bodily harm, but not suicide, and can involve:
cutting
hitting or punching oneself
extreme scratching
more rarely, self-mutilation
Getting help for a crisis
If you think you or someone you know might have van Gogh syndrome or non-suicidal self-injury disorder, it's important to seek help from a doctor or therapist immediately.
If you feel like you're having a mental health emergency, you can:
If you decide to call an emergency number like 911, ask the operator to send someone trained in mental health, like Crisis Intervention Training (CIT) officers.
Vincent van Gogh's story is a tragic one. Though considered one of the most influential and important artists of all time, van Gogh endured a deeply challenging life without success, fame, or fortune.
Some connect van Gogh's legacy of artistic genius with his history of mental health challenges. The various conditions and symptoms the artist may have experienced continues to inspire and mystify experts, researchers, and historians today.
Accurately diagnosing someone no longer living with any condition is impossible. But thanks to letters written by van Gogh himself, as well as documents from his hospital stays and his own artwork, experts are closer than ever to drawing conclusions about his mental health and life.
Though van Gogh was diagnosed with epilepsy in his lifetime, doctors and historians believe the artist may have also lived with:
bipolar disorder
borderline personality disorder (BPD)
substance use disorder (SUD)
It's likely that van Gogh lived with more than one — or some combination of — these disorders, as many commonly co-occur with each other.
No matter what conditions van Gogh may have had, modern medicine offers far more tools to diagnose and treat mental health disorders. If you think you may be experiencing a mental health disorder, or even a crisis, consider reaching out to a physician or therapist.
Not sure where to begin? Check out Psych Central's guide to finding mental health support.