We include products we think are useful for our readers. If you buy through links on this page, we may earn a small commission. Here's our process.
Psych Central only shows you brands and products that we stand behind.
Our team thoroughly researches and evaluates the recommendations we make on our site. To establish that the product manufacturers addressed safety and efficacy standards, we:
Evaluate ingredients and composition: Do they have the potential to cause harm?
Fact-check all health claims: Do they align with the current body of scientific evidence?
Assess the brand: Does it operate with integrity and adhere to industry best practices?
We do the research so you can find trusted products for your health and wellness.
Convenience and affordability are factors to consider when deciding whether Regain is the right couples therapy service for you. See our hands-on review.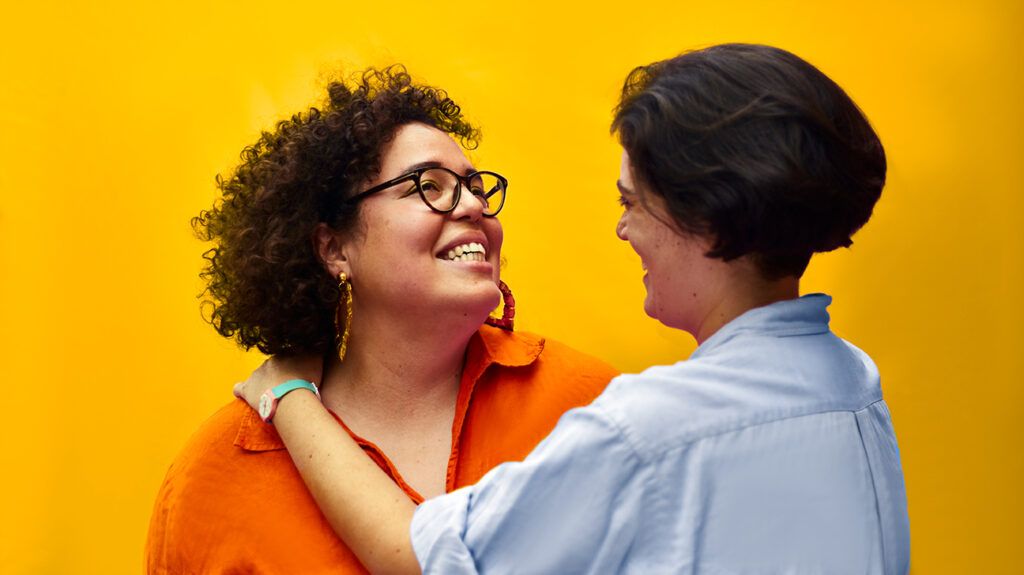 Sometimes, relationship therapy may be the one thing that stands between a happy relationship and sleeping in separate bedrooms.
But high costs and the challenge of making time for both partners to see a therapist in person can prevent a couple from seeking treatment in the first place.
Regain seeks to eliminate those barriers by providing low-cost, licensed therapy sessions for couples online.
How we researched Regain Counseling
Before we recommend an online therapy service, it's put through a vetting process where we look at the following factors:
Price. How much does the service cost?
Clinician qualifications. What types of clinician work for the service? How experienced are they?
Accessibility. How often can you communicate with the therapist? How long will you wait for an appointment?
Ease of use. Is the site/service easy to navigate?
User reviews. What do Regain customers have to say about the service? Are they overall satisfied or dissatisfied?
This page explains the vetting process in greater detail.
There are benefits and drawbacks to seeking therapy via the Regain Counseling platform.
What's great about Regain Counseling?
The platform focuses solely on relationship counseling.
Regain counselors are accessible via smartphone and the web.
Counseling sessions are reasonably priced.
You can maintain your confidentiality by using a nickname.
Three-way sessions are now supported, so you and your partner can join from different locations.
What are the downsides of Regain Counseling?
Some members have reported difficulty in scheduling an appointment with a counselor.
Therapists can't provide a diagnosis or prescribe medications.
Insurance is not accepted.
Regain is an online relationship counseling platform that was founded in 2016. The company provides convenient, discreet, and low cost access to a licensed therapist via phone or web.
Regain is designed for individuals and couples wanting relationship and marital issue counseling.
Counselors at Regain are licensed and accredited:
psychologists
marriage and family therapists
clinical social workers
professional counselors
Each counselor has a master's or doctoral degree in their field.
Sessions at Regain cost $60 to $90 per week, and your credit card or PayPal is charged every 4 weeks. The price range varies based on several factors, including your location, preferences, and the availability of your chosen therapist.
You can cancel your subscription at any time.
What subscription plans does Regain offer?
Regain offers one subscription plan in which you get unlimited messaging with your therapist. Depending on where you live and your particular therapist, the subscription plan will run anywhere from $240 to $360, billed every 4 weeks.
Does Regain have a free trial?
No, Regain doesn't offer a free trial.
Does Regain work with insurance?
Couples therapy isn't usually covered by insurance, and Regain doesn't work directly with insurance companies. Still, you can always check with your insurance provider to see if they may reimburse you.
Regain Counseling features
Regain counseling sessions are available via phone or the web. Partners have a joint account that allows them to communicate with the counselor together.
Both partners and the counselor have access to all written communication. Plus, both users can speak with the counselor privately, if desired.
How to get started
Once you're on the Regain website, you'll complete a questionnaire that allows you to identify the topics you'd like to focus on during your sessions. You can also choose the general traits you're looking for in a therapist. For instance, do you feel more comfortable with a male or a female therapist? One who is younger or older?
To create an account, you'll need to enter your email address and your name (you can use a nickname if you'd like greater privacy). You also have the option to sign up with Google or Facebook.
Regain will then pair you with a therapist who best meets your needs.
How long it may take to get matched
Once you've created an account, you'll be matched with a therapist within a few days, depending on your therapist's availability. You may even be matched that same day. On average, Regain says 90% of clients find a match within 48 hours. Your payment subscription plan will not begin until you're connected with your counselor.
If for some reason it doesn't feel like the right fit, you can request to be matched to a new therapist at any time.
How therapy sessions work
Regain therapy sessions can take place over video, phone chat, or live chat session, depending on you and you partner's preferences. You'll select the best time and date that works for the both of you, then join the session when your time slot rolls around.
You can message your therapist anytime, and you'll receive a notification or email when they have responded. There's no limit to the number of messages — it's all included in the monthly subscription price.
Session length and frequency
You and your therapist will decide how often and how long your sessions will be. A typical session usually lasts between 30 and 45 minutes.
Cancelling your subscription
You can cancel your subscription at any time by logging into your account. You'll still be able to use the service until your subscription period ends.
All Regain therapists have a master's degree or a doctoral degree in their field. They may be one of the following:
psychologist (PhD/PsyD)
licensed marriage and family therapist (LMFT)
licensed social worker (LCSW/LMSW)
licensed professional counselor (LPC or LPCC)
All clinicians have at least 3 years and 1,000 hours of hands-on experience and a specific interest and expertise in relationship therapy.
All Regain therapy sessions are focused on relationship issues, such as:
resolving conflicts
handling an affair
improving communication skills
But the ways you reach these outcomes will vary, depending on your therapist's individual approach to marriage counseling.
There are various types of couples therapy. Some common approaches are:
Cognitive behavioral couples therapy. This approach helps couples identify and change faulty thought patterns.
Emotionally focused therapy (EFT). EFT focuses on the attachment and bonding aspect of your relationships.
Gottman method. This approach addresses areas of conflict in your relationship and helps you solve problems more effectively.
If you feel your current therapist's approach isn't working for you, you can choose to be matched to a different therapist.
Regain's infrastructure is designed to protect your privacy and safeguard the information you provide to your counselor and to Regain.
The organization's confidentiality and security standards exceed the measures that are required by law to ensure that you can feel safe and comfortable.
Your privacy is protected in a variety of ways:
State and federal laws protect all communication between you and your therapist.
Regain doesn't directly work with any insurance companies, so no information is shared between the two entities.
After you've sent a message, you can click the "Shred" button at any time so it will no longer show in your account.
Messages between users and counselors are encrypted.
You're not required to use your full name or contact information when you sign up. Instead, you may pick a nickname that will identify you in the system.
Still, you will need to provide emergency contact information. This information is kept safe in Regain's system, but your counselor can access it if they believe you or someone else may be in danger.
Regain reviews from Reddit include positive and negative comments. Some Regain customers have praised the convenience of online couples therapy and the ability to connect with a qualified couples counselor. However, others have expressed concerns about the quality of therapy or technical issues. Some users say response times from therapists are sometimes longer than a day.
It's important to keep in mind that online reviews can be subjective, and the satisfaction of users may depend on their specific needs and circumstances. Be sure to read multiple reviews and consider your own preferences when evaluating whether Regain is the right choice for you and your partner.
We tried Regain: Hands on review
"I've done in-person therapy, online therapy through Lyra, and couples therapy through Lyra. Together, my spouse and I find Regain quite comparable.
My husband and I were at a serious stalemate. According to John Gottman's Four Horsemen of the Apocalypse predictors of divorce, we had all four present, so we were both scared of that outcome, having both been married before.
All of this to say, we are motivated to fix our marriage obstacles. We have a blended family with teens all in various sports and two different work schedules, so the convenience of online couples therapy is appealing to us.
We do like how many therapists are available and that there are auto-matching and self-selection options to connect with a therapist."
I like that that I can:
mark messages as urgent and get responses any time of day or night
add attachments to the chat
send voice recordings through the chat
I wish I were able to:
choose to message the therapist directly and add whether the message will be visible to my partner or not
filter the therapist search by time zone, or be able to enter your preferred time slots by time zone
More than 40% of U.S. marriages end in divorce, and more than one-third of existing marriages experience distress.
In fact, a study in 2019 noted that couples seeking to begin therapy were experiencing greater distress in their relationships than researchers had previously believed.
Many variables may cause distress, such as:
While traditional face-to-face couples therapy can be very beneficial, seeing a counselor in person isn't always an option.
Online interventions such as Regain may help you improve your relationship with your partner and overcome obstacles of cost and distance.
The Regain system is designed to provide low-cost counseling services for couples and individuals with relationship issues.
However, it does not replace regular face-to-face therapy in every case. For example, Regain counselors cannot:
make an official diagnosis
prescribe medication
fulfill a court order
Regain and Talkspace are two online therapy platforms that offer relationship counseling. Both services offer unlimited messaging with a therapist and the option for live video chats.
Talkspace has limited pricing information on their site but based on existing information, the prices of the two platforms appear similar for individual therapy. If you're paying out of pocket, the price for Talkspace could be between $69 to $109 per week, depending on whether you prefer live messaging or video chat. Unlike Regain, Talkspace accepts insurance, which could drop the co-pay down to $30 to $40 per session.
With that said, couple's therapy with Talkspace is more expensive than Regain, starting at $436 per month out of pocket, as most insurance providers don't cover relationship counseling. If you use up all of your couple's counseling sessions in one billing cycle, each additional session will cost $65.
Based on reviews of both platforms, clients' satisfaction seems to depend on the therapist with whom they are matched. However, many reviewers also note problems related to customer service availability and refunds.
Overall, Regain has more positive reviews than Talkspace. Still, it's important to keep in mind that many people post reviews only when they're unhappy with the service, so reviews may not represent the whole picture.
Regain
Talkspace
Therapy types
relationship (individual or couples)
• individuals
• couples
• teens (13–17)
• psychiatry (18+)
Price
$240–$360 per month
$276-$436 per month for individuals, $436 for couples + $65 for each additional session
Therapy format
• messaging
• chat
• phone
• live video
• messaging
• live video (based on plan)
• workshops
Insurance
no
yes
# of plans
1
3
Free trial
no free trial
no free trial
Is Regain therapy legit?
Regain Counseling is a legitimate online therapy platform that offers relationship counseling services to individuals and couples. It connects users with licensed therapists and provides a secure and confidential environment. Members can seek support and guidance for various relationship concerns.
Does Regain give refunds?
You have the flexibility to cancel your Regain subscription at any time without incurring early cancellation fees. However, Regain doesn't provide refunds for unused time slots in your last month of service.
How do I cancel Regain therapy?
If you want to cancel your Regain membership, log into your account. Go to menu, my account (or account settings), payment settings, then cancel membership. Next, go to menu, my account (or account settings), personal information, then click on request erasure. Regain will send you a confirmation email once your request has been processed.
Can I pause my Regain subscription?
Regain doesn't explicitly mention the ability to pause accounts on their website. However, if you need to take a break from the service and plan to return later, you may contact their customer support to inquire about account suspension or temporary holds.
Regain is an online counseling platform that allows couples and individuals to seek help with their relationships. The platform is accessible via phone or the web and costs $60 to $90 per week.
Regain counselors are licensed and accredited psychologists, marriage and family therapists, social workers, or professional counselors. Each holds a master's or doctoral degree in their respective field and has been certified by their state's professional board.
Whether you've been with your partner for only a short time or for decades, a counselor can support you both. If you're experiencing relationship troubles and feel that it's time to seek professional help, an online counseling service like Regain can be a convenient option.