We include products we think are useful for our readers. If you buy through links on this page, we may earn a small commission. Here's our process.
Psych Central only shows you brands and products that we stand behind.
Our team thoroughly researches and evaluates the recommendations we make on our site. To establish that the product manufacturers addressed safety and efficacy standards, we:
Evaluate ingredients and composition: Do they have the potential to cause harm?
Fact-check all health claims: Do they align with the current body of scientific evidence?
Assess the brand: Does it operate with integrity and adhere to industry best practices?
We do the research so you can find trusted products for your health and wellness.
Looking for online sex therapy options? These services may deliver the support you need to help overcome sex-related challenges.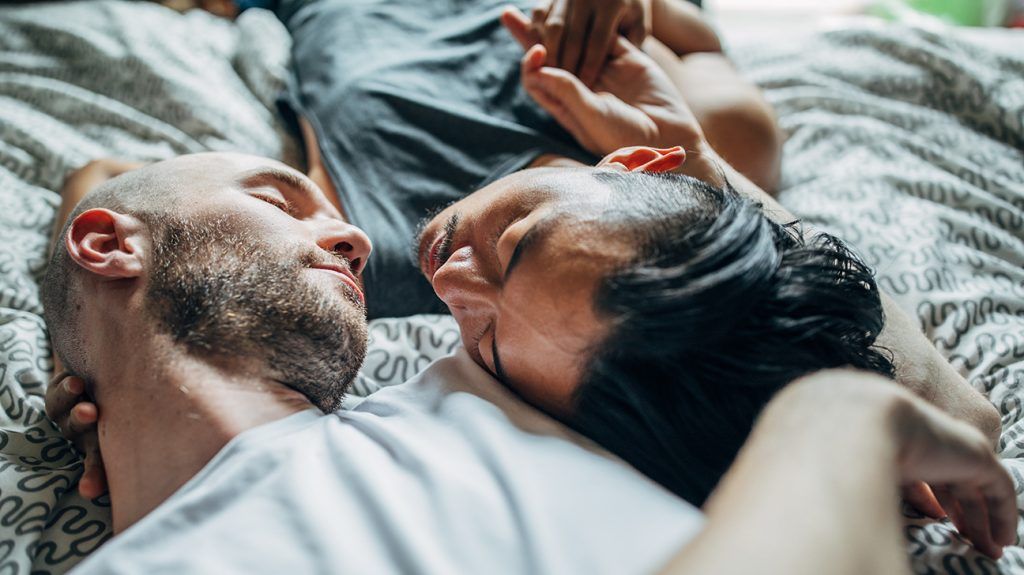 If you're experiencing sexual health challenges, sex therapy may help.
Sometimes, sexual dysfunction, mental health concerns, interpersonal and psychological factors, or relationship issues can get in the way of having the healthy and fulfilling sex life you desire.
However, obtaining the support you need for your sexual health is sometimes more difficult than acquiring mental health therapy.
Anonymity may be a factor. Or, finding a therapist specializing in sex therapy might be challenging in some locations, especially rural areas.
Online sex therapy can bridge the gap. It's a convenient way to get the support you need in the comfort of your home, car, or anywhere you can access a phone or the internet.
We based our choices for the best online sex therapy websites on these important factors:
Accessibility. All services offer online options for ease of use wherever internet access is available.
User reviews. The services chosen are highly rated and have extensive reviews by clients.
Attitudes toward sex positivity. All services promote a healthy exploration of sexuality without judgment.
Qualifications. Mental health professionals are available through all services are licensed therapists, psychologists, or clinical social workers.
Vetting. All services have been vetted to ensure they meet Psych Central's medical, editorial, and business standards.
Best online sex therapy for couples
Cost: $60–$90 a week (billed every 4 weeks)
Available nationwide? Yes
Therapy format: video, messaging, phone
Mobile app: yes
Specifically geared toward couples, ReGain aims to create honest and transparent communication between you and your partner while also offering private one-on-one sessions to discuss personal issues.
To begin sex therapy, you and your intimate partner complete a questionnaire to identify your needs and goals. You're then matched with a licensed therapist.
You, your partner, and your therapist have access to a secure and private space within the website, much like a chatroom, where you can leave messages anytime, day or night. You can also access therapy on their iOS or Android-compatible apps.
People who have used this service say the therapists are empathetic to both people in the relationship and help create a better understanding of each partner's perspective. Some couples use it for a few weeks, while others prefer long-term.
Why we chose it for 'Best for couples'
ReGain is specifically designed for couples or individuals seeking help with their relationships.
What we like
Therapists specialize in intimate relationship counseling.
The service offers convenient text-based messaging with options for video sessions.
Partners share a joint account and speak with a therapist together for transparency, with individual sessions available if desired.
The subscription can be canceled at any time.
Membership and billing are straightforward.
What to look out for
Response times from therapists can be longer than expected.
Signing up for therapy is automated, with no human interaction involved in the process.
The subscription bills monthly.
Best online sex therapy for LGBTQIA+ people
Cost: $60–$90 a week (billed every 4 weeks)
Available nationwide? Yes
Therapy format: video, messaging, live chat, phone
Mobile app: yes
Pride Counseling matches you with counselors who understand LGBTQIA+ communities.
Though the service doesn't outright offer sex therapy, some counselors in the network are specialized sex therapists. Plus, for some people, finding an LGBTQIA+ friendly and knowledgeable therapist may be more important than finding a sex therapist specifically.
During signup, Pride Counseling matches you with a therapist based on your answers to an initial questionnaire. You're then able to interact with and leave messages for your counselor in a private online room. If you feel like this therapist isn't a good match, you have the option to switch.
Pricing depends on counselor availability and your location. Cancellation is possible anytime, for any reason, and you can use the platform for as long as you want or need.
This service also has an app available for iOS and Android devices.
Pride Counseling users generally praise the service and consider it:
flexible
convenient
helpful
worth the price
Why we chose it for 'Best for LGBTQIA+ people'
Pride Counseling is tailored to LGBTQIA+ people as well as those who are exploring their sexual identity.
What we like
If you think the counselor you initially matched with isn't a good fit, you can switch to find a better match.
The service offers video, messaging, live chat, phone support, and an app.
It's available nationwide.
Subscriptions can be canceled at any time.
What to look out for
Services are not an option for minors or people with a legal guardian.
Only a few counselors specialize in sex therapy specifically.
Best online sex therapy for people without a partner
Cost: $60–$90 a week (billed every 4 weeks)
Available nationwide? Yes
Therapy format: video, messaging, live chat, phone
Mobile app: yes
One of the largest online therapy platforms, BetterHelp is designed for individuals, while its sister site, ReGain, is geared toward couples. Counselors are licensed and accredited therapists and matched to you based on responses to an intake questionnaire.
Therapy is available through:
messaging
live chat
phone
video conferencing
Signing up is anonymous using an email and a username. This service also has an app for iOS and Android devices.
User reviews are generally positive. Many people report they feel listened to and understood by their therapists. The length of time you use this therapy depends on your needs.
Why we chose it for 'Best for people without a partner'
It's a good option for people who wish to address challenges with sex or sexuality or explore sexual preferences and identities but who prefer individual therapy.
What we like
You can choose from a large pool of qualified therapists.
It's easy to use and offers the flexibility to access therapy through messaging, live chat, phone calls, or video conferencing.
Services can be canceled anytime and for any reason.
Therapists have a master's or doctorate degree, at least 3 years and 1,000 hours of experience, and viewable profiles.
What to look out for
Not all therapists are sex therapists, so it's important to research their qualifications.
The onboarding process can feel impersonal.
Response times from therapists can vary.
Some users report that responses from counselors seemed scripted or generic.
Best online sex therapy for 24/7 access
Cost: Starting at approximately $260 a month with monthly, quarterly, and biannual payment plans available. Subscription rates vary depending on where you live.
Available nationwide? Yes
Therapy format: video, messaging, phone
Mobile app: yes
Whether you're seeking couples sex therapy, need individual support, or are looking for therapists who have experience working with LGBTQIA+ people, Talkspace encompasses a wide range of needs.
Once you've completed a brief intake assessment, you can pick from an extensive list of qualified therapists and begin counseling. Talkspace offers:
24/7 access
unlimited messaging with secure, fully encrypted communications
the ability to switch therapists for no extra cost
phone and live video sessions
three subscription options including Unlimited Messaging Therapy Plus, Premium, and Ultimate plans
couples therapy
The service also has an app available on iOS and Android for access on the go. You can use this therapy program as long as you need, based on your needs and goals.
Though $260 may seem on the higher end, consider Regain, BetterHelp, and Pride Counseling's weekly fees would amount to $360 per month if you participate all four weeks of the month.
User reviews are positive. Many recommend Talkspace because of its easy accessibility, empathetic and experienced therapists, and ability to find a therapist who understands individual needs.
Why we chose it for 'Best online sex therapy for 24/7 access'
Talkspace has many therapists to choose from to fit various therapy needs.
What we like
Users have the flexibility to access therapy on demand.
It's easy to enroll and cancel your subscription.
You have choices from a wide range of licensed professionals.
You can cancel your subscription at any time.
Some individual and couples therapy plans offer live video sessions.
What to watch out for
Because of the number of available therapists, finding one who's right for you may take some time.
Not all therapists on the platform are sex therapists, so it's important to inform yourself about their qualifications.
Some users have had issues with the Talkspace app functioning properly.
Wait times for responses from therapists can sometimes be longer than expected.
Best online therapy for sex positivity
Cost: Consultation is required for a cost estimate
Available nationwide? no
Therapy format: Live video sessions
Mobile app: no
An online therapist who focuses on sex positivity can help you let go of your negative thoughts surrounding it. Modern Intimacy can help you shift your perspective on:
victim blaming
other sex-negative thoughts
If you've experienced sexual abuse, Modern Intimacy can help alleviate the impacts of trauma.
They can also help you improve your connection with your partner or determine how to address your sexual needs.
Why we chose it for 'Best online therapy for sex positivity'
It focuses on sex-positivity and overcoming trauma or stigmas surrounding sex.
What we like
They offer a free 30-minute consultation.
You can access therapy from the comfort of your home.
Insurance may cover the cost.
They have a blog and podcast you can access for free
What to look out for
The service is restricted to California, Florida, Colorado, and New York residents.
There's no iOS or Android app.
You can't access pricing until setting up a consultation.
Best one-stop resource for sex therapists
Cost: Free to search
Available nationwide? yes
Therapy format: Various
Mobile app: no
AASECT (American Association of Sexuality Educators, Counselors, and Therapists) is a directory chock-full of licensed therapists certified by said nonprofit organization.
AASECT offers certification, membership, continuing education, networking, and events for sex therapists, counselors, and sex educators, to keep them united in sex therapy standards and informed on the latest within their practices.
Why we chose it for 'Best one-stop resource for sex therapists'
This free directory is available worldwide. Depending on the level of care you need, sex counselors and sex educators are available in addition to sex therapists.
What we like
Available worldwide.
Strict and standardized vetting process.
Free to shop.
What to look out for
Though available across the United States and internationally, not all 50 states have AASECT-approved sex therapists or counselors.
No ability to filter or sort by specialty.
| | Price | Available nationwide | Therapy format |
| --- | --- | --- | --- |
| ReGainM | $60–$90 a week | Yes | Video, messaging, and phone |
| BetterHelpM | $60–$90 a week | Yes | Video, messaging, live chat, and phone |
| Pride CounselingM | $60–$90 a week | Yes | Video, messaging, live chat, and phone |
| TalkspaceM | Starting at about $260 a month | Yes | Video, messaging, and phone |
| Modern Intimacy | Consultation required for price estimate | No | Live video conferencing |
| AASECT | free to use | Yes | Varies |
M Mobile app offered
Sex therapy is a form of talk therapy that focuses on sexual health. During a sex therapy session, you can chat with a specialized mental health professional about all aspects of sexuality without judgment.
Online sex therapy is similar to in-person counseling, except it takes place through:
online chat
video conferencing
phone conversations
Although research data on online sex therapy is limited, an opinion statement released by the International Society of Sexual Medicine says online treatment interventions provide effective opportunities for improving sexual health.
It's important to keep in mind that many mental health professionals are not trained to treat sexual dysfunctions.
When looking for an online sex therapist, searching for someone with the proper certification is vital. This means that if you're interested in one of the larger online platforms above, it's a good idea to review which therapists are trained in sex therapy or human sexuality.
Is sex therapy right for me?
If you prefer flexibility, don't want to or are unable to travel to attend appointments, or are concerned about anonymity, online sex therapy may be a better option than in-person counseling.
However, this type of therapy may not be a good fit if you:
prefer in-person interaction
have slow or unreliable internet service
are uncomfortable with video chat
Also, sexual health often intermingles with other health conditions. So, if you think there may be a medical reason for your sex-related issues, consider talking with a healthcare professional before exploring online sex therapy.
Online sex therapy is not the best choice if you feel you're in a dangerous relationship situation. Instead, it's advisable to seek help through a healthcare professional. You can also contact the National Domestic Violence Hotline by calling 800-799-7233 or starting a chat online.
What is EFT sex therapy?
EFT sex therapy (emotionally focused therapy) is actually a misnomer. It's not often used to treat sexual problems. EFT is used to help individuals or couples treat sexual dysfunction. Rather, the most common approach to sexual problems is cognitive behavioral therapy.
Cognitive behavioral therapy (CBT) can focus on how attachment impacts relationships, including aspects of trust. Healthy attachment involves feeling safe and stable in your relationship and knowing you can depend on your partner.
CBT is often used when you experience sexual challenges because it can lead to mental health strain. How you and your partner respond to one another can worsen the issue, but a therapist experienced with CBT can help.
What is the best sex therapy?
The best sex therapy for you depends on your goals and needs. It's different for everyone, and 2019 research shows various directions to consider. These directions include:
mindfulness-based approaches
psychotherapy interventions
inclusive therapy
How is online sex therapy structured?
Many online services offer a brief assessment to determine your preferences and therapy goals. After you've completed the evaluation, you're matched with a therapist based on your answers.
What online sex therapy looks like for you will depend on whether you choose to communicate through:
messaging
video conferencing
phone calls
Messaging generally involves sending messages and waiting for a response, while video chats and phone calls are arranged at a time convenient for you.
What does online sex therapy usually cost?
Our picks for best online sex therapy services run from $60 a week to upward of $250 a session. Still, most online therapy services we found cost less overall than visiting a clinic-based service provider.
Does insurance cover sex therapy?
The Mental Health Parity and Addiction Equity Act ensures insurance companies cannot discriminate against people with mental health conditions. Because sex therapy is a form of psychotherapy, it may be fully or partially covered by your insurance policy.
However, this isn't always the case depending on the service provider. So, it's advisable to contact the online therapy service you choose to find out whether it can work with your insurance.
What does a sexologist do in bed?
To be clear, a sexologist doesn't do anything in bed!
Some people mistakenly believe that a sexologist offers hands-on experience for learning sexual skills. However, that's not the case. A sexologist helps their patients accept their sexual nature and meet related goals.
Sexologists are competent professionals who follow the Code of Ethics. They must remain respectful and promote the sexual rights of all their patients.
A sexologist has studied human sexuality, including aspects of:
anatomy
physiology
psychology
It means they are trained to understand how the human body works during sex and why and how people's minds work. They can help you learn about sexual behavior and pleasure and how it differs for everyone.
If you prefer in-person therapy or are uncomfortable with online counseling, options may be available to you closer to home.
When conducting your search, you can ask potential therapists if they specialize in sex therapy or are AASECT certified. If you can't find a sex therapy-specific provider, another option is to locate a therapist who specializes in adult concerns.
Here are some ways to find a therapist near you:
Check your health insurance provider list for psychiatrists, psychologists, and licensed therapists covered under your plan.
Post a "looking for recommendations" query on social media using phrases like "mental health professional" or "therapist" if you feel comfortable doing so.
Conduct an internet search for sex therapists in your area.
Ask trusted friends or family members for recommendations.
You could also consider making an appointment with a primary care physician or another healthcare professional to determine if there are any medical reasons behind the sexual challenges you're having. They may then be able to recommend a local therapist that fits your needs.
According to 2016 research, sexual health and satisfaction are associated with better overall quality of life.
That's why it's vital to have access to support if you're experiencing sex-related challenges. Online sex therapy can be an effective option if you decide it's something that might work for you.
Online sex therapy offers distinct advantages over in-person therapy sessions depending on the service you choose, including:
convenience
anonymity
cost-effectiveness
In most cases, you can choose from a wide range of therapists, which may make it easier to find someone that fits your needs.
However, online sex therapy might not be the ideal choice if you prefer talking with a therapist in person or live in an area where internet connections are slow or unreliable. There are still ways to find local sex therapists or professionals who specialize in adult concerns to get the support you need.