We include products we think are useful for our readers. If you buy through links on this page, we may earn a small commission. Here's our process.
Psych Central only shows you brands and products that we stand behind.
Our team thoroughly researches and evaluates the recommendations we make on our site. To establish that the product manufacturers addressed safety and efficacy standards, we:
Evaluate ingredients and composition: Do they have the potential to cause harm?
Fact-check all health claims: Do they align with the current body of scientific evidence?
Assess the brand: Does it operate with integrity and adhere to industry best practices?
We do the research so you can find trusted products for your health and wellness.
Convenience, confidentiality, and timeliness are what couples and relationship online therapy services like Regain, Growing Self, and Amwell can provide.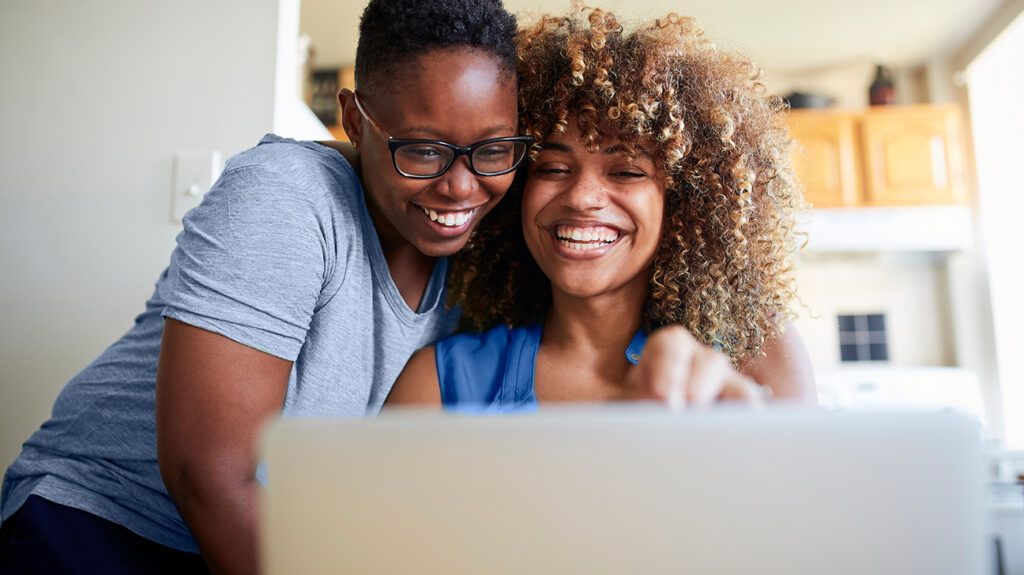 If you love your partner and get along well, you may assume your relationship will continue just as it began. But no matter how smoothly you sail at first, you'll probably hit rocky waters at some point.
Even partners in healthy relationships experience conflict occasionally. No matter how much you love your partner or how committed you are, life stressors, past relationship patterns, communication problems, and other challenges can pop up and complicate things.
Whether you've just started to notice some tension or regular conflict has led you to fear an impending breakup, relationship counseling can help.
Couples vs. relationship therapy
"Couples therapy" may be a more familiar term, but many people, including many healthcare professionals, prefer to call it "relationship therapy."
This term is more inclusive to people who are in relationships that aren't couples, such as those in committed polyamorous relationships.
We looked for online relationship counseling services with the following features:
a large network of mental health professionals offering therapy in multiple states, if not nationwide
detailed privacy policies explaining how they follow data protection laws to keep confidential information secure
services that offer relationship therapy
positive user reviews
easy-to-navigate, established websites
If you'd like to learn more about our vetting process, you can find more information here.
Best budget
Cost

$80 for therapist
$95 for psychologist

Therapy format: video, text
If you're looking for affordable online therapy, LiveHealth Online is one of the best options available. The service works with several insurance providers, but even if you don't have insurance, you can still access low-cost therapy for $80 per session.
LiveHealth Online provides flexible therapy options to suit your preferences. You can choose between live video sessions for an interactive experience or opt for 45-minute chat therapy sessions via secure messaging. This allows for meaningful conversations about your relationship concerns tailored to your communication style.
Why we chose it
LiveHealth Online stands out as an affordable and user-friendly therapy option, offering video or chat sessions with:
therapists
psychologists
psychiatrists
What we like
LiveHealth Online is a highly affordable option whether you have insurance or not.
You can easily schedule and pay for your visit using your personal credit or debit card via their easy-to-use phone app.
The service offers 45-minute text-based therapy sessions.
What to look out for
The service is only available to people living in the United States
Messaging your therapist is only an option during a therapy session.
Best for soon-to-be-married couples
Cost: $65 to $160 per 45-minute session (depending on therapist qualifications)
Therapy format: Phone, video, in-person (Denver only)
Accepts insurance? No
Nationwide? 16 states
Growing Self is a leading resource for couples seeking therapy, with a team of marriage and family therapists who have specialized degrees and advanced clinical training in evidence-based approaches to couples and family therapy.
They provide online counseling services in multiple states at flexible sliding scale rates and offer in-person therapy options in Denver.
Their counseling services extend beyond couples to encompass relationship, breakup, and dating coaching, offering a wide range of specialized counseling, including:
pre-engagement counseling
premarital counseling
sex therapy
affair recovery counseling
blended family counseling
family building counseling
long-distance couples counseling.
Growing Self emphasizes understanding, practical strategies, and personal growth to foster emotional security in relationships. By addressing toxic patterns and emphasizing accountability, Growing Self equips couples to build lasting bonds.
Why we chose it
Growing Self is an excellent choice for soon-to-be-married couples because they offer specialized pre-engagement and premarital counseling services. Their team of marriage and family therapists is highly trained in evidence-based approaches to couples and family therapy, ensuring that you receive expert guidance.
What we like
Easy sign-up process
Free 30-minute consultation
Comprehensive counselor bios for informed choices
Sliding scale rates
What to look out for
Doesn't accept insurance but may assist with reimbursement claims
Services only available in specific states
Best for long-term support
Cost: from $60 to $90 weekly
Therapy format: message, phone, video (partners must be in the same location)
Accepts insurance? No
Nationwide? Yes
Some approaches to relationship counseling aim to help you work through issues in a brief period, while others help you explore concerns at greater length. With Regain, your counselor will work with you and your partner to find the best method for your needs.
Regain counselors include:
psychologists
marriage and family therapists
social workers
professional counselors
All of whom specialize in relationship therapy. While the service uses an automated matching system, you can switch counselors to find a better match.
Reviewers generally have good things to say about Regain, with many people describing their counselors as:
kind
professional
highly experienced
Why we chose it
Most of Regain's therapy sessions occur in a private chat room where clients can message their therapist 24/7. This format benefits couples who want to track how far they've come in the long run and review their therapist's previous advice.
What we like
Regain therapists specialize in relationship counseling.
Regain allows your partner to join the video session room from their own device, making it easier for long-distance couples to get online relationship therapy.
All therapists have at least 3 years and 1,000 hours of hands-on experience.
What to look out for
It may take a few days to be matched with a counselor.
You can't choose your own counselor, but you can switch if needed.
If you want to learn more, consider reading our in-depth review of Regain.
Best for choosing your therapist
Cost: $109 or $129 for a 45-minute session, depending on therapist's experience
Therapy format: video
Accepts insurance? Yes
Nationwide? Yes
Amwell's large network of skilled therapists offers more than relationship support.
The service also treats various mental health issues with evidence-based approaches — a benefit when you or your partner live with mental health conditions affecting your relationship, such as anxiety or depression.
Not only can you choose your own therapist, but you can also switch if you need a better match. You can use Amwell for both long- and short-term relationship counseling. The service does accept insurance, but your specific company may not cover relationship counseling.
Why we chose it
Amwell offers a large network of therapists from which to choose, so you're likely to find one you're happy with. Still, remember that not everyone may have experience with relationship issues.
What we like
Many of Amwell's therapists are flexible, offering evening and weekend appointments.
Amwell accepts insurance (but many insurance companies don't cover relationship therapy).
You can choose your own therapist.
What to look out for
There are no subscription plans.
Texting your therapist between sessions is not available.
If you want to learn more, consider reading our in-depth review of Amwell.
Best if you prefer messaging
Cost: starts at $396 a month (varies based on therapist and location)
Therapy format: video, messaging
Accepts insurance? Yes
Nationwide? Yes
Not sure you're ready to dig into relationship issues face-to-face? Prefer the convenience of sending daily messages to sitting down for weekly sessions? Talkspace couples therapy may offer the type of support you're seeking.
Talkspace uses information from your assessment to match you with a therapist who specializes in your unique concerns. Once you're matched, you can start sending messages or scheduling video sessions. Therapists generally respond on a daily basis.
Many users praise the convenience of Talkspace counseling and supportive therapists.
Why we chose it
Talkspace couples therapy is unique in that it offers unlimited client-therapist messaging 5 days a week with no video sessions necessary.
What we like
No appointments are needed with this service.
You can get daily messaging support from your therapist.
Talkspace matches you with a therapist in as little as 48 hours.
What to look out for
It's not a good choice if you prefer live interaction over messaging.
Talkspace matches you with a therapist rather than choosing your own.
You won't know the exact price for your subscription until you sign up.
If you want to learn more, consider reading our in-depth review of Talkspace.
Best for Gottman method
Cost: varies, starts at $159 per 50-minute session
Therapy format: video
Accepts insurance? No
Nationwide? Available in 30 states plus 4 additional global locations
The therapists at Couples Therapy Inc. have extensive training in recognized approaches to relationship counseling, including the Gottman method and emotionally focused couples therapy. In fact, the service's team includes 8 of the 350 certified Gottman therapists in the world.
Couples Therapy Inc. offers in-depth assessments to help you get to the heart of relationship issues, plus short-term intensive relationship therapy and couples retreats. If therapy isn't available in your state, trained coaches can offer relationship support no matter your location, often at a lower cost.
Client testimonials praise Couples Therapy Inc., with many people saying their work gave them new hope for their relationship and a detailed plan for moving forward together.
Why we chose it
Couples Therapy Inc. is a well-established and highly-reviewed therapy platform that offers a variety of in-person and online services.
What we like
In addition to online counseling, Couples Therapy Inc. offers in-person counseling and couples retreats.
Therapists are experienced and highly trained in relationship counseling.
Your first visit is free to simply talk about your situation and determine what to do next.
They currently offer intensive couple's retreats through an online format.
What to look out for
The service is not available in every state.
Their calendar fills up quickly for some of their popular services, so you may need to schedule in advance.
Best self-help coaching
Cost: $50 or $150 with coaching
Therapy format: online lessons, phone, video, and chat coaching
Accepts insurance? No
Nationwide? Yes
If you find the prospect of online relationship therapy daunting or lack the time or financial resources to cover weekly counseling sessions, OurRelationship may be a good option for you.
The evidence-backed program gives you access to self-help relationship support, with additional coaching if you prefer.
OurRelationship's website explains the program generally takes 1–2 months to complete. English- and Spanish-language programs are available, with different programs for relationships in which partners have the same gender or different genders. You can complete it with your partner or alone.
You can try the free sample lesson to learn more about how the program works and how it may benefit your relationship.
Why we chose it
OurRelationship is a self-help program you can complete on your own time with the option of occasionally speaking with a relationship coach over the phone.
What we like
You can complete the program on your own time.
OurRelationship offers specialized programs for same-gender couples and military couples.
Calls with the coach can be scheduled for weekends or evenings.
The program is relatively low-cost compared with other relationship therapy platforms.
Some clients may qualify for free services.
What to look out for
Coaches are not licensed therapists.
OurRelationship is not a substitute for relationship therapy with a counselor.
Price
Insurance accepted?
Therapy format
LiveHealth Online
$80 a session
yes

• video
• messaging
Growing Self
$65-160 per 45-min session
no
• video
• phone
• in-person (Denver)
Regain
$60–90 a week
no
• video
• phone
• messaging
Amwell*
$109 or $129 a session
yes
• video
Talkspace*
$396+ a month
yes
• messaging
• video
Couples Therapy Inc.
$159+ a session
no
• video
OurRelationship*
$50 (or $150 with coaching)
no
• online lessons
• phone
• video
• chat
* Available nationwide
Online relationship counseling helps you and your partner explore and address issues causing tension in your relationship. Since online therapy services are accessed through your computer or smartphone, you can do this work from the comfort of your own home.
Couples counseling can help with just about every relationship concern, including:
While marriage counseling often focuses on current issues and tends to stay fairly brief, relationship therapy offers the chance to look at long-standing patterns closer. These patterns may have begun in previous relationships or even childhood.
Generally speaking, relationship counseling can benefit anyone who wants to have better romantic relationships. It can help with any type of relationship:
marriages
open relationships
long-term relationships
live-in relationships
casual dating situations
You can participate with or without a partner. Some people, in fact, seek out this type of therapy service between relationships to boost relationship skills.
Relationship counseling isn't always recommended, though.
Therapists won't recommend relationship counseling for abusive relationships. Instead, they'll encourage you to seek individual counseling to create a safety plan and get support.
It's also important to commit to the process. If one of you feels less motivated to make an effort, you may not see much progress. For greater success, you and your partner should:
share the desire to improve your relationship
communicate openly and honestly
Relationship counselors offer guidance by helping you:
recognize strengths and weaknesses in the relationship and as individuals
identify key areas of conflict
explore goals as partners and individuals
develop and practice new communication skills
learn to navigate conflict with empathy and respect
explore new ways to show love for each other
work through external problems adding to relationship stress, like family or workplace difficulties
Is virtual couples therapy worth it?
Evidence suggests that relationship therapy doesn't just strengthen your relationship. It can also improve the overall well-being of you and your partner, according to the American Association of Marriage and Family Therapy.
What about online therapy? While studies on online relationship therapy are still limited, research does suggest online therapy, in general, offers similar benefits to in-person therapy while increasing access to care.
Online couples therapy may be particularly convenient for rural clients who can't find a therapist nearby. Some people even prefer online therapy since traveling or sitting in an unfamiliar office is unnecessary. You may find it easier to focus on your work from the comfort and privacy of your home.
A 2020 study that looked at 15 couples participating in online therapy supports this. Many participants reported it was easy to connect with their counselor online. Most couples described the overall experience as positive. A few said they felt:
more relaxed
more in control
less judged
What is the success rate of couples counseling?
More than 3 in 4 people receiving marital/couples or family therapy report an improvement in their relationship, according to the American Association for Marriage and Family Therapy.
In addition, clients report that marriage and family therapists are the mental health professionals they would most likely recommend to friends. Over 98% of clients of marriage and family therapists report therapy services as good or excellent.
Is online relationship therapy covered by insurance?
Health insurance typically covers only mental healthcare when you have a diagnosed mental health condition. Most insurance companies won't cover relationship counseling because relationship issues don't count as a mental health diagnosis.
That said, your insurance may cover relationship therapy when you (or your partner) have a mental health diagnosis and your therapist identifies relationship counseling as a potentially helpful treatment.
Of course, this also depends on whether your therapist takes insurance. Many relationship counselors, online or otherwise, do not.
What if my partner doesn't want to go?
If your partner seems reluctant, setting aside time for a conversation is wise. You can try:
asking about their reservations
explaining why you think relationship therapy might help
suggesting you research couples therapy and its benefits together
If they choose not to go in the end, you can still get support. Whether your partner is present or not, a trained therapist can help you explore things like:
effective communication
relationship skills
What are some alternatives to online couples therapy?
While the services recommended above employ highly qualified therapists, you may find that some companies lack cultural competency.
If you're looking for a culturally competent counselor, these resources can help you find a relationship therapist who offers online couples therapy:
Prefer a counselor who has experience supporting people in non-monogamous relationships? The Polyamory-Friendly Professionals Directory can help you find a therapist who offers online support.
If relationship counseling is beyond your budget or doesn't feel quite right, you and your partner have other options.
You may consider:
What's the difference between couples therapy and couples counseling?
The terms "couples therapy" and "couples counseling" are often used interchangeably, and their meanings can vary depending on the context and the professionals' preferences. However, in general, counseling prioritizes everyday problems and areas of conflict, such as challenges with:
On the other hand, therapy tends to prioritize historical challenges or trauma that may be fuelling persistent present-day problems.
Some professionals may prefer to use the term "couples therapy" to emphasize the therapeutic aspect and the focus on emotional healing and growth within the relationship. On the other hand, "couples counseling" may be used to emphasize the guidance, advice, and problem-solving approach provided by the counselor or therapist.
What is the best online couples therapy for long-distance relationships?
The best online couples therapy service for long-distance relationships often depends on your specific needs and preferences.
Some popular options to consider are:
Ritual
Regain
BetterHelp
Talkspace
Growing Self
What are the best sites for online marriage counseling?
Here are some popular websites for online marriage counseling:
BetterHelp
Regain
Talkspace
Growing Self
Marriage.com Online Therapy
Couples Therapy Inc.
7 Cups
Amwell
What is the most effective form of couples therapy?
The effectiveness of couples therapy can vary depending on the specific needs and preferences of the individuals involved.
Some commonly used and effective approaches to couples therapy include:
Cognitive-behavioral couples therapy: Addresses thoughts, behaviors, and emotions within the relationship.
Emotionally focused therapy (EFT): Focuses on emotional connection and communication.
The Gottman method: Emphasizes improving conflict management and relationship friendship.
Imago relationship therapy: Concentrates on childhood experiences' impact on adult relationships.
Narrative therapy: Helps couples reframe and reinterpret their relationship stories.
Integrative behavioral couples therapy: Combines aspects of different therapies for a personalized approach.
Healthy relationships can be rewarding, but they require plenty of effort. Relationship therapy services can help you explore your strengths as partners and identify places where you have room to grow together.
Relationship counseling may not always save your relationship, but it can still benefit you. A couples therapist can support you in ending the relationship with grace and compassion and teach valuable skills to build successful relationships in the future.