Ethical non-monogamy, polyamory, and open relationships are gaining popularity. But what exactly are they and how do you practice them?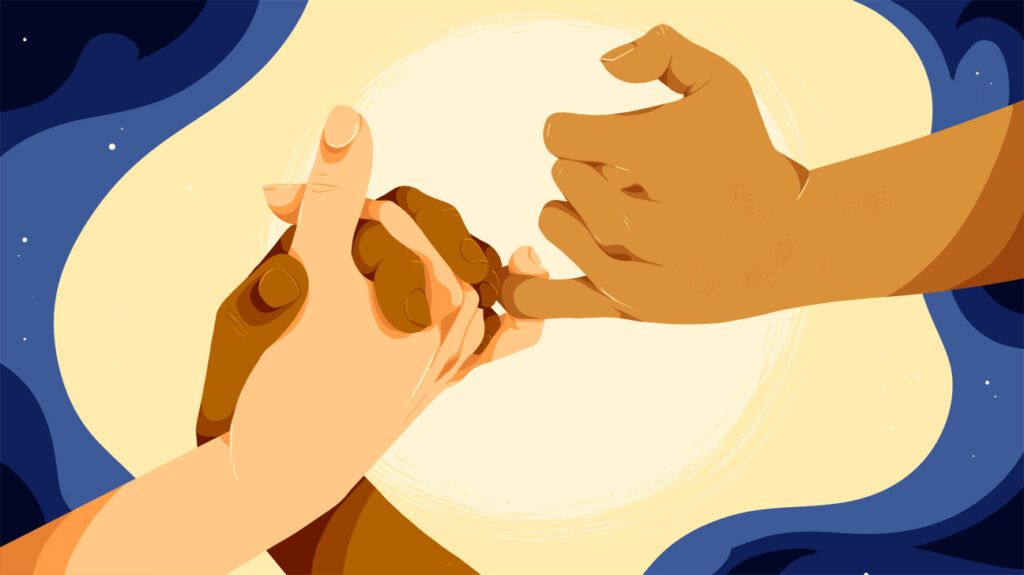 Ethical non-monogamy, also known as consensual non-monogamy, is a relationship style that's been in the spotlight lately. There are many ways to practice ethical nonmonogamy. For some, that might look like polyamory, open relationships, or casual dating.
Ethical non-monogamy involves sexual and/or romantic relationships between multiple people. The "ethical" distinguishes it from infidelity or coerced relationships. Ethical non-monogamy emphasizes that everybody's informed consent is needed. In other words, all partners know about one another and consent to it.
Anybody who wants to practice ethical non-monogamy can do so. Still, before you take the plunge, it's a good idea to learn about it. There's a lot of terminologies that you might not be aware of, and there are so many things to consider before committing to this relationship style.
Have you ever fallen in love with multiple people at the same time? Or have you ever felt attracted to another person while you were in a relationship?
Many of us have. In that situation, we might feel as if we're doing something wrong. Many people think that this means they have a disorder, or that they're bound to be unfaithful to their partners.
Although this experience may feel confusing, it's not necessarily a bad thing. Ethical non-monogamy leans into our ability to be attracted to multiple people at once. It's about embracing that and navigating it in a respectful, healthy way.
It is possible to have a healthy relationship that is not monogamous. One study found similar levels of relationship satisfaction between monogamous people and ethically nonmonogamous people.
Infidelity, or what many experts refer to as "breaking a relationship agreement," involves deception and/or betrayal. With ethical non-monogamy, all partners are aware of one another and consent to the relationship.
That's not to say that infidelity can't happen in an ethically non-monogamous relationship. Sometimes, people in these relationships overstep boundaries and betray or deceive their partners. This might be considered infidelity.
Not exactly. Ethical non-monogamy is an umbrella term, and polyamory is just one way to practice it.
Polyamory is having intimate relationships with multiple people at the same time. In other words, you can have more than one romantic partner at the same time.
Polyamory is a form of ethical nonmonogamy — but it's not the only form.
Other than polyamory, there are a few ways to practice ethical non-monogamy, including:
It can also include relationship anarchy, although many people consider this a philosophy or a political approach as opposed to a relationship style.
Relationship anarchy challenges assumptions around relationships and the idea that one relationship (like a married relationship) is more important than other relationships (like friendships). Relationship anarchy might include having multiple intimate partners.
It's worth noting that, for any of the above relationship styles to be considered "ethical non-monogamy," it needs to be entirely consensual. If a partner feels coerced into swinging or if someone is forced into polygamy, that wouldn't fit the definition of ethical non-monogamy.
Ethical non-monogamy can look different to different people. What might work for one relationship might not work for another.
In every relationship style, it's crucial that all partners discuss their expectations and boundaries. These boundaries will differ from one relationship to the next.
For example, one partner might not want their partner/s to have sex with others without telling them beforehand. Another example is that someone might not want their partner/s to date their close friends.
Time management is a big component of ethical non-monogamy. How much time will you set aside for each partner? How will you ensure that you can spend quality time with every partner? Figuring this out beforehand is helpful, as it ensures that you have enough time and energy for everyone.
If a sexual component is involved in one or more of the relationships, it's important to discuss ways to ensure sex practices take the health of everyone involved into account. This may include using condoms or another barrier method and frequently getting tested for sexually transmitted infections (STIs).
Lastly, communication is very important in every relationship. In ethical non-monogamy, it's important to talk about your feelings about your relationships with your partners and their partners.
There are so many misconceptions about non-monogamous relationships. Here are a few:
Myth 1: Non-monogamous people don't get jealous
Some polyamorous people don't feel jealous, and others do. What matters is how you handle jealousy. In some cases, jealousy might actually be a sign that you need more attention and affection from your partner, in which case, that can be solved without becoming monogamous.
Myth 2: It's all about sex
Some people who do ethical non-monogamy might not have sex at all. Some people might choose to have sex with only one person. Others may enjoy sex with multiple people or group sex. Every person who engages in non-monogamy is different.
And on that note, sex in ethically non-monogamous relationships doesn't necessarily carry a greater risk to your health. One study showed that people who practice ethical non-monogamy are more likely to practice sex with a condom or other barrier method than those who are unfaithful in monogamous relationships.
Myth 3: Everything goes
As mentioned, every relationship is different. Boundaries differ from one relationship to the next, so what might be OK in one relationship might not be OK in the next. It's up to each partner to communicate their desires and limits — and those limits should be respected.
Myth 4: Ethical non-monogamy is unsustainable
Many couples and polycules (that is, a group of polyamorous partners) practice ethical non-monogamy for years. Non-monogamous relationships can last a long time if that's what all parties want.
In fact, some research indicates that there's no difference in relationship quality and psychological well-being between consensual non-monogamous and monogamous partnerships. This means partners in both forms of relationships report similar levels of satisfaction, happiness, sexual frequency, and relationship longevity.
Myth 5: Ethical non-monogamy is always better than monogamy
Ethical non-monogamy suits some people. Monogamy suits others. Many people feel polyflexible, which means they can be happy with either relationship style. What works for the individual is unique to the individual.
Plus, infidelity, abuse, and coercion can happen in any relationship, no matter whether it's non-monogamous or monogamous. Ethical non-monogamy can be great, but people in these relationships aren't necessarily protected from harm.
This depends on your situation. Everybody "starts" ethical non-monogamy in a different way.
Sometimes, a couple opens their relationship to others. Sometimes, people meet other non-monogamous people and form a throuple. Others join couples in a committed or casual way.
If you're already partnered, it's a good idea to talk with your partner about your feelings. Discuss why you'd like to try ethical non-monogamy, and emphasize that it's not that they're "not enough" for you. Commit to learning more about it as a couple.
Consider connecting with other non-monogamous people without the expectation of sex or relationships. This is a good way to process your feelings, learn more about ethical non-monogamy, and form friendships with non-judgmental people. Apps and dating sites are a great place to start.
Ethical non-monogamy can become complex because there are so many ways to practice it. For this reason, it's a good idea to continually learn more about it. New terms and concepts are constantly being developed to help people describe relationship styles more accurately, so it's important to be open to learning those new ideas.
Ethical non-monogamy emphasizes that all partners involved consent to the practice. Whether you're practicing polyamory, casual dating, or open relationships, it's important to ensure everyone knows about one another and wants to be a part of the relationship style.
There are so many things to learn about ethical non-monogamy. It can't all be covered in just one article. There are many great resources for learning about this topic.
Some books about ethical non-monogamy include:
You can also join online forums. Websites like PolyInfo.org and Loving More can be helpful as well.
Ethical non-monogamy can be a wonderful relationship style for many people. As in all relationships, it's essential to prioritize communication, mutual respect, and setting clear boundaries.
---
Sian Ferguson is a freelance health and cannabis writer based in Cape Town, South Africa. She's passionate about empowering readers to take care of their mental and physical health through science-based, empathetically delivered information.