We include products we think are useful for our readers. If you buy through links on this page, we may earn a small commission Here's our process.
Psych Central only shows you brands and products that we stand behind.
Our team thoroughly researches and evaluates the recommendations we make on our site. To establish that the product manufacturers addressed safety and efficacy standards, we:
Evaluate ingredients and composition: Do they have the potential to cause harm?
Fact-check all health claims: Do they align with the current body of scientific evidence?
Assess the brand: Does it operate with integrity and adhere to industry best practices?
We do the research so you can find trusted products for your health and wellness.
Many kids with anxiety don't have the vocabulary to explain what they're experiencing or the understanding to know they're not alone. These books can help.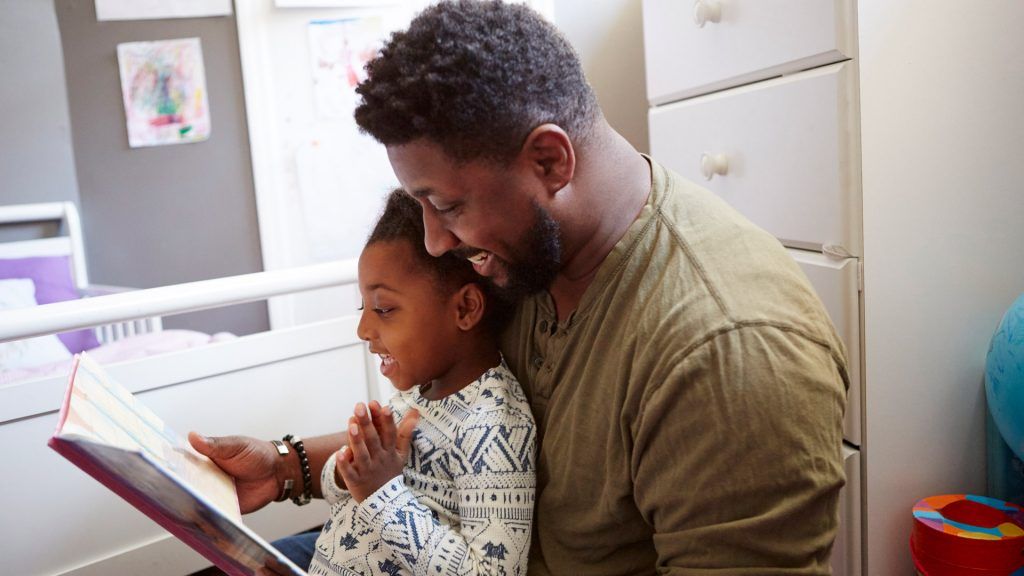 We strive to share insights based on diverse experiences without stigma or shame. This is a powerful voice.
My earliest memories of living with anxiety started when I was 8 years old. That's when my brain started telling me I wasn't enough. These thoughts caused me to develop an extreme form of perfectionism, and later an eating disorder and self-harm habits.
I've only recently begun to feel like I have an actual handle on my anxiety — 30 years later.
When I was a kid, everyone around me treated it like a weakness — me, being overdramatic or irrational or too emotional about everything.
As an adult, I recognize that none of that was true. I only wish I had been given the words to explain it then, for both myself and those around me.
More than anything, I wish I had known I wasn't alone, that I wasn't the only child in the world living with intrusive thoughts and constant worries about fitting in.
According to the Centers for Disease Control and Prevention (CDC), 7.1% of children between the ages of 3 and 17 have an anxiety diagnosis. That's 4.4 million kids in the United States alone.
That's millions of kids who could benefit from books that help them better understand what they're dealing with and how to work through it.
A quick Google search of "books about anxiety for kids" or "books about parenting kids with anxiety" will show you there are hundreds of books in these categories. So, how did we choose the "best" books for our list?
Our selections came down to a few key factors:
Author qualifications. Does the writer have a mental health background, or do they live with anxiety themselves?
Reviews. What do the reviews written by people either living with anxiety or parenting a child with anxiety say?
Age appropriateness. Who is this book best for?
In the end, our list was 18 books long — each very intentionally chosen with a specific age group or purpose in mind.
Best picture book
Written by: Kobi Yamada
Illustrated by: Mae Besom
In "What Do You Do With a Problem?," author Kobi Yamada uses the same storytelling structure that made his book "What Do You Do With an Idea?" a number one bestseller. His words flow easily and paint a picture simple enough for even a very young child to understand.
The focus is on confronting and solving a problem, without ever fully identifying what that problem may be. The result is a book that has broad applications and can help kids build the foundation for facing their fears and worries.
Why we like it
The illustrations are gorgeous and engaging.
The book teaches young children important problem-solving techniques.
Best for toddlers
Written and illustrated by: Dan Santat
Almost every young child knows the story of Humpty Dumpty. He sat on the wall, he had a great fall, and no one could put him together again.
Author Dan Santat uses this popular nursery rhyme, and the untold story of what comes next, to frame his book about courage and fear. Through this character they already know so well, kids are shown that fear can be normal — and that it can be overcome.
Why we like it
The use of an easily recognizable nursery rhyme character is bound to help draw kids in and make them feel more invested in the story.
Not only is Humpty's fear explained, readers also get to see some of what he misses out on when he gives in to that fear.
Best for preschoolers
Written by: Emily Kilgore
Illustrated by: Zoe Persico
Most parents with preschool-aged children are intimately familiar with the "whatifs." What if lightning hits the house? What if dinner gets poisoned? What if the dog runs away?
Kids this age ask a million "what if" questions a day. And while some of those questions are asked out of pure silliness, many stem from legitimate fears.
That's where Emily Kilgore's book comes in — helping kids who may be struggling with their own whatifs to recognize they're not alone, and to gain some tools for calming their minds when the "what-iffing" gets to be too much.
Why we like it
This is a book that both normalizes those whatifs and helps kids reframe the fears that may drive them.
It's a great early explainer of anxiety for kids who may just be starting to experience it at a deeper level.
Best for teaching young kids deep breathing
Written by: Nick Ortner and Alison Taylor
Illustrated by: Michelle Polizzi
There's a reason we often say "Take a deep breath" to people who may be experiencing heightened anxiety. It's because deep breathing helps reduce anxiety and stress — a fact several studies have found to be true.
"My Magic Breath" takes the principles of deep breathing and teaches them to young readers in a way they can understand and embrace. It gives them a tool they can use when their own worries start to take over.
Why we like it
Beautiful illustrations and the framing of deep breathing as magical make this a book that kids will want to read without even realizing that they're learning from it.
It's never too early to teach kids practical tools for managing anxiety, and this book does just that.
Best for teaching young kids tapping
Written by: Alex Ortner
Illustrated by: Erin Mariano
The emotional freedom technique (EFT) is a therapeutic form of tapping certain points on your body to promote a sense of calm and reduce anxiety.
While it may sound bizarre to those unfamiliar with the technique, tapping has been scientifically proven to significantly reduce anxiety. "Gorilla Thumps and Bear Hugs" teaches kids how to do this technique for themselves in a fun and relatable way.
Why we like it
While scientifically based, this book is still written with young children in mind.
Tapping can be a truly beneficial self-care technique for people living with anxiety. Teaching kids how to manage their anxiety early is one of the best gifts you can give them.
Best for parents to read with young kids
There are a lot of cute children's books about anxiety that help break concepts down at a child's level. The thing that sets "Hey Warrior" apart is that it provides kids with a physiological understanding of anxiety, and with the vocabulary to accurately explain what they're experiencing.
This is a great book for kids and parents to read together because it can provide you both with the understanding and vocabulary that can help you talk about anxiety as a family.
In this way, you can remind your kids that they're not alone and that you understand what they're dealing with — even if you don't have anxiety yourself.
Why we like it
This book explains what happens in the brain when a person is dealing with anxiety.
Complicated concepts are presented in a way kids can understand and repeat.
Best for early readers
Written by: Dawn Huebner
Illustrated by: Bonnie Matthews
When your little one starts reading on their own, this is the book you can put on their bookshelf for them to turn to whenever their worries are taking over. Not only does it provide engaging metaphors and illustrations, the book also empowers kids by equipping them with tools that can help.
The cognitive behavioral therapy (CBT) techniques shared throughout the book are also in line with what would be taught in therapy. That means this book can serve as an early introduction to, or a later refresher of, seeking professional help. And normalizing that is a good thing for all kids.
Why we like it
Through humor and relatable explanations, kids will be drawn to every page.
This is a book that empowers kids and can be turned to anytime, making it a perfect staple for their bookshelves.
Best workbook for kids
Written by: Robin Alter and Crystal Clarke
Illustrated by: Oliver Burns
At a certain age, kids want to do more than just read — they want to actively participate in what they're reading. This workbook uses CBT techniques to provide kids with activities they will both enjoy and learn from.
Why we like it
The activities are engaging and simple enough for young readers to follow along with on their own.
The workbook teaches scientifically based tools for helping kids work through their anxiety.
Best for young girls
Research has found that young girls may be more vulnerable to anxiety than boys. While we don't yet know why that is, it's reason enough for a book about anxiety written specifically for girls that addresses some of the worries they may face.
"Braver, Stronger, Smarter" does just that. It empowers girls with a guide about overcoming anxiety that was written just for them.
Why we like it
It's part workbook, part instruction manual, part motivational tool — and all engaging.
Rather than painting girls, or people with anxiety, as weak, this book reminds young readers of just how powerful they are.
Best toolkit of anxiety solutions for kids
Written by: Renee Jain and Dr. Shefali Tsabary
Up to this point, we've recommended books that may introduce kids to one or two tools for overcoming anxiety at a time. But "Superpowered" breaks down a long list of helpful methods for overcoming anxiety, and it does so in a way that's fun and easy to understand.
Plus, what kid wouldn't want to tap into their own superpowers in the name of fighting anxiety?
Why we like it
The superpower theme is sure to grab the attention of young readers.
The tools provided are easy to learn and follow.
Best for tweens
Written by: Dawn Huebner
Illustrated by: Kate McHale
The tween years are a tricky period. Kids this age are trying to balance their childhood with a desire to grow up, often volleying back and forth between the two.
"Outsmarting Worry" is a book that understands that. It walks the line with tween readers in a way that can help them feel understood.
For those who think they've outgrown the picture books and silly stories, this is the book that will give them a better understanding of anxiety (and how to deal with it) at a level that doesn't make them feel talked down to.
Why we like it
This book is a great next step in anxiety education for young readers.
The book teaches proven techniques for overcoming anxiety.
Best graphic novel
Written by: Raina Telgemeier
Ask any school librarian and they will tell you that Raina Telgemeier's graphic novels are among their most requested books — and for good reason.
Telgemeier tells the tale of her own childhood experience with anxiety through beautiful illustrations and words that seem to draw in even reluctant readers.
Rather than being a book of the self-help variety, this is a book that kids with anxiety may actually be able to see themselves in — a book that will remind them that they're not alone.
Why we like it
All of Telgemeier's books are beloved by kids. This one just so happens to apply her engaging storytelling style to the subject of anxiety.
As a writer who experienced anxiety herself as a child, Telgemeier is uniquely able to tap into that experience and help her readers feel seen in the process.
Best for teens
Written by: Regine Galanti
In case you haven't been able to tell, we like books that provide kids with the tools that can help them overcome anxiety. "Anxiety Relief for Teens" is no different, except for the fact that it teaches those tools to a more mature audience.
Written specifically for teenage readers, this book relies on CBT and mindfulness techniques to empower those living with anxiety.
Why we like it
The tools that are taught are science-based.
This book specifically addresses the pressures teenagers face.
Best novel for teens
Sometimes the best way to reach a teenager is through a story they can relate to. "A Quiet Kind of Thunder" tells the story of Steffi, a young girl with severe social anxiety. She hasn't spoken to those around her for most of her life, a condition known as selective mutism.
But the story isn't just about Steffi's anxiety. It's also about her journey toward healing, a reminder to all readers that healing can be achieved.
Why we like it
This is a beautifully written novel that even those who haven't dealt with anxiety are likely to be sucked into.
Steffi's story is one of doing the work and moving past anxiety, not simply succumbing to it.
Best workbook for teens
Written by: Lisa M. Schab
A teen can be equipped with all the tools in the world and still not know what to do when their anxiety peaks. A good workbook reminds them of the tools they have at their disposal, and when and how to use them.
That's what "The Anxiety Workbook for Teens" does. It gives teenagers a place to turn and work through their emotions when their worries and fears start to overwhelm them.
Why we like it
Like having a counselor in their room, this workbook reminds teenagers of the tools that can help them work through their anxiety.
There are also resources for seeking additional help for teens who may be ready to take that step.
Best for parents of young kids with anxiety
Written by: Lawrence J. Cohen
No parent wants to see their child struggling, and every parent wants to help when they do. The problem is, worrying about your child's worries will only compound the anxiety in your home.
"The Opposite of Worry" recognizes that, and instead encourages parents to find fun ways to help their children through their fears. It's a great book for parents who are starting to realize that their kids may be having a harder time dealing with anxiety than they would like.
Why we like it
This is a book that teaches parents how to address their child's anxieties from an early age, something most parents probably don't know how to do on their own.
The book encourages parents to approach anxiety from a place of compassion, which is something everyone with anxiety needs.
Best for parents of teens with anxiety
Written by: Sheila Achar Josephs
The teen years can be difficult, even without anxiety added to the mix. It's a time when kids are naturally starting to pull away from their parents and seek their own independence. A time when parents might feel like they no longer know how to connect with their child.
Add in anxiety and it can feel impossible for some parents to reach their teen. This book can help with that. It equips parents with the tools they need to help their teenager with anxiety. Even when that teenager may think they don't want their parent's help at all.
Why we like it
Parents need support, too, and this book provides it.
It's written by a psychologist who specializes in adolescent anxiety.
Best for parents who also have anxiety
Written by: Reid Wilson and Lynn Lyons
Research has found that anxiety disorders often run in families. So while some kids who deal with anxiety are born into families that have no understanding of what that means, most probably have at least one parent who has dealt with anxiety themselves.
If you're that parent, you may be longing even more for a resource that can help you help your child. After all, you don't want them to face the same challenges you have.
But guess what? Your desire to help them may be contributing to your own worries and creating a cycle of anxiety in your home. This book can help put an end to that cycle once and for all.
Why we like it
Any book that helps both parent and child is a winner as far as we're concerned.
Both writers have backgrounds in the mental health field and experience working with families living with anxiety.
All children have occasional worries and fears. Wanting Mom or Dad to check for monsters under the bed or in the closet can be a completely normal part of development and nothing at all to worry about.
But there comes a point when those very typical worries and fears start to affect a child's life on a bigger level.
According to the American Academy of Child & Adolescent Psychiatry, when a child's worries start to interfere with their daily life, it's time to seek help.
Signs that may indicate that talking with a healthcare professional may be a good idea include:
refusing to go to school
no longer wanting to participate in activities they once enjoyed
withdrawing from friends and family
experiencing changes in appetite or sleep
expressing overwhelming worries or concerns
Anxiety in children and teens is quite common, and many parents are unsure of how to best help their kid through their worries and intrusive thoughts.
The book suggestions above are a good first step to help you and your child — from toddler to teen — learn more about what anxiety is and what techniques can help relieve it.
Still, keep in mind that talking with a professional is never a bad idea. If you see anything at all that causes you to believe your child may be struggling, don't hesitate to reach out to your child's pediatrician and discuss your concerns. They can help you figure out what the next steps may be.
The most important thing to know is that help is available. With the right treatment and a good support system by their side, your child can learn to overcome their fears and live a happy and fulfilling life.
---
Leah Campbell is a writer and editor living in Anchorage, Alaska. She's a single mother by choice after a serendipitous series of events led to the adoption of her daughter. Leah is also the author of the book "Single Infertile Female" and has written extensively on the topics of infertility, adoption, and parenting. You can connect with Leah via Facebook, her website, and Twitter.