We include products we think are useful for our readers. If you buy through links on this page, we may earn a small commission. Here's our process.
Psych Central only shows you brands and products that we stand behind.
Our team thoroughly researches and evaluates the recommendations we make on our site. To establish that the product manufacturers addressed safety and efficacy standards, we:
Evaluate ingredients and composition: Do they have the potential to cause harm?
Fact-check all health claims: Do they align with the current body of scientific evidence?
Assess the brand: Does it operate with integrity and adhere to industry best practices?
We do the research so you can find trusted products for your health and wellness.
Research shows that mindfulness can reduce stress, improve physical health, and raise your quality of life.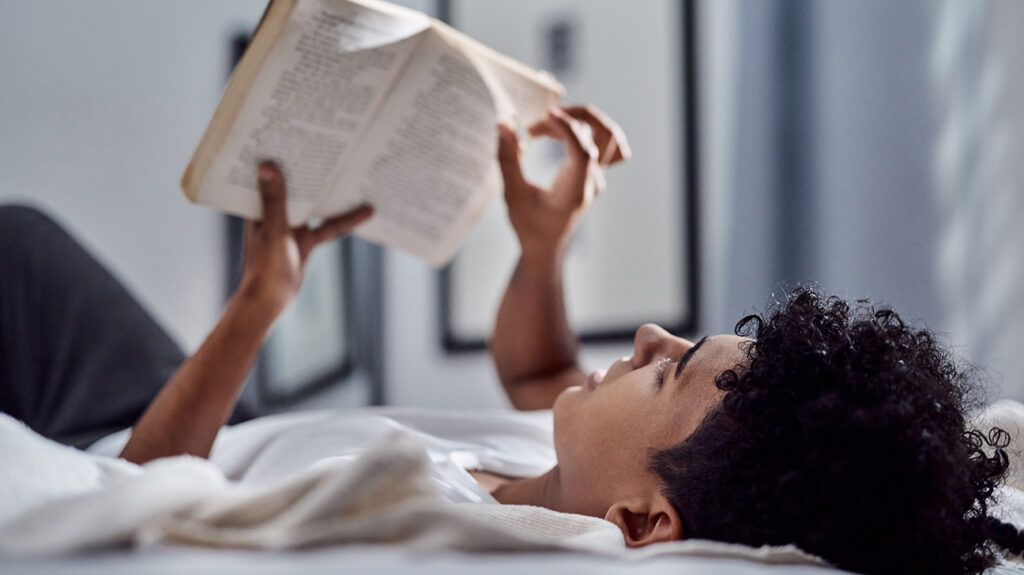 If you're looking for a book on mindfulness these days, you'll have to climb a mountain. A mountain of books, that is.
And you'll find them rooted in almost every field imaginable — from health to education to psychotherapy, even fashion!
We've climbed the mountain of mindfulness books and picked out 11 of the best. They're all good for different reasons. If you want a beginner's book, or one to help your anxiety, or one to help your family handle stress, we've got it picked out for you.
In this list, you'll find mindfulness instruction, the science behind it, lots of exercises to try, and even an inspiring memoir. If you want a break from reading, try an audiobook, a journal, or even a coloring book.
Mindfulness is the simple concept of paying attention to the moment. It has been more fully defined by the pioneering mindfulness teacher Jon Kabat-Zinn, who said:
"Mindfulness is awareness that arises through paying attention, on purpose, in the present moment, non-judgmentally in the service of self-understanding and wisdom."
Mindfulness has been shown to have wide-reaching health benefits:
One study found mindfulness-based cognitive therapy to be as effective as maintenance antidepressants for preventing depressive relapse.
A clinical trial showed that a mindfulness-based program adapted to participants with elevated blood pressure helped to reduce both blood pressure and stress.
Another study reported that people reporting high levels of mindfulness also reported more positive states of mind and lower levels of depression and anxiety.
You can practice mindfulness in many forms, from a few private moments at your desk to a variety of in-person and online courses. Other places to practice what you learn in these mindfulness books include:
online groups
workshops
movement classes
workplace training
And, of course, you can always learn more by picking up a new book.
Our first concern in picking these books was variety. People approach mindfulness at all levels of experience and for all kinds of reasons. So we wanted different books to match your reasons: one for the beginners, one for those who want to learn new exercises, one for kids, one for parents, and so on.
We also made sure that the books we selected have:
authors experienced in their field
a steady sales history
generally good — often outstanding! — reviews
accurate content about mindfulness
General price ranges with dollar signs ($ to $$) are indicated below. One dollar sign means the product is rather affordable, whereas two dollar signs indicates a higher price range.
Prices for the physical format, most commonly paperback, were used for the price comparison, whenever possible. Most of the books also have Kindle and audio editions, which may increase or decrease the price slightly.
Pricing guide:
$ = under or at $15
$$ = over $15
Best overall
Price: $
Written by: Jon Kabat-Zinn
Formats: paperback, hardcover, Kindle, audiobook
This is a one-size-fits-all mindfulness handbook that will teach you the concepts, get you started with exercises, and sit on your bedside table as a welcome reference. The chapters are short and self-contained, so you can dip in wherever you want.
It was written by author and mindfulness teacher Jon Kabat-Zinn in 1994 and has remained a bestseller and classic. Kabat-Zinn founded the Mindfulness-Based Stress Reduction Clinic in 1979, which was then associated with the University of Massachusetts Medical School.
He has written many other mindfulness books, the best-known one being "Full Catastrophe Living: Using the Wisdom of Your Body and Mind to Face Stress, Pain and Illness," which is full of research and recommended applications. It's the book that ushered mindfulness into medical and scientific circles.
This shorter book is directed to a wider audience and is meant to provide a "brief and easy access to the essence of mindfulness," Kabat-Zinn writes. "Full Catastrophe Living" is directed toward people with serious medical problems, stress, and chronic pain.
You can also purchase the accompanying "Guided Mindfulness Meditation Series 2" audiobook or audio CD containing mindfulness exercises narrated by Kabat-Zinn designed to complement the book.
What we like
has short, self-contained chapters
offers entertaining personal stories from the author
features personally led mindfulness exercises in text or audio
Best for beginners
Price: $
Written by: Thich Nhat Hanh
Formats: paperback, hardcover, Kindle, audiobook
Thich Nhat Hanh is a Buddhist monk who played a key role in introducing mindfulness to the Western world. This book, first published in 1975, has aged well. It has many different editions available, plus accompanying online meditation exercises. Thay, as he is known, has also written 100 other books in his lifetime.
This book is regarded as a classic and is beloved for its kind and lightly humorous tone. It advocates the expansion of meditation into action through mindful speaking, acting, working, and engaging the world.
It has seven short chapters introducing mindfulness meditation and one long chapter containing exercises to start you in your practice and provide a reference for the future. The book features 11 black-and-white drawings by Vo-Dinh Mai.
Some exercises involve sitting and focusing on the body or breath. Others will help you practice mindfulness during daily activities, for example:
"Following your breath while carrying on a conversation"
"Washing the dishes"
"A slow-motion bath"
"Cleaning house"
You can also access exercises, meditations, and guided relaxations on the author's Plum Village website, or on the free app, Plum Village: Zen Guided Meditation & Mindfulness.
What we like
is easy to read and understand
features beautiful drawings
offers engaging exercises and storytelling
Best for mindfulness exercises
Price: $
Written by: Jan Chozen Bays
Formats: paperback, Kindle, MP3 CD
This is the kind of book you keep on your table or put in your bag and carry with you. You pull it out whenever you're waiting in the grocery checkout line or the dentist's office — any time you have a minute to spare. You can pick one of the 53 mindfulness exercises and enjoy a quiet, calming moment with yourself.
The author Jan Chozen Bays is a physician and Zen teacher at the Great Vow Monastery in Oregon. Her tone in the book is kind, often humorous, and always engaging. Each exercise includes tips on how to remind yourself of it later, plus a short story or lesson connected with it. Examples of exercises include:
taking three deep breaths before answering the phone
looking deeply into food
breathing deeply once before you leave a space (like a room, car, or building)
If you prefer to listen to the exercises instead of reading them, there is a CD version available.
What we like
presents exercises that involve daily activities
written in a personal, friendly approach
has an author experienced in teaching
Best workbook
Price: $$
Written by: Bob Stahl and Elisha Goldstein
Formats: paperback, Kindle
This is a workbook to teach yourself mindfulness-based stress reduction (MBSR), a program developed by mindfulness author and teacher Jon Kabat-Zinn, which is taught in clinics around the world. The revised second edition of this workbook includes new meditations and audio downloads, plus content revisions.
MBSR is designed to reduce symptoms of:
This workbook is not about getting rid of stressors in your life, but rather developing healthier ways of dealing with them.
On the publisher's book website, you can listen to mindfulness meditations, yoga instructions, and breathing exercises. You can also download a number of accessories to the book including meditation transcripts, practice logs, and worksheets.
Author Bob Stahl, PhD, is a longtime mindfulness practitioner who lived in a Zen monastery and now directs mindfulness-based stress reduction (MBSR) programs in three medical centers in the San Francisco Bay Area.
Co-author Elisha Goldstein, PhD, founded the online mindfulness space Mindful Living Collective. He also co-founded the Center for Mindful Living in Los Angeles and created an online coaching program, A Course in Mindful Living.
What we like
can be done on your own or incorporated into a course
written by experienced mindfulness practitioners
has accompanying audio exercises and workbook accessories available online
Best journal
Price: $
Written by: Meera Lee Patel
Formats: journal, spiral-bound
This is an interactive journal designed to help you learn and practice mindfulness through supportive prompts, exercises, and inspirational quotes. There is plenty of blank space to encourage your personal writing or drawing.
The artwork in the journal includes hand-lettering and images in vibrant colors. The mood is uplifting, and the quotes inspire meditation and self-acceptance.
For many of us, keeping a journal has been popular ever since we as children got our first diary, lockable with a key. Now many people use journals for self-exploration and expression.
In the last decade, research has revealed the many mental health benefits of journaling, often called expressive writing. One study found significant mental health improvement from expressive writing, particularly in symptoms of anxiety.
What we like
features bright, vibrant colors
offers inspirational quotes
presents logs with room for personal writing and drawing
Best coloring book
Price: $
Illustrated by: Johanna Basford
Formats: paperback
This is the book credited with bringing coloring books into the adult world. Although there have been other coloring books for adults, this book turned it into a genre and brought it into the mainstream.
It brought adults the engrossing focus and joy that kids remember from coloring a picture with individual colors that only they decide. This is where mindfulness comes in. Focus and joy are good descriptions of mindfulness itself.
Research in the past decade has found that coloring can reduce anxiety, as well as improve both mindful attention and creative stimulation. Researchers say more study is needed to determine how helpful coloring is for high levels of anxiety, and how long the benefits last.
This coloring book has detailed pictures of flowers, garden benches and pagodas, and secret garden places. There are pictures to color, mazes to travel, patterns to complete, and lots of blank spaces for you to add your own drawings.
There are also hidden items to find in the elaborate drawings. The book opens with a list of things to be found, including:
63 beetles
20 songbirds
116 butterflies
1 shark
This book was on top of the New York Times bestseller list. It led to a whole series of coloring books by Basford. If you'd like to see more, try "Enchanted Forest," "Magical Jungle," or "Worlds of Wonder." And there are coloring tutorials on Basford's blog, like this one on How to Color Flowers.
Coloring has become so popular that people often meet online to share info and projects. You may be able to find one near you on this list of coloring meetups.
What we like
features lovely intricate drawings
is a fun treasure hunt
can be used anywhere
Best for anxiety
Price: $
Created by: Claire Weekes
Formats: audiobook, audio CD
This is an eight-part radio series broadcast in the United States by the Australian doctor Claire Weekes in 1967. She coaches you personally and compassionately about how to overcome anxiety, phobias, and panic. This instruction is mindfulness before mindfulness became a household word.
We recommend this title primarily because of the remarkable intimacy and support you feel from Dr. Weekes, even though she passed away in 1990. When she describes how she has heard a parrot in St. Louis "strike his beak against the cage" in the background of a phone consultation, you almost feel she could be on the other end of the phone line with you, too.
Her fresh approach of "face, accept, float, let time pass," struck a chord in popular audiences. Her three books about accepting and passing through panic and anxiety moved into the bestseller lists in the United States and the United Kingdom from the early 1960s onwards.
Her compassion has awakened hope and optimism for those who feel trapped by anxiety. As one patient wondered: "How can you know exactly what's going on inside me when we don't know each other?" Weekes's reply is reassuring to many who have felt bewildered by the symptoms of anxiety: "I don't need to know the patient. I know the illness very well."
What we like
has a personal, compassionate approach
is short enough to listen to in one sitting: 1 hr 55 mins
changed the lives of many reviewers
Best for kids
Price: $
Written by: Nick Ortner and Alison Taylor
Formats: hardcover, audiobook
This is a book that shows children mindfulness by leading them in interactive mindful breathing. In one exercise, they take a deep breath and blow their "magic breath" full of happy feelings out onto the page. Later, they're led to use their happy breath to blow difficult emotions "right off the page."
This book is a good reminder for kids (and adults too!) that the simple act of taking a deep breath can help you enjoy your "happy times," or feel calm when you're not so happy. The book leads kids through several deep breaths and one big yawn before going to sleep.
For example, in one exercise, the book asks, "What happened today that made you smile?" Then it encourages you, saying, "Take a big breath in and picture that moment in your mind." And it finishes up with, "Let's blow out all those happy thoughts on the page. Now that looks like happiness!"
This book is intended for children ages 2 to 6 years old. It's especially useful at the end of the day when youngsters might be overwhelmed by thoughts or worries and unable to sleep.
What we like
is fun and enjoyable for kids to practice on their own, or have read to them
encourages

interactive practice using the "magic breath" to blow away unhappy feelings

has vibrant watercolor drawings of the magic breath
Best for teens
Price: $
Written by: Jennie Marie Battistin
Formats: paperback, Kindle, audiobook
This is a small book that you can stash in your school backpack and have with you all day. Alternatively, you could get the Kindle edition and have it on your phone. The point is that it's portable, easy, and quick. You can do each of the exercises in 10 minutes.
The exercises are designed to help particularly with anxiety and sleep issues, but they can also help generate an easy mind in general. Exercises are categorized for morning, midday, and night.
This book is positioned for teens, but college students and adults leave appreciative reviews as well. You can open the book anywhere and find a useful exercise. They're simple and easy to remember when you need them.
What we like
has simple exercises that are easy to remember
exercises involve relevant teen issues like connecting with friends and succeeding at school
has fun exercise names, like "Superhero Stance" and "Butterfly Hug"
Best for parents
Price: $
Written by: Christopher Willard
Formats: paperback, Kindle
This book helps parents, caregivers, educators, and counselors share the skills of mindfulness with children and teens. It offers 75 mindfulness exercises with adaptations to meet the needs of a wide range of ages. It has an appendix where you can match exercises to your child's personality and emotional development.
This book can help kids increase curiosity, reduce anxiety, and soothe the pain of trauma. It helps kids (and adults) improve focus, decision-making, and response to stress. It introduces two unique positive responses to stress: "attending" and "befriending."
It also has a chapter to help adults build the foundation of their own mindfulness practice.
What we like
has a modern take on mindful use of social media and technology

gets the whole family engaged in mindfulness

summarizes information in illustrations and figures
Best memoir
Price: $$
Written by: James R. Doty
Formats: paperback, hardcover, Kindle, audiobook, audio CD
This book opens with a story of how the neurosurgeon author used meditation to help him save the life of a 4-year-old boy after a mistake by an assistant in the operating room.
The book is the story of Doty's journey as a child of poverty, with a mother who lives with depression and a father with alcohol use disorder, to becoming a world-class brain surgeon, aided by meditation taught to him after school in a neighborhood magic shop. He details the meditation exercises at length, so you can learn them, too.
He describes in fine detail and drama how meditation awakened the compassion and kindness in him to found and direct the Center for Compassion and Altruism Research and Education (CCARE) at Stanford University School of Medicine.
Doty's lyrical writing combined with his anchor in modern science propelled this memoir to the New York Times bestseller list. As mindfulness teacher John Kabat-Zinn remarked, the real magic here is that Doty could learn what is deepest and best about himself at the young age of 12, and never lose the thread thereafter.
What we like
focuses on combined biological and spiritual healing
presents a riveting story
provides detailed meditation descriptions
Mindfulness practice can be a lifelong practice that offers many benefits for your mental and physical health. It can lift your mood, resilience, motivation, and overall sense of well-being.
Mindfulness books can get you started in your practice, or sit on your bedside table for you to pick up later whenever you need a boost in spirit or inspiration to carry on.
Once you get started, you may even wish to join a mindfulness meetup where you can join others online or in person. You'll be able to share what you've learned so far and get advice on issues you might have. Who knows, you might even hear about a new mindfulness book!