We include products we think are useful for our readers. If you buy through links on this page, we may earn a small commission. Here's our process.
Psych Central only shows you brands and products that we stand behind.
Our team thoroughly researches and evaluates the recommendations we make on our site. To establish that the product manufacturers addressed safety and efficacy standards, we:
Evaluate ingredients and composition: Do they have the potential to cause harm?
Fact-check all health claims: Do they align with the current body of scientific evidence?
Assess the brand: Does it operate with integrity and adhere to industry best practices?
We do the research so you can find trusted products for your health and wellness.
Mental health books can teach you new skills, offer support, and help you along your healing and self-discovery journeys.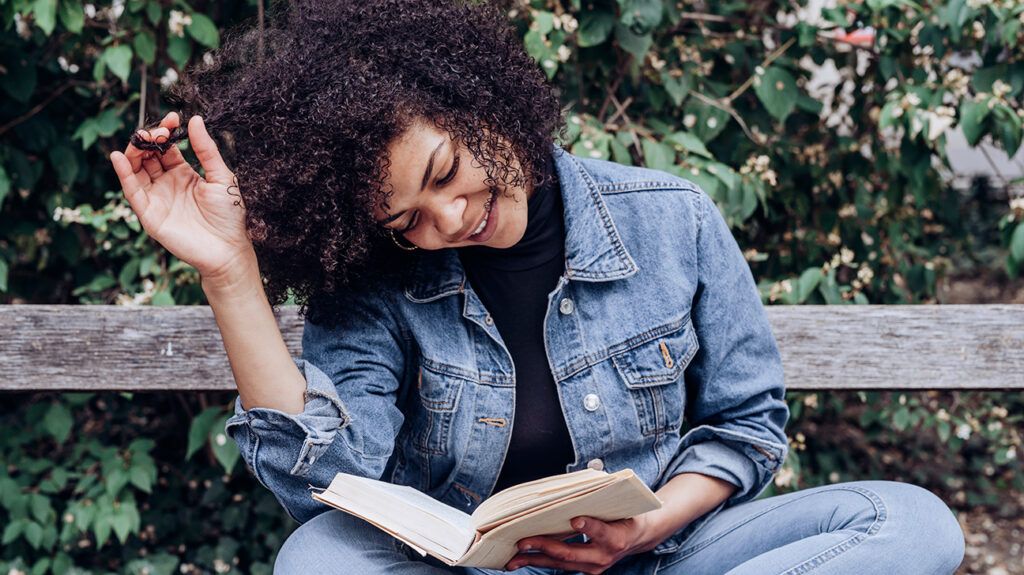 Want to learn more about a mental health condition or develop valuable coping mechanisms? Reading mental health books can help you achieve your goal, no matter what it is.
Anecdotal evidence supports the idea that reading about mental health offers many benefits, like relieving stress, building new skills, and increasing self-awareness.
To help you sift through the hundreds of mental health books on the market, we've compiled a list of our top picks — one for (almost) any occasion.
Something to keep in mind
Mental health books cannot replace therapy or treatment, especially if you've been diagnosed with a mental health condition. But they can be a helpful add-on to your healing journey.
Here are some factors we considered when choosing which mental health books to feature:
positive reader reviews
consistently high ratings
reasonable pricing
author qualifications
General price ranges with dollar signs ($ to $$$) are indicated below. One dollar sign means the product is low-priced, whereas three dollar signs indicate a higher price range.
Prices for the physical format, most commonly paperback, were used for the price comparison. Most of the books also have Kindle and audio editions, which may slightly increase or decrease the price.
Pricing guide:
$ = under $10
$$ = $10–$20
$$$ = over $20
Best for depression
Price: $$
Formats: paperback, hardcover, Kindle, audiobook
In his book "Undoing Depression," psychotherapist Richard O'Connor, MSW, PhD, presents a holistic approach on how to "undo" your depression — with an emphasis on establishing healthier habits. He doesn't dismiss the severity of the condition, though. Instead, he offers creative ways to achieve a sense of well-being.
"Undoing Depression" identifies the obvious and not-so-obvious causes of depression and shares practical tips on healing. There's also an interactive Mood Journal that you can use every day to connect your symptoms with potential underlying issues.
What we like
It's not overly technical with medical jargon.
This book puts the healing power back in your hands, even when you feel helpless.
People say this book helps them navigate depression and support loved ones with depression.
Best for teens and young adults
Price: $$
Formats: paperback, Kindle, audiobook, spiral-bound
"Anxiety Relief for Teens" is an interactive book full of quizzes, tools, and strategies for young people seeking new skills to cope with anxiety. The insights are based on cognitive behavioral therapy (CBT) techniques and author Regine Galanti, PhD's experience working with families as a licensed clinical psychologist.
This book can help teens experiencing anxiety related to school, relationships, or life in general. It's also a great resource for parents looking to support their children navigating their teenage years.
What we like
Parents with teens with anxiety highly rate this book.
It's interactive and engaging with multiple self-assessment opportunities.
Best for meditation
Price: $
Formats: paperback, hardcover, Kindle, audiobook
Rather than a how-to meditation guide, "The Power of Now" shares deeper insight into what it means to be fully present.
In this book, spiritual leader Eckhart Tolle describes how to disconnect from your mind and ego to find inner peace right now. He also offers ways to stop letting your thoughts and feelings control you and how to transform your life to become more aligned with your true self.
What we like
It teaches you how to truly connect with yourself.
The author is a world-renowned spiritual leader and teacher.
What to look out for
It's very spiritual, so the content may not resonate with everyone.
It's more of a meditation explainer than a how-to guide.
Best for mindfulness
Price: $$
Formats: paperback, hardcover, Kindle, audiobook
Buddhist Zen master, monk, and author Thich Nhat Hanh shares his incredible insights on mindfulness in his book "You Are Here." He explains how achieving inner peace and happiness is possible, emphasizing breathwork practices and finding beauty in the present moment.
His teachings include practicing mindfulness in our own lives and how it can enhance our relationship with the world around us.
What we like
The author received a Nobel Peace Prize from Martin Luther King Jr.
This book is great for mindfulness beginners and long-time practitioners.
Best for setting boundaries
Price: $$
Formats: paperback, hardcover, Kindle, audiobook
According to one reviewer, licensed therapist Nedra Glover Tawwab's "Set Boundaries, Find Peace" is "the boundary bible." The book defines different sets of boundaries (e.g., physical, emotional, sexual, work, time) and how to enforce them in a clear, healthy, and empowering way.
Curious about potential root problems holding you back from setting stronger boundaries? Need some tips on speaking up for yourself in all areas of life? Tawwab offers inclusive information and interactive exercises to assist you in meeting many boundary-related goals.
What we like
The author is a licensed therapist.
Insight is based on research and evidence-based CBT techniques.
There are reflection questions at the end of each chapter.
Best for establishing healthier habits
Price: $$
Formats: paperback, hardcover, Kindle
Stephen R. Covey's "The 7 Habits of Highly Effective People" is all about how our habits impact our lives — and how to improve your habits to improve your life. He offers personal insights, practical tips, and engaging exercises to enhance how you approach your personal and professional goals.
This self-help book has sold millions of copies and has been named the #1 Most Influential Business Book of the Twentieth Century. For decades it's been highly recommended by successful people, including Ariana Huffington and Maya Angelou, and the general public.
What we like
The seven steps are clearly defined.
There are helpful images and exercises throughout the chapters.
What to look out for
It's a very long read, with over 400 pages.
Covey references his Mormon faith throughout the book, which may be off-putting to those who don't relate to or want to consume religious beliefs.
Best for understanding trauma
Price: $$
Formats: paperback, hardcover, Kindle, audiobook
Bessel van der Kolk has worked in the mental health field for decades as a psychiatrist, researcher, and founder and medical director of the Trauma Center in Massachusetts. His book "The Body Keeps The Score" details what he's learned while studying post-traumatic stress and its effect on human beings.
If you're recovering from trauma or interested in learning more about how trauma impacts us on different levels, this book teaches what trauma is and the many different ways you can heal from it.
It's worth noting that the content in this book may be upsetting to some folks, so please consider reading with caution.
What we like
It's highly reviewed and recommended by mental health professionals.
The author has an extensive background in mental health and trauma work.
What to look out for
It's a longer read with 464 pages.
It's been called "heavy," so be gentle with yourself and take time reading if necessary, or read alongside a mental health professional.
Best for achieving healthier relationships
Price: $$
Formats: paperback, hardcover, Kindle, audiobook
Are you interested in attachment theory? If so, consider reading "Attached" by psychiatrist and neuroscientist Amir Levine, MD, and psychologist Rachel S.F. Heller, MA.
"Attached" is an easy-to-read guide to understanding different attachment styles and how yours might relate to how you approach relationships. Its insight and quizzes can help you recognize where your relationship issues may stem from and improve how you navigate relationships with partners, friends, and family members.
What we like
Both co-authors have a mental health background.
It's easy to read.
There are questionnaires and quizzes to help you figure out your own attachment style.
Best for overcoming self-doubt
Price: $
Formats: paperback, hardcover, Kindle, audiobook
Want to start living a life that you love? In her book "You Are A Badass," bestselling author and success coach Jen Sincero outlines how to overcome self-doubt and create a more enjoyable, fulfilling life.
This lighthearted self-help book is full of positive affirmations and words of encouragement to help you eliminate limiting beliefs that may be stopping you from living your best life. Sincero also offers advice on how to get out of a rut, with actionable steps to improve your current situation.
What we like
There are several mantras and lessons to practice daily.
Reviewers say this book has helped them achieve goals and live happier lives.
What to look out for
There are references to spiritual beliefs throughout the book, which may deter some folks.
This book features basic psychology principles and may lack scientific evidence for efficacy.
Mental health books can help you learn more about specific conditions, better understand your habits and tendencies, and improve your overall sense of well-being. The books listed here present deeper insight on different mental health topics, including relieving anxiety, practicing mindfulness, and building healthier relationships.
Reading books does not serve as a substitute for therapy or treatment, though. They're meant to aid in your healing and self-discovery journeys. Seeing a therapist or mental health professional can offer you further support and resources, especially if you've been diagnosed with a mental health condition.