Drug Class: Antidepressant, Tricyclic
Table of Contents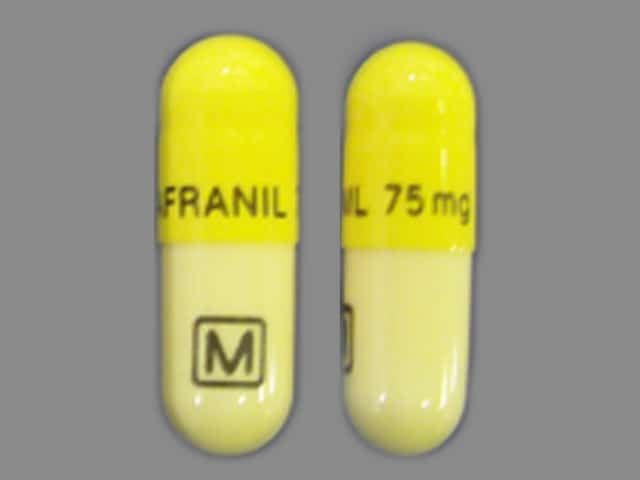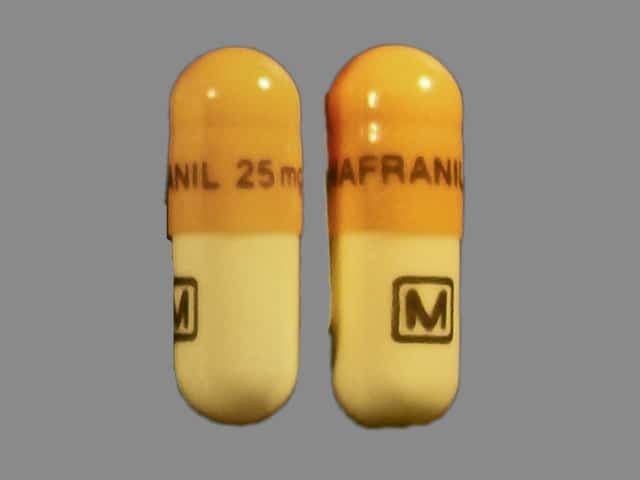 Overview
Anafril (Clomipramine) is a tricyclic antidepressant, used to treat depression. It helps depression by restoring two natural chemicals; serotonin and norephinephrine. This medication is also used to treat of obsessive-compulsive disorder (OCD) symptoms such as repetitive actions or recurrent thoughts or feelings and other tasks that may interfere with daily living.
Your doctor may prescribe this medicine for other conditions as well.
This information is for educational purposes only. Not every known side effect, adverse effect, or drug interaction is in this database. If you have questions about your medicines, talk to your health care provider.
It works by helping change certain chemicals in the brain, which professionals refer to as "neurotransmitters." It is not yet well-understood why changing these neurochemicals results in symptom relief for the conditions this drug is commonly prescribed for.
How to Take It
Follow the directions for this medicine provided by your doctor. TAKE THIS MEDICINE with food or milk.
Side Effects
Side effects that may occur while taking this medicine include:
drowsiness
dry mouth
constipation
nausea/vomiting
dizziness
headache
blurred vision
weight gain
Contact your doctor immediately if you experience:
dark urine
bruising easily
bleeding easily
unusual/uncontrolled movements (especially of the tongue/face/lips)
infection signs (e.g., persistent sore throat or fever)
severe stomach/abdominal pain
yellowing of skin or eyes
Warnings & Precautions
Even if you are feeling better, do NOT stop taking this medication unless directed by your doctor.
Tell your doctor or dentist that you are taking this medication before having surgery.
If children who participate in active sports are using this drug, administer with CAUTION because it may increase the risk of heart problems.
Be cautious when driving or performing other hazardous activities. This medicine can give you temporarily blurred vision, and make you drowsy and/or dizzy.
Alcoholic beverages can increase the effects of this medicine and should be avoided.
Elderly patients generally should avoid it because of an increase in dizziness and falls.
This medicine should NOT be used by those having taken MAO inhibitors in the last two weeks, with narrow angle glaucoma, or with irregular heart beat
For an overdose, seek medical attention immediately. For non emergencies, contact your local or regional poison control center at 1-800-222-1222.
Drug Interactions
Possible drug interactions may occur with this medicine and:
Phenobarbital
MAO inhibitors (severe)
Talk with your physician or pharmacist if you are taking other medications.
Dosage & Missed Dose
Use this medication as directed by your physician. Take clomipramine with food to reduce stomach upset.
It may take up to 4 weeks before your symptoms improve. Keep using the medication as directed and tell your doctor if your symptoms do not improve after 4 weeks of treatment.
Take your next dose as soon as you remember. If it is time for your next dose, skip the missed dose and go back to your regular schedule. Do not double doses.
Storage
Keep this medication in the container it came in, tightly closed, and out of reach of children. Store it at room temperature and away from excess heat and moisture (preferably not in the bathroom). Throw away any medication that is outdated or no longer needed.
Pregnancy/Nursing
If you plan on becoming pregnant, discuss with your doctor the benefits and risks of using this medicine during pregnancy. It is NOT known if this medicine is excreted in breast milk. It is recommended that you DO NOT breast-feed while taking this medicine unless your doctor or pediatrician has told you to.
More Information
For more information, talk to your doctor, pharmacist or health care provider, or you can visit this website, https://www.nlm.nih.gov/medlineplus/druginfo/meds/a697002.html for additional information from the manufacturer of this drug.