The research says yes. Here's how to use THC, CBD, and cannabis to treat migraine and severe headaches.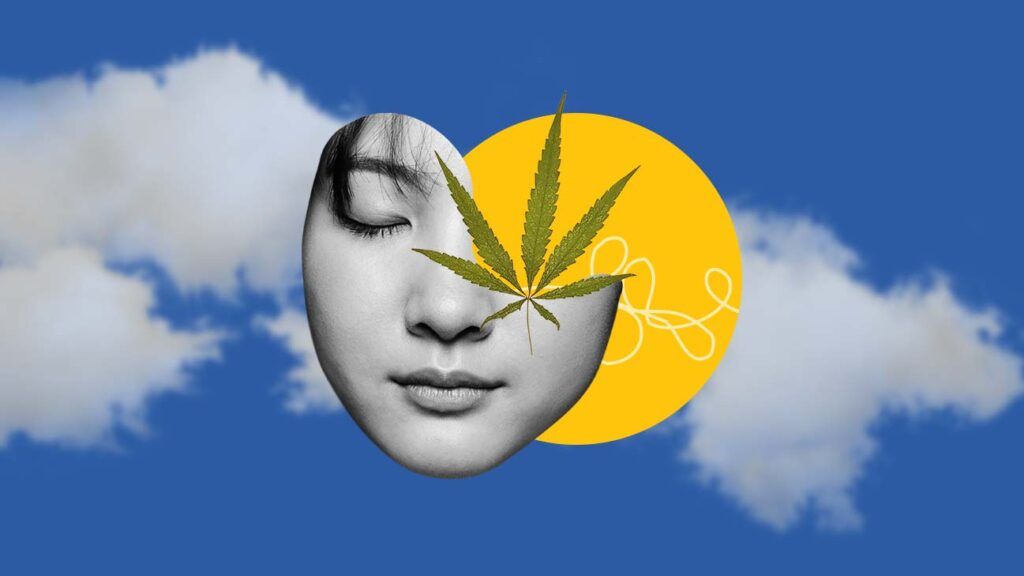 If you experience migraine attacks, trust that you're not alone.
One out of every six people in the United States may experience frequent migraine and severe headaches, and some research suggests an even higher prevalence among people who are:
between ages 18 and 44
unemployed
living with a disability
older adults
those with a family income of less than $35,000 per year
Medications are commonly prescribed to treat migraine, but many alternative therapies are available and emerging, including cannabis.
We use the term "cannabis" instead of "marijuana."
We avoid the word "marijuana" because it has racist roots and connotations. The word "marijuana" first became popular in the United States during the cannabis prohibition movement, as it appealed to the widespread xenophobia against Mexican immigrants at the time.
Considering that members of historically marginalized races are more likely to be arrested for cannabis possession than their white counterparts, it's especially important that we're mindful about the language we use and how it can add to, or stem from, racist stereotypes.
Is CBD legal? The 2018 Farm Bill removed hemp from the legal definition of marijuana in the Controlled Substances Act. This made some hemp-derived CBD products with less than 0.3 percent THC federally legal. However, CBD products containing more than 0.3 percent THC still fall under the legal definition of marijuana, making them federally illegal but legal under some state laws. Be sure to check state laws, especially when traveling. Also, keep in mind that the FDA has not approved nonprescription CBD products, and some products may be inaccurately labeled.
"Migraine headache is a well-researched indication for cannabis use," says Dr. Jordan Tishler, faculty at Harvard Medical School, president of the Association of Cannabinoid Specialists, and CEO at inhaleMD.
According to Tishler, the mixture of chemicals found in cannabis, which includes cannabidiol, may be more effective for migraine than extracted THC or CBD. THC is a chemical compound in cannabis with a psychoactive effect that can make you feel "high." CBD, on the other hand, does not have this psychoactive effect.
"The human body has an endocannabinoid system (ECS) and produces its own endocannabinoids, which are involved in homeostasis throughout the body," says Dr. Jeff Chen, CEO and co-founder of Radicle Science and former executive director of the UCLA Cannabis Research Initiative.
ECS dysfunction may be a factor in migraine development. And certain cannabinoids can help remedy that.
"Cannabis compounds, such as THC, mimic the actions of the body's own endocannabinoids, where CBD [cannabidiol] has been shown to potentially boost the body's endocannabinoids," Chen explains.
Anecdotal evidence supports the effectiveness of cannabis for chronic migraine. For example, Tishler's patients have reported decreased migraine frequency and intensity over the time they've been treated with cannabis.
From oil tinctures to gummies and flower, there are many different ways to consume cannabis. But some may be more effective at treating migraine than others.
Timing can be key when it comes to preventing migraine. The sooner you can ward it off, the better you might be.
Edibles and tinctures work slowly. And despite its quick onset, Tishler doesn't recommend smoking cannabis because it can worsen headaches and cause other unwanted side effects. Instead, he says the preferred approach is inhalation via flower vaporization.
A 2020 study among self-reporting participants suggests that cannabis use reduces headache and migraine severity by 50%, with concentrates being more effective than flower. In this study, men found more symptom relief than other genders.
Chen notes that there isn't enough data to suggest a form of CBD for migraine, but orally ingestible CBD products tend to be more accessible. If you're going to try a CBD product for headaches, he recommends trying to buy from a credible brand that is transparent about their ingredients and provides a certificate of analysis.
According to Chen, migraine medication can often be ineffective and may cause side effects, such as:
"Migraine patients commonly delay taking medication or avoid it altogether, which may explain why [they're] gravitating to alternative therapies, including cannabis," he explains.
As with all treatment methods, high THC cannabis has potential risks and side effects to consider before trying, including:
lower birth weight of babies when used by the mother during pregnancy
lower cognitive function and educational attainment when used in adolescence
a correlation between cannabis and schizophrenia for those with a genetic predisposition to the condition
Chen advises that certain demographics may also want to avoid CBD and hemp (low THC cannabis), including people who are:
pregnant
trying to conceive
breastfeeding
If you have liver disease or take medications with a grapefruit warning on it, you may want to consider working with a qualified cannabis clinician who can guide you in using CBD and cannabis products safely and effectively.
Tishler adds that cannabis treatment may pose an issue for folks with heart disease and mental health conditions, like bipolar disorder.
Other side effects may include:
Tishler adds, "By using cannabis therapeutically, controlling the frequency and dose, the risk of these issues is significantly minimized."
Cannabis can help prevent and treat migraine with minimal risks and side effects, according to anecdotal evidence and research suggesting its efficacy as an alternative treatment.
However, larger, more rigorous studies with human trials are still needed to verify this.
If you're considering trying medical cannabis for migraine prevention or treatment, consider consulting with your doctor or therapist to see if it might be right for you. Afterward, you can visit a recreational or medical marijuana (MMJ) dispensary in a legal state and buy cannabis products from reputable sellers.