Prepping for therapy? While every therapist has their own approach, there are common questions you may be asked at your first appointment.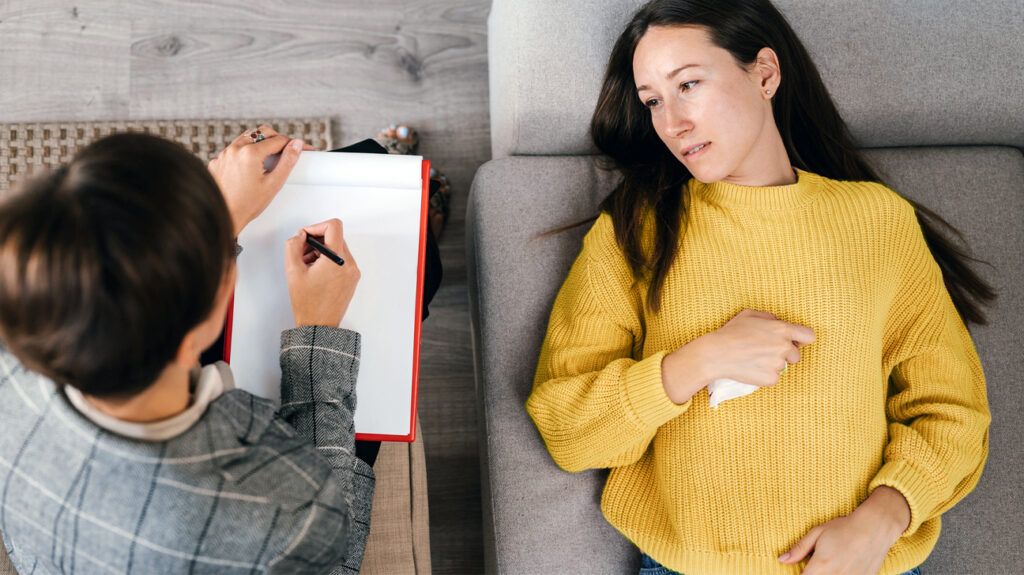 So, you made your first therapy appointment. It might be your first therapy session ever, or you're just switching to a new therapist.
Either way, going to a therapist for the first time can feel overwhelming to some. You might go back and forth on whether to even go. Many schedule, cancel, and reschedule that first appointment.
Not knowing what to expect can make you even more reluctant to keep your appointment. It's OK to be nervous. It's natural to feel this way when meeting someone for the first time — even a therapist.
To ease those first-appointment jitters, we share the most common questions a therapist may ask during that initial meeting.
Before your first appointment, you might be asked to complete a written or online form. You can choose to answer the questions on this form, or decline to answer them at that time.
The first appointment is usually called an intake session. During an intake session, the therapist will introduce themselves and review the online form and any other intake forms with you.
One of those forms is an Informed Consent — a document you sign agreeing to enter into therapy. This document also typically includes:
your therapist's information — name, credentials, and license number
policies, including a cancellation and no show policy
fees
limits of confidentiality
patient rights
risks and benefits
You may also be given additional questionnaires, depending on your needs and symptoms.
The questionnaire may include questions about your medical and mental health history and your family history. Try to be as open and honest as possible, as this will help your therapist tailor your treatment in a way that's most beneficial for you.
During your first appointment, you'll be asked a number of questions. These will help the therapist understand your background, along with your present and future goals.
Questions may vary based on the type of therapy and type of therapist you're seeing.
Why are you seeking therapy at this time?
People go to therapy for a variety of reasons. You'll be asked to explain why you're seeking therapy to give the therapist an idea of your goals.
This also allows your therapist to find appropriate referrals if they're not well-trained in your specific issues, or allows them to consult with other therapists or professionals with knowledge in that area.
What do you expect from therapy?
There's a common misconception about the role of therapists. Therapists aren't there to give you advice and tell you how to feel or behave. You can get that type of advice talking with friends or family.
Therapists are there to help you become more self-aware, meet your goals, and reflect on the best choices for you.
They're also trained to help you determine if your symptoms are caused by a mental health condition, and they can recommend treatment, if needed.
Have you been in therapy before? What was that experience like?
This question can help your therapist understand what you expect from therapy. It will also tell them if you've had a bad experience before so they can figure out if something heightens your symptoms.
Some people who go to therapy want tangible coping skills, while others might just be looking for a safe place with someone to listen and support them.
Whatever your reasons for seeking therapy, you don't have to feel ashamed.
Are you having suicidal thoughts right now, or have you had suicidal thoughts within the past month?
There are only a few exceptions to confidentiality in therapy, and harm to yourself or others is one of those exceptions.
If you're having suicidal thoughts, being honest about them is the best way to get help. The therapist will work with you on a safety plan and try to find out if additional measures are needed.
Are you having homicidal thoughts, or have you had homicidal thoughts in the past month?
This is another exception to the confidentiality rule that a therapist might ask to ensure your safety and the safety of those around you.
Remember that the therapist has a legal duty to warn and protect individuals if there's a threat of harm.
Do you have supportive people in your life? If so, who?
Therapists ask this question because support systems increase positive mental health and well-being.
In fact, research suggests that having supportive people in your life is also linked with a lower chance of suicide and a quicker recovery.
How is your relationship with your family?
This allows therapists to learn a lot of information about you and your background. It can clue them in to whether you have healthy relationships with those in your life.
This question may unearth painful memories or trauma. But you don't have to address these issues if you don't want to do so at this time.
How do you cope with stress?
The way you handle stress will help your therapist determine treatment and coping strategies that might work for you.
If you're having trouble coping, providing you with skills and strategies to try may be a part of your treatment plan. If you have good coping methods, they may encourage and advise you how to use these skills during times of distress.
What are some of your strengths?
If you're open about your strengths, your therapist can help you learn to use your strengths when things feel overwhelming.
What are the goals you want to accomplish in therapy?
You may be bringing a lot to the therapy session regarding goals and what you want to work on.
This question helps you focus on what's truly important and allows the therapist to create a plan of treatment based on your response.
According to the National Alliance on Mental Illness (NAMI), there are many types of mental health professionals who can provide therapy, including:
Counselors, clinicians, and therapists
These professionals have attained a master's in therapy or a related field such as psychology, marriage or family therapy, or counseling psychology. These pros are trained to use therapeutic techniques and assess a person's mental health.
Common licenses in this group include:
licensed professional counselor (LPC)
licensed marriage and family therapists (LMFT)
licensed clinical alcohol and drug abuse counselor
Social worker
Social workers are very similar to LPCs, as they also have precise training in assessing and treating a person's mental health. In addition, they hold a master's degree in social work.
Common licenses and certifications in this group are:
licensed clinical social worker (LCSW)
licensed independent social worker (LICSW)
certified social worker (ACSW)
Psychologists
These professionals hold a doctorate degree in psychology (PsyD), philosophy (PhD), or another type of specialty such as counseling. Psychologists usually have longer and more supervised training programs than professionals who hold a master's degree.
While they can provide therapy, they're also trained to do assessments and psychological testing.
Psychiatrists
Psychiatrists are licensed medical doctors who have studied psychiatric conditions and completed psychiatric training. They can provide therapy, prescribe and monitor medications, and diagnose mental health conditions.
Psychiatrists typically hold one of these doctoral degrees:
doctor of medicine (MD)
doctor of osteopathic medicine (DO)
Psychiatric or mental health nurse practitioners
These professionals hold either a master of science (MS) or a doctorate degree (PhD) in nursing, focusing on psychiatry. Together with other mental health professionals, they help monitor your condition and track your progress.
They can consult with you on medications and help determine which medication is best to help manage your symptoms. Practitioners might also provide physical and psychiatric assessments, emergency care, and evaluate treatment.
Though they can be helpful with medications and monitoring your progress, they're not typically the first choice for psychotherapy.
Your first session can be exhausting. Sharing your emotions and bringing up painful memories and feelings can be emotionally draining.
It's natural to feel overwhelmed and tired.
But don't give up! You've started the work — and that's the first step to finding some relief and improving your well-being.
After that first session, consider how you and the therapist relate to each other. If it's not a good fit, that's OK. Finding a good therapist that best fits you and your needs might take some time.
Now that you know the types of questions to expect, it might ease some of your worries and make you feel more relaxed and confident as you prepare for your first appointment.
Remember that just because a therapist asks a question doesn't mean you have to answer it.
Ultimately, the answers to these questions are helpful, but you can also let the therapist know when you're not comfortable sharing certain information.
It's OK to hit pause on certain issues or put it to the side for now. The key is to find a therapist and build a safe space where difficult or painful issues can unfold naturally and at your pace.