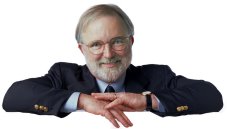 Dr. Tom Ferguson has passed away. A man I've known for many years, I met Tom back in the early 1990's because we were both thinking about how the Internet was changing the roles of doctor and patient. Dr. Tom Ferguson ("DocTom") and I met when he contacted me about a book he was writing back in 1994 ("Health Online"). I talked to him about the thriving online self-help support communities available (yes, this was before the Web became popular) where tens of thousands of people went online everyday and offered self-help support and care to one another. He thought it was amazing people were already harnessing the power of online technology connections to bring it to online human connections where the technology simply faded into the background. He was the first doctor I knew who ever spoke so plainly about the future of healthcare, where he envisioned empowered patients taking care far more into their own hands, and doctors acting more as professional guides to help along the way.
Once we began talking, we basically never stopped in the past decade. A man I looked to as both a mentor and friend, I also learned one of the reasons he was so energetic about empowered patients — because he was one. Battling cancer (multiple myeloma) for the past 15 years, he still found the time between the relapses and treatments to spark another revolution in his thoughts about online health. In the past few years, I've been the one out of touch with his life, as so often is the case when you live far away and "real life" gets in the way of keeping in touch with people you care about. I never imagined he would lose that fight because he was always so full of life. Whenever Tom spoke, there was always that mischievous sparkle in his eye. He and that sparkle died on Friday, April 14, 2006 after losing his battle with cancer.
One of the things you remember most about Tom is how he never let the cancer rule or dictate his life. It was always in the background, and sometimes the treatments were very painful, but he never stopped thinking and exploring his ideas about healthcare. As much as Tom knew, however, he also knew one of the most important lessons of leadership — lots of people know lots of things individually, but put them together and they might learn a lot more than they ever realized on their own. Tom was a revolutionary in the late 1990's, for doing just that — giving a bunch of healthcare thought leaders a place to hang out and discuss radical ideas about health and health care in America. He organized a couple of retreats, at a ranch outside of Houston called Cook's Branch and one north of San Francisco called Commonweal, where such discussions were held and I was honored to be a part of them. I remember where he and others talked about the new breed of "e-patients," and where ideas percolated such as each person having their own health "dashboard" would be invaluable to an individual living healthier, better lives. The vision was limitless.
In the more mundane world of online health, such as it was in 1999, we both worked for a time for drkoop.com, he as a consultant and me as a producer in mental health in Austin, his hometown. We both thought the venture had potential, but it seems as if it was quickly derailed after the company went public and focused solely on its bottom line. He was one of the pioneers in e-health, but unfortunately most of his thinking was just too far ahead of what a business could actually market or sustain. Besides, how can you build a business around an empowered consumer patient, when all of the power in the healthcare system in America is in the hands of the all-knowing doctors and the insurance companies? But that never stopped him from trying.
The last time I saw Tom was also in 2004, when I was in Austin for SXSW. He was in good health at the time, from what I gleaned, and was continuing his work on what he called a series of white papers about the new revolution in health, but which morphed into a book by the time they were completed. The white papers were entitled, "e-Patients: How They Can Help Us Heal Healthcare," the white papers turned into a book that will eventually be published with ideas on how ordinary people can help fix healthcare in America.
Tom Ferguson is survived by his wife and his stepdaughter, along with his brother, sister and mother. I will miss him deeply, and the world will surely miss all that he had to offer through his creative thoughts and writings. I loved him, although I never told him so. I hope he knows that now… Bye Tom.
Dr. Tom Ferguson, e-health Pioneer, Has Died